LapTop-master
Alienware m15 R3 Gaming Laptop Review: Powerful Sprinter - FoxLaptop
Alienware m15 R3 Gaming Laptop Review: Powerful Sprinter - FoxLaptop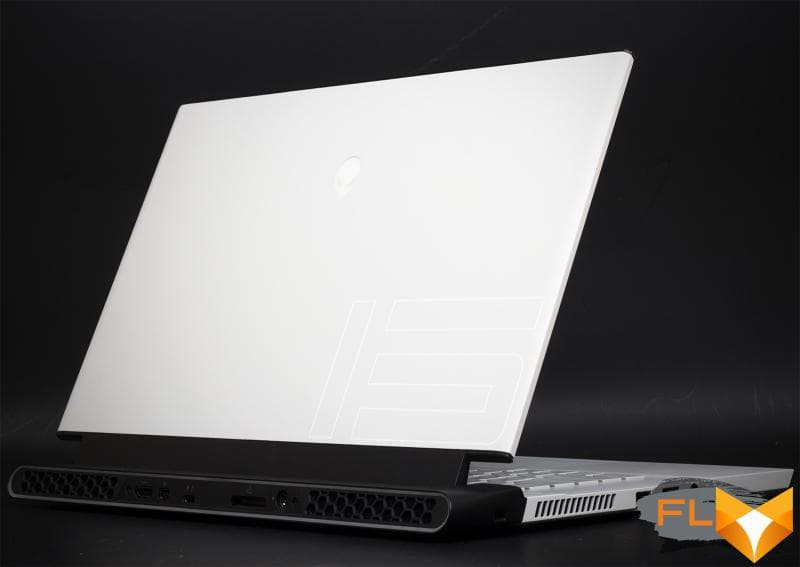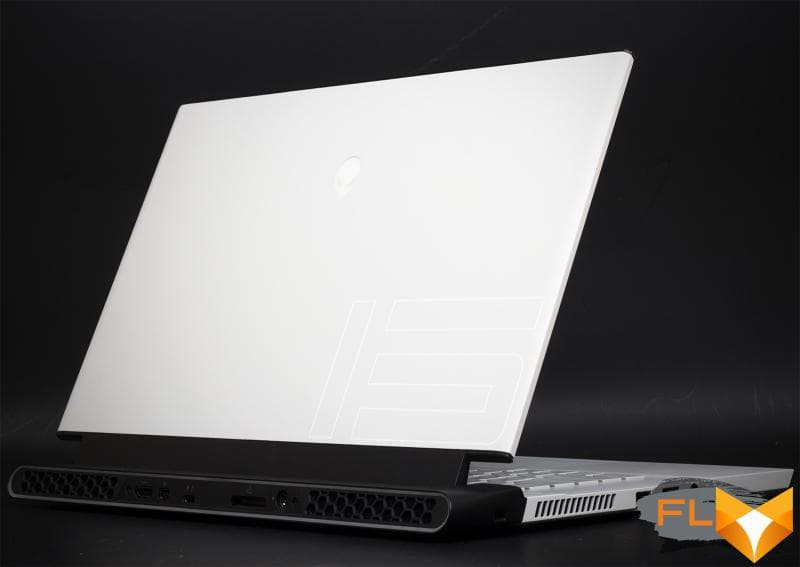 Alienware models have evolved a lot in recent years, and today you'll be introduced to the flagship 15-inch version of the m15 R3, which offers high performance and great functionality – but at a rather high price. Read about all the pros and cons of this laptop in our review.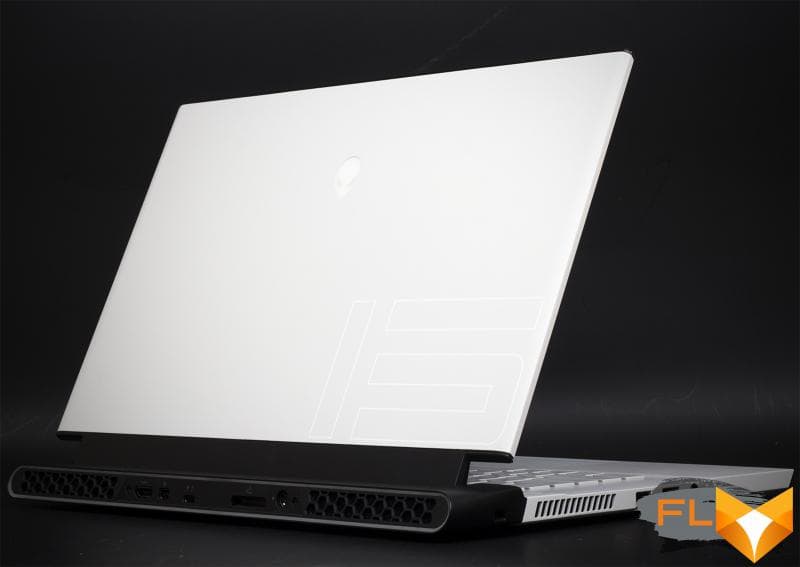 ⇡#Technical characteristics, equipment and software
The Alienware m15 R3 lineup offers quite a few different versions of this laptop. First, the manufacturer uses three different matrices. Secondly, you can find m15 R3 with a wide variety of graphics – from the GeForce GTX 1650 Ti to the GeForce RTX 2080 SUPER in Max-Q design, there is even a laptop version with an AMD Radeon GPU. Thirdly, m15 R3 modifications are equipped with batteries of various capacities. All possible characteristics of the "alien" device are shown in the table below.
Alienware m15 R3
Primary Display
15.6″ 1920×1080 IPS 144Hz 72% NTSC
15.6″, 1920×1080, IPS, 300Hz, 100% sRGB
15.6″, 3840 × 2160, OLED, 60Hz, 100% DCI-P3
CPU
Intel Core i9-10980HK
Intel Core i7-10750H
Intel Core i5-10300H
Video card
NVIDIA GeForce RTX 2080 SUPER Max-Q 8GB GDDR6
NVIDIA GeForce RTX 2070 SUPER 8 GB GDDR6
NVIDIA GeForce RTX 2070 8GB GDDR6
NVIDIA GeForce RTX 2060 6GB GDDR6
NVIDIA GeForce GTX 1660 Ti 6 GB GDDR6
NVIDIA GeForce GTX 1650 Ti 4 GB GDDR6
NVIDIA GeForce GTX 1650 Ti 4 GB GDDR6

AMD Radeon RX 5500M 4GB GDDR6

RAM
Up to 32GB DDR4-2666
Install Drives
2 × M.2 in PCI Express x4 3.0 mode
Our sample uses 1 x 512GB WD PC SN730
Optical Drive
None
Interfaces (maximum configuration)
1 × USB 3.2 Gen1 Type-C, combined with Thunderbolt 3 and DisplayPort 1.2
3 x USB 3.2 Gen1 Type-A
1 x 3.5mm mini jack
1 x HDMI 2.0b
1 × mini-DisplayPort 1.4
1 × Alienware GPU port
1 x RJ-45
1 × card reader
Built-in battery
56 or 86 Wh
External power supply
240W
Dimensions
360 × 276 × 19.5 mm
Notebook weight
2.11-2.50kg
Operating system
Windows 10 Home/Pro
Warranty
1 year
USD price
2400
Not the most productive version of Alienware m15 R3 came to us for testing, but one of the most. The model is equipped with a 6-core Core i7 processor, 32 GB of DDR4-2666 RAM, GeForce RTX 2080 SUPER mobile graphics and a 512 GB SSD. With Windows 10 Home preinstalled, this laptop retails for an average of $3,600.
The Killer Ethernet E3100 gigabit controller is responsible for the wired network in the laptop, and the Killer Wi-Fi 6 AX1650W is responsible for the wireless connection. The Wi-Fi module supports IEEE 802.11b/g/n/ac/ax standards with a frequency of 2.4 and 5 GHz and a maximum bandwidth of up to 2.4 Gbps and Bluetooth 5.0.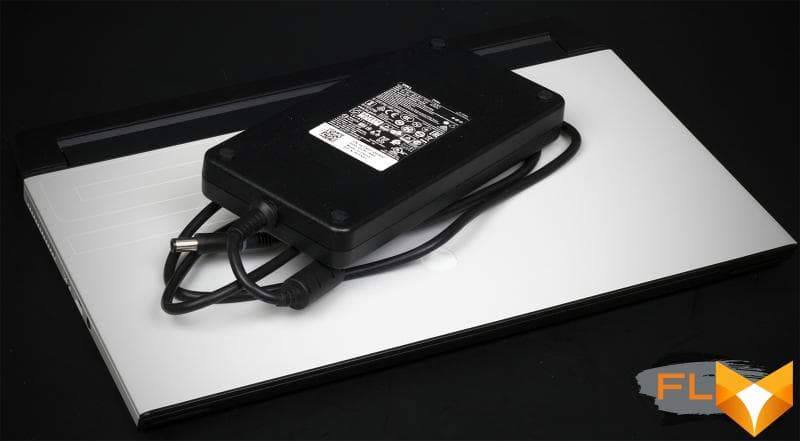 Included with the laptop was a fairly large external power supply with a capacity of 240 watts. Its mass is 900 grams, and therefore it will not be very convenient to carry it with you forever.
⇡#Appearance and Input Devices
Alienware m15 R3 looks almost unchanged when compared with the previous generation of this model. The owners of such laptops will distinguish R3 from R2, perhaps, only by the lack of a card reader in the older version. A white version of the "alien" came to our test lab – the manufacturer calls this design the phrase Lunar Light. However, there is also a black version of the m15 on sale – Dark Side of the Moon, to use the terminology of Dell marketers.
And the manufacturer is very proud of its industrial design, calling it legendary. Well, I frankly like the m15 R3.
The body is made of magnesium alloy, and its coating, called High Endurance Clear Coat, differs from the shell of its predecessor in less soiling – as the manufacturer himself claims. I will add that dust and fingerprints on a white background almost always look imperceptible.
The device is equipped with RGB lighting. Not only the keyboard is illuminated, but also the logo, the power button and the edging of the rear panel. You can see for yourself how beautiful the Alienware m15 R3 can be in the video below.
The thickness of the laptop is only 19.5 mm. The m15 version with an OLED display will be slightly thicker, but still the laptop looks slim and compact. The mass of the computer does not exceed 2.2 kg. For example, the recently tested MSI GE66 Raider was both heavier and thicker. However, we have to admit that the m15 R3 will be wider than many 15-inch gaming laptops. And this is due to the increase in the cooling system of the computer.
The display bezels are thin (5 mm) only on the sides. The webcam is located in the usual place – on the top edge of the screen cover.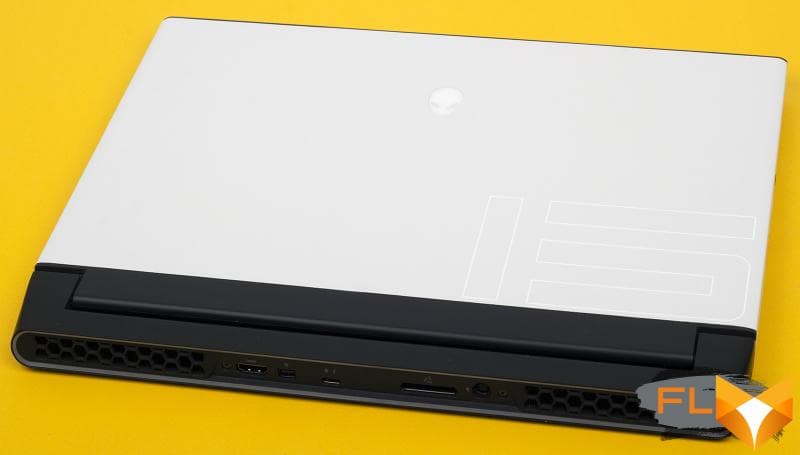 Another design element is the inscription "M15" on the lid of the notebook.
I have no complaints about the assembly quality of the test sample: it passes the bending and punching test of various surfaces (keyboards, display covers) successfully. The lid, by the way, can be easily opened with one hand, and its maximum opening angle is approximately 140 degrees.



The main interfaces of the laptop are located on three sides. On the left, there was a slot for a Noble lock, RJ-45 from a 2.5-gigabit Ethernet controller, USB 3.2 Gen1 A-type, and an audio jack. On the right are two USB 3.2 Gen1 A-types and a slot for microSD memory cards.
On the back side there are HDMI and mini-DisplayPort video outputs, a Thunderbolt 3 connector combined with USB Type-C and mini-DisplayPort, and an Alienware Graphics Amplifier port designed to connect external Dell graphics.
I note that the USB Type-C connector supports the charging function.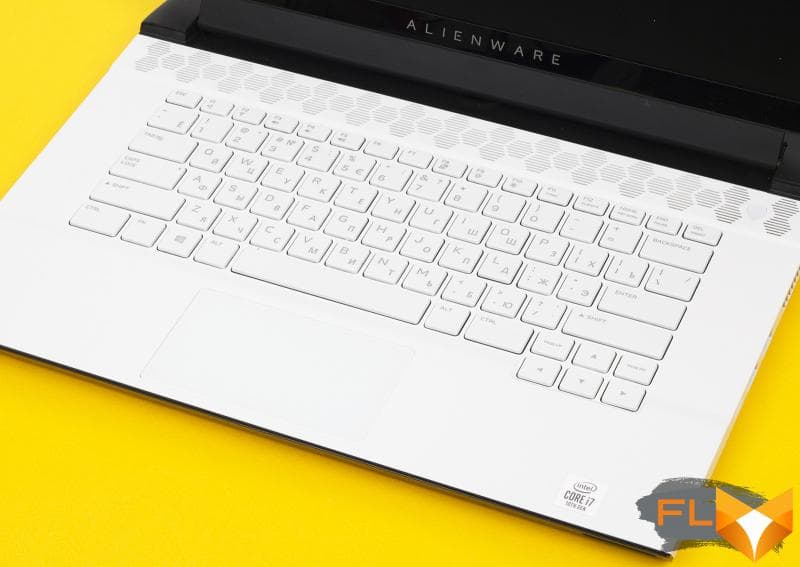 The R3's keyboard hasn't changed from the previous Alienware m15. The keys received 4-zone RGB backlighting. They have no restrictions on the number of simultaneous clicks, and the travel of each button is 1.7 mm.
In general, it is quite convenient to work and play with the "alien" keyboard. Keys that should be large (Tab, Ctrl, Shift, Enter, Backspace, arrows) are large. And there are no oddities in the style of "Let's make Ctrl smaller than the little finger".
I have no complaints about the touchpad either. He, like all his "relatives", allows you to control the operating system with gestures. The touchpad itself is quite large (10.5 × 6 cm) and is traditionally placed closer to the left side for gaming solutions. Pressing is distinct, with a pronounced and audible click. I did not notice any shortcomings when working with the touchpad, but in games it is definitely more convenient to use the mouse.
The webcam allows you to shoot in 720p resolution at 30 Hz. Video quality is poor, indoors with only artificial lighting, the picture is dark and very noisy. For streaming, such an image is definitely not suitable. Satisfactory quality can only be obtained in bright natural light. For example, outside on a sunny day.
⇡#Internal design and upgrade options
The laptop can be easily disassembled – for this you need to unscrew only 8 screws. After that, the bottom detaches itself from the body, which means that we do not need to pry off the cover with something thin (a plastic card, for example).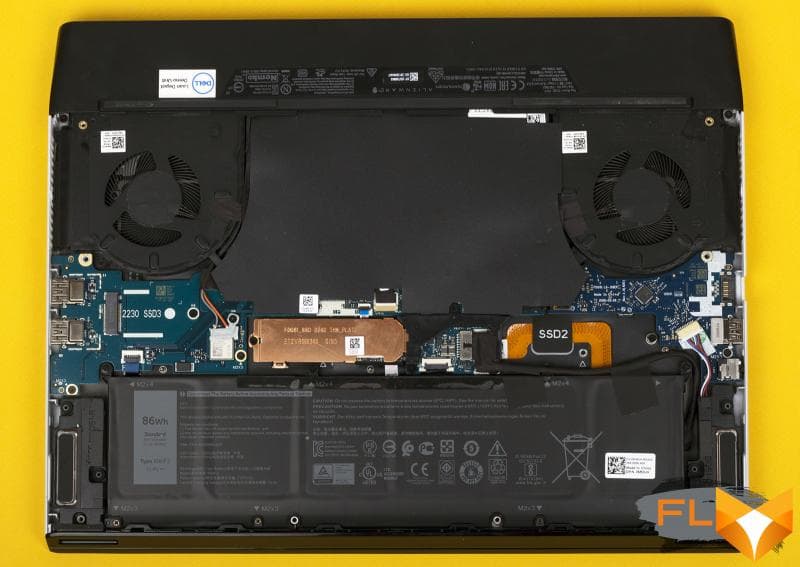 The Alienware m15 R3's cooler has been significantly upgraded compared to the cooling system used in the previous version of the laptop. According to the manufacturer, the Cryo-Tech system uses 39% more copper, and the fans received 25% more blades (132 blades in total), which gave + 10% to the air flow. Dell also uses large copper radiators and five 3.5 mm heat pipes – their size is increased by 40%. But the most important thing is the use of the evaporation chamber to cool the CPU. Something similar is used in Lenovo Legion laptops, for example.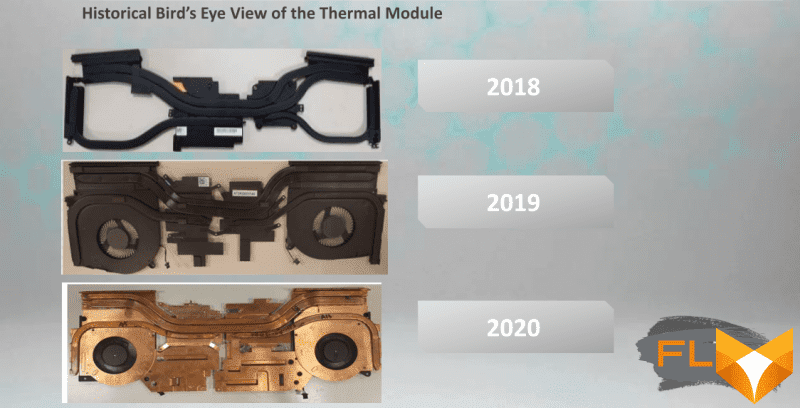 True, to get to the Cryo-Tech cooler, you have to completely disassemble the laptop. Having removed the back cover, we get access only to the reverse side of the printed circuit board. This means that only solid state drives can be replaced quickly and without incident – the PCB provides two seats for a 2280 form factor SSD. Another M.2 port is not occupied – it supports the installation of 2230 form factor devices.
In our case, the laptop is equipped with one half-terabyte SSD WD PC SN730 and 32 GB of DDR4-2666 RAM.
⇡#Test Methodology
The testing methodology for gaming laptops puts even more emphasis on PC gaming. Laptop performance was measured using various software.
Games (Full HD resolution):
World of Tanks EnCore RT. DirectX 11. Benchmark. Ultra mode, RT off
Counter Strike: Global Offensive. DirectX 9. FPS Benchmark map. Multi-core processing – incl. Maximum quality.
The Witcher III: Wild Hunt. DirectX 11. Novigrad and surroundings. Maximum quality.
GTA V. DirectX 11. Built-in benchmark. Maximum quality, FXAA + 2x MSAA, advanced quality settings on, 16x AF, image resolution scaling off
PlayerUnknown's Battlegrounds. DirectX 11. Training mode. Ultra Mode
Shadow of the Tomb Raider. DirectX 12. Built-in benchmark. Maximum quality, DXR – off, TAA.
Assassin's Creed Odyssey. DirectX 11. Built-in benchmark. Highest mode.
Battlefield V. DirectX 12. The Last Tiger mission. Ultra Mode, TAA, DXR Off
Red Dead Redemption 2. Vulkan. Built-in benchmark. Maximum quality (advanced settings – off), TAA.
Gears 5. DirectX 12. Built-in benchmark. Ultra Mode
Metro: Exodus. DirectX 12. Built-in benchmark. Ultra Mode
Horizon Zero Dawn. DirectX 12. Built-in benchmark. Top quality, TAA.
Death Stranding. DirectX 12 Prologue. Maximum quality.
A Total War Saga: TROY. DirectX 11. Built-in benchmark. Max mode, 4x AA (no AA in Ultra HD).
DOOM Eternal. Vulcan. Beginning of the game. Ultra Mode
Watch Dogs: Legion. DirectX 12. Built-in benchmark. Maximum Quality, TAA, DXR Off
Cyberpunk 2077. DirectX 12. City trip. Impressive Quality Mode, Incredible Shadow Quality, DXR Off
Gaming performance was measured using the well-known CapFrameX program. It allows you to get the rendering time of each frame. The use of the 99th percentile instead of the minimum frames per second is due to the desire to clean up the results from random performance fluctuations that were provoked by reasons not directly related to the operation of the main components of the platform.
Testing the laptop in games and applications was carried out with the activation of the fastest mode suitable for these tasks.
Applications:
Corona 1.3. Testing rendering speed using the renderer of the same name. Measures the build speed of the standard BTR scene used to measure performance.
Blender 2.83. Determination of the final rendering speed in one of the popular free packages for creating three-dimensional graphics. The duration of building the final model pavillon_barcelona_v1.2 from Blender Benchmark is measured.
x265 HD Benchmark. Testing the speed of video transcoding to H.265/HEVC format. The tables and graphs show the average integer value obtained after five runs of the test.
CINEBENCH R20. Performance measurement of photorealistic 3D rendering in CINEMA 4D animation package, CPU test. The tables and graphs show the average integer value obtained after five runs of the test.
Adobe Premiere Pro 2020 – Rendering a project in 4K resolution.
Topaz Video Enhance AI v1.2.3. Performance testing in an AI-based program to improve video detail. The test uses the original video at 1280×720 resolution, which is scaled up by 150% using the Artemis-HQ model: P, HQ, MC.
Comprehensive benchmarks:
Futuremark PCMARK10 Professional Edition 2.1.2177. Testing in Essentials scenarios (typical work of an average user: launching applications, surfing the Internet, video conferencing), Productivity (office work with a text editor and spreadsheets), Digital Content Creation (creation of digital content: photo editing, non-linear video editing, rendering and 3D visualization -models).
3DMark Professional Edition 2.11.6846. Testing in Time Spy and Fire Strike scenes.
Unigine Superposition Benchmark. 1080p Extreme testing.
Notebook testing in resource-intensive applications was carried out in the default mode without any adjustment of the parameters of the central processor and cooler.
Display testing is performed using the X-Rite i1Display Pro colorimeter and the DisplayCAL 3 application.
The battery life of the laptop was tested in two modes. The first load option – web surfing – involves alternately opening and closing the tabs of the Computeruniverse.ru and Unsplash.com sites with an interval of 30 seconds. For this test, the current version of the Google Chrome browser at the time of testing is used. In the second mode, video in .mkv format and Full HD resolution is played in the built-in player of Windows OS with the repeat function activated. In all cases, the same display brightness was set to 200 cd / m2, and the keyboard backlight (if any) and the sound were turned off.
In games and other applications, the results of the following laptops are considered:
Test participants
Model
Screen
Processor
RAM
Graphics
Drive
Battery
MSI GS66 Stealth
15.6", 2560 × 1440
Intel Core i7-10870H, 8/16 cores/threads, 2.2 (5.0) GHz, 45W
16 GB DDR4-3200 Dual Channel
NVIDIA GeForce RTX 3080 Notebook 16GB GDDR6
SSD, 1TB
99.9 Wh
MSI GS66 Stealth
15.6", 1920 × 1080
Intel Core i9-10980HK, 8/16 cores/threads, 2.4 (5.3) GHz, 45W
32GB DDR4-2666 Dual Channel
NVIDIA GeForce RTX 2080 SUPER Max-Q 8GB GDDR6
SSD, 2TB
99.9 Wh
Dell G7 17 (7700)
17.3", 1920 × 1080, WVA
Intel Core i7-10750H, 6/12 cores/threads, 2.6 (5.0) GHz, 45W
16GB DDR4-2933 Dual Channel
NVIDIA GeForce RTX 2070 8GB GDDR6
SSD, 1TB
97 Wh
Alienware M15 R3
15.6", 1920 × 1080
Intel Core i7-10750H, 6/12 cores/threads, 2.6 (5.0) GHz, 45W
32GB DDR4-2666 Dual Channel
NVIDIA GeForce RTX 2080 SUPER Max-Q 8GB GDDR6
SSD 512 GB
86 Wh
⇡#Display and Sound
As already mentioned, in various versions of the m15 R3, a matrix of one of three types is used. We received a model with a 300-Hz IPS-matrix equipped with an anti-reflective coating. The color gamut of the display almost completely corresponds to the sRGB standard, and if the color accuracy may not suit people who work professionally with video and photos, then the rest of the users can say the following: the display is excellent. Playing and watching movies with Alienware m15 R3 is very pleasant and comfortable.
Alienware M15 R3 (Matrix – HCVPC-156WFG)
Minimum brightness
16 cd/m2
Maximum brightness
331 cd/m2
Color temperature
6673 K
Contrast
912:1
sRGB gamut
96%
Adobe RGB color gamut
70%
Grey scale deviation: average (maximum)
2.12 (3.01)
Extended test deviation: mean (maximum)
1.8 (2.99)
Viewing angles
correspond to the declared
Glow effect
present
PWM
not seen at all brightness levels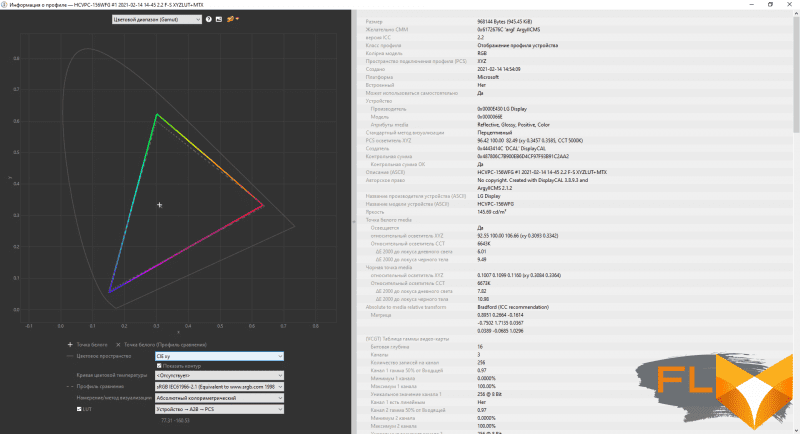 The sound in the laptop is also good – by the standards of mobile computers, of course. The volume margin is decent, and even a noticeable bass is heard in musical compositions.
⇡#Efficiency of the cooling system
Any Alienware m15 R3 has several job profiles configured in the Alienware Command Center app. So, for example, we have two overclocking modes available. The only problem is that they are not much different from each other. And in general, the feeling that the Dell software is not working properly affects.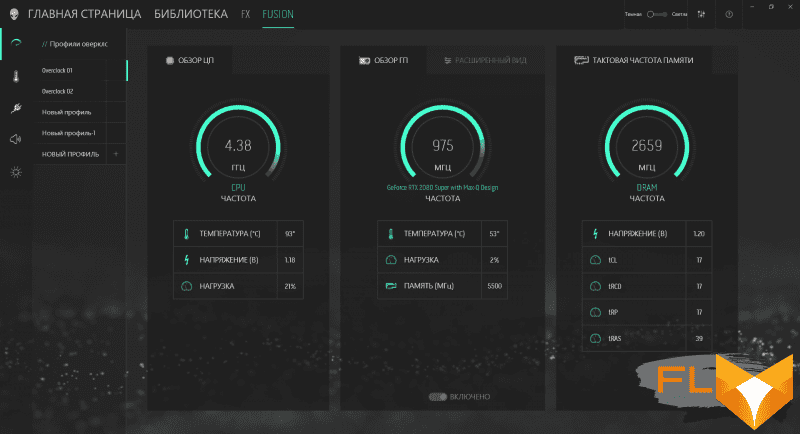 Firstly, I did not find any difference between the overclocking profiles of the laptop: in both cases, the GPU frequency increases by only 20 MHz. And in general, there was no difference in work between the profile with overclocking and without it – the laptop in both cases works almost the same. This is clearly seen in games, when the GPU and CPU heat up almost the same.
Summary of laptop operation and setup
Laptop Mode
OC Profile 1
No overclocking
Declared GPU Speed ​​(Boost) and Memory Speed
1250 MHz, 11 Gbps
1230 MHz, 11 Gbps
The Witcher III Real GPU Clock: Min, Max, Average
1440 MHz
1410 MHz
1560 MHz
1530 MHz
1454 MHz
1432 MHz
Maximum noise level
43.1 dBA
41.5 dBA
Average Power: GPU, CPU
91.7W
88.8W
45W
46 W
GPU Temperature: Average, Maximum
73 °C
72 °C
74 °C
73 °C
CPU temperature: average, maximum
99 °C
98 °C
100 °C
100 °C
Performance, points
Test results in 3DMark Time Spy
8316
8292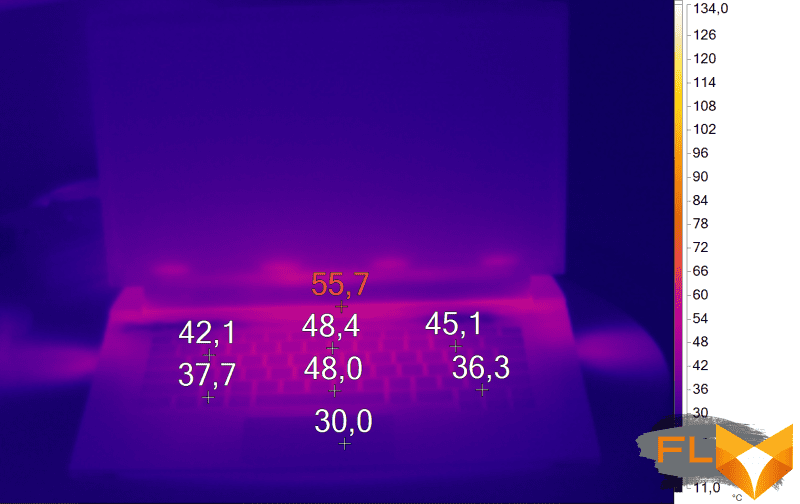 As a result, the Alienware m15 R3 is both overclocked and non-overclocked at peak performance: GPU power consumption has been increased from 80W to 90W, and the PL1 power limit for the Core i7-10750H has been increased to 75W. Here, the laptop tuning approach is very similar to what we have seen in MSI gaming laptops, for which engineers configure the BIOS so that the laptop's CPU runs at its maximum capacity – within the limits of what the cooling system allows. That is why the CPU heats up to the limit, that is, up to 100 degrees Celsius.
The increase in GPU power also led to a noticeable increase in its clock frequency. The average frequency of the GeForce RTX 2080 SUPER Max-Q chip in the Alienware m15 R3 in The Witcher 3 was 1432 MHz. For example, in the MSI GS66 Stealth, the average frequency of exactly the same GPU under exactly the same conditions is only 1245 MHz. Naturally, almost 200 MHz differences seriously affect the performance level of the laptop.
In games, the laptop is noisy, but the sound of coolers has a low-frequency character, which means that such noise is perceived quite comfortably by ear. In general, the cooling system of the test model does its job well.
And one more thing – the area around the laptop keyboard does not heat up much, although we remember that it is under the keys that the cooler with the evaporation chamber is located.
The PL1 value for the Core i7-10750H ranges from 75 to 100 W, which is a very serious indicator for a chip with a TDP rating of 45 W. However, we see that in reality the cooling system can only handle about 69 watts of power. And yet this is a good indicator, because the average frequency of all cores of the 6-core is kept at around 3.87 GHz. In the recently tested Dell G7 17, the cooling system is not able to divert even 45 watts of energy. Because of this, the frequency of the Core i7-10750H, on average, in the same conditions, is kept at 2.9 GHz. As a result, the Alienware m15 R3 turns out to be noticeably faster than its "brother", in which they clearly decided to save on cooling.
Laptop cooling performance in Adobe Premiere Pro 2020
Default
CPU frequency
Medium
3.87 GHz
CPU temperature
Maximum
100 °C
Medium
100 °C
Noise level
Maximum
42.2 dBA
CPU power consumption
Average
68.8W
Test task execution time (less is better)
1064 s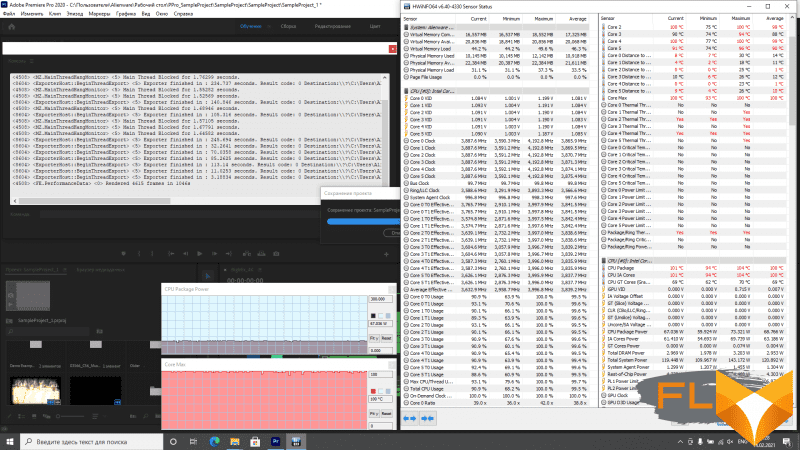 ⇡#Laptop performance
We've found that the Alienware m15 R3 is bound to perform well in terms of performance, with the GPU and CPU working well beyond their standard limits. This is confirmed by the test results.
Test results in games, Full HD, FPS (more is better)
Alienware m15 R3 (GeForce RTX 2080 SUPER Max-Q)
AVG
1% MIN
World of Tanks
194
124
CS:GO
354
112
PlayerUnknown's Battlegrounds
173
120
The Witcher III: Wild Hunt
103
66
GTA V
85
60
Shadow of the Tomb Raider
104
79
Assassin's Creed Odyssey
64
44
Red Dead Redemption 2
71
56
Gears 5
88
61
Metro: Exodus
60
35
Death Stranding
115
85
A Total War Saga: TROY
70
39
DOOM Eternal
220
166
Horizon Zero Dawn
80
44
Watch Dogs: Legion
60
50
Battlefield V
105
75
Cyberpunk 2077
47
35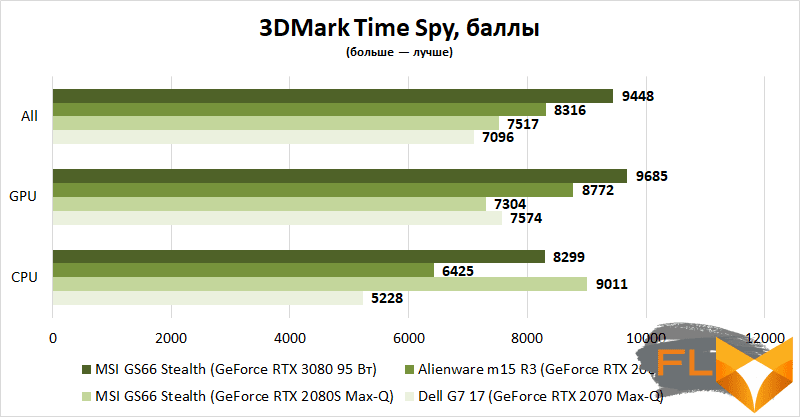 In the same 3DMark Time Spy (Graphics subtest), Alienware m15 R3 outperforms MSI Stealth GS66 with GeForce RTX 2080 SUPER Max-Q by 20%. And inferior to another Stealth GS66 (with GeForce RTX 3080, which works with a power limit of 95 W) is only 9%.
As you can see, the advantage of the new laptop with the flagship NVIDIA Ampere graphics does not look impressive if we compare the Stealth GS66 with the m15 R3. Recently, it has become very difficult to compare various NVIDIA mobile accelerators with each other due to the fact that manufacturers are free to choose how much power the chips in their mobile PCs will work with. Now it makes sense to compare only specific laptop models, given what kind of cooling and what limitations they use. For example, the ASUS ROG STRIX SCAR 17 easily outperforms the GeForce RTX 3080 and Stealth GS66 in most games, with the GeForce RTX 2080 SUPER running at full power (150W) on this laptop.
Returning to the hero of today's testing, I note that the slight lag of the m15 R3 from the Stealth GS66 with the GeForce RTX 3080 (95 W) can be considered a real compliment for the Alienware laptop.
Excellent "Alien" manifests itself in the performance of work applications – the use of the evaporation chamber allowed the Core i7-10750H to work almost at the maximum inherent in Turbo Boost technology. For greater contrast, I compared the hero of this review with the Dell G7 17, in which the chip's performance, on the contrary, is cut down for the sake of less heat.






Below are the results of testing the laptop in the PCMARK10 comprehensive benchmark.
In a number of tests (archiving, working with graphics and photo and video content, interaction with browsers, as well as office applications), the laptop drive plays an important role. The Alienware laptop has a Western Digital PC SN730 SSD, which is not the fastest (by NVMe standards) drive. For example, linear read and write speeds do not exceed 3 GB / s. Random operations are slow. All this affects the results of testing PCMARK 10, which, as you know, loves fast SSDs.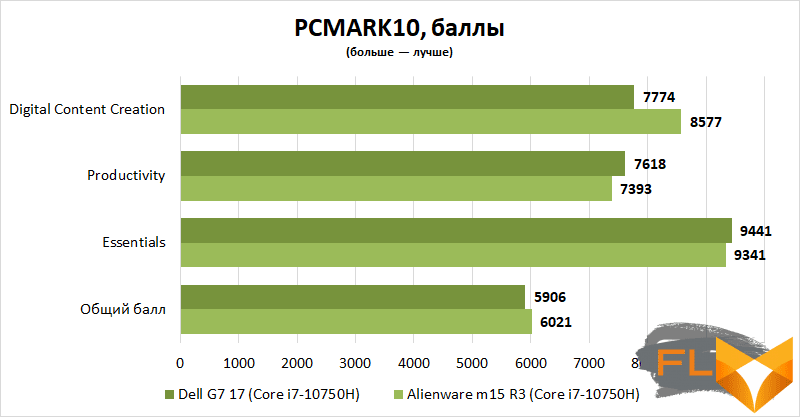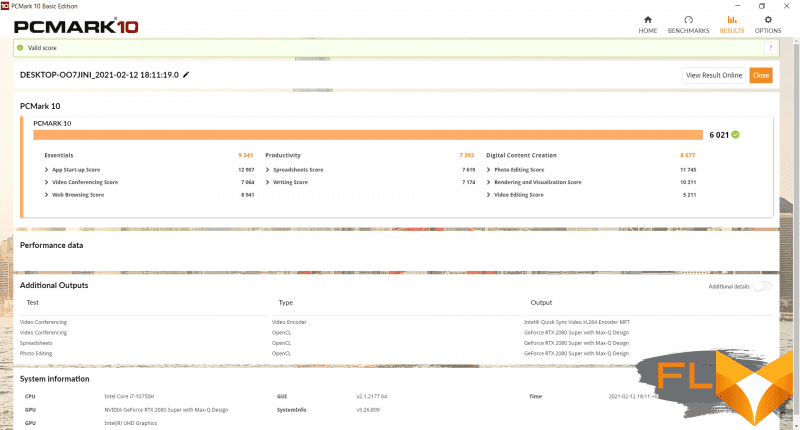 ⇡#Laptop offline
The laptop has an 86 Wh lithium-ion battery, but this capacity is not enough for the laptop to work for more than three hours even in the most gentle modes. If you look at other Alienware m15 R3 reviews, you will see that other versions of this laptop also suffer from low autonomy.
Battery life, screen brightness 200cd/m2
Web
2 hours 36 minutes
View video
2 hours 15 minutes
⇡#Conclusions
Alienware gaming laptops are, so to speak, a collection of the best practices of Dell engineers used in computer technology. We see a noticeable difference between the Alienware m15 R3 and non-Alienware G series laptops.
Yes, the tested model is also not without flaws. Among the most obvious are catastrophically low autonomy and incorrect operation of specially designed software. But there are many more pluses. Among them, I will especially note the high-quality assembly, an efficient cooling system, high functionality and an excellent level of performance.
Most Popular Articles