LapTop-master
Apple MacBook Air (Early 2020) Review: Now Quad-Core - FoxLaptop
Apple MacBook Air (Early 2020) Review: Now Quad-Core - FoxLaptop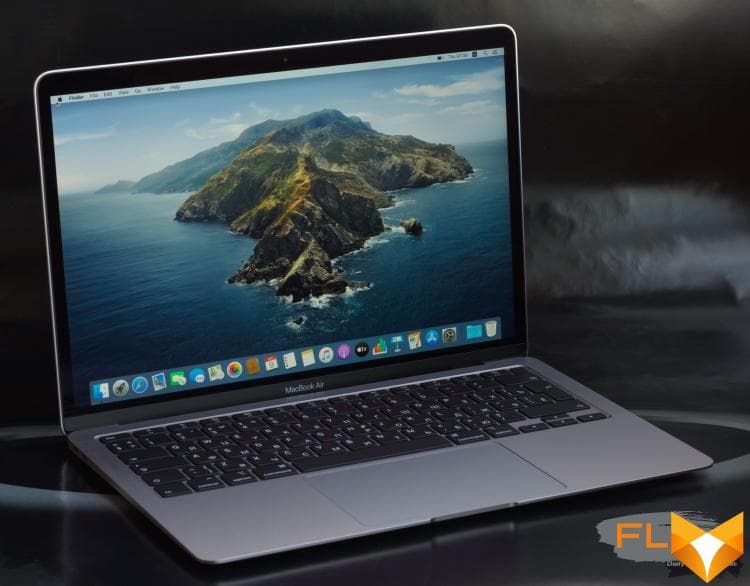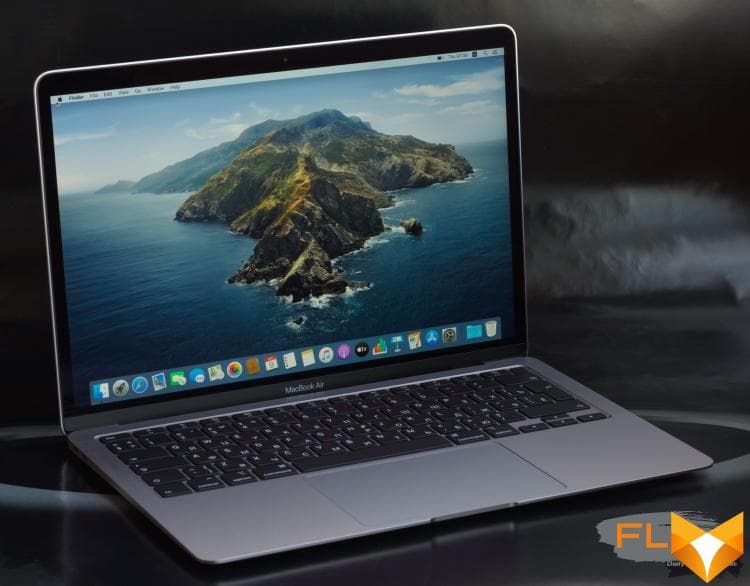 MacBook Air bears the honorary title of the progenitor of all ultrabooks. However, the first does not mean the main. And it is all the more difficult to remain a trendsetter for 12 years that have passed since the debut of the original model. Right now, none of Apple's competitors are looking to "kill the MacBook Air" anymore. The market is full of alternatives that are either lighter or more powerful, and often both. In Apple's defense, the desire of other companies to reduce the weight of the device at any cost or surprise with maximum performance in an ultra-compact form factor does not always lead to good. That said, the MacBook Air's specs are already pretty rusty by 2019, and it remains interesting more as the most affordable and compact Mac than on its own. At the same time, Apple let the infamous butterfly keyboard live too long, which, despite all the efforts, could not be fixed.
However, the Cupertians finally turned their backs on iPhones and gave their computers the attention they deserve. Not so long ago, the MacBook Pro received a major upgrade to the main components and a new keyboard, and now the same thing has happened with the MacBook Air.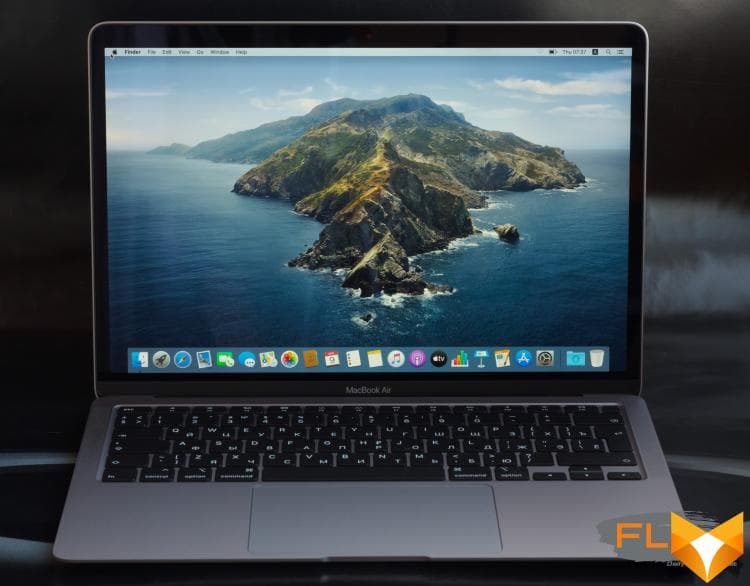 ⇡#Specifications, scope of delivery, prices
The main change to the specifications of the MacBook Air brought about by the 2020 upgrade is, of course, the quad-core processors. For the entire ten years that ultra-compact Macs have existed, their computing capabilities have been limited to two cores. And for some time now, Apple has switched the entire family to low-wattage Y-series chips, which further alienated the Air from 13.3-inch MacBook Pro models, even dual-core ones. Finally, in the 13-14-inch form factor, ultrabooks that boast quad- or even six-core CPUs are no longer uncommon, but Apple, as usual, harnesses for a long time, and the MacBook Air as of 2019 already made a rather sad impression in terms of performance. .
However, besides Apple, there is another "waiter" in the IT industry. It's inconvenient once again to reproach Intel for the eternal delays in introducing progressive technological norms, but without 10-nanometer chips it would hardly have been possible to fit four cores into the MacBook Air in such a way as to maintain the same battery life and not overwork the (frankly, flimsy) cooling system . Thankfully, Ice Lake silicon has finally entered mass production, and the new Air gave us our first opportunity to test Intel's 10nm in action.
The lineup of laptop processors based on the Ice Lake core is traditionally divided into the U-series, which contains samples with a power reserve of 15–28 W, and low-wattage Ice Lake-Y chips, the nominal TDP of which is 9 W. Apple preferred the latter, and, perhaps, did the right thing. We've already seen a few ultra-compact platforms above 10W, and we can assure you that it's not easy to make the most of the extra watts without compromising temperature or noise, even in cases thicker than the MacBook Air.
The specifications of the novelty include three chips – still a dual-core Core i3-1000NG4 and two quad-core core i5-1030NG7 and Core i7-1060NG7. Note that in the list of Ice Lake models, only these positions have the letter N in the name, and differ from the closest analogues by an increased base frequency by 100–300 MHz, an "extra" watt of power (in the case of two older ones) and a more compact package. In light of the close relationship between Apple and Intel, the conclusion is that the mysterious N-chip is an exclusive product that will not appear anywhere else. However, the MacBook Air was one of the first, if not the very first laptop on the Ice Lake-Y platform, so we won't be able to find out in practice what the letter N costs.
| Manufacturer | Apple |
| --- | --- |
| Model | MacBook Air (Early 2020) |
| Display | 13.3", 2560 × 1600 (60Hz), IPS |
| CPU | Intel Core i3-1000NG4 (2/4 cores/threads, 1.1-3.2GHz); Intel Core i5-1030NG7 (4/8 cores/threads, 1.1-3.5 GHz); Intel Core i7-1060NG7 (4/8 cores/threads, 1.2-3.8 GHz) |
| RAM | LPDDR4X SDRAM, 3733 MT/s, 8/16 GB |
| GPU | Intel Iris Plus Graphics G7 (1.5 GB of system RAM) |
| Accumulator | Apple SSD (PCIe 3.0 x4) 256 – 2048 GB |
| I/O Ports | 2 × USB 3.1 Gen 2 Type-C / Thunderbolt 3; 1 × mini jack |
| Network | WiFi IEEE 802.11a/b/g/n/ac; Bluetooth 5.0 |
| Battery capacity, Wh | 49.9 |
| Weight, kg | 1.25 |
| Overall dimensions (L × H × D), mm | 304 × 212 × 16.1 |
| Retail price (US, no tax), $ | 999–2249 (apple.com) |
The MacBook Air still doesn't have a discrete GPU. However, among all the Ice Lake chips, the G7-series that Apple has chosen boasts the most powerful integrated GPU. And compared to the built-in video adapter of the Amber Lake chips that Apple used in the past two iterations of the Air, GPU performance should increase by a lot. True, it is worth noting that the GPU brand – Iris Plus – in this case does not mean that the processor has a fourth-level cache (eDRAM), which is needed mainly in order to accelerate the integrated graphics.
Another point in the configuration of the updated MacBook Air, which needs to be emphasized in order to eliminate misunderstandings, is the type of RAM. The machine is equipped with 8 or 16 GB LPDDR4X with a specific throughput of 3733 MT/s. The numbers look solid compared to the 2133 MT / s (megatransactions per second) speed typical for LPDDR3, but the overall performance of such memory is actually lower due to the fact that LPDDR4X (like "plain" LPDDR4) is connected to the system agent by a bus half bit – 32 bits per channel. Fortunately, the MacBook Air still has two channels.
As for the SSD, Apple crossed out, to put it mildly, a configuration with a 128-gigabyte drive that is dubious in modern conditions. The minimum storage capacity has been increased to 256 GB and the maximum to 2 TB. All the SSDs in the MacBook Air are variants of the same homemade Flash controller used in other MacBooks. The chip has not been updated for a long time, but there is still no reason to complain about the speed of these solid state drives.
The other good news is that the major enhancements to the 2020 MacBook Pro that make it different from last year's models will be available to customers "for free." The configuration with the junior quad-core Core i5 and 256 GB SSD Apple estimated at $ 1,099, although earlier they did not hesitate to take the same amount for two cores and 128 GB. The new dual-core Air has dropped to $999, but, as we said, it still has 256 GB of ROM. Both amounts still bite if you look solely at the technical specifications in the context of similar offers with a screen of 13.3-14 inches. However, with the advent of quad-core options, MacBook Air prices have bounced back by ultra-compact standards, none of which, with proper mechanics and build quality, can be cheap.
⇡#Look and Ergonomics
In general terms, the updated MacBook Air differs little from the old one, which, in turn, repeated the design introduced in 2018. This has its pros and cons. So, weighing less than 1.3 kg and a thin body will not surprise anyone, but, unlike analogues, the MacBook Air is designed so that the cooler takes in and throws air from above, through the holes between the keyboard and the screen, and its bottom is completely blank. Many, if not most, ultrabook manufacturers have opted for a suspended design, where the case rests on a protruding edge of the screen cover or high legs when opened, and air enters from below. Thus, of course, it is easier to blow the CPU heatsink, but the MacBook Air of the previous two generations is not the best example of cooling quality.
On the other hand, you can put it on a carpet or a blanket without smothering the cooler. And most importantly, in a light laptop based on a lid, it is extremely difficult to maintain such rigidity of the body so that the keyboard does not walk under your hands when typing. Apple laptops with keyboard stability and bending strength in any other places have no problems. The thickness of the aluminum panels also helps, but as a result, at 1.25 kg, the MacBook Air is far from the lightest ultrabook.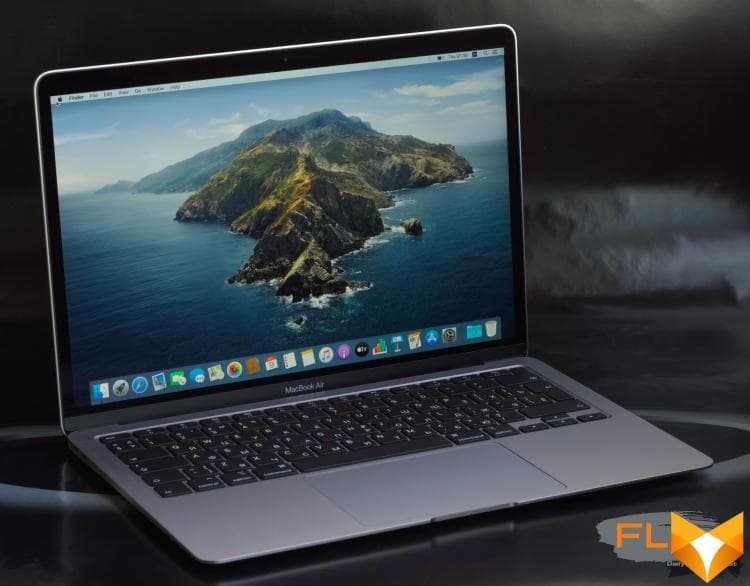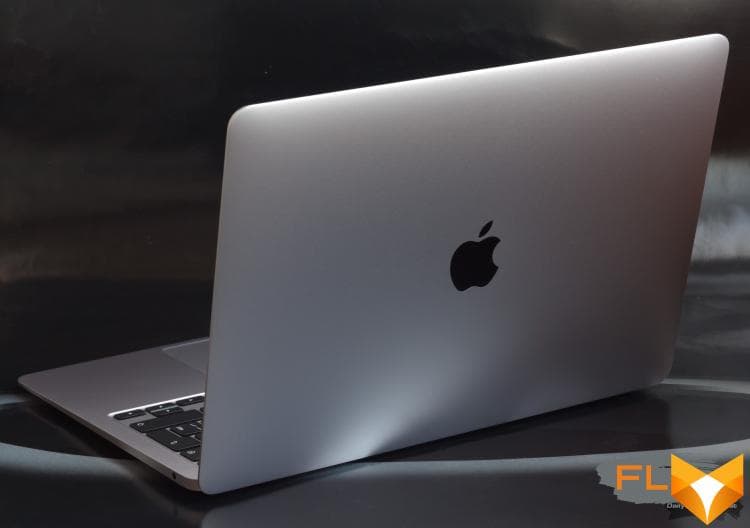 Perhaps the main feature that distinguishes the MacBook Air from other modern ultra-compacts is its 13.3-inch screen. Everything goes to the fact that 14 inches is the new 13, and thanks to conditionally frameless panels, the border between the two form factors has disappeared. The bezels around the MacBook Air screen, although not as wide as those of the old, "preretin" models, are, whatever one may say, striking, if you compare even with the ASUS ExpertBook B9 – also, by the way, not a champion in this category. But all Macbooks have 16:10 aspect ratio screens, which provide more space for the same diagonal, and are generally more convenient for anything other than watching HD video.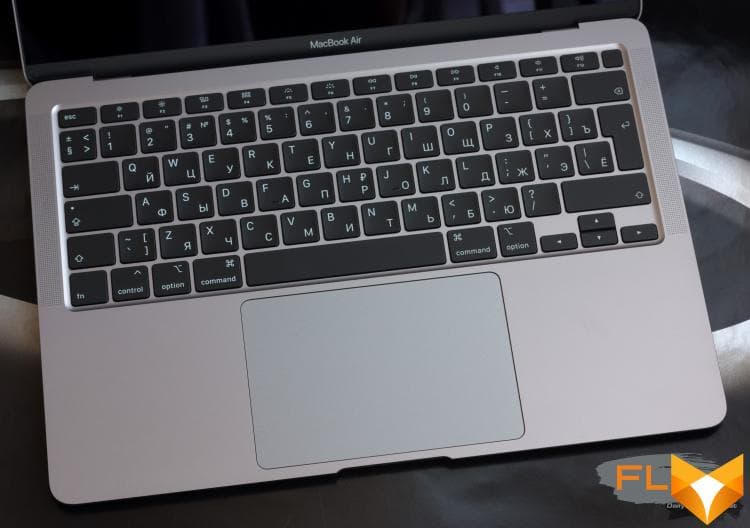 All of the above applies equally to the 2020 MacBook Air and the previous two iterations. True, the novelty has become thicker by 0.5 mm. Why do you think? It's all about the new keyboard. The butterfly mechanism was first expelled in disgrace from the MacBook Pro, and is now leaving the more affordable Macs. The Air keys are not exactly the same as in the "firmware" – they do not have such a clear, uncharacteristic tactile response for a membrane type, and the stroke is a little shorter. Nevertheless, it is still one of the most comfortable laptop keyboards, and most importantly, its mechanism, unlike the "butterfly", is not afraid of dust.
"Makovsky" touchpad needs no introduction. We are not afraid to say that, with the exception of a regular mouse, a more convenient manipulator for the desktop OS has not yet been invented. The panel is large, cursor and gesture tracking is set up flawlessly, and despite the fact that there are no mechanical switches under the touchpad, the tactile feedback hammer creates the complete illusion that they are. The power button, which occupies its usual place in the top row of keys, is integrated with a fingerprint scanner.
The key mechanism, as we'll soon see, isn't the only change for the better in the design of the MacBook Air. But one sore point remains: the laptop is still extremely limited in wired communications. Ice Lake-Y processors support up to four Thunderbolt 3 ports combined with USB 3.1 Gen 2, but there are only two of them, and one of them is used for charging. There is also no card reader – not even a MicroSD format, which, by the way, would fit perfectly with the height of the case.


⇡#Internal design and upgrade options
Judging by the weight and size of the components, the MacBook Air is a battery, and everything else is an addition to it. A large battery with a capacity of 49.9 Wh is installed here. And by the way, in order to dismantle it at home (this, of course, is done only when they are going to install a "pirate" battery with the corresponding consequences for the warranty), you no longer need to soak the glue with acetone. Just pull on the black petals and the sticky strips will loosen (stretch-release adhesive). In the same way, in addition to a pair of screws, speakers with large reverberation chambers are fixed on the sides of the battery. However, Apple abandoned regular glue in the MacBook Air two years ago (in the MacBook Pro 16 "the battery, alas, is still glued tightly). But the touchpad cable, which used to go under the motherboard, is now skipped from above, and should be replaced manipulator if necessary has become much easier.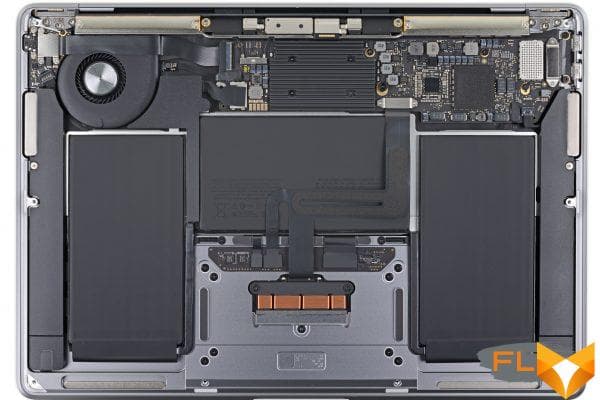 Among other MacBooks, we would give the Air the highest score on the maintainability scale, but Apple's concessions bypassed a more important component: the SSD is still soldered to the motherboard and cannot be upgraded. The same goes for RAM, but in an ultrathin form factor, RAM is always non-removable, and it seems that separate LPDDR4X modules simply do not exist.
Well, and most importantly, there are questions about the cooling system, which looks, frankly, unconvincing even for a 10-watt processor. The radiator was made larger, but it still does not have a single heat pipe, and the turbine is located at a relatively large distance. However, let's not rush to conclusions – tests of the MacBook Air cooler are still ahead of us.
⇡#Test Methodology
Synthetic tests
Application
Settings
3DMark Time Spy
—
Geekbench 4
—
CINEBENCH R20
—
GFXBench 5 (Aztec Ruins — Normal Tier, High Tier)
Windows: Vulkan, macOS: Metal
fio 3.16
Sequential read/write, random read/write (unbuffered I/O)
Work Applications
Application
Benchmark
Settings
API
Intel Graphics
AMD Graphics
NVIDIA Graphics
Adobe Photoshop CC 2019
PugetBench for Photoshop CC 0.8 (linked test structure)
Basic Benchmark
OpenGL + OpenCL + Metal (macOS)
OpenGL + OpenCL + Metal (macOS)
OpenGL + OpenCL
Adobe Photoshop Lightroom Classic CC 2020
PugetBench for Lightroom Classic 0.8 (test structure at link)
—
DirectX 12 (Windows)/Metal (macOS)
DirectX 12 (Windows)/Metal (macOS)
DirectX 12
Adobe Premiere Pro CC 2019
PugetBench for Premiere Pro 0.8 (linked test structure)
Standard Benchmark
OpenCL (Windows)/Metal (macOS)
OpenCL (Windows)/Metal (macOS)
CUDA
Blender 2.81a
Class Room demo from Blender Foundation
Cycles renderer. Feature Set: Supported. Tile size: 32 × 32 (CPU) or 256 × 256 (GPU)
N/A (CPU rendering)
OpenCL (Windows)/CPU (macOS)
CUDA/OptX
Display testing is performed using a Datacolor Spyder4 Elite colorimeter in ArgyllCMS and DisplayCAL 3 applications.
Notebook battery life is measured at a display brightness of 200 cd/m2 in the following usage scenarios:
web surfing: alternately opening and closing tabs of Computeruniverse.ru and Unsplash.com sites with an interval of 25 seconds in the Google Chrome browser (cache and cookies are disabled);
Continuous playback of 4K HEVC (H.265) video.
⇡#Test participants
The following devices took part in performance testing:
Screen
CPU
RAM
GPU
SSD
HDD
Battery
Apple MacBook Air, Early 2020 (A2179)
13.3", 2560 × 1600, IPS
Intel Core i5-1030NG7
4/8 cores/threads, 1.1-3.5GHz
LPDDR4X SDRAM, 3733 MT/s, 8 GB
Intel Iris Plus Graphics G7
1.5GB of system RAM
Apple AP0512N (PCIe 3.0 x4) 512 GB
None
49.9 Wh
Apple MacBook Air 13.3″, Mid 2019 (A1932)
13.3", 2560 × 1600, IPS
Intel Core i5-8210Y
2/4 cores/threads, 1.6-3.6GHz
LPDDR3 SDRAM, 2133MHz, 16GB
Intel UHD Graphics 617
1.5GB of system RAM
Apple AP1024N (PCIe 3.0 x4) 1024 GB
None
49.9 Wh
Apple MacBook Pro 13.3″, Mid 2019 (A2159)
13.3", 2560 × 1600, IPS
Intel Core i5-8257U
4/8 cores/threads, 1.4-3.9GHz
LPDDR3 SDRAM, 2133MHz, 16GB
Intel Iris Plus Graphics 645
128MB eDRAM
Apple AP1024N (PCIe 3.0 x4) 1024 GB
None
58.2 Wh
Apple MacBook Pro 16″, Late 2019 (A2141)
16", 3072 × 1920, IPS
Intel Core i9-9980HK
8/16 cores/threads, 2.4-5.0 GHz
DDR4 SDRAM, 2666MHz, 16GB
AMD Radeon Pro 5500M
4GB GDDR6
Apple AP1024N (PCIe 3.0 x4) 1024 GB
None
100 Wh
ASUS ExpertBook B9 (B9450FA)
14", 1920 × 1080, IPS
Intel Core i7-10510U
4/8 cores/threads, 1.8-4.9GHz
LPDDR3 SDRAM, 2133MHz, 16GB
Intel UHD Graphics 620
~1GB of system RAM
2 × Samsung PM981 (PCIe 3.0 x4) 1024 GB
None
66 Wh
ASUS VivoBook S14 (S433FL)
14", 1920 × 1080, IPS
Intel Core i7-10510U
4/8 cores/threads, 1.8-4.9GHz
DDR4 SDRAM, 2666 MT/s, 16 GB
NVIDIA GeForce MX250
2GB GDDR5
Samsung PM981 (PCIe 3.0 x4) 1024 GB
None
50 Wh
MSI Prestige14 (A10SC)
14", 1920 × 1080, IPS
Intel Core i7-10710U
6/12 cores/threads, 1.1-4.7GHz
LPDDR3 SDRAM, 2133MHz, 16GB
NVIDIA GeForce GTX 1650 Max-Q
4GB GDDR6
Samsung PM981 (PCIe 3.0 x4) 1024 GB
None
52 Wh
⇡#Screen Quality
The MacBook Air has one of the highest-quality screen matrices that can be found in ultra-compact laptops, and it's not so much in the high resolution of 2560 × 1600, but in the combination of its other characteristics. It's not as bright as the 16-inch MacBook Pro at 355 cd/m22, but it's impressive for a compact panel. In addition, the matrix has an unconditionally high contrast ratio of 1000:1 by the standards of laptop screens.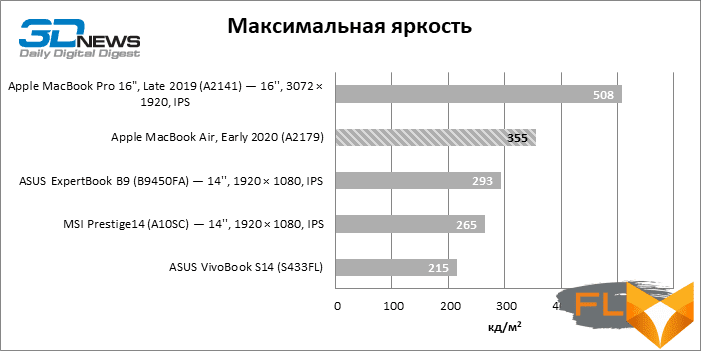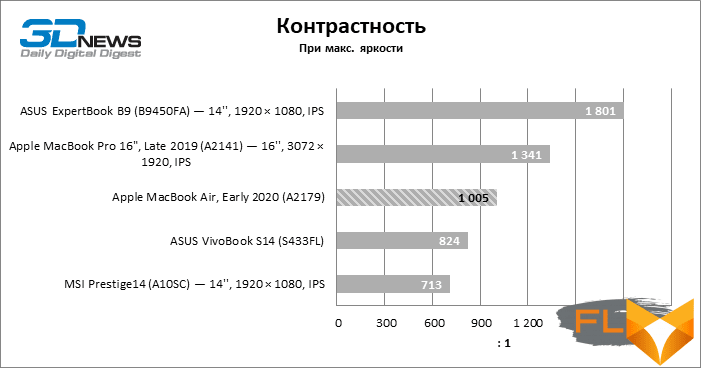 The only major trade-off that separates the new display from the screens that Apple has installed in the MacBook Pro over the past few years is the color gamut. The MacBook Air does not go beyond the sRGB range (according to our measurements, there is even a slight undersaturation in the red and green areas). At the same time, oddly enough, the matrix is ​​ten-, not eight-bit.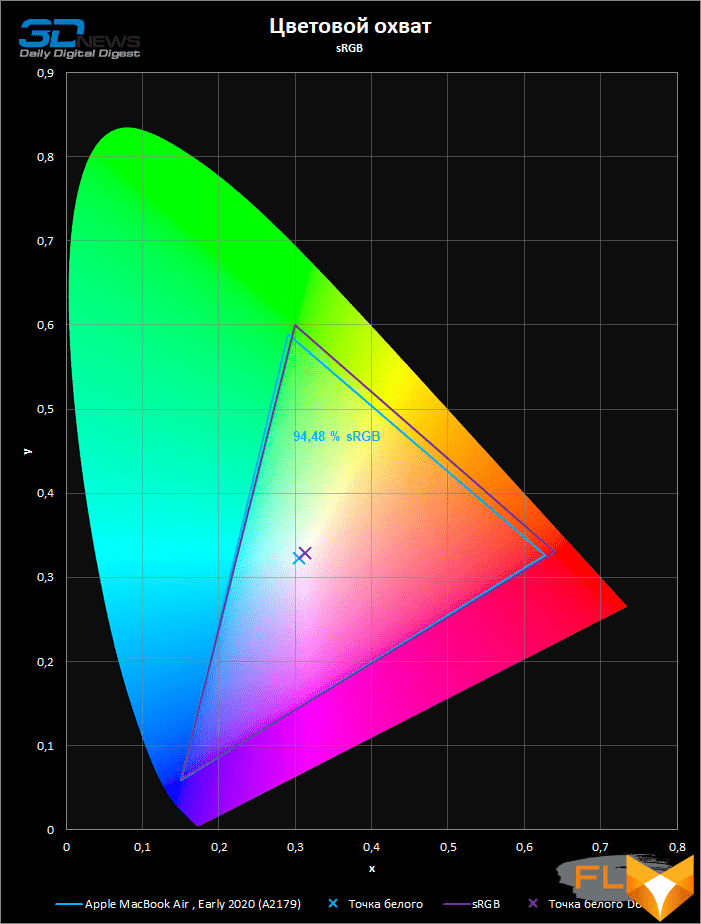 The rest of the image quality does not cause any complaints. The gamma correction curves are close to the reference power function of 2.2, and the preset ICC profile guarantees a satisfactory color temperature (about 6750K).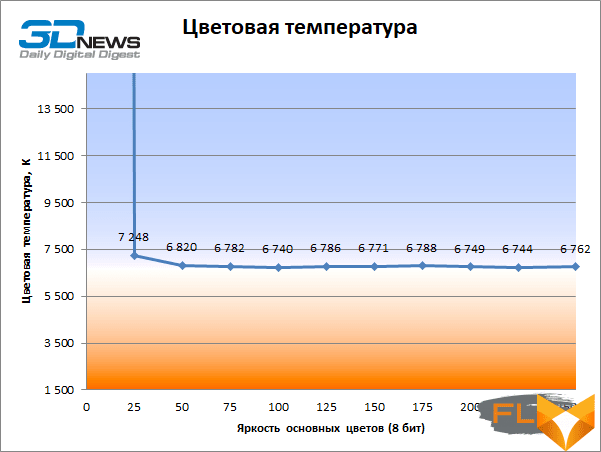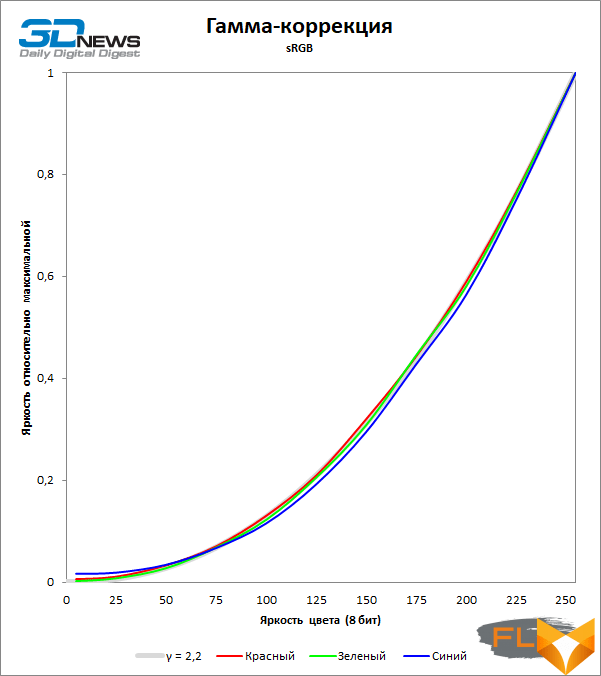 Color accuracy according to the Delta E rating can be considered a reference at all, although additional calibration and profiling by the user will certainly improve all of the above parameters.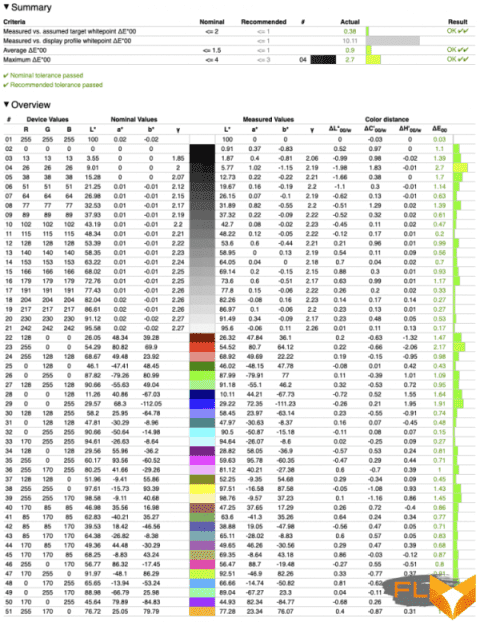 From gross defects – such as flickering at low brightness levels or side illumination – MacBook Air, as one would expect, also does not suffer.
⇡#Clock speeds, temperature and noise levels
It seems that Intel has given Ice Lake and Comet Lake cores two different missions for a reason, although they formally belong to the same 10th generation Core microarchitecture. Comparing the frequency parameters of the new MacBook Air and ASUS ExpertBook B9 under load, it is easy to see the difference. Both systems are similar in form factor and size, and their CPUs are limited to the same 10W long-term power headroom. However, the Ice Lake processor in the MacBook Air does not go above 1.5 GHz, while the Comet Lake chip in the ExpertBook maintains an average clock speed of 363 and a maximum clock speed of 489 MHz higher.
There is also a difference in how integrated graphics work: with an isolated load on the GPU, the frequency ceiling of the Comet Lake video adapter is again higher, and in a stress test, when both the CPU and the GPU are ray tracing, the gap between Ice Lake and Comet Lake reaches a maximum.
Load Clock
Cinebench R20 (Max Thread #)
LuxMark 3.1
Cinebench R20 (Max Thread #) + LuxMark 3.1
CPU clock speed, MHz
GPU clock speed, MHz
CPU clock speed, MHz
GPU clock speed, MHz
Medium
Max
Medium
Max
Medium
Max
Medium
Max
Apple MacBook Air, Early 2020 (A2179)
1479
1511
651
700
995
1025
300
350
Apple MacBook Air 13.3″, Mid 2019 (A1932)
2281
2344
716
850
1376
1601
628
800
ASUS ExpertBook B9 (B9450FA) — Turbo
1841
2000
601
1050
937
1000
584
700
ASUS VivoBook S14 (S433FL)
2555
3392
1550
1695
1804
2294
1248
1683
MSI Prestige14 (A10SC) — High Performance
2418
2793
1176
1635
2073
2295
930
930
Reserved CPU and GPU power
Cinebench R20 (Max Thread #)
LuxMark 3.1
Cinebench R20 (Max Thread #) + LuxMark 3.1
CPU power consumption, W
GPU power consumption, W
CPU power consumption, W
GPU power consumption, W
Medium
Max
Medium
Max
Medium
Max
Medium
Max
Apple MacBook Air, Early 2020 (A2179)
10
10
10
10
10
10
10
10
ASUS ExpertBook B9 (B9450FA) – Turbo
10
10
10
17
9
10
9
10
ASUS VivoBook S14 (S433FL)
19
28
N/A
N/A
13
15
N/A
N/A
MSI Prestige14 (A10SC) — High Performance
25
27
30
30
20
20
15
16
Прим. The measurement is performed after the device has warmed up and all parameters have stabilized.
However, you should not focus on clock speeds when it comes to ultra-compact laptops, for which working at the limit is an emergency situation, and the range of typical tasks is reduced to web surfing, watching videos and office programs. There are more important circumstances that we should pay close attention to – for example, the quality of cooling, which determines the temperature of the CPU, and most importantly, the noise level.
The cooler, which still consists of a milled all-metal heatsink without heat pipes and a tangential fan at a distance of several centimeters from it, immediately led us to bad thoughts – and, as it turned out, not in vain. In the company of ultra-compact machines, over the past six months (and all of them are based on the 14nm Comet Lake platform), only the MacBook Air allows the CPU to warm up to 100 ° C, and moreover, it is noisy at 44 dBA. Judging by the fact that last year's model with a dual-core processor behaves in exactly the same way, some changes for the better in the design of the cooling system have nevertheless taken place, but exactly on such a scale that the additional 3 W of power does not become completely bad. It seems that Apple's designers were counting on the fact that the MacBook Air would not be loaded with any resource-intensive applications at all. But we have other plans for him.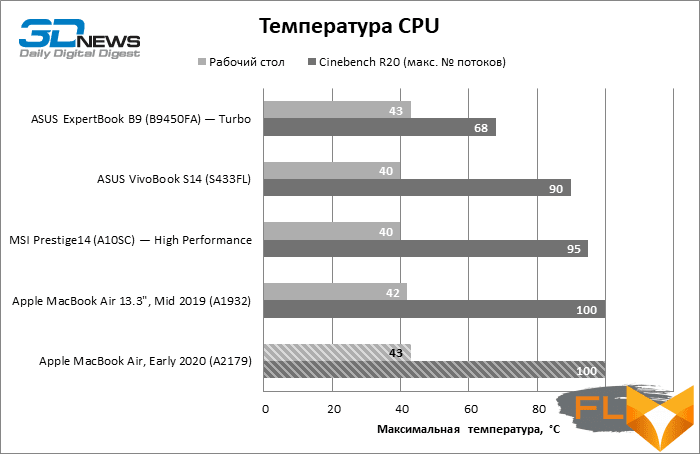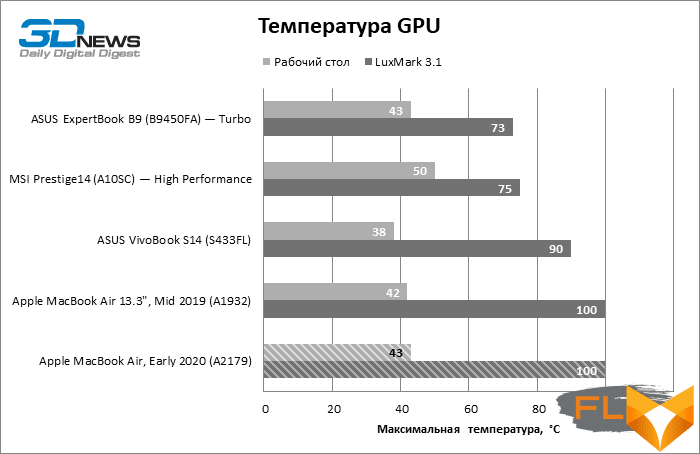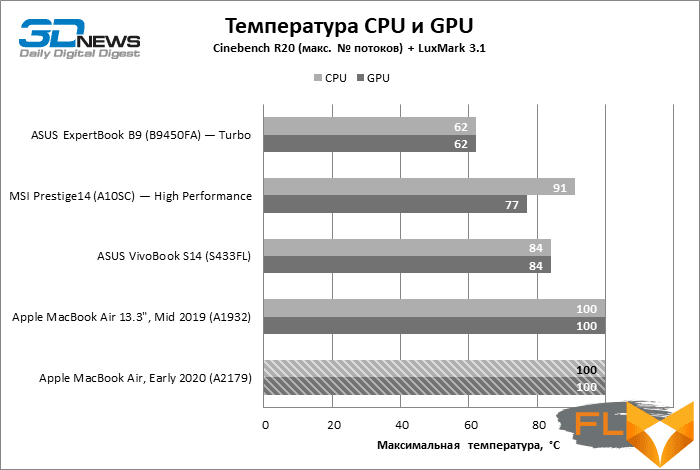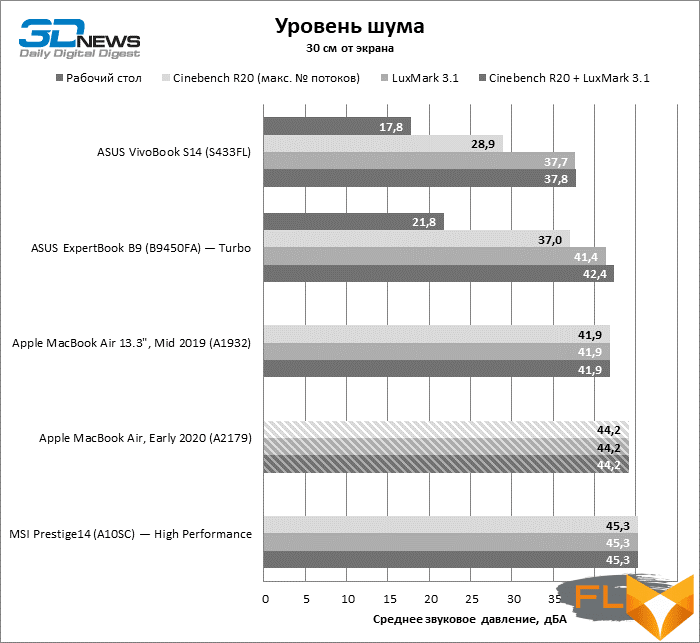 ⇡#Synthetic performance tests
Even the intermediate configuration of the updated MacBook Air — with a quad-core Core i5 processor, but not yet with a Core i7 — is a huge upgrade over the 2019 MacBook Air. With a short, "explosive" load, which prevails in the Geekbench package, there is an almost twofold increase in performance. If we turn to the synthetic ray tracing benchmark Cinebench R20, which is forced to work for a long time on this class of hardware, the power limit comes into force (whatever one may say, Apple added only 3 watts), but even in such conditions there is a lot of progress.
However, you can't expect much from a 10-watt CPU. After all, even Intel does not hide the fact that the Ice Lake core itself is not designed for high performance. Energy efficiency is a priority, and speed is already the task of Comet Lake chips. Let's take the ASUS ExpertBook B9 as an example again – an ultrabook with a Core i7-10510U processor, which of the latest innovations is most similar to the MacBook Air and also works with a 10W limit. In the long run in Cinebench R20, he wins, whatever one may say.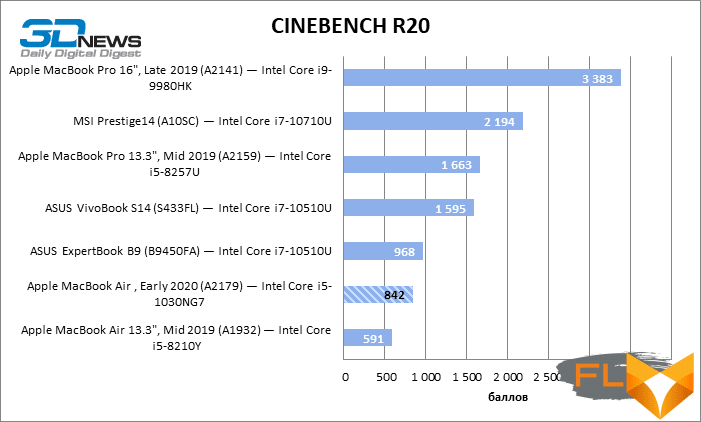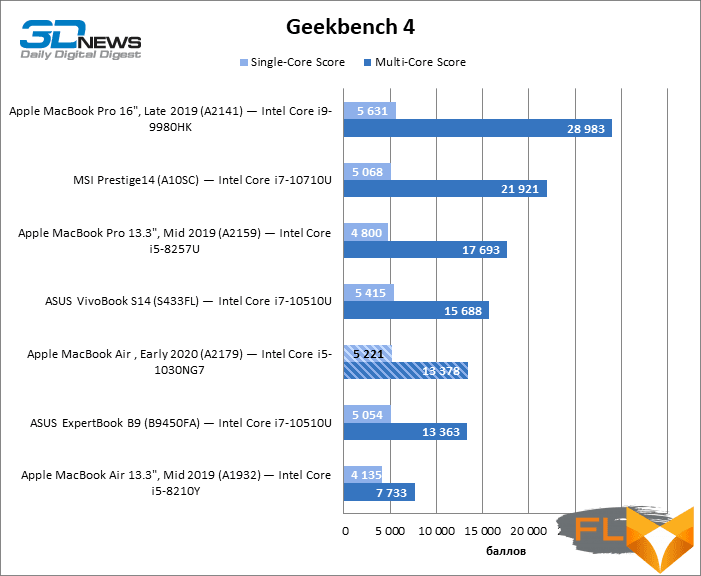 Another thing is the speed of integrated graphics. Among the many varieties of GPU built into Intel processors, perhaps only Iris Plus with eDRAM cache is capable of something in more or less demanding games. But this is clearly not our case. From the point of view of 3DMark, there is no difference between the UHD Graphics logic on the Comet Lake chip and the Iris Plus video adapter (remember, without eDRAM) in Ice Lake, but the GFXBench test, which is more adequate to the modest capabilities of both solutions, thinks otherwise. On the Ice Lake side, there's a strong advantage (and the "thin" Metal API, which is exclusive to apple operating systems, probably also contributed), although the modest gaming potential of the MacBook Air still cannot be compared even with the capabilities of last year's 13-inch MacBooks Pro, devoid of a discrete GPU. Whatever one may say, the graphics accelerator in the MacBook Air and similar ultra-compact laptops is needed primarily for work applications (in the broad sense of this definition), and not for games. We will now move on to them.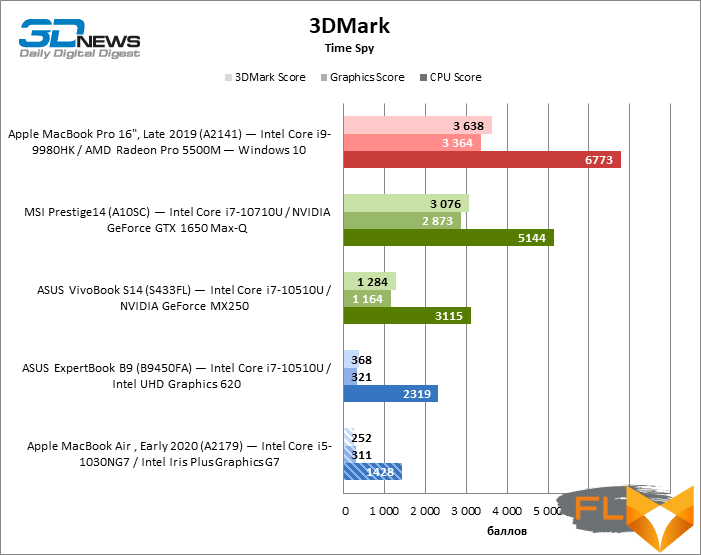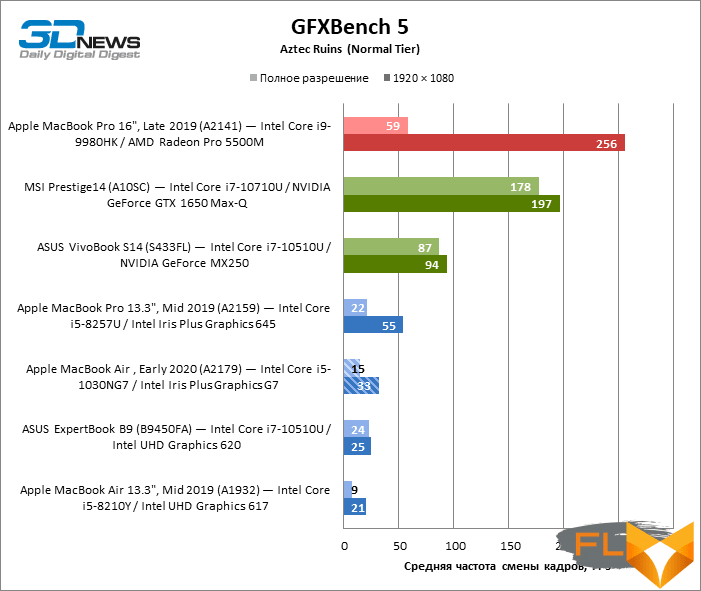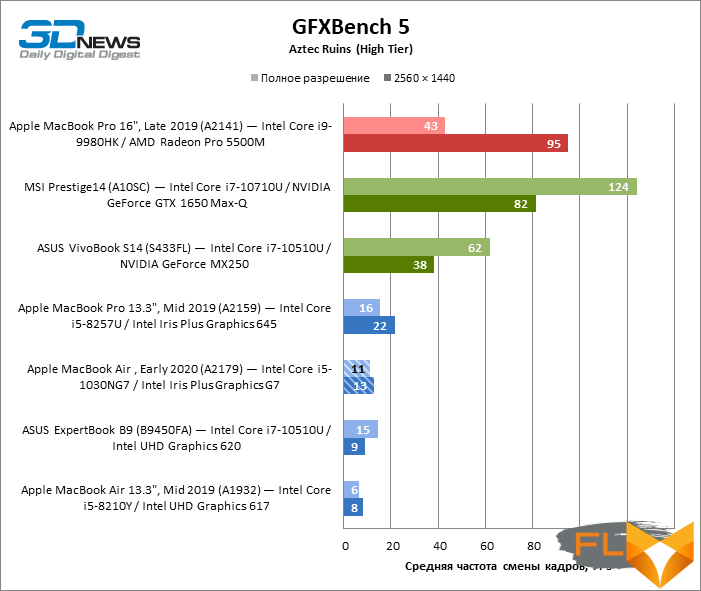 ⇡#Performance in production applications
Doing 3D modeling on a MacBook Air or other ultra-compact machine is only possible for lack of better options. Nevertheless, the Blender benchmark is a good measure of a laptop's performance in real-world conditions. For computers without a discrete GPU, which is what most machines in this form factor are, Blender with the Cycles renderer is a CPU test whose results depend primarily on the number of cores, but are limited by the power consumption of the platform.
With such a load, the updated MacBook Air stands out from last year's dual-core models, although there is no question of a twofold difference in rendering time. But there is practically no significant difference between the MacBook Air and ASUS ExpertBook B9, because they are equivalent in terms of CPU power reserve. On the other hand, any Intel U-series processor with an increased power package is making circles around economical 10-watt chips. And, of course, a discrete GPU – with the exception of the weakest ones – is the easiest to handle such tasks.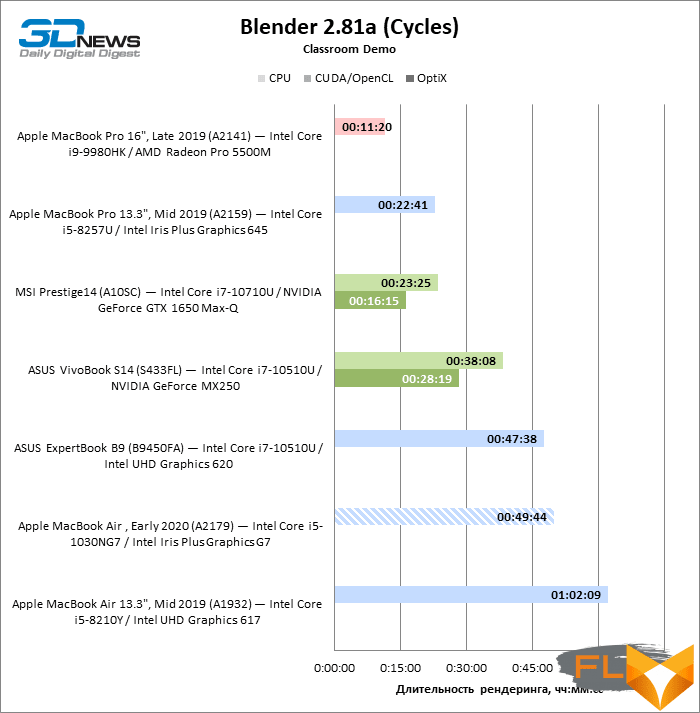 We usually cite the Lightroom photo processing test as an example of the fact that powerful hardware is far from always an urgent need, even when it comes to professional applications. Indeed, most active Lightroom operations (that is, those that the user performs "by hand") are weakly dependent on the power of the CPU and GPU. But the amount of RAM seems to be of decisive importance if you have to work with high-resolution frames and glue panoramas. Our sample MacBook Air has only 8 GB of RAM, and this has a sad effect on both active tasks and, to an even greater extent, passive tasks (conversion, filtering, and the like).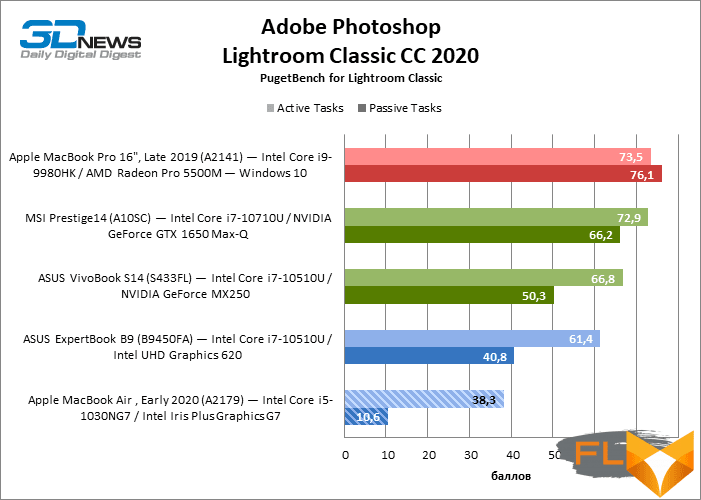 Note Scores are calculated as a percentage of Intel Reference Workstation performance Core i9-9900K, NVIDIA GeForce RTX 2080, 64GB RAM.
The RAM factor certainly played a role in the Photoshop benchmark. In all respects, except for rare operations that depend mainly on the CPU, the MacBook Air falls short of the ASUS ExpertBook B9, not to mention more productive ultrabooks.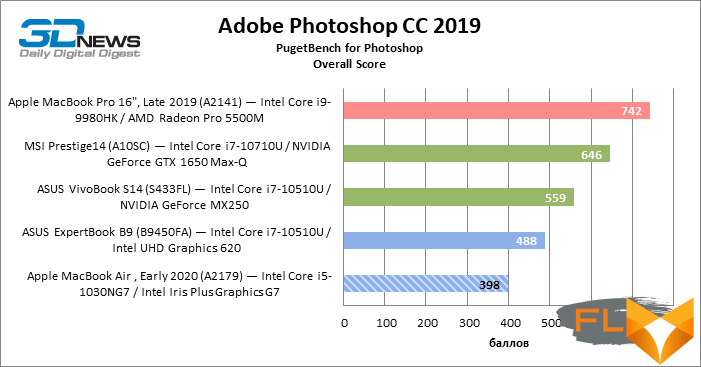 Note Scores are calculated as a percentage of Intel Reference Workstation performance Core i9-9900K, NVIDIA GeForce RTX 2080 and 64GB RAM x 10.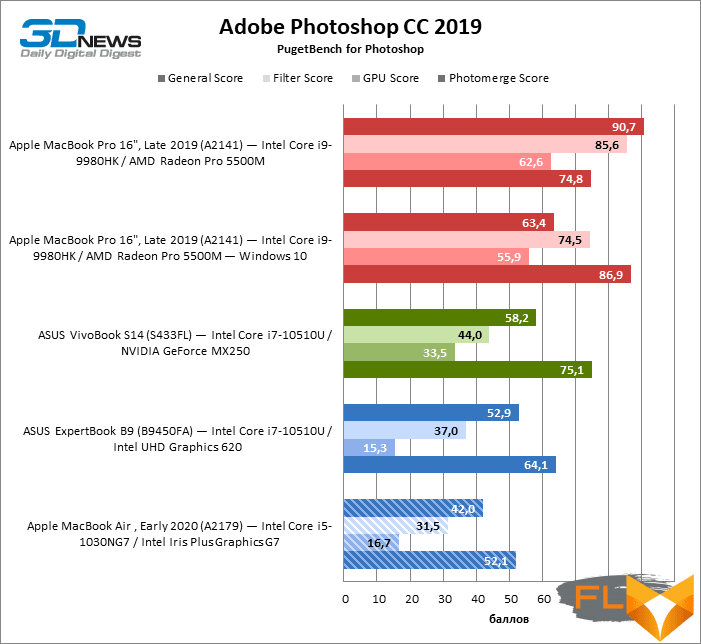 Note Scores are calculated as a percentage of Intel Reference Workstation performance Core i9-9900K, NVIDIA GeForce RTX 2080, 64GB RAM.
Video editing in Premiere Pro is a pretty extreme use case for lightweight ultrabooks, including those equipped with six-core CPUs and discrete graphics. The integrated GPU does not even allow the laptop to complete the corresponding PugetBench scenarios and get the final score in points (in such cases, we only have the results of processor-dependent tests). However, if the need arose, any increase in CPU power would come in handy. Ultrabooks with a 20-watt power supply are at the very least suitable for editing 4K videos in Premiere with a sharply reduced viewing window resolution, 10-watt ones – only in case of urgent need.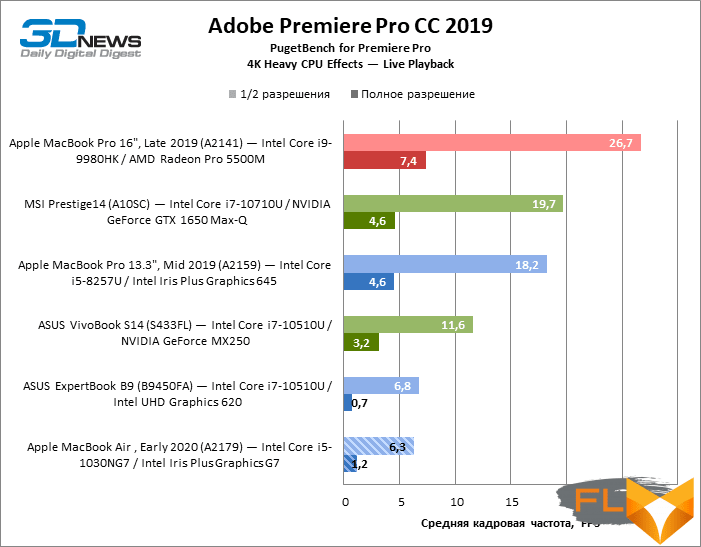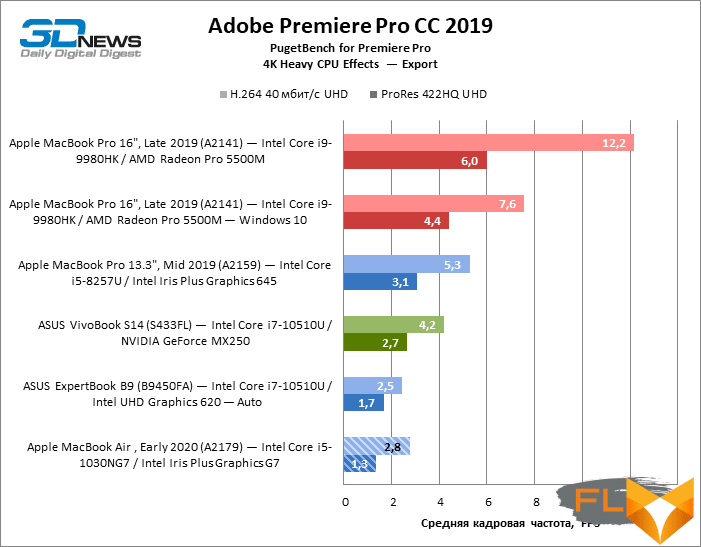 ⇡#SSD Performance
Our MacBook Air comes with an SSD based on an Apple-designed NVMe Flash controller connected to the CPU PCH by four PCI Express 3.0 lanes. The same drives are used in all other modern "Macbooks", but so far we have not yet come across 512 GB varieties, but only terabytes. Let's see how big the difference in bandwidth between them is, and at the same time find out if a low-wattage quad-core CPU is able to unleash the potential of the drive. When it comes to transferring data at a rate of hundreds of thousands of IOPS, it is the central processor that can easily turn into a bottleneck for the entire system.
For those who want to check our results, we remind you that macOS has a limit on the number of threads and processes that can simultaneously work through the POSIXAIO interface. To temporarily eliminate the limit, you must enter the following command in the terminal (the parameter values ​​​​are chosen empirically and with a large margin):
sudo sysctl -w kern.aiomax=2048 kern.aioprocmax=1024 kern.aiothreads=1024
However, as tests have shown, the 512-gigabyte version of the "apple" SSD is not such a fast drive that even on a more powerful platform it would make sense to fight for the maximum possible bandwidth by editing OS settings. In all performance metrics, it is inferior to its terabyte counterpart, and under favorable conditions (a long queue of commands), the difference in the number of IOPS becomes multiple. What to do, these are the costs of solid-state drives, which reach the peak of performance due to the developed parallelism of requests, but otherwise lose momentum sharply.
⇡#Battery life
In terms of battery life, the MacBook Air does not stand out from a number of other ultra-compact laptops. More than five hours of web surfing or six hours of video watching are guaranteed to the owner of the novelty, but in order to spend the whole day at the keyboard away from the outlet, you will have to save more on screen brightness: 200 cd / m2 – already too wasteful.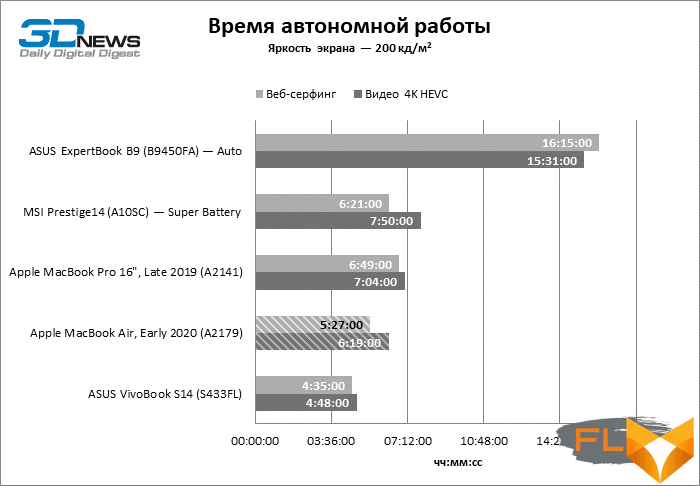 ⇡#Conclusions
Any ultra-compact laptop, due to the limitations of the form factor, is a niche device. These computers are not designed for those who need a laptop for all occasions – for work, and for play, and for travel – and attempts to deceive physics in the pursuit of record-breaking performance rarely end without harming other performance characteristics. But after getting acquainted with the 2020 MacBook Air, the conclusion suggests itself that even in its category, this is a rather specific machine. Such is the balance between its pluses and minuses.
The strongest side of the novelty is the mechanics and the overall quality of the device. Add to this an almost flawless screen and a comfortable keyboard with classic mechanisms, which – finally! — will not break in the first month after purchase. In addition, Apple laptops have exclusive and, apparently, patented "chips" that are too easy to get used to and then do without them – a buttonless touchpad that clicks at any point, and a biometric sensor built into the power button.
However, for all the advantages of the MacBook Air, it has its drawbacks. And, alas, they are all the same as they were a year or two ago. These days, even ultra-compact laptops must have a quad-core CPU, and the MacBook Air's logical performance upgrade should be taken for granted. But the cooling system without heat pipes is an obvious anachronism that does not allow you to fully unlock the potential of new 10-nanometer chips, because the new product already heats up and makes more noise than any of its closest rivals. Finally, the general migration from the obsolete USB Type-A format, which Apple has completely abandoned, to the progressive Type-C is still delayed, and the new Air does not offer anything other than this Type-C itself. Yes, you can use adapters, but in any case, there are literally one or two external digital ports on board the MacBook Air.
In our opinion, the 2020 MacBook Air has two ideal users. The first uses a laptop only outside the home – and mainly for passive consumption of content. And for some reason, his soul does not lie with tablets that can do all the same. But there is another, active type. The overall quality of the screen, chassis, and now the keyboard of the MacBook Air makes it extremely difficult to find a replacement in its already narrow market niche, and this is a key argument for those who work more than play on the road.