LapTop-master
HP Envy 13 (2021) review - FoxLaptop
HP Envy 13 (2021) review - FoxLaptop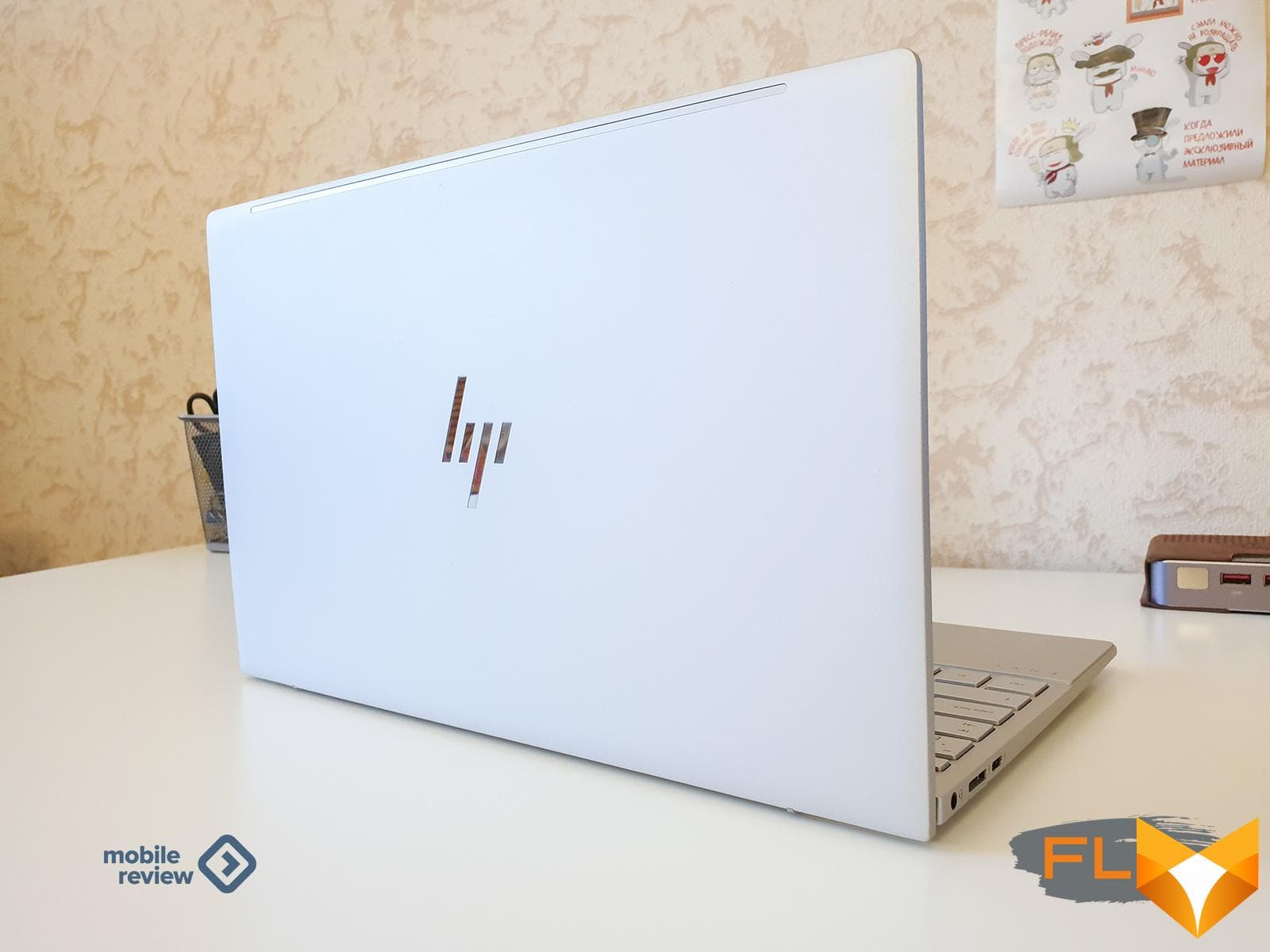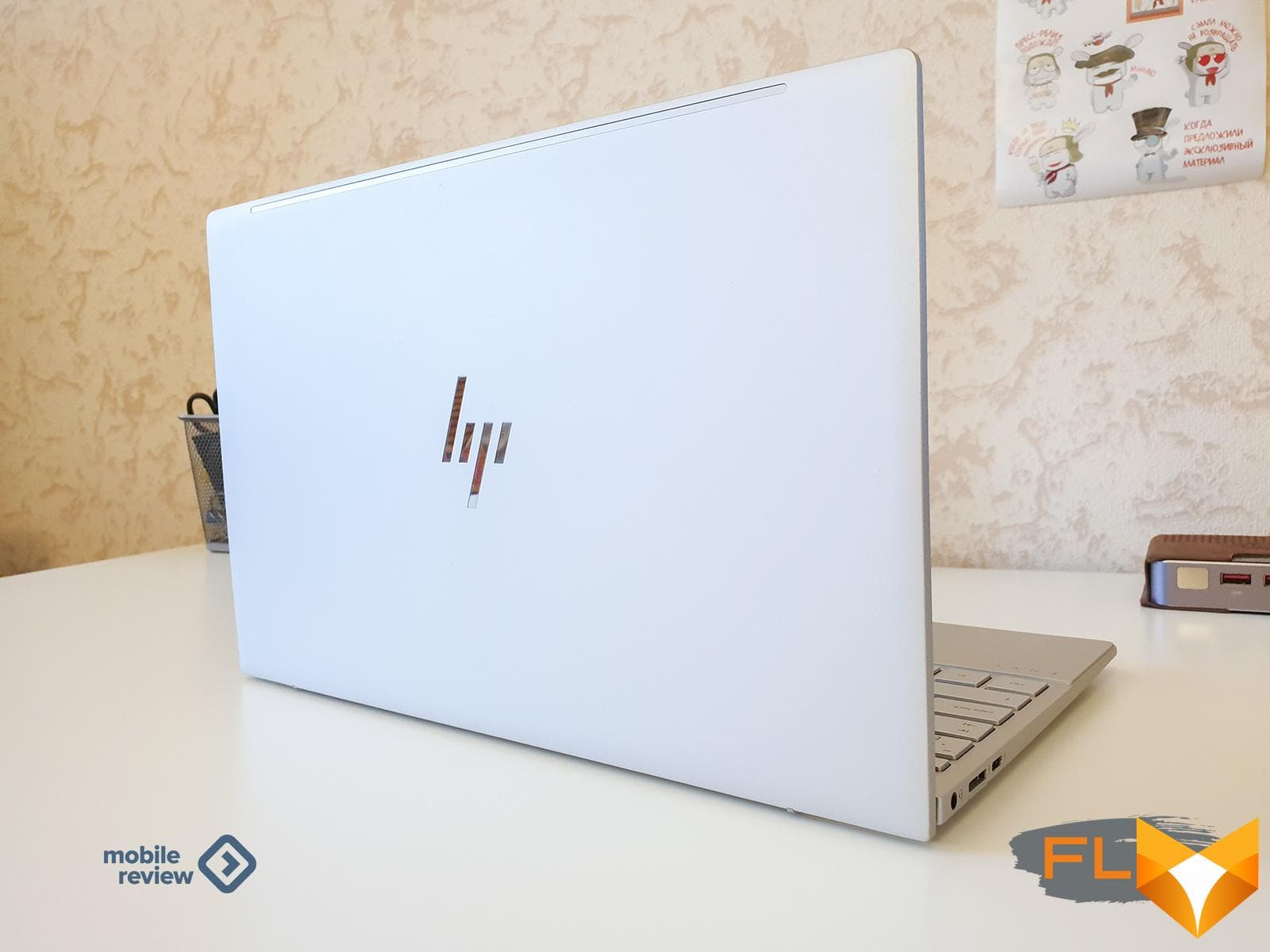 Positioning
The HP Envy is a premium business laptop with the slogan "Unlimited Creativity". There are models with a screen of 13 and 17 inches.
To be honest, I don't quite understand why such a slogan was chosen, since there are no special opportunities associated specifically with creativity. And the graphics are Intel Iris Xe Graphics or MX350 from Nvidia.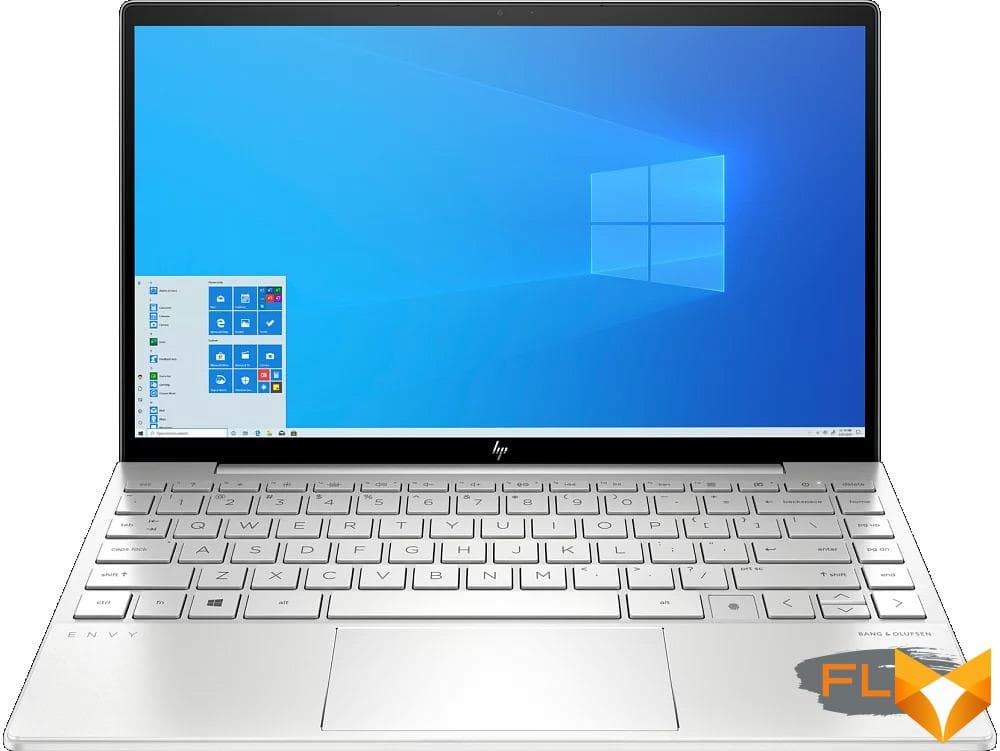 In my opinion, the new HP Envy is more of a productive laptop for those who often have to work on the go. The laptop is ultra-compact and weighs only 1.3 kg, while the battery life of the 13-inch model is claimed to be up to 19 hours. Along the way, the model is equipped with a privacy screen that protects against peeping. And the webcam has a shutter that turns off the camera from the system.
Also worth noting is a good set of ports, including Thunderbolt 4 and a microSD slot.
And finally, pay attention to the Intel Evo sticker on the case. Certification from Intel shows that this is an exemplary thin and light laptop.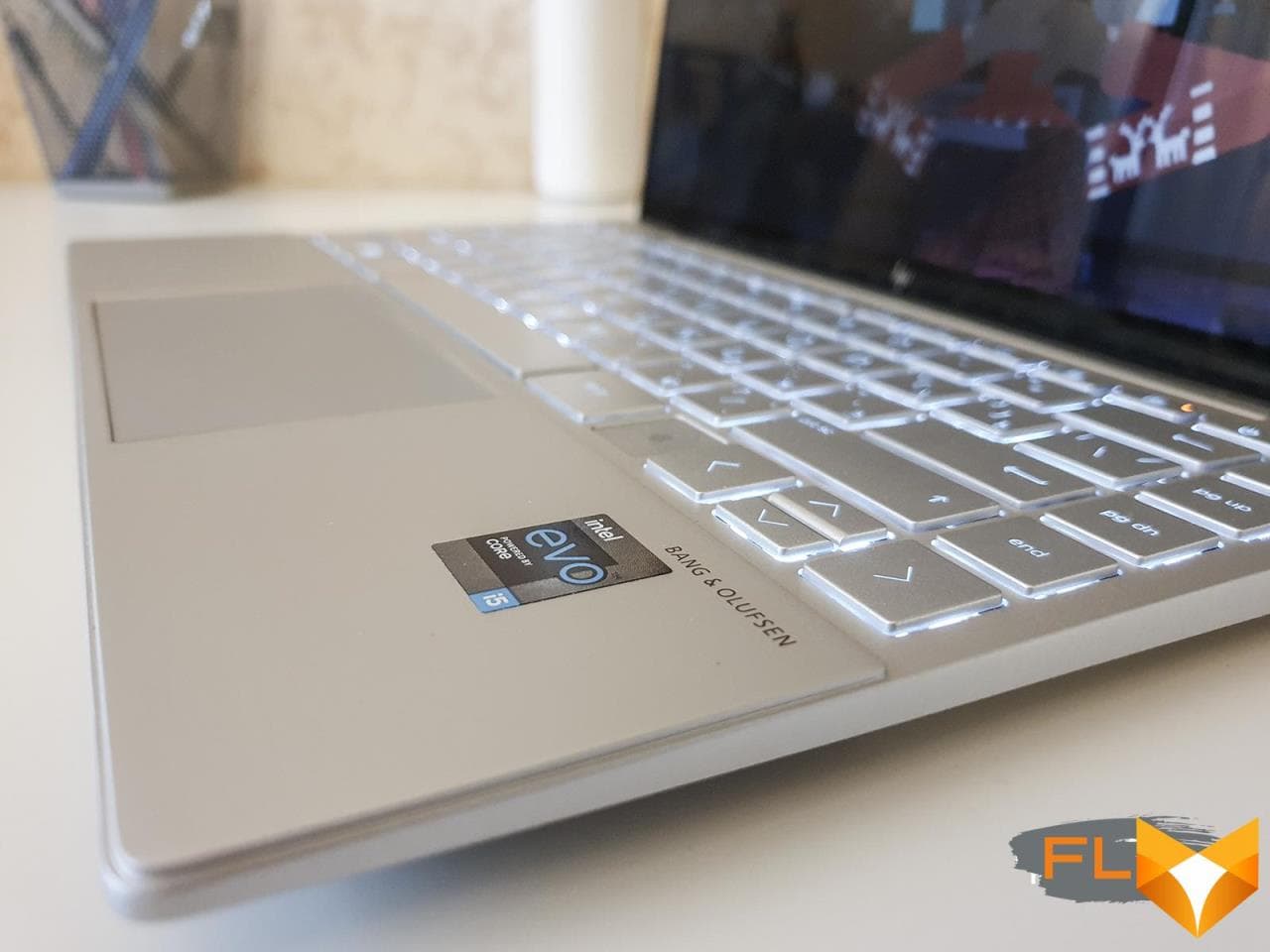 Specifications
Screen: 13.3″ IPS LCD, 1920 x 1080 resolution, 100% sRGB, 1000 nits brightness, HP Sure View
Processor: Intel® Core™ i5-1135G7 (4.2GHz, 8MB L3 cache, 4 cores)
Graphics: Intel® Iris® Xe Graphics
RAM: 16 GB DDR4
Storage: 512 GB PCIe® NVMe™ M.2 SSD
Sound: 2x
OS: Windows 11
Battery: 51 Wh
Communication: Intel Wi-Fi 6 AX201, Bluetooth 5.0
Keyboard: full size backlit
Webcam: HP True Vision 720p HD with shutter
Touchpad: Oversized, 11cm x 6cm
Ports:

1 Thunderbolt 4 USB Type-C (USB Power Delivery, DisplayPort™ 1.4, HP Sleep and Charge)
1 SuperSpeed ​​USB Type-A (HP Sleep and Charge)
1 SuperSpeed ​​USB Type-A
1 x 3.5mm jack
1 power adapter connector

Other: Fingerprint reader included, Intel Evo certified, HP Sure View privacy screen, Type-C to HDMI adapter included
Material: Aluminum
Dimensions: 30.65 x 19.45 x 1.70 cm, weight 1.3 kg
Price: official 85.6 tr., can be found for 75 tr. (but almost everywhere the laptop has already been sold out, even on the HP website it says "On order").
Appearance
HP Envy certainly impresses with its appearance. Thanks to the narrow bezels around the screen, as well as the solution when the bottom of the screen acts as a stand, the laptop was made very compact. Initially, it seems that the screen is 11-12 inches, not 13.3. The width of the laptop is almost 2 cm less than the A4 sheet, and about 1 cm longer in length.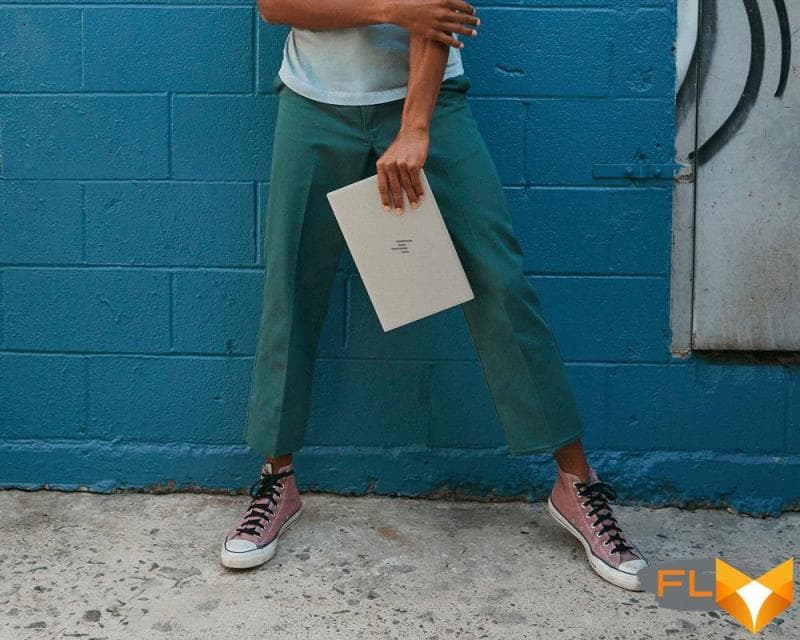 With such a miniature size, you immediately begin to suspect a stripped-down keyboard. But HP did not disappoint. A full-size keyboard with good spacing between the buttons, and the last column is occupied by the Delete, Home and other keys needed for productive work.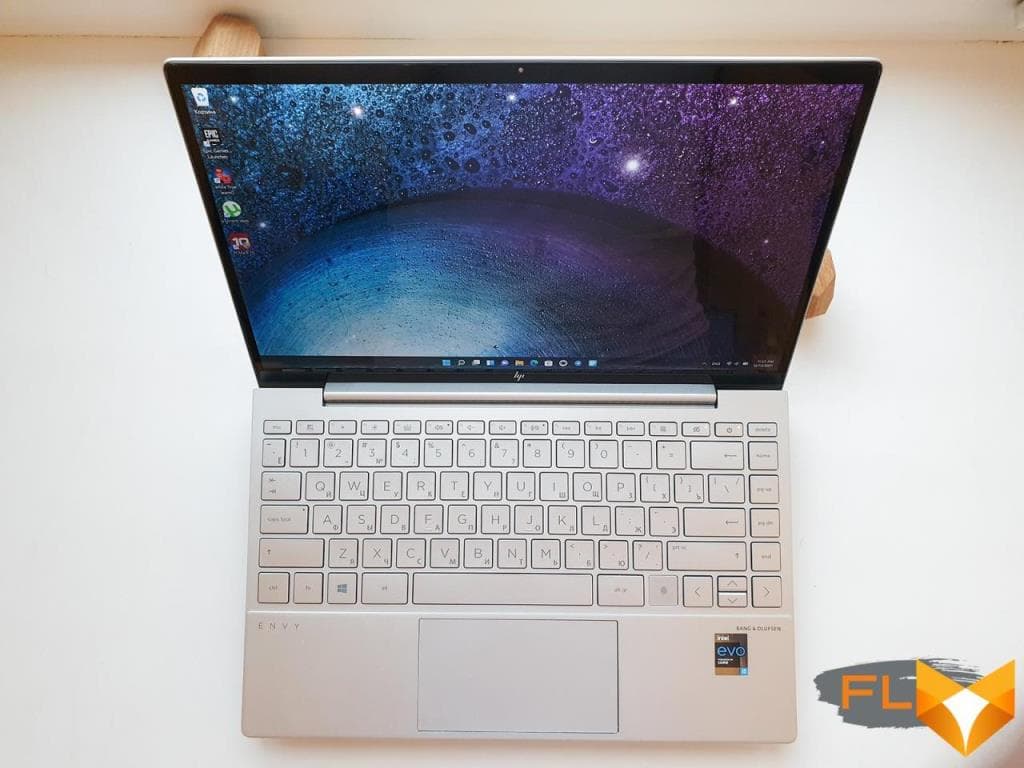 The laptop is made of brushed aluminum with a minimum of decorative elements. Perhaps we should highlight the unusual solution applied to reduce the size of USB ports. So, in order to fit a thick USB Type-A into a thin body, USB was made sliding. There are no difficulties at work. Flash drives are easy to insert.
There is nothing interesting on the bottom panel. Star screws. But the user does not need to poke inside, since only the SSD drive can be replaced.
The laptop has a proprietary charging connector, but you can charge it with an adapter from your smartphone via Type-C.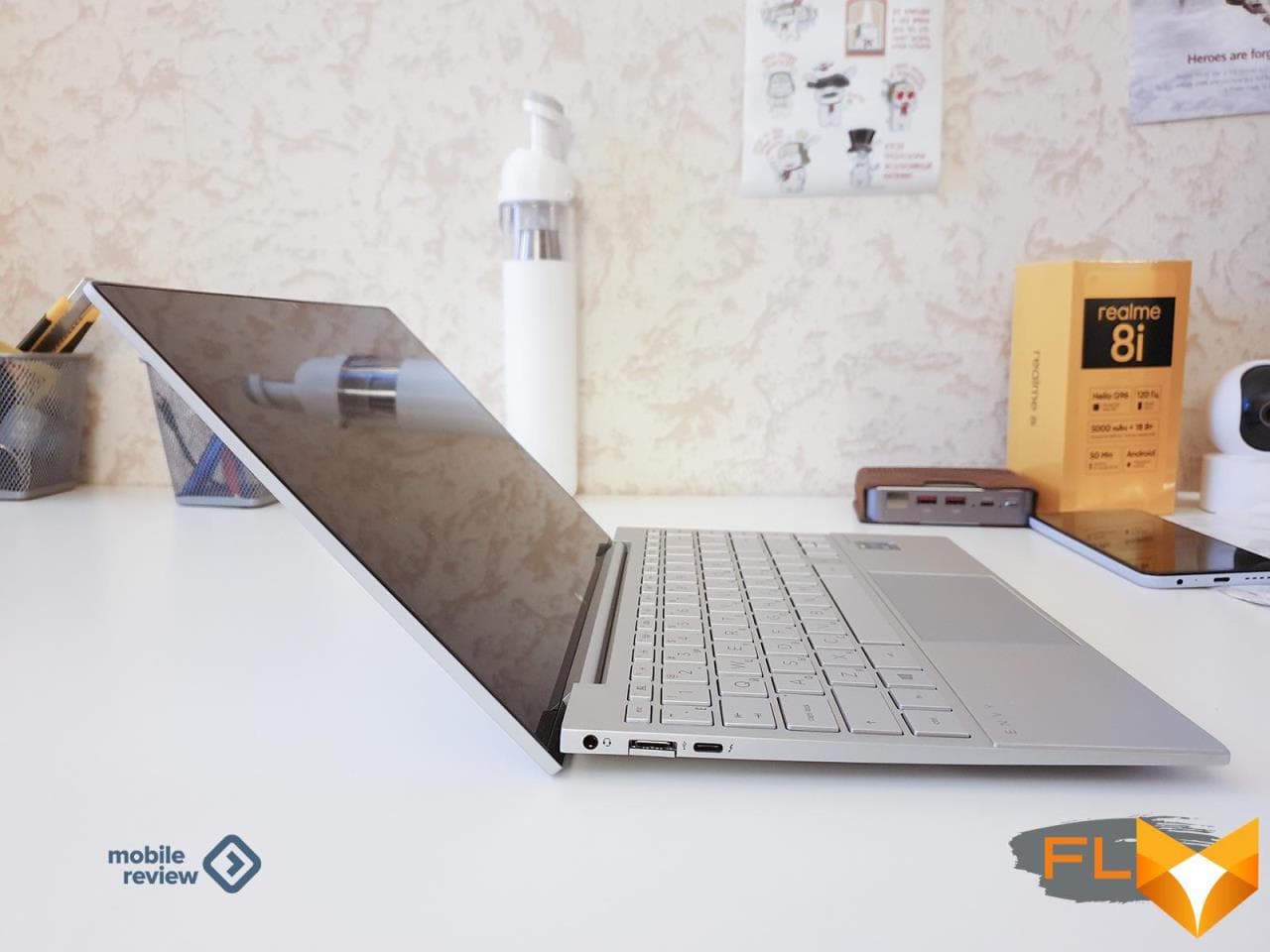 Even though the HP Envy is a premium model, the lid cannot be opened with one hand. Perhaps you can even say that the loops are quite tight. You can't call it a downside. It's just that there are certain rules of the game when the lid opens easily in premium models. And ads usually show a man in a suit, who, with a businesslike look, opens a laptop with one hand.
Screen and webcam
To be honest, I got confused with the screens, because I could not find a clear list of all the modifications. Here's what I managed to find. Promotional materials advertise a UHD option with an OLED screen, as I understand it, there is a Full HD IPS touch screen, there is a regular Full HD IPS (both of these options with a brightness of 400 nits), and there is a Full HD IPS with a privacy screen and a brightness of 1000 nits (in fact 1015 nits). It was the last option that I had on the test.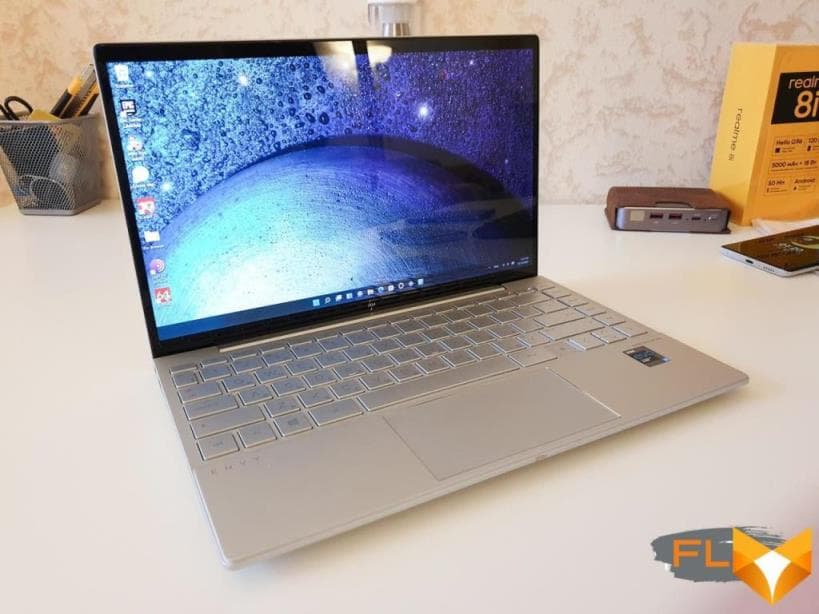 I recently reviewed an HP Specter with a 13.5-inch screen. And I was very happy with the 4 by 3 aspect ratio of the screen, thanks to which more useful information fit on the screen.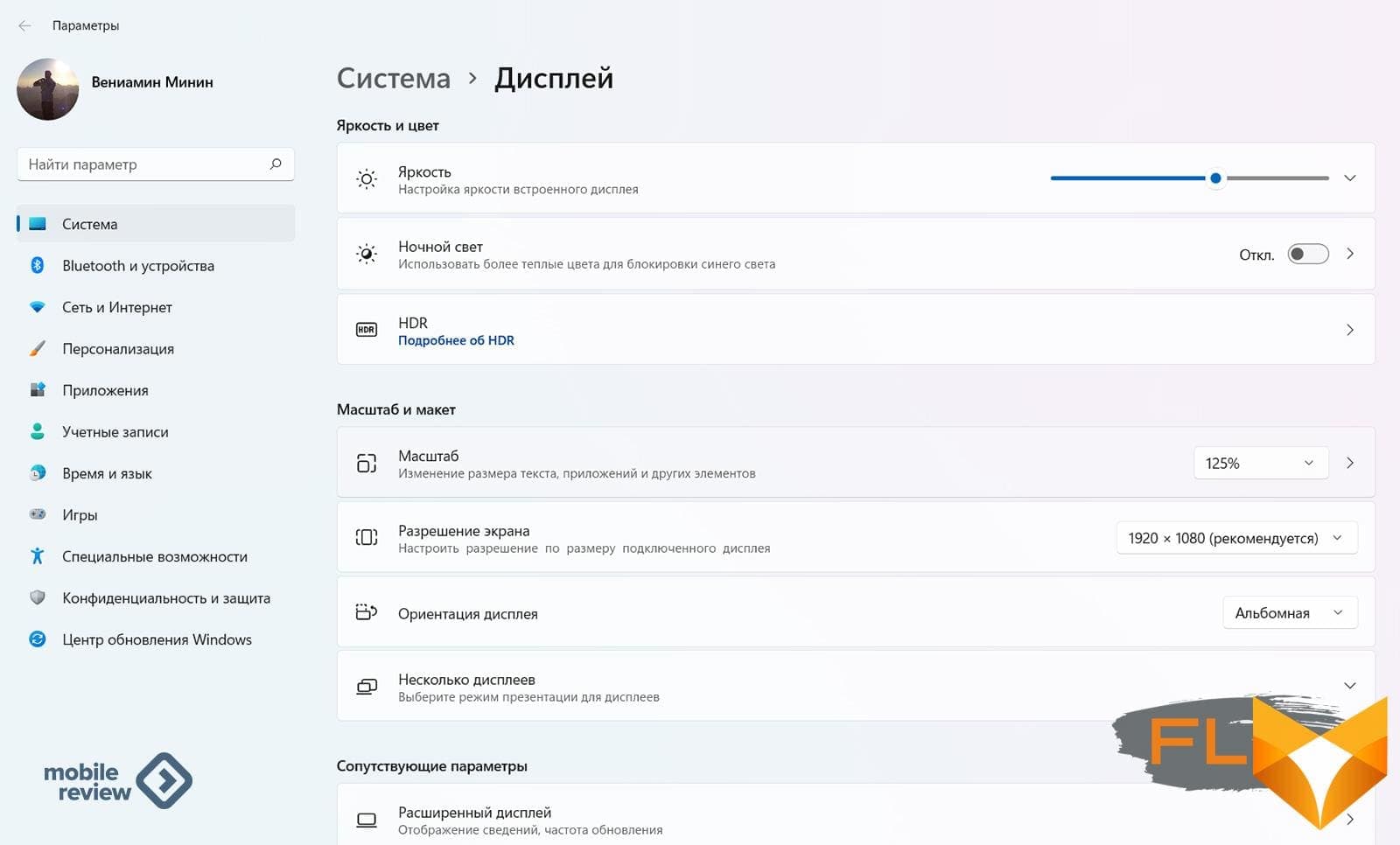 The Envy has a slightly smaller screen at 13.3 inches, but the aspect ratio is 16:10. And it immediately looks like the screen is very small. I took the laptop as the main one for a trip to St. Petersburg and for the first couple of days I got used to its compact size. There are no comrades for the taste and color, but if you want everything to be the same, but the screen is 4 by 3, then pay attention to the Specter.
Perhaps the main feature is the privacy screen, which is turned on with the F1 key. This feature reduces the horizontal viewing angles. Quite useful thing when you have to work outside the office. For example, I used it while I was driving in the Sapsan. However, it worked a little differently than I expected. The man sitting on the side, on the contrary, began to squint hard at the screen of my laptop, moving his head from side to side, interested in technology. Indeed, simplicity is worse than theft. After all, you can't tell such a comrade: "Stop staring."
Before that, I came across the privacy screen in the 2019 model. I can note that for two years HP has finalized the technology. There is no feeling of increased contrast, but now the privacy screen is not so private. In comparison, the 2019 decision was so tough. Almost nothing can be seen.
Here is the 2021 solution. When viewed from the side, it seems that the screen simply lowered the brightness.
Above the screen is a webcam. The camera is consistently crap quality – 720p. Manufacturers of Windows beeches are funny animals, of course. A laptop might cost as little as $300,000, but it will still have the same 720p camera. However, let's move on from the hate speech to the good sides of this case. Firstly, at meetings you don't have to worry that someone will be able to meticulously examine you. If you dim the light, then the invisible man is in general. Secondly, HP has just a chic shutter technology tied to a button press. Moreover, the image does not just disappear, but the webcam is completely disconnected from the system, and a system notification appears in front of the user that Windows cannot find the webcam and maybe check the drivers. By the way, the keyboard has a separate microphone mute button.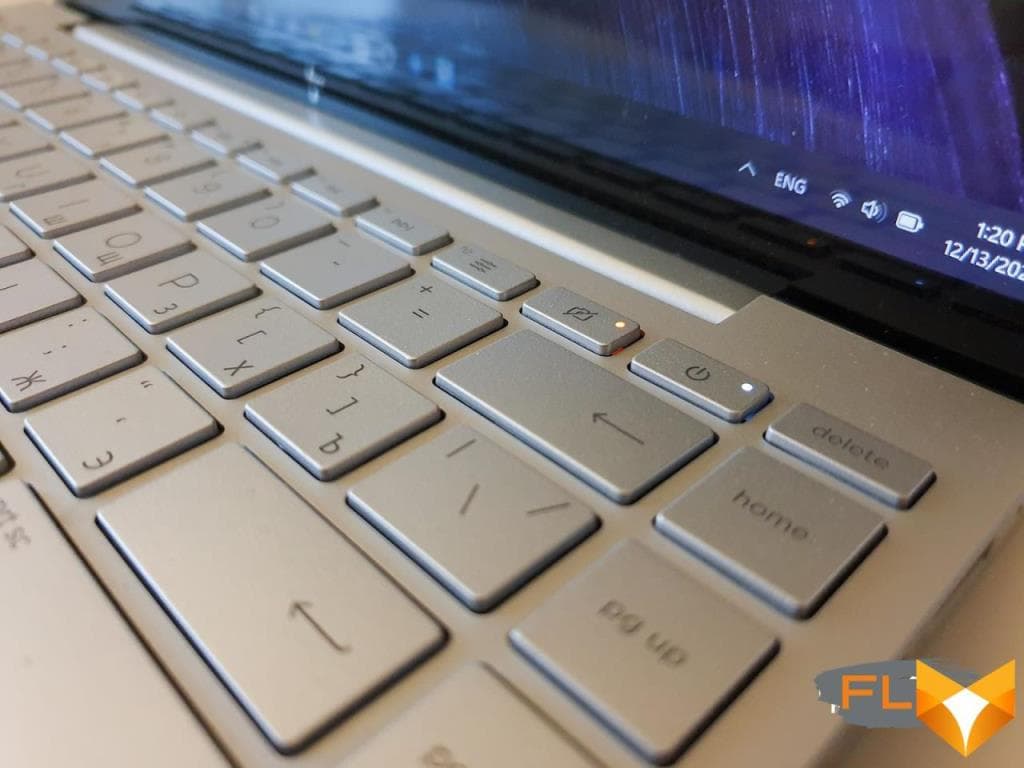 Keyboard and touchpad
One can only applaud HP. Engineers managed to place a full-fledged keyboard in a tiny laptop, which has all the necessary keys for hot combinations.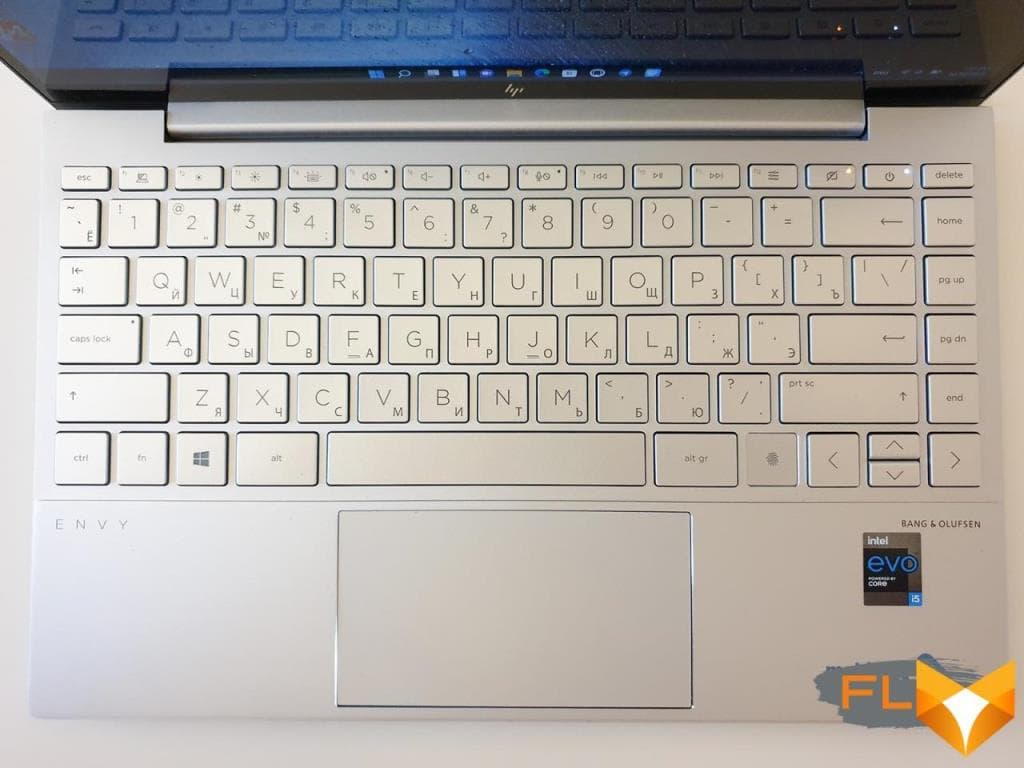 About 20 pages of text, excluding correspondence in instant messengers, I typed on a laptop.
Нand my taste, the keyboard is too elastic. I would like it to be a little softer. Like it takes effort to print. However, after 2-3 days you get used to it.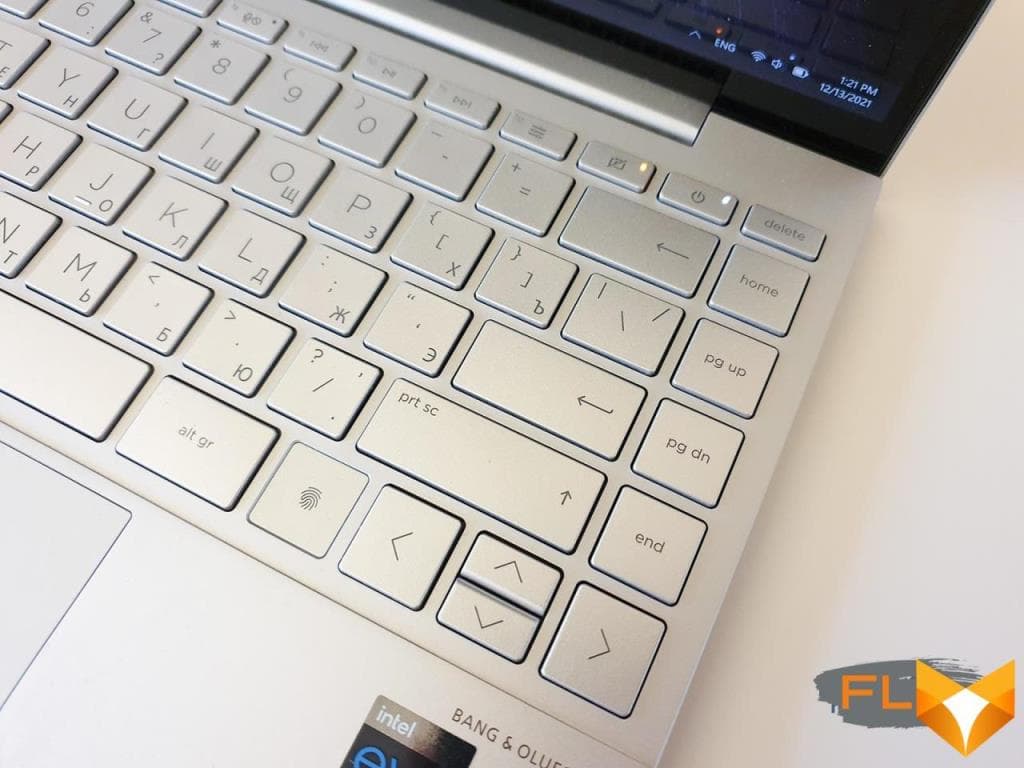 The touchpad is slightly increased in length and slightly reduced in width – 11 by 6 cm. It does not cause delight, but I will not kick it either. As you can see that HP posted the maximum size for this laptop.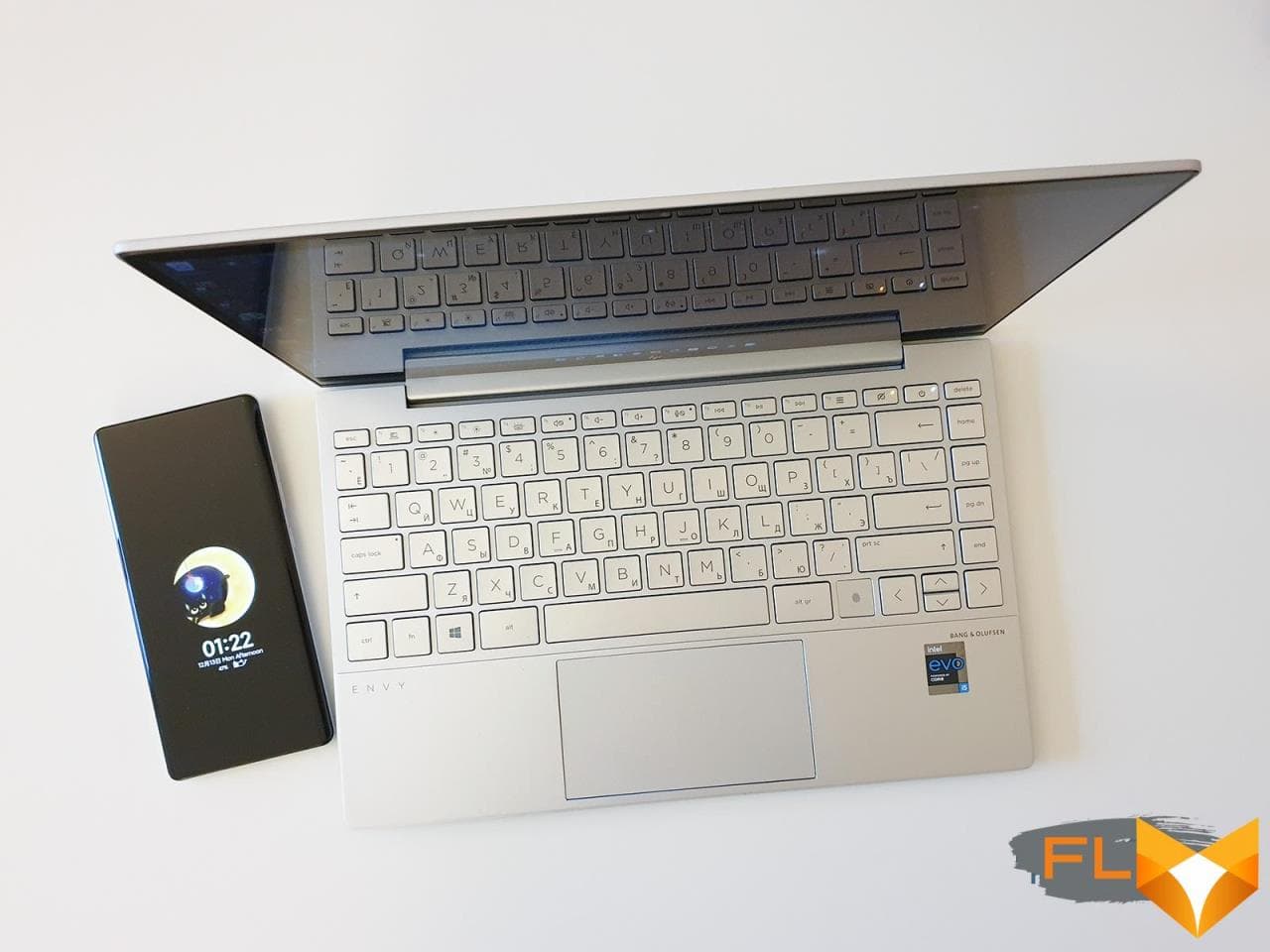 Perhaps you can find fault with the fact that the touchpad is made of plastic. The premium feeling suffers from this, but I'm more interested in how the touchpad will look over time. The glass touchpad seems to be more reliable, while the plastic touchpad may wear out over time. Although, to be honest, I haven't seen anything like this on laptops for a hundred years. Perhaps the manufacturers somehow solved the problem. Share your opinion in the comments.
Performance
Before us is a typical ultrabook certified under the Intel Evo program. There is a 4-core Core i5 with the maximum powerful integrated graphics Intel Iris XE.
As a characteristic feature, it can only be noted that the processor is soldered to the RAM. A kind of chipset is obtained. So you can only replace an SSD on a laptop. However, it is unlikely that you will have to do this, since the SSD shows excellent results in the speed test.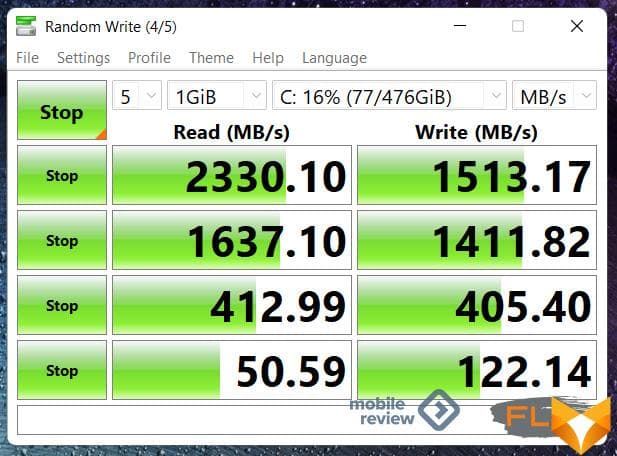 Good results in performance tests. Despite the fact that Intel claims to be able to run even AAA games on Intel Iris XE, we are talking about the minimum quality and resolution of 720p, in rare cases Full HD. But in casual games like "tanks" the laptop perfectly allows you to play.
Battery life
In advertising, HP claims up to 19 hours of operation on a single charge. But this figure is highly dependent on the modification of the screen. So, the option with a privacy screen is perhaps the most energy-intensive. The 1000-nit screen is great when you have to work out of the office. But along the way, it encourages you to always set increased brightness. Here the battery is discharged, and the eyes get tired.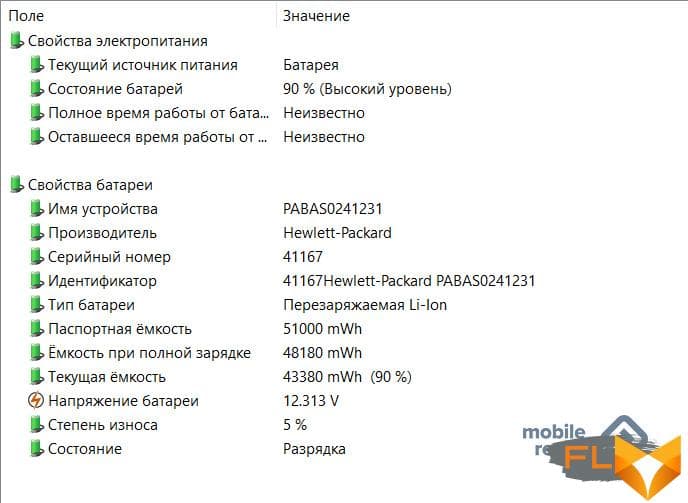 I used the laptop as a daily routine for a week. I charged not with a branded adapter (quite compact, in a fabric sheath), but with mobile charging from Xiaomi. With my mega-powerful screen, the laptop worked for about 8-10 hours. But a model with a similar screen is quite difficult to find on the free market. Most likely, you will have a regular 400-nit screen. With it, the laptop will show 10-13 hours of daily work (office, browser, instant messengers, YouTube).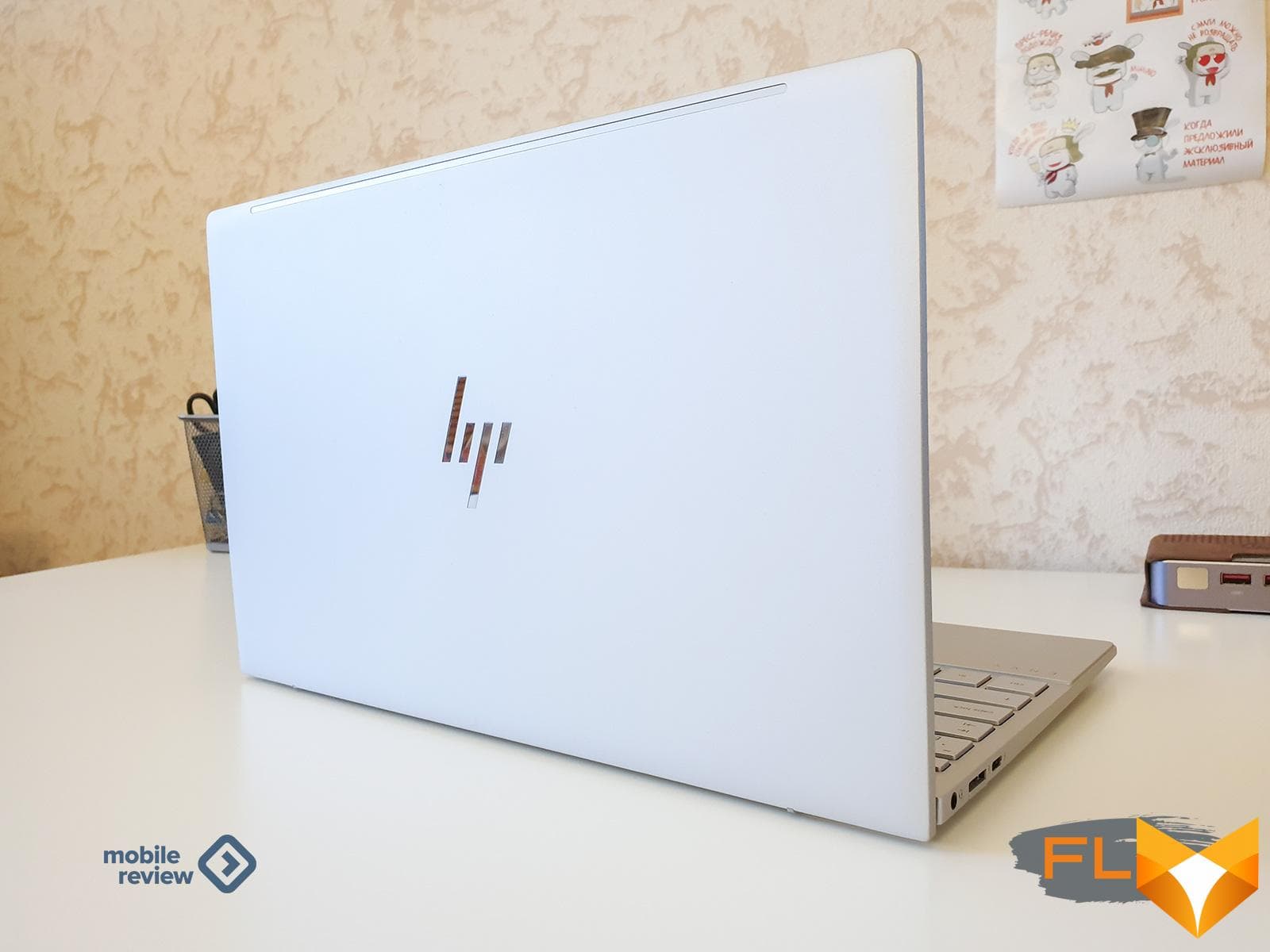 Conclusion
Probably, if I had initially tested Envy first, and then Specter, then I would have liked Envy more. My main complaint is the 16×10 screen. The screen feels small. Although, of course, it's great for watching movies. Well, the second nitpick is that the keyboard requires a little more effort than I would like. Although a lot can be forgiven for a well-thought-out layout.
I also really liked the solution with USB ports, which made it possible to make a thin case, as well as the presence of a microSD slot. And the implementation of the protective shutter in premium laptops is also very good.
As a result, we can say that although Envy looks like an accessory, in fact it is a full-fledged rather powerful laptop.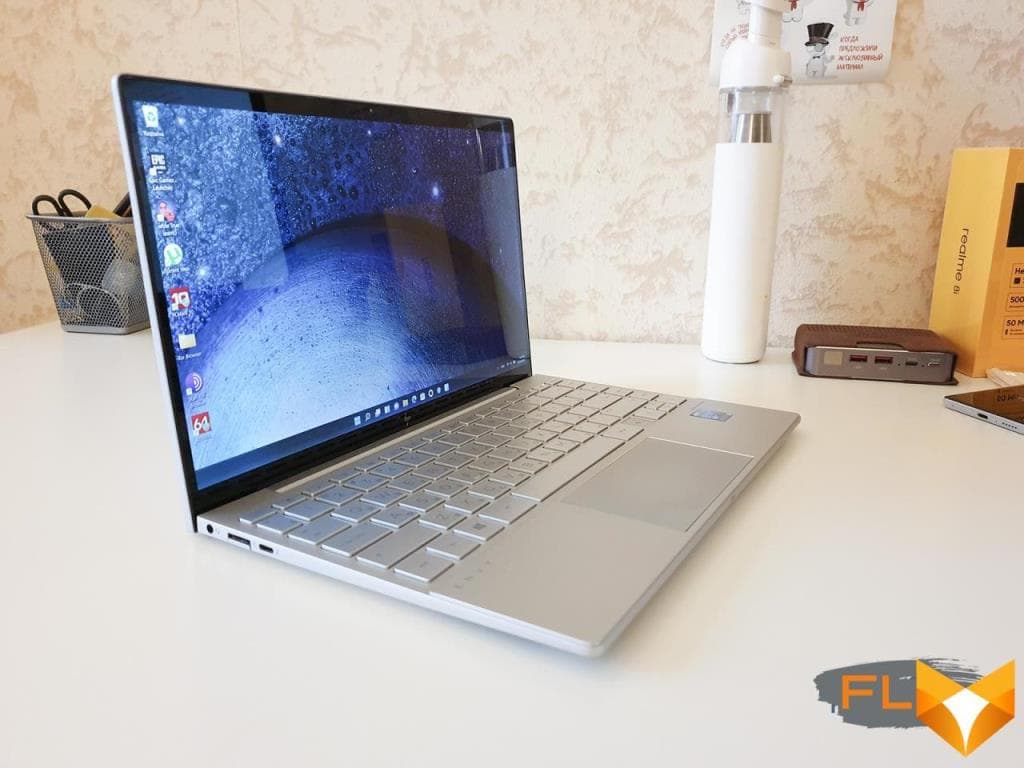 After completing the review, I looked at what colleagues write. In Runet, I found only one review on Pixel-Story. And there the author writes incorrectly that in fact there is a maximum screen of 400 nits. Probably, he did not have the equipment for measurement and he took data from Western surveys, and there they sent a Full HD 400 nit touchscreen to everyone for testing.
Zenbook/Expertbook from ASUS immediately comes to mind as competitors. And, probably, everything, since other Intel Evo ultrabooks cost more than $1400.
Most Popular Articles