LapTop-master
Lenovo IdeaPad 5i 14 review: home wizard - FoxLaptop
Lenovo IdeaPad 5i 14 review: home wizard - FoxLaptop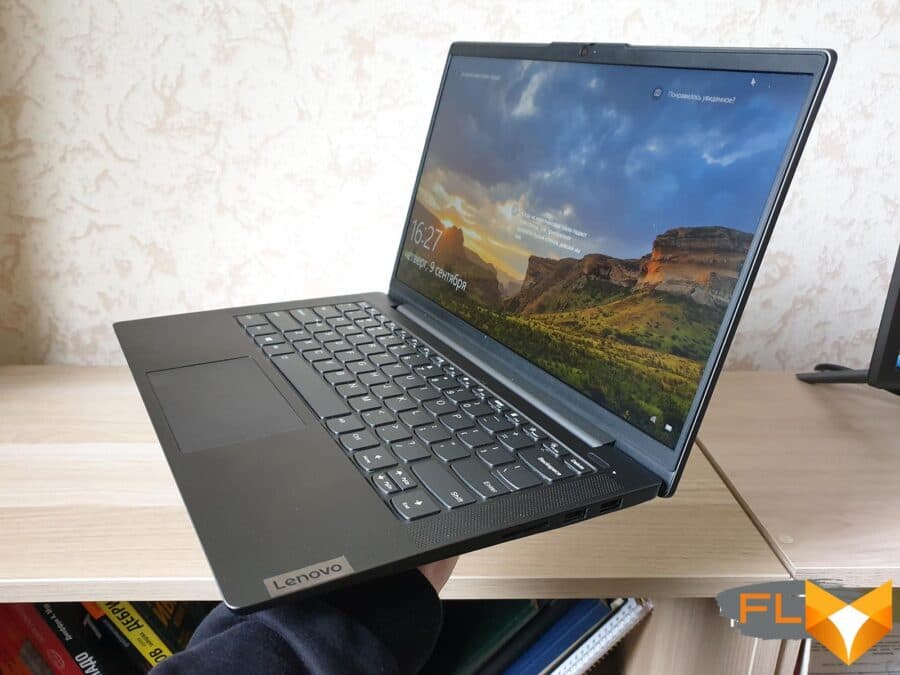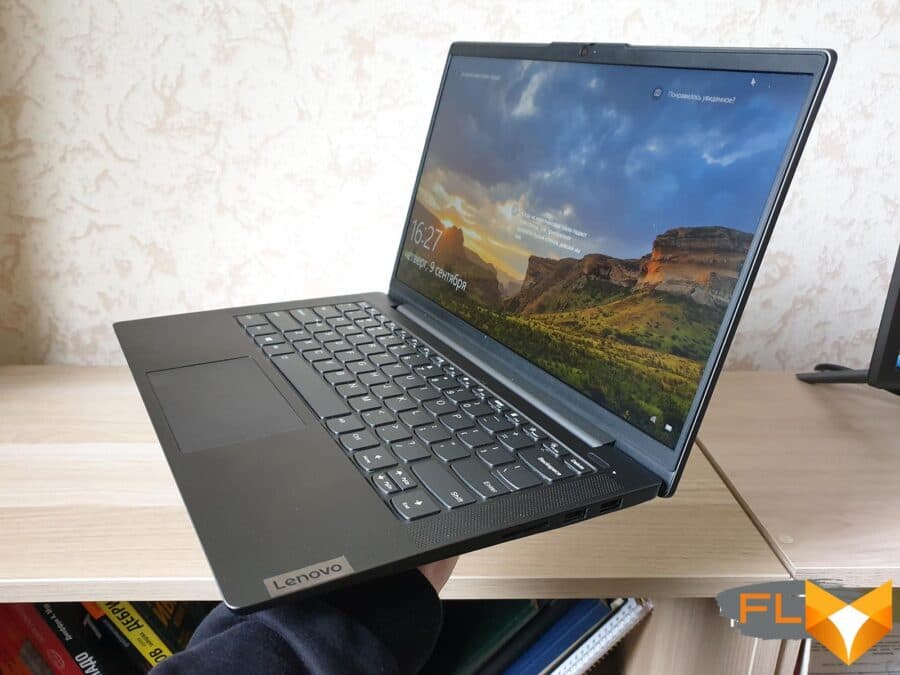 Positioning
The IdeaPad is a series of everyday laptops designed for home use.
As selling elements, Lenovo notes:
Narrow bezels around the screen, so that the screen takes up 90% of the front panel area;
Compact dimensions and weight 1.4 kg;
Webcam shutter and fingerprint scanner in the power button;
Aluminum body;
Speakers on the sides of the keyboard;
Type-C connector for charging and connecting a monitor.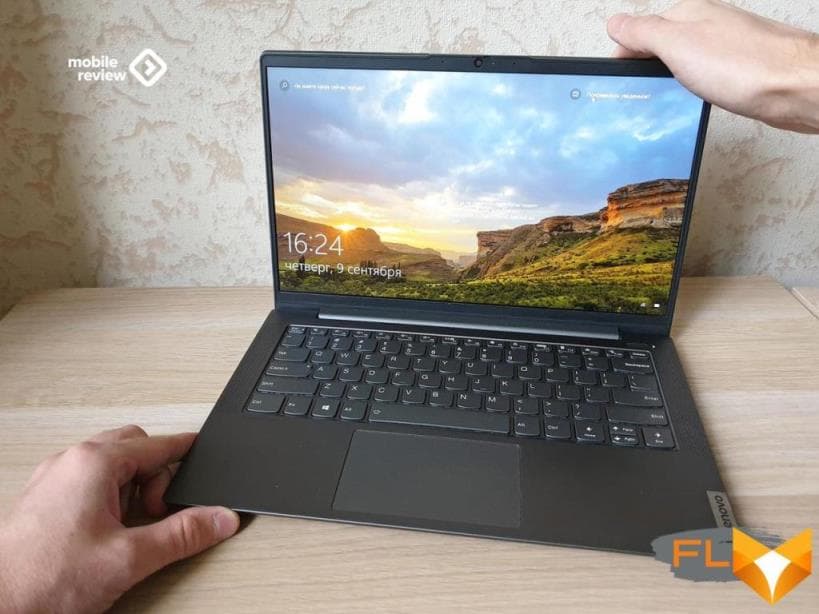 Specifications
Screen: 14″ IPS LCD, 1920×1080 dots, anti-glare, 16×9 aspect ratio, 300 nits advertised (270 nits measured), 100% sRGB color gamut, high color accuracy delta E 1.41 average
Processor: Intel Core i5-1135G7, 4 cores, up to 4.2 GHz
Graphics: Iris Xe Graphics
RAM: 16 GB DDR4 3200 MHz (not upgradeable)
Storage: 512 GB SSD, can install one drive, 1x M.2 2280 SSD or 1x M.2 2242 SSD
Connectivity: Wi-Fi 5, Bluetooth 5.1
Keyboard: two levels of white backlighting, fingerprint scanner in the power button
Touchpad: standard, 10.5 by 6.4 cm, gesture support
Battery: 56.5 Wh, Type-C charging, adapter
Webcam: 720p, with privacy shutter
Sound: 2 x 2 = 4W
Ports:

2x USB-A 3.1 Gen 1
1x USB Type-C
1x HDMI 1.4
1x headphone/microphone jack
SD card slot

Materials: aluminum
Dimensions: 321.57 x 211.59 x 16.9 mm, weight 1.38 kg
Price: $1200
Appearance
The Lenovo IdeaPad 5i 14 has a familiar (Lenovo laptop) look. The body is made of aluminum, a minimum of decorations (only neat Lenovo nameplates). Of the pleasant features, it is worth noting a separate slot for an SD card and speakers on the sides of the keyboard.
By the way, pay attention to the subtleties of positioning. At the same time as the IdeaPad, I had a 14-inch Yoga on test. The IdeaPad is meant to be a home PC and meant to be placed on soft surfaces. For this reason, the speakers are on the sides of the keyboard. Yoga is a business product, which means, according to Lenovo engineers, it should stand on a table, so the speakers in it were placed on the bottom panel. At least, it seems to me that the logic is this, otherwise it is not clear what logic Lenovo is guided by when placing the speakers.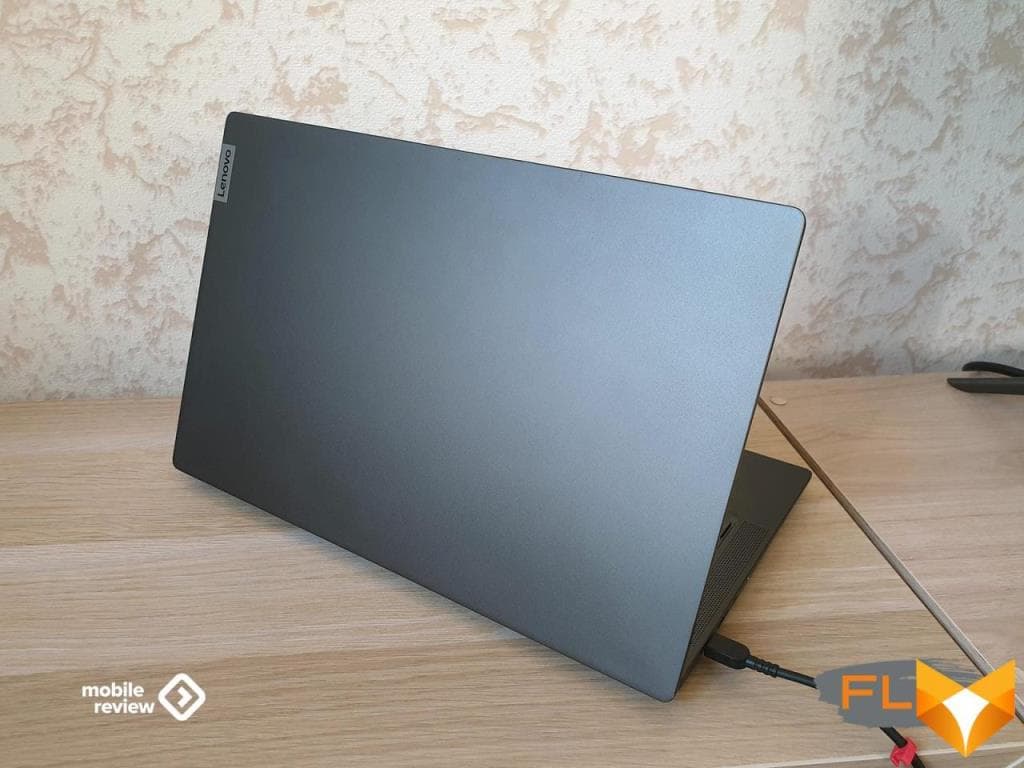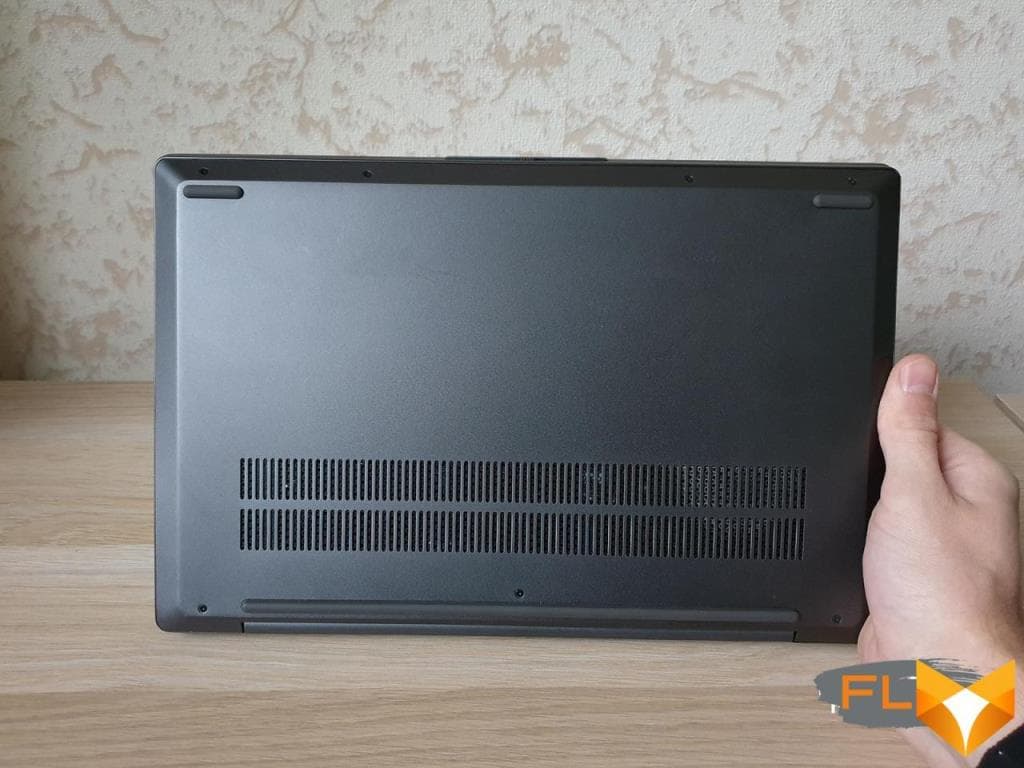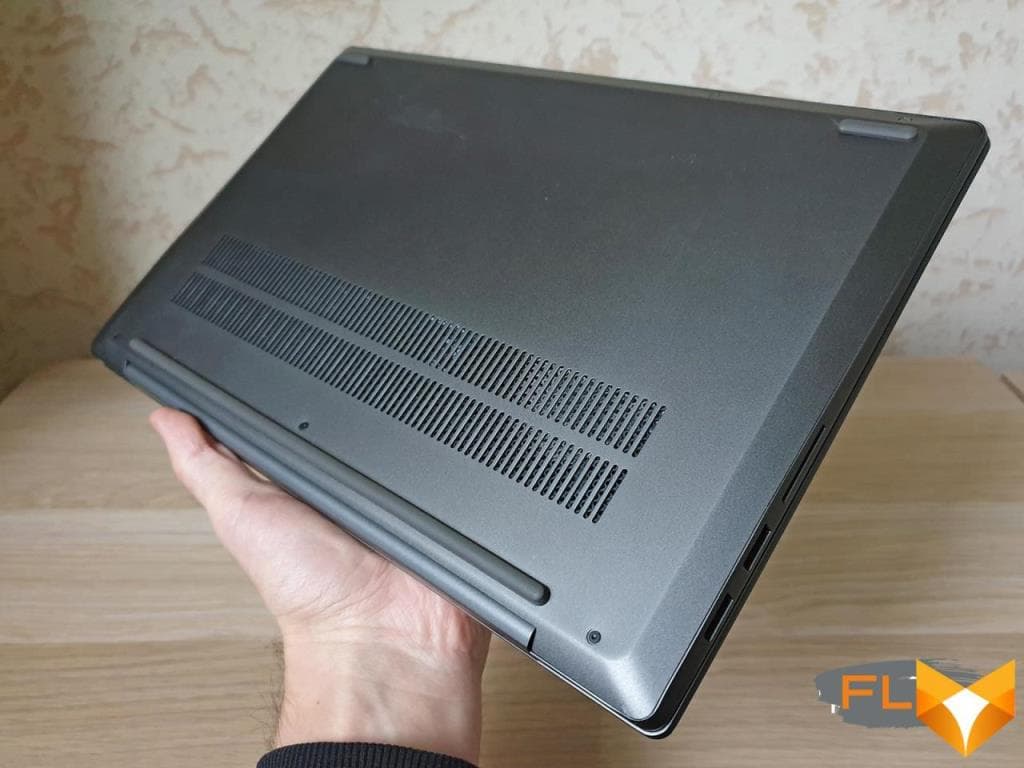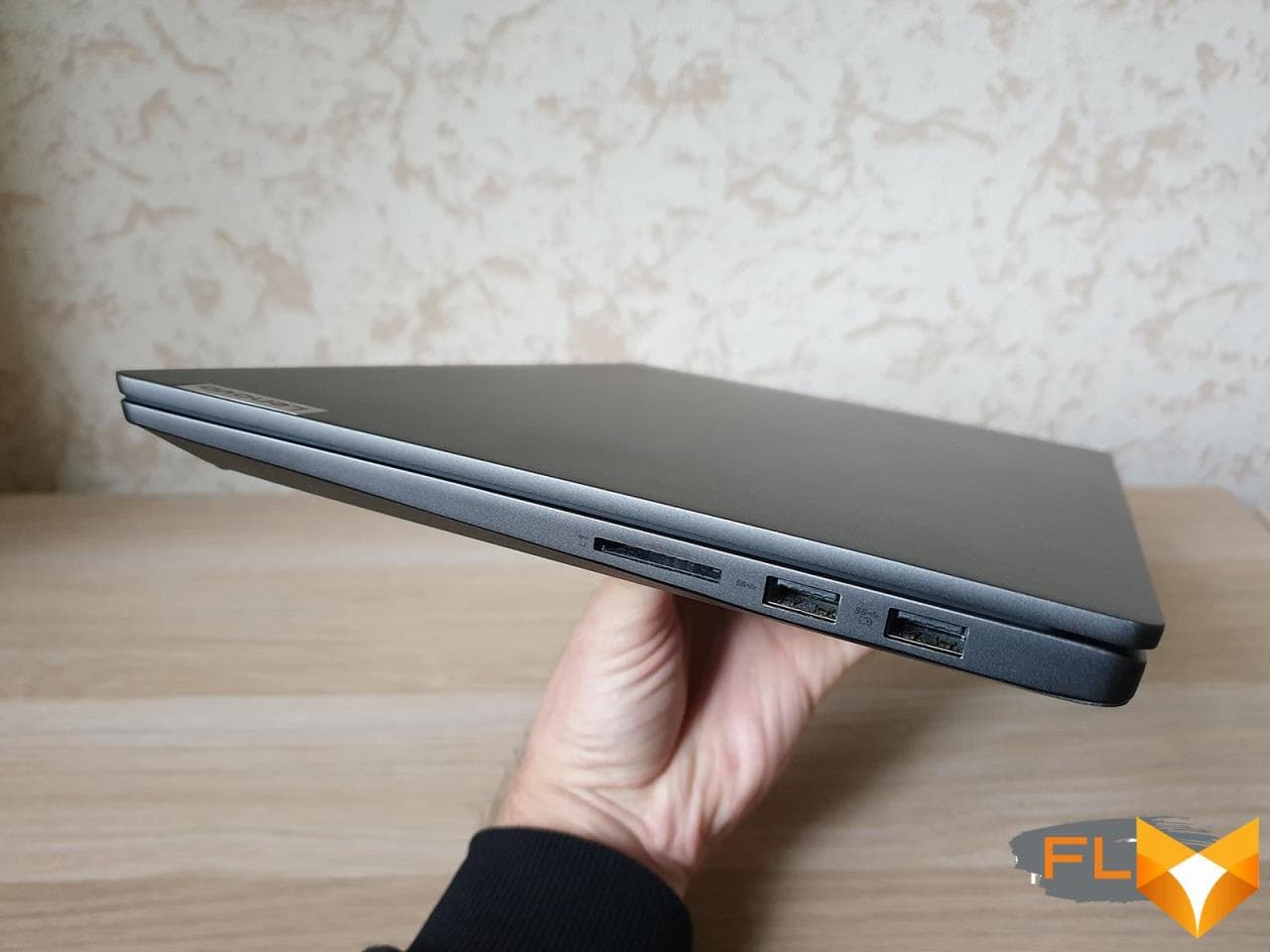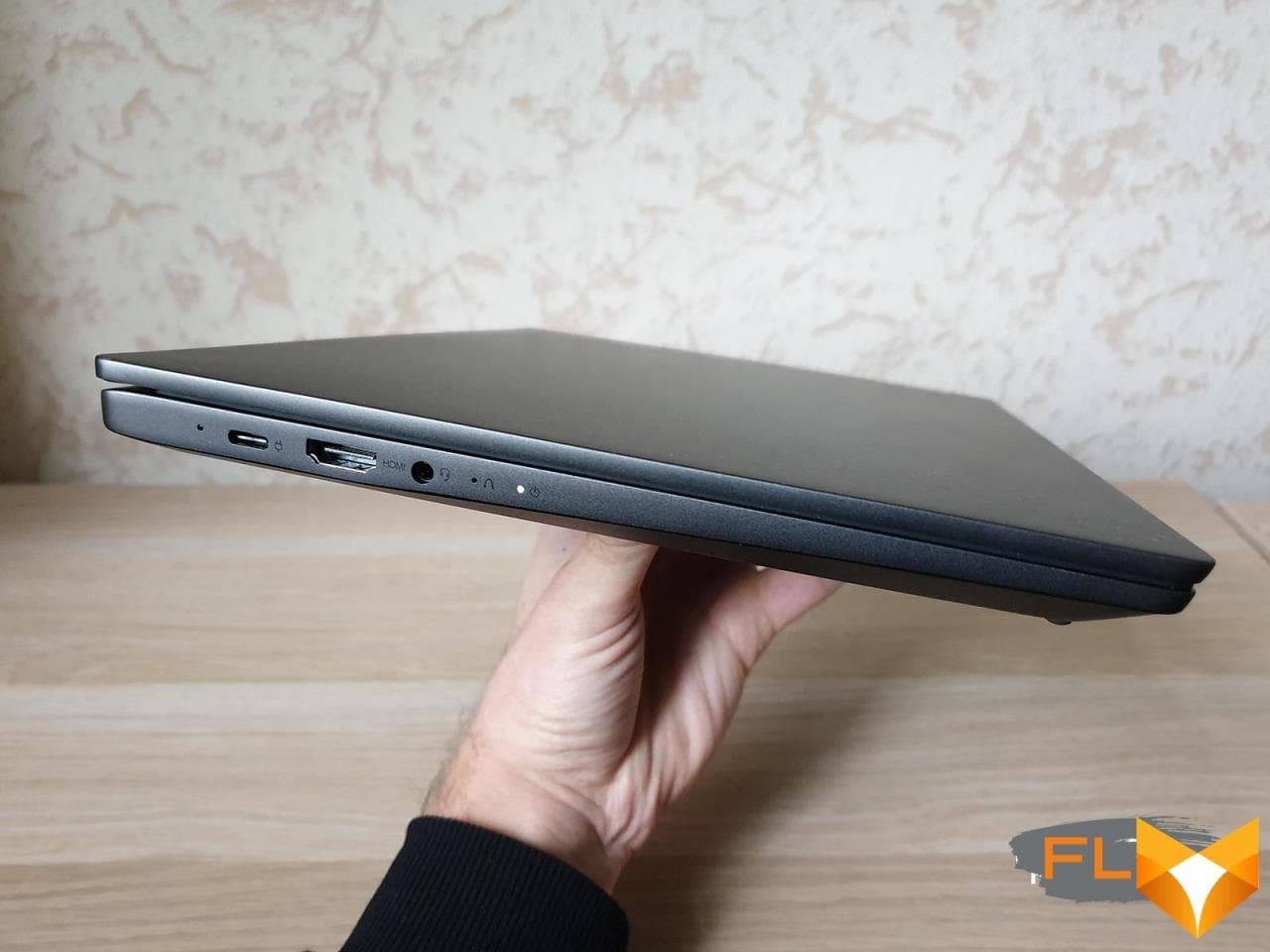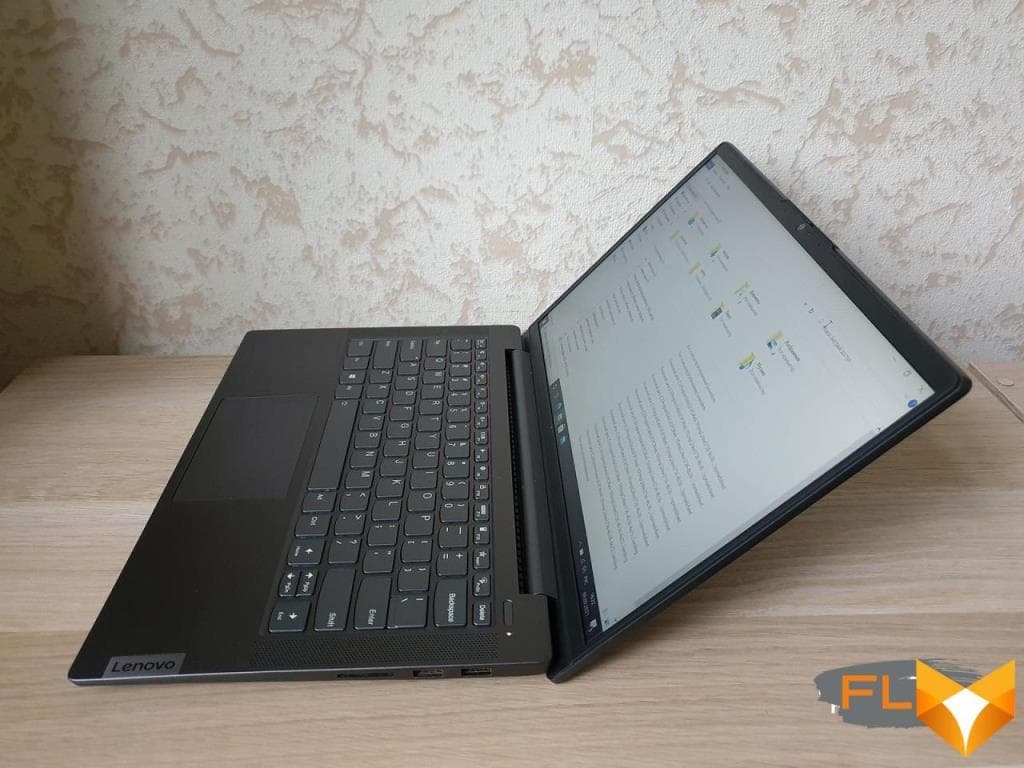 You won't believe it, but this is the maximum opening level of the laptop.
< /figure>
The laptop has a standard appearance. Looks neat and stern. Great to have an SD card slot. This will please those who still use cameras. There is only one Type-C port, which is also used for charging. If memory serves, then there used to be Type-C and a proprietary charging connector, and it was impossible to charge through Type-C. Now it's been corrected.
Screen and webcam
Slim bezels, 14-inch diagonal, anti-reflective coating and Full HD resolution. The IdeaPads are home multimedia laptops, so don't expect a phenomenal screen. However, the IdeaPad 5i 14 still managed to surprise.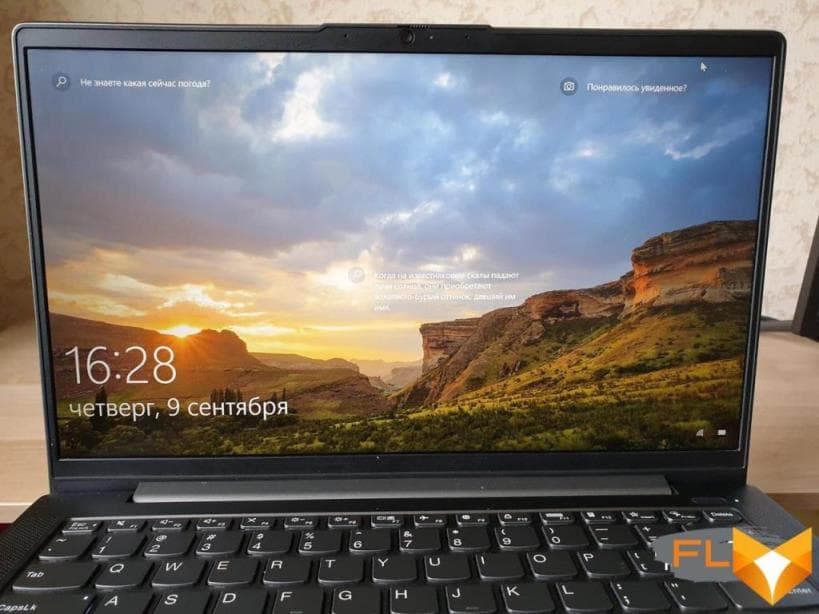 The declared brightness is 300 nits, but in fact the measurements turned out to be only 270 nits. But the screen has an excellent anti-reflective coating: even though I'm sitting by the window on a clear day, I now feel comfortable typing this text. However, if direct sunlight hits the screen or you decide to watch a dark movie, you will not get much pleasure from your activities.
And if the brightness did not impress, then the color accuracy was very high. The average deviation of delta E is only 1.4. This is very cool. On the other hand, everything is logical. If the screen was lying, then why would there be an SD slot? And so amateur photographers can take a laptop.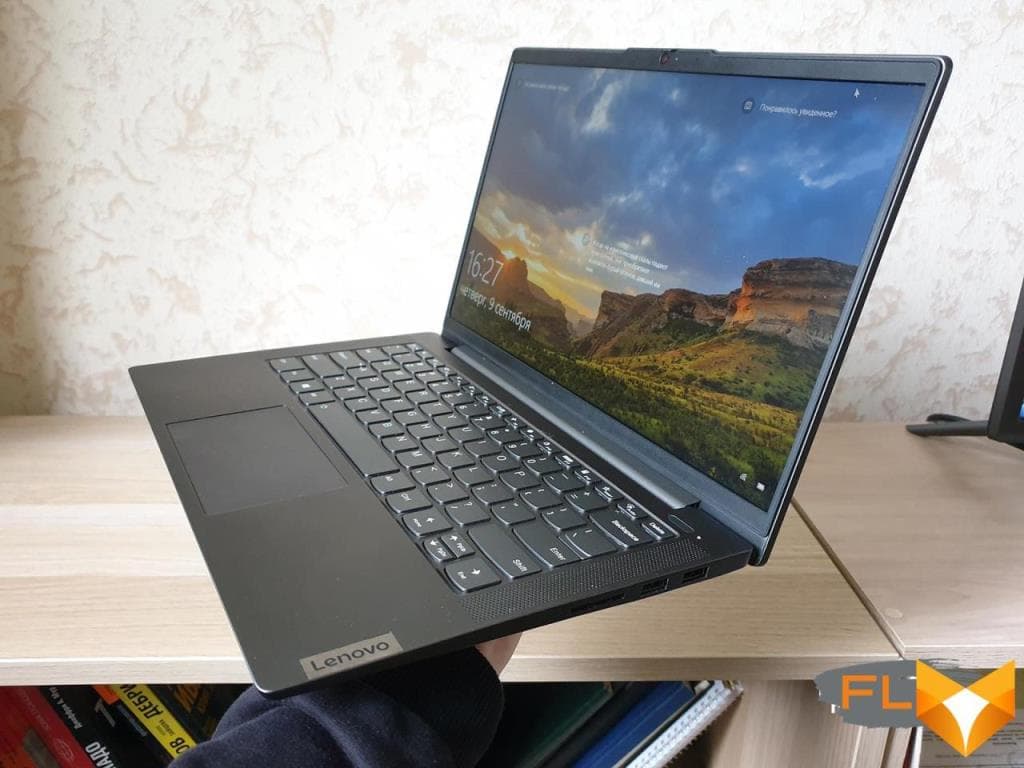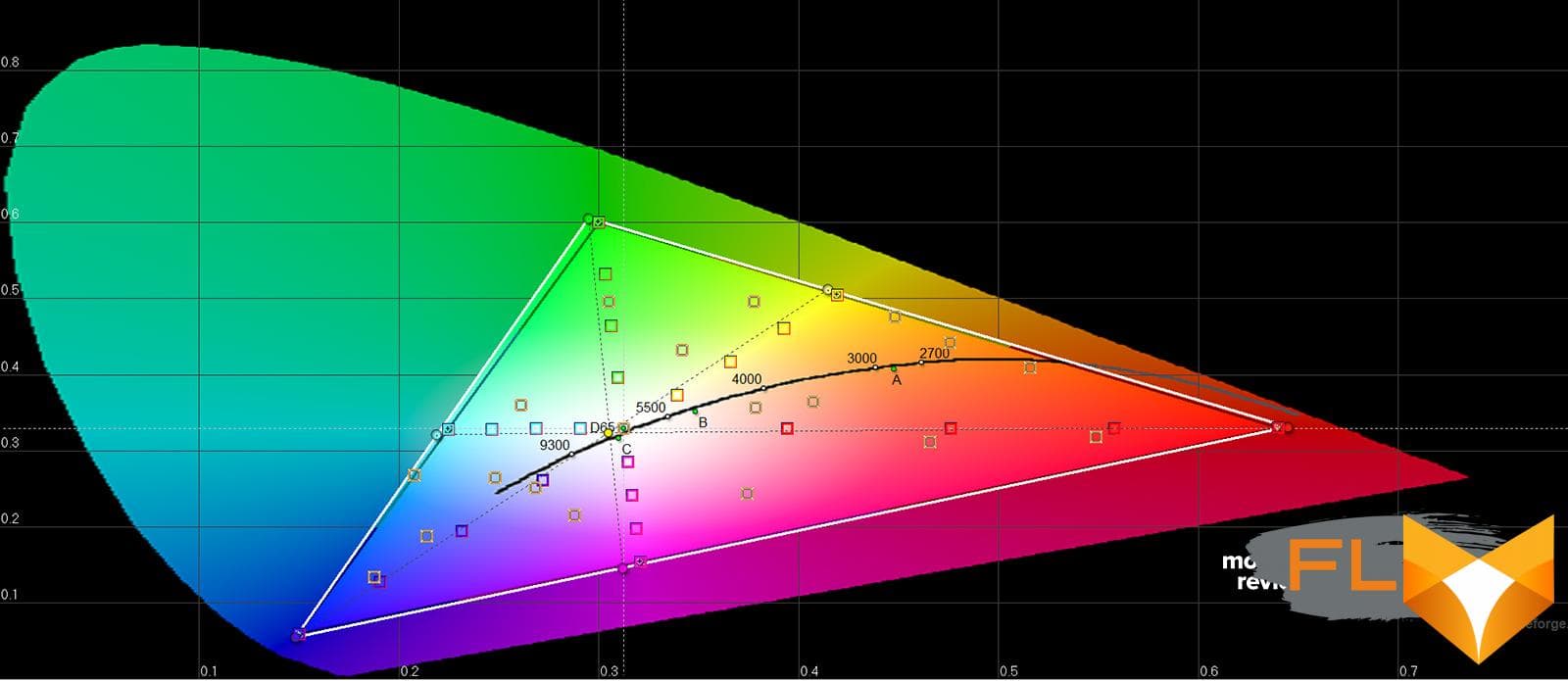 As much as I was impressed by the color accuracy in a good way, I was just as surprised by the webcam. There is a standard HD resolution, but, in my opinion, I saw a worse picture only on budget Acers. Noisy soapy picture. I don't consider myself handsome, but subjectively it seems that this camera additionally adds -5 to charisma. But the camera has a protective shutter.
Perhaps everything is specially thought out. A home laptop, you can forget to close the curtain, and then a cunning hacker will peep, and then blackmail that he will put all the peeps on the network. In this case, you don't have to worry. Still no one will know. When using a shutter, remember that it hides the image, but does not mute the sound.
Keyboard and touchpad
The laptop has a pleasant and comfortable keyboard that allows you to comfortably type large texts. The key travel is slightly shortened – 1 mm, but, unlike the YOGA Slim 7 Pro, where I complained about excessive rigidity, the keys seem to be pressed softer in the IdeaPad.
The laptop has a fingerprint scanner. It's in the power button.
The touchpad in a standard size laptop is 10.5 by 6.4 cm. Well, what can I say? In my opinion, large touchpads have not yet been delivered to this segment at all. This is still the lot of premium segments.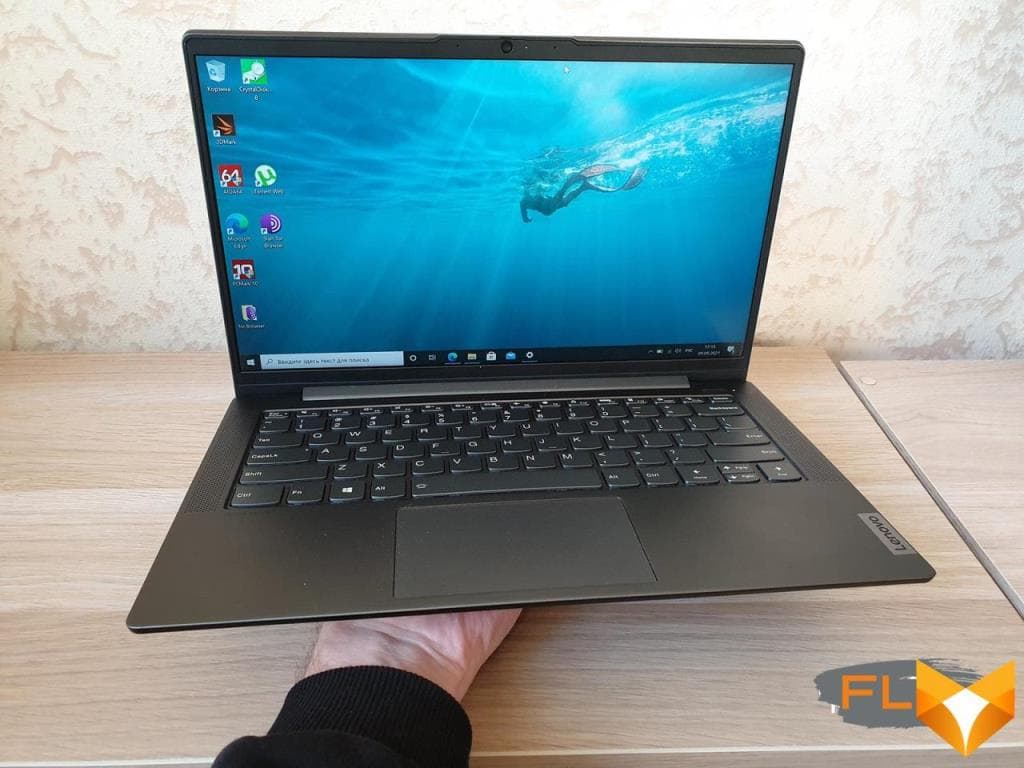 Performance
Intel Core i5-1135G7 + Iris Xe Graphics + 16GB DDR4 3200MHz + 512 SSD = Standard 2021 Ultrabook performance. You should immediately note that the RAM is not upgradeable. But replace the SSD – it's always welcome!
The laptop is great for everyday life. The Internet, office applications, Photoshop opens in 17 seconds, you can play "tanks". At the same time, the engineers did a good job, as if slightly strangling the i5, since even in stress tests the processor remains cold.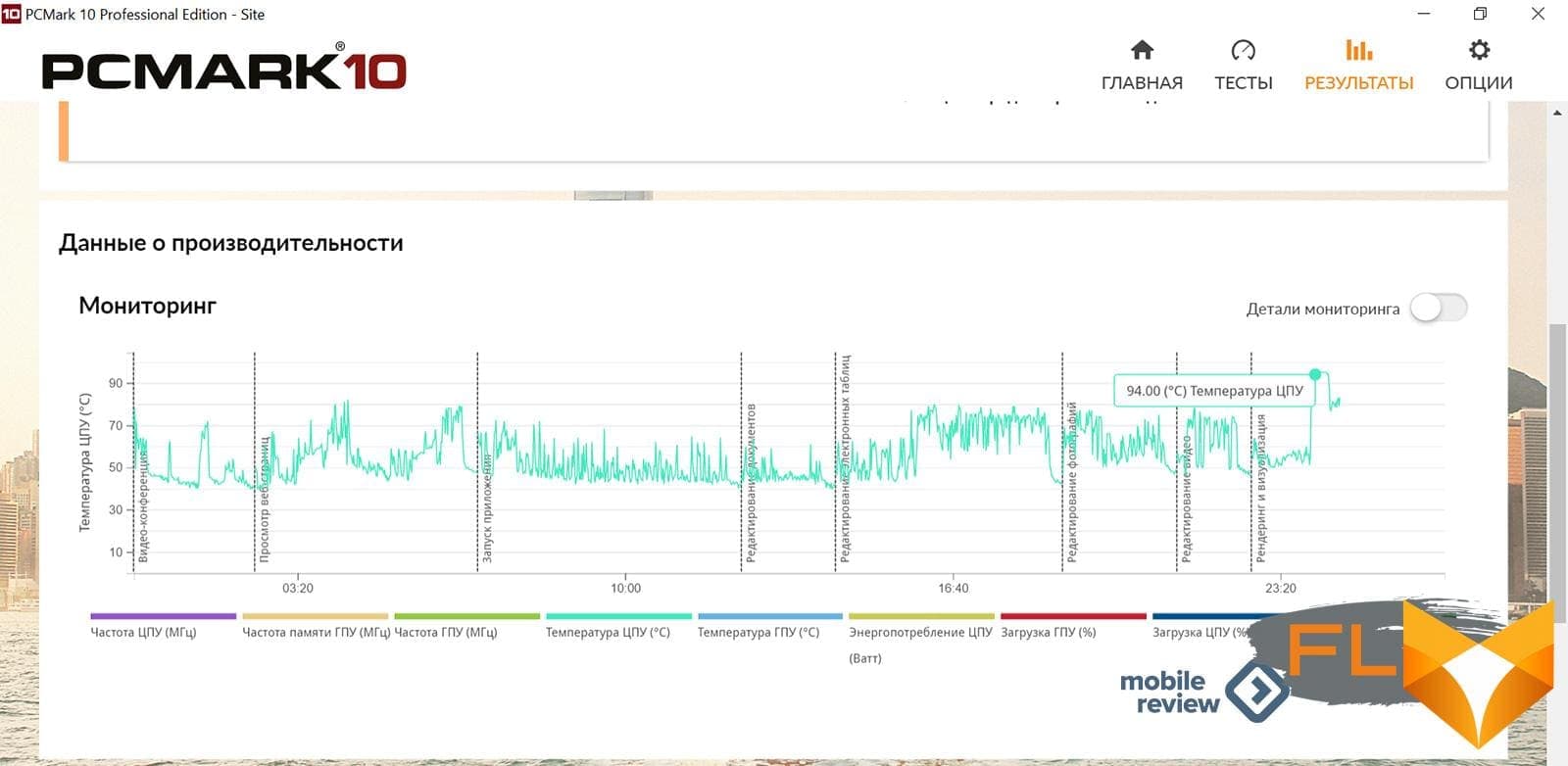 The laptop is equipped with a high-speed SSD, with which the computer turns on in just 8 seconds, and also immediately wakes up from sleep.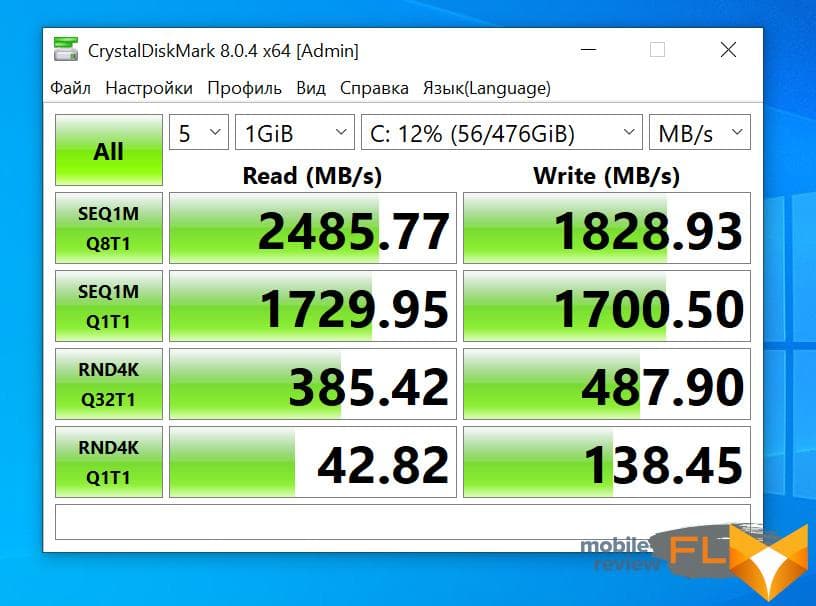 By the way, it was fun. I tested both the IdeaPad and the premium Yoga Slim 7 Pro at the same time on the AMD Ryzen 5800H chipset with AMD Radeon Graphics. Below are the results of the IdeaPad benchmark in World of Tanks, as well as a link to the Slim 7 Pro results. Compare the performance difference.
And here are the results of other synthetic tests. In general, everything is standard for a home machine. Good performance and stable operation, but this is not a gaming solution. However, tanks and indie games will be fine.
Battery Life
The laptop has a standard 56.5 Wh battery for this diagonal. The screen brightness of 270 nits also has a positive effect on battery life. If you turn on Full HD video on YouTube and set the maximum brightness of the screen, then the laptop will live 9 hours. In the mode of an office typewriter with an active Telegram messenger in the "Improved Battery" mode, you can count on 7-7.5 hours of battery life.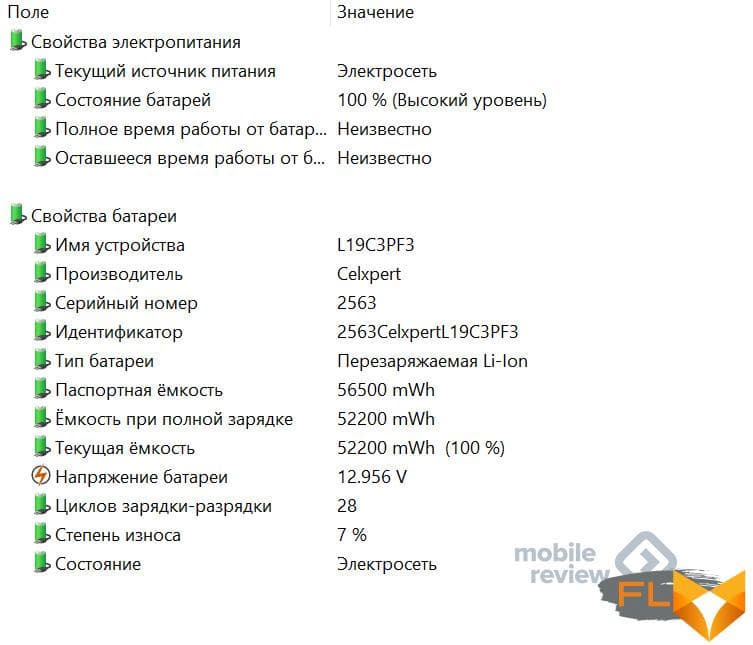 Apparently, they sent me an engineering sample for testing, since the kit included a power adapter with a 65 W Chinese plug. But on the site in the technical specifications it is indicated that the power of the adapter should be 95 watts. There are two options here. The first is a typo (6 and 9 on the numeric keypad next to each other), the second option is that the test was understaffed, and the laptop is equipped with fast charging, for which 95 W charging would really be appropriate.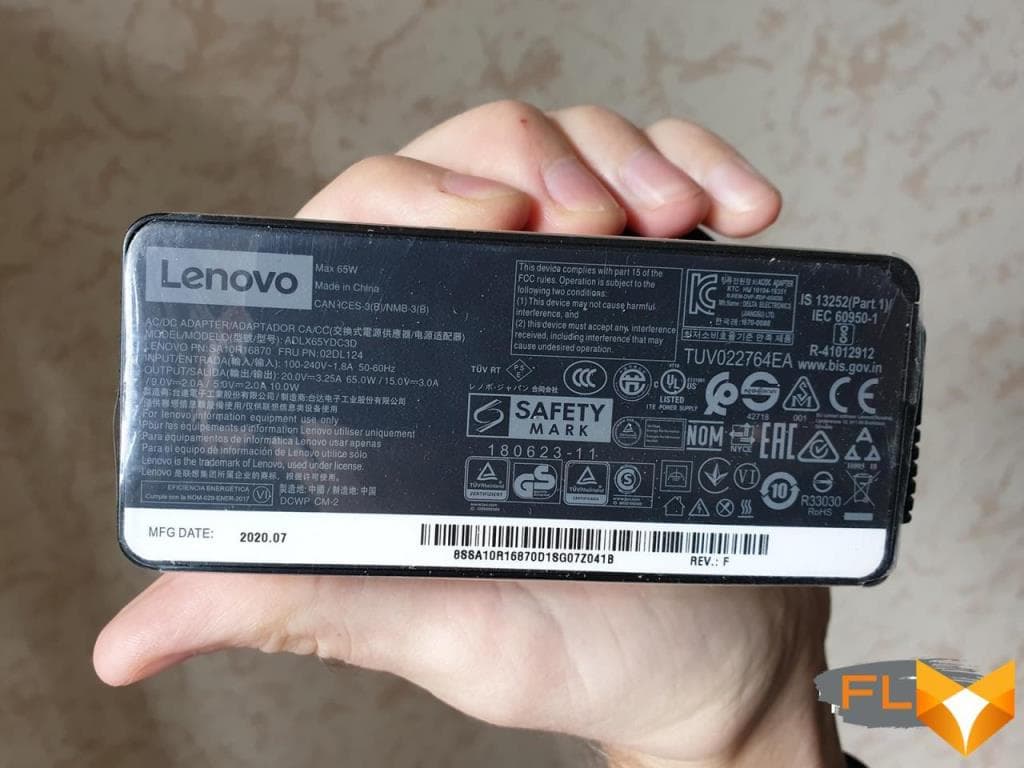 Conclusion
On Lenovo's official website, the price is listed as $1,200. But a laptop can be found for $1,000, and that would already be a fair price for it.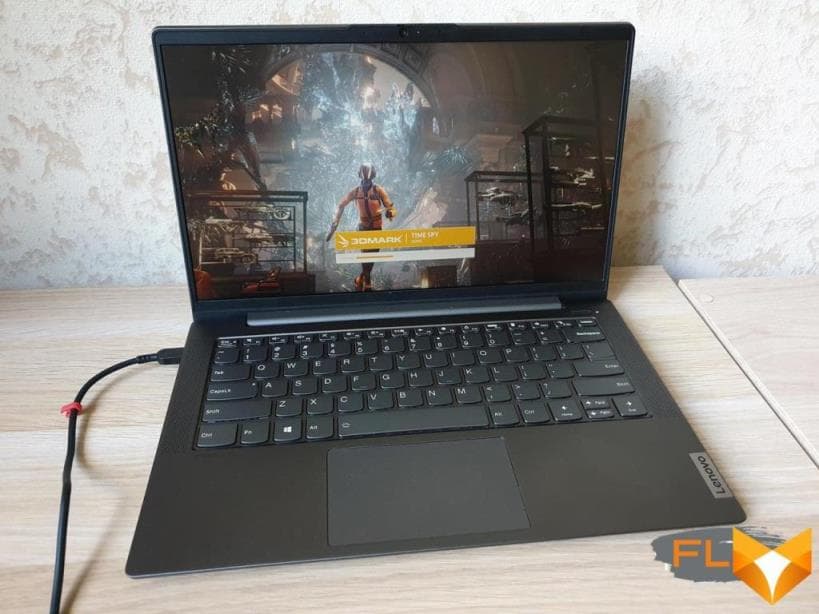 Let's try to break it down into pros and cons.
Pros:
Aluminum housing
Nice set of ports
High screen color accuracy
Matte anti-glare screen
16GB RAM
11th generation processors from Intel
Webcam shutter
Speakers are located on the sides of the keyboard
Stability under load
SSD can be replaced
Weighs only 1.4 kg
Cons:
Performance enough for everyday tasks, but obviously the laptop could do more
Screen brightness is 270 nits, which implies indoor use
Webcam quality
RAM is fast (3200 MHz) but not upgradeable
Let's define the competitors. Considering that this is a segment of compact and light laptops, there are a lot of competitors here. Look both at Vivobook with an OLED screen and at Lenovo's own models (like the ThinkBook). IdeaPads are laptops designed for everyday use and use within the home. Given that ThinkBooks don't differ much in price, it might be worth looking into. For example, these laptops have keyboard protection against spilled liquids. Perhaps Lenovo should price the laptops better, as other things being equal, the business series offer the best value for money thanks to additional features and claimed increased reliability.
Most Popular Articles