LapTop-master
MSI Modern 15 A5M laptop review - FoxLaptop
MSI Modern 15 A5M laptop review - FoxLaptop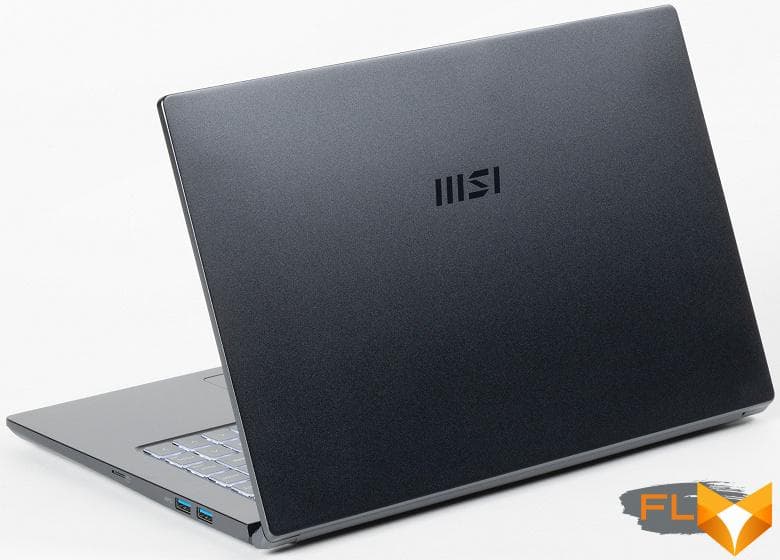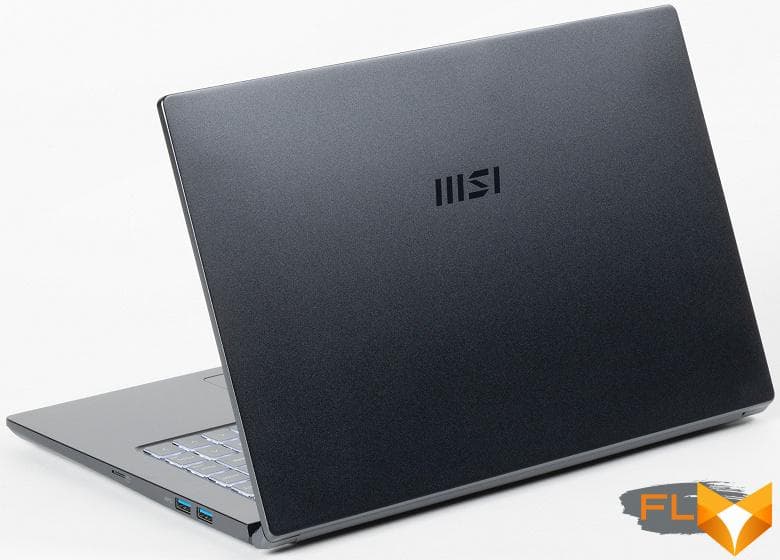 We've tested MSI's Modern Series laptops more than once, and we can immediately tell that the company releases business solutions in this category. These are not powerful mobile workstations, but they are not the thinnest and lightest ultrabooks either. Usually these are light and rather compact models, but in this case we are dealing with a 15.6-inch device, and even with a partially metal case, and even with a reinforced cooling system, so do not expect records in terms of weight and size.
We can also warn you that the used AMD ultra mobile processor and its integrated graphics are neither professional nor gaming oriented. Rather, it is such a versatile laptop for both office workers and typical home users. In any case, MSI itself, without removing the word "business laptop", talks about this series on its website, using the expressions "for a dynamic life", "in study" and "accompany you wherever you go."
Configuration and equipment
In general, there are many different configurations for the Modern 15 A5M, but according to information from retail stores, at the time of writing this review, this model was offered in only three modifications, the difference between which is minimal (and not always clear). One variant seems to feature a 512 GB drive (instead of 256 GB) and another comes without an OS. We list the specifications of the laptop in the table, based on the model that we had in the tests.
MSI Modern 15 A5M-089
Processor
AMD Ryzen 5 5500U (6 cores/12 threads, 2.1-4.0 GHz, 15W)
RAM
8 (1×8) GB DDR4-3200 (SO-DIMM Samsung M471A1K43EB1-CWE)
one SO-DIMM slot free, max 64 GB
Video subsystem
Integrated AMD Radeon Graphics
Screen
15.6″ 1920×1080 60Hz IPS semi-matte (AU Optronics B156HAN02.1)
Sound subsystem
Realtek ALC256 codec, 2 speakers
Accumulator
SSD 256 GB (Phison EM280256GYTCTAS-E13T2MS, M.2 2280, NVMe, PCIe 3.0 x4)
Second M.2 slot free, 512GB SSD option available
Card Reader
microSD
Network interfaces
Wired network
none
Wi-Fi network
Wi-Fi 6E (MediaTek RZ608, 802.11ax, 2×2, channel width up to 80 MHz)
Bluetooth
Bluetooth 5.2
Interfaces and Ports
USB
1 USB3 Gen2 Type-C
3 USB3 Gen2 Type-A
RJ-45
none
Video outputs
1 HDMI 1.4b (up to 4K@30Hz)
Audio connectors
universal mini-jack for microphone, headphones and headset
Input Devices
Keyboard
backlit
Touchpad
clickpad
VoIP
Webcam
720p @30 fps, with alarm LED, no Windows Hello support
Microphone
2 microphones
Fingerprint reader
optional (not in our version)
Battery
52.5 Wh, lithium polymer
Dimensions
357×234×22 mm (thickness of the main body without legs – 19 mm)
Weight without power supply
1.63 kg
Power adapter
Delta 65W (19V 3.42A) 194g Cables 1.55 + 0.5m
Operating system
Windows 11 Home
non-OS option available
Estimated cost
$1,000 at time of review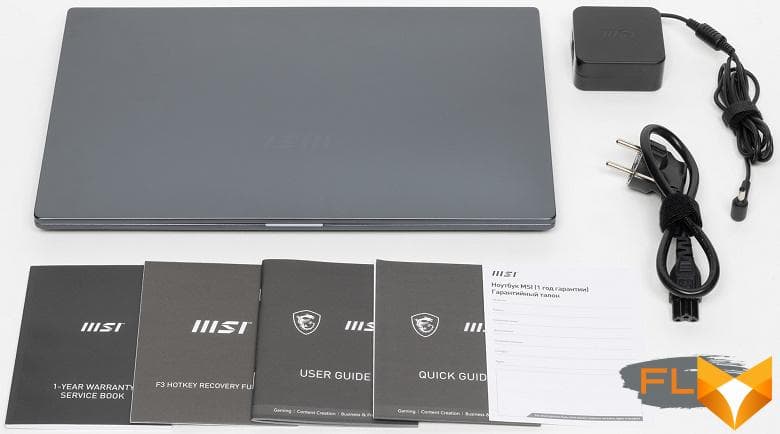 Included with the laptop, apart from paper documentation, you can only find a very compact and lightweight power adapter (only 194 g) for 65 W with a total length of two cables a little more than 2 m. Unfortunately, the laptop's power connector is proprietary, not USB Type -C, that is, the adapter is not universal.
Appearance and ergonomics
The body of the laptop is interesting. Usually the case is either entirely plastic (this saves money and weight), or entirely metal (which is prestigious). There are also options when there is a thin aluminum plate on top of the cover, which, as a rule, looks better and allows the manufacturer to mention the metal in the model description on the site. In this case, just such an option, the outer surface of the lid is formed by a thin aluminum profile, and even the fastening of the hinges is already purely plastic. However, here, in addition, the working surface and the upper part of the sidewalls are made of the same aluminum profile. The result is a really nice laptop in dark gray with a bluish sheen, pleasantly cool to the hands in all places where it is usually touched, but with a plastic core. And this, as it was written above, leads to a reduction in price and weight.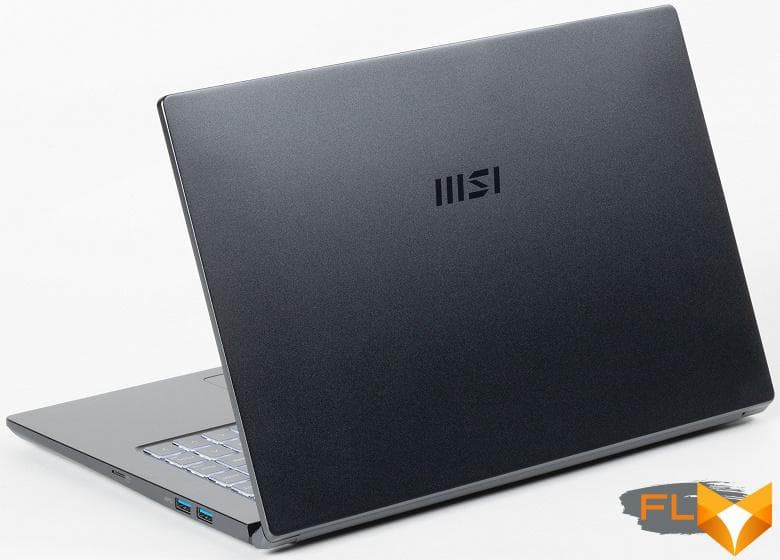 This is definitely not a bulky gaming laptop weighing under 2.5 kg, but still 1.63 kg for the MSI Modern 15 A5M is noticeably more than ultrabooks, even with a metal case weighing 1.2-1.3 kg. The thickness of the chassis without legs is 19 mm: again, this is significantly less than gaming machines, but more than ultrabooks, which can be less than 15 mm thick. Yes, the screen is 15.6″, but there is no glass above the matrix surface. Yes, the case is partially plastic, but the cooling system is reinforced. In general, the compromise is quite reasonable, and if you look not at the records, but at the subjective sensations, then we liked the laptop outwardly. Although sometimes there is a break in the template when the hands after the metal work surface touch the purely plastic bottom of the case. There are no complaints about the assembly, the case is devoid of slots, does not creak under the fingers, although the rigidity of the lid and especially the working surface (especially in front of the keyboard) is a little lacking.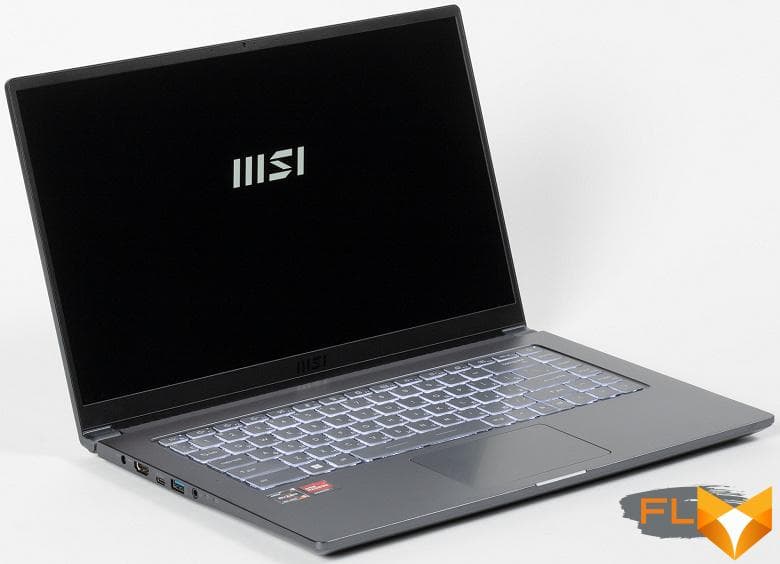 You can pick up the closed lid only in the center in front, where a special notch is made, but even there you have to pick it up with your fingernail. You can't call it a convenient option. However, the lid thus grasped can be swung open to the maximum with the same one hand. This procedure is also not very easy, but at least the body does not bounce. The lid closes with a closer, but is not held closed by magnets. The screen deflects all 180° (even a little more), while the lid rests on the table, but does not have any shock-absorbing pads or inserts, so it will scratch or scratch the surface of the table itself.

The bezel around the screen is average by today's standards: 6 mm on the left and right, 9 mm on the top, 19 mm on the bottom to the working surface. In constructive terms, this is a plastic overlay, which rises 1.5-2 mm above the plane of the screen. At the top of the frame is a webcam with a signal LED and two microphones. There is no hardware protection against turning on the camera, but you can quickly enable and disable the camera and microphones individually with a keyboard shortcut. The camera shoots in the traditional 720p format at 30 fps, the quality is traditionally poor. The signal LED does not light up during camera operation, but blinks slowly, which is annoying. Windows Hello face authentication is not supported for this camera.
The flow of cold air to the coolers is carried out through the bottom. The area of ​​the ventilation holes is not extremely large, but for a laptop with low power consumption it is quite sufficient. There are many legs on the surface that will not allow you to accidentally block these holes. Speaker outputs are located at the front edge of the case on the sides.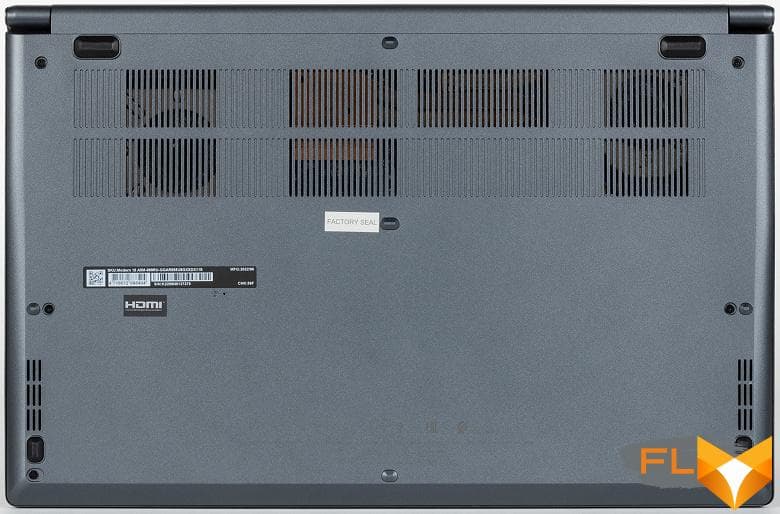 The case is almost the same throughout the thickness, but there are noticeable bevels at the front edge and on the sides, designed to facilitate the visual impression. The wedge-shaped shape of the flat sidewalls does not interfere with the placement of ports: HDMI and USB type A fit normally, but there is simply no wired network.


The front end of the laptop is deaf, without connectors, and behind there are only holes for blowing air through the radiators of the cooling system (when the lid is folded down, the outgoing air slightly heats the bottom of the screen).

On the left side there is a connector for a proprietary power plug, full-size HDMI with image output not higher than 4K @ 30 Hz, USB3 Gen2 Type-C and USB3 Gen2 Type-A, as well as a universal mini-jack for connecting a headset. Nearby are indicators – the on state and charging.

On the right is a microSD card slot and 2 more USB3 Gen2 Type-A. Thus, the number of ports on the laptop is acceptable, although if you replace the proprietary power connector with another USB Type-C and add support for charging through any of them, this would be very useful and convenient, in particular, you could use third-party power adapters and have , for example, one adapter each at home and at work. There is no wired network support. If a laptop is purchased as a mobile part of the workplace, you can take care of purchasing a hub, including an Ethernet socket. We specifically note that all 4 USB ports correspond to USB3 Gen2 speed mode – we are not sure that we have seen at least one such laptop so far, although in reality the number of ports is more important than speed.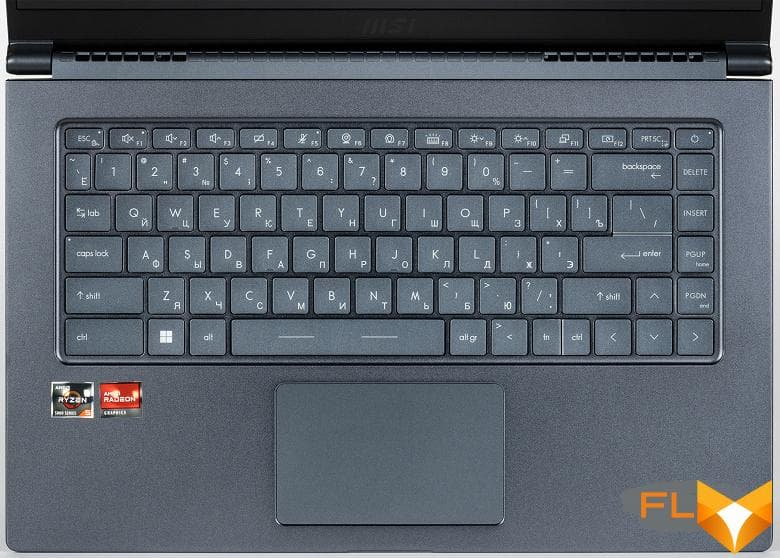 The laptop is 15-inch, but they didn't place a keyboard with a number pad here: they made a column of keys for editing text on the right and left noticeable margins on the sides (this way it's more convenient to hold the case by the sides). But the buttons of the main part are even slightly enlarged, up to 16.5 × 16.5 mm (with a clearance of 3 mm). The arrows have the same size and normal relative position. We have traditional complaints about the bottom row buttons, there is some kind of incomprehensible chaos: the left Ctrl is huge, the right Fn and Ctrl are half, while for some reason, as always, there is a button for entering slashes. It helps a little that the Win and Fn buttons can be swapped out. However, Home and End are only available with Fn.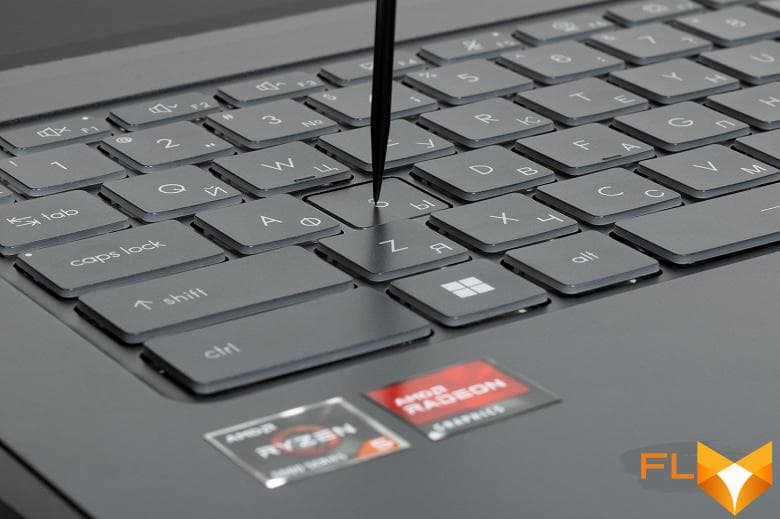 Otherwise, this is a familiar quiet membrane keyboard. MSI says the key travel is 1.5mm; According to our measurements, it is slightly smaller, but this does not matter.

You can switch the functions of the top row of keys (Fn Lock). The power button is located in the general array of buttons, albeit in a corner.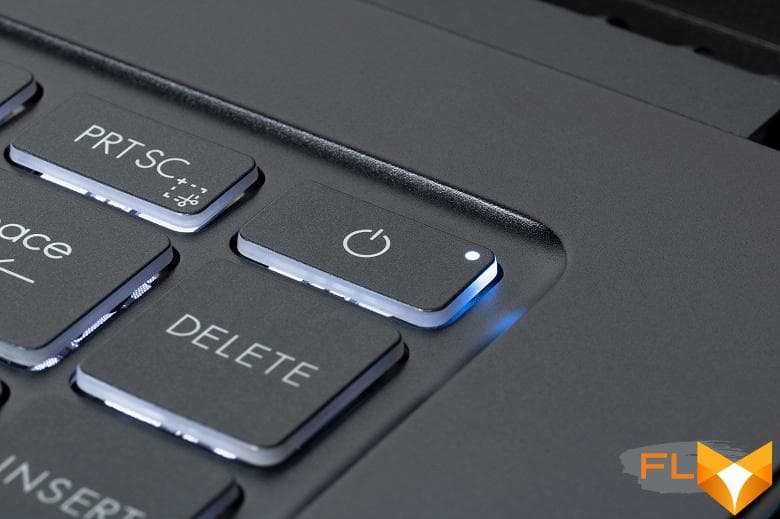 The keys have a normal white backlight with three brightness levels adjustable from the keyboard (the fourth state is off). The characters on the keys are well read, there are no problems with this.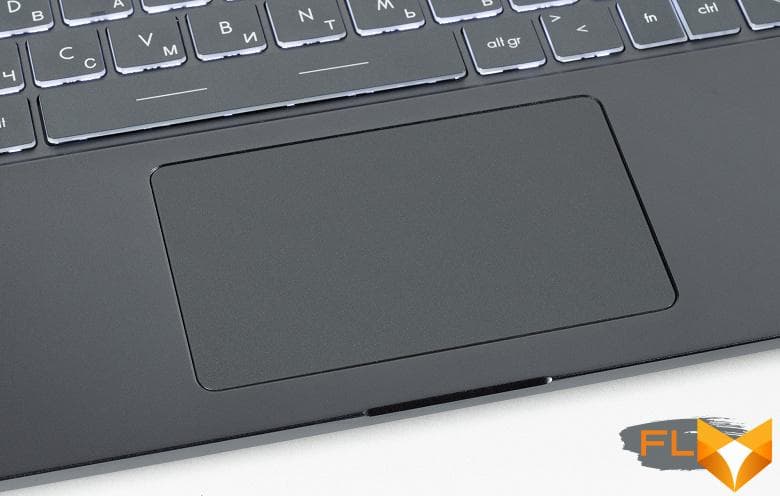 The touchpad is very small (106x66mm) and, unfortunately, suffers from typical MSI laptop issues with uneven pressure. You have to retrain to work with touches and gestures, in this mode there are no problems, even four fingers for horizontal strokes on the touch surface, in principle, fit. A fingerprint scanner can be located in the corner of the touchpad, but our modification did not have it.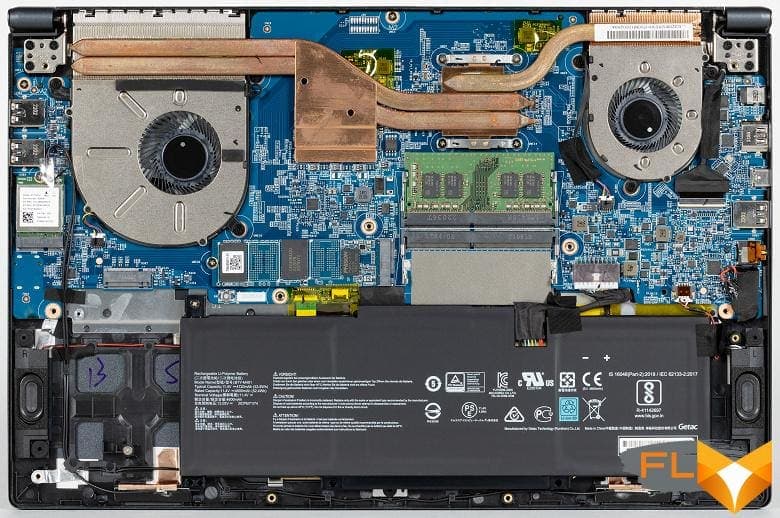 By removing the bottom panel of the case, you can access the coolers, battery, removable wireless network adapter, SSD in the M.2 slot, and a single memory module in the SO-DIMM slots. There is another M.2 slot that can accommodate a second drive. It is also possible to easily upgrade the memory.
Software
The laptop ships with Windows 11 Home Edition, no OS is available, and MSI recommends Windows Professional Edition. There is only one proprietary MSI Center utility, in this case it received the Pro prefix to reflect some "working" functionality. From such, we found only the opportunity to set the priority for the execution of applications selected by the user.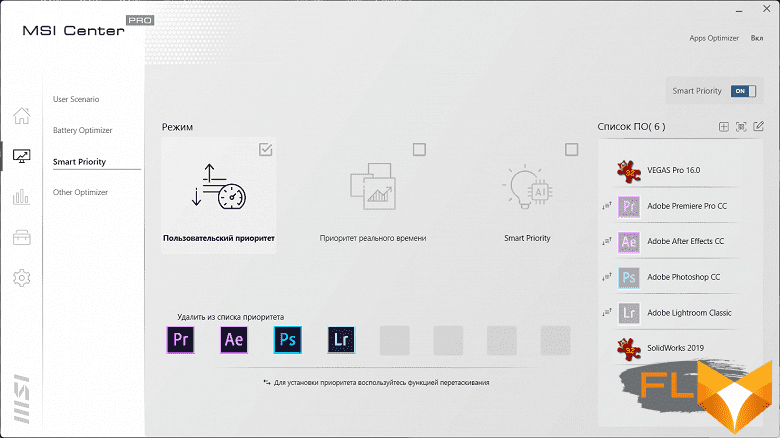 The utility also provides a wide range of various tests to detect problems with hardware, issue help information, and search for updates to both proprietary software and drivers. There are several useful system settings: you can disable the Win key, swap Win and Fn, enable the webcam and HDR screen mode.
Traditionally, the key function of the MSI Center is the selection of the scenario (profile) for the operation of components and the cooling system. In total, the utility offers 4 ready-made scenarios with obvious names and, with one exception, without the possibility of customization, as well as an automatic scenario in which AI rules the parameters. There is no completely custom scenario, only in the most productive one you can select the cooler operation mode: automatic, maximum, or set the cooler operation curve at several points. We will talk more about regular scenarios in the load testing section. Fast enumeration of scenarios is carried out by Fn + F7.
Screen
The MSI Modern 15 Notebook (model code A5M-089RU) uses a 15.6-inch IPS panel with a resolution of 1920×1080 pixels.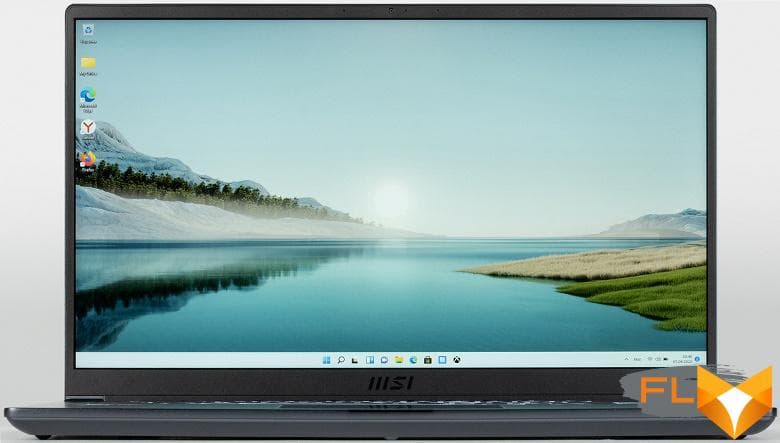 The outer surface of the matrix is ​​black, hard and semi-matt (the mirror reflection is well expressed). There is no special anti-reflective coating or filter, and there is no air gap. When powered by mains or battery and with manual brightness control (no automatic adjustment by light sensor), its maximum value was 255 cd / m² (in the center of the screen on a white background). The maximum brightness is not very high. However, if you avoid direct sunlight, then even this value allows you to somehow use the laptop on the street, even on a sunny summer day.
To evaluate the readability of the screen outdoors, we use the following criteria obtained from testing screens in real conditions:
| | | | | | | | | | | | | | | | | | | | | | | | | |
| --- | --- | --- | --- | --- | --- | --- | --- | --- | --- | --- | --- | --- | --- | --- | --- | --- | --- | --- | --- | --- | --- | --- | --- | --- |
| Maximum brightness, cd/m² | Conditions | Readability score | Matte, semi-matte and glossy screens without anti-glare | 150 | Direct sunlight (over 20,000 lux) | unreadable | Light shadow (about 10000 lux) | barely readable | Slight shade and light clouds (no more than 7500 lux) | work is uncomfortable | 300 | Direct sunlight (over 20,000 lux) | barely readable | Light shadow (about 10000 lux) | work is uncomfortable | Slight shade and light clouds (no more than 7500 lux) | work comfortably | 450 | Direct sunlight (over 20,000 lux) | work is uncomfortable | Light shadow (about 10000 lux) | work comfortably | Slight shade and light clouds (no more than 7500 lux) | work comfortably |
These criteria are very conditional and may be revised as data accumulate. Note that there may be some improvement in readability if the matrix has some kind of transreflective properties (part of the light is reflected from the substrate, and the image can be seen in the light even with the backlight turned off). Also, glossy matrices, even in direct sunlight, can sometimes be rotated so that they reflect something quite dark and uniform (on a clear day, for example, the sky), which will improve readability, while matte matrices need to be blocked from Sveta. In rooms with bright artificial light (about 500 lux), you can work more or less comfortably even with a maximum screen brightness of 50 cd / m² and below, that is, in these conditions, maximum brightness is not an important value.
Let's return to the screen of the tested laptop. If the brightness setting is 0%, then the brightness is reduced to 12 cd/m². Thus, in complete darkness, the screen brightness can be lowered to a comfortable level.
At any brightness level, there is no significant backlight modulation, so there is no screen flicker (no PWM). As proof, here are graphs of the dependence of brightness (vertical axis) on time (horizontal axis) at various values ​​​​of the brightness setting: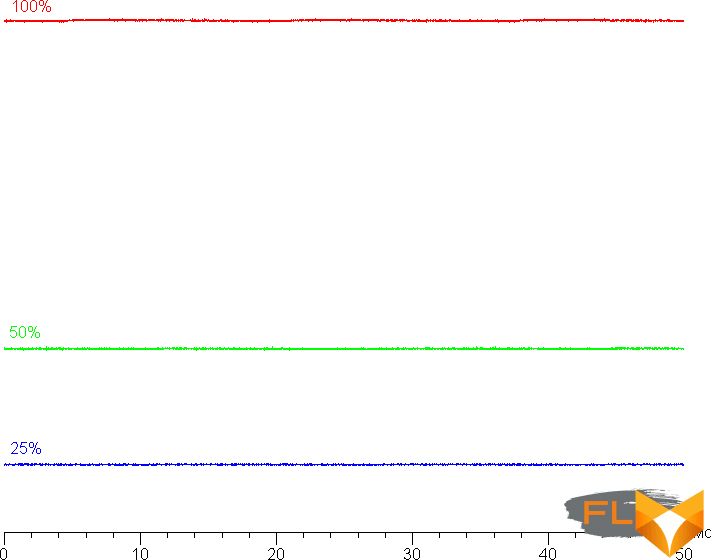 This laptop uses an IPS type matrix. Micrographs show a typical IPS subpixel structure (black dots are dust on the camera's matrix):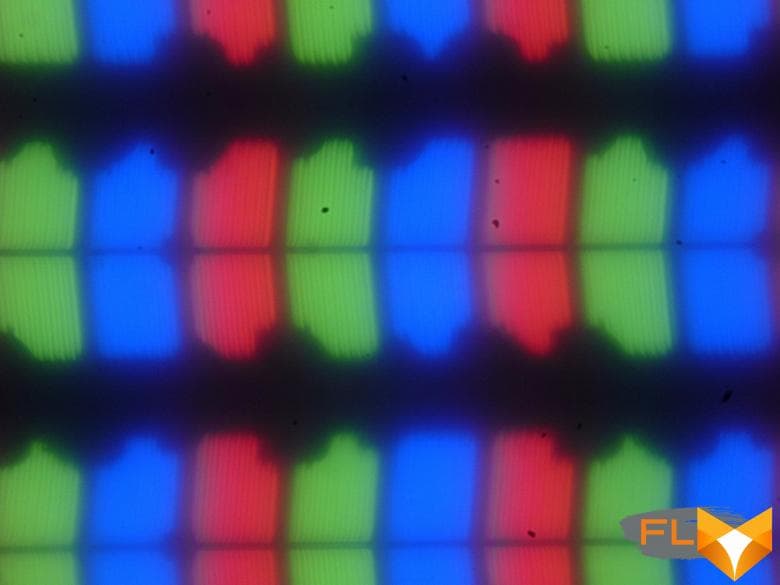 Focusing on the screen surface revealed randomly located surface microdefects responsible for the matte properties: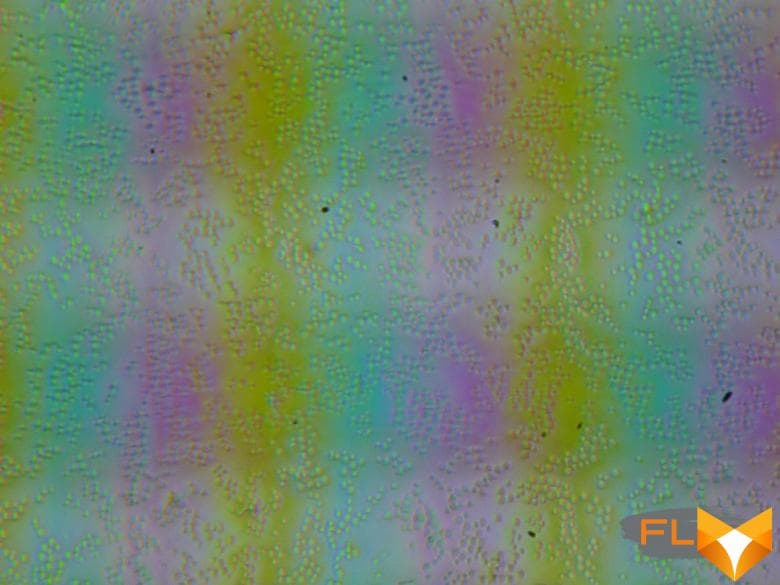 The grain of these defects is several times smaller than the size of the subpixels (the scale of these two photographs is approximately the same), so the focusing on microdefects and the "jumping" of the focus on the subpixels with a change in the angle of view are weakly expressed, because of this there is no "crystal" effect.
We measured brightness at 25 screen points spaced in 1/6th increments of the screen width and height (screen borders not included). The contrast was calculated as the ratio of the brightness of the fields at the measured points:
| | | | | | | | | | | | | | | | | |
| --- | --- | --- | --- | --- | --- | --- | --- | --- | --- | --- | --- | --- | --- | --- | --- | --- |
| Parameter | Average | Mean Deviation | min., % | max % | Black box brightness | 0.24 cd/m² | −15 | 45 | White box brightness | 260 cd/m² | −8,8 | 5,3 | Contrast | 1100:1 | −28 | 8,9 |
If you step back from the edges, then the uniformity of the white field is very good, but the black field and, as a result, the contrast, is much worse. Contrast by modern standards for this type of matrix is ​​slightly higher than typical. The photo below gives an idea of ​​the distribution of the brightness of the black field over the screen area: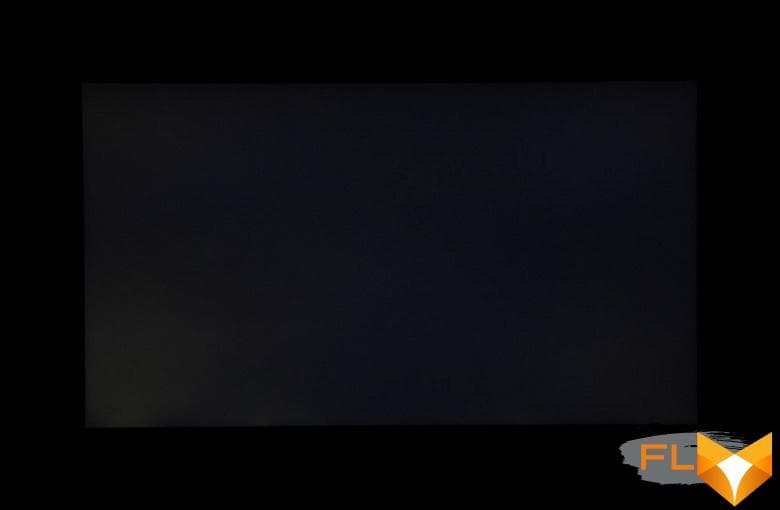 It can be seen that the black field in some places, mostly closer to the lower edge, is highlighted. However, the uneven illumination of black is visible only on very dark scenes and in almost complete darkness, it should not be considered a significant drawback. Note that the rigidity of the lid, although it is made of aluminum, is low, the lid is deformed at the slightest applied force, and the nature of the black field illumination changes greatly due to deformation.
The screen has good viewing angles without a significant decrease in brightness and color shift even at large deviations of the gaze from the perpendicular to the screen and without inverting shades (but IPS-matrices in monitors are usually better in this regard). However, the black field, when deviated diagonally, is strongly highlighted and acquires a red-violet hue.
Response time for black-white-black transition is 28ms (14ms on + 14ms off), transition between grayscale total (from hue to hue and back) takes an average of 42ms . The matrix is ​​not fast, there is no overclocking.
We determined the total output delay from switching pages of the video buffer to the start of displaying the image on the screen (recall that it depends on the features of the Windows OS and the video card, and not only on the display). At a refresh rate of 60 Hz, the delay is 12 ms. This is a small delay, it is absolutely not felt when working on a PC, and even in very dynamic games it will not lead to a decrease in performance.
Two refresh rates are available in the screen settings – 60 and 48 Hz. The second can be useful when watching movies. At least at native screen resolution, the output is at a color depth of 8 bits per color.
Next, we measured the brightness of 256 shades of gray (from 0, 0, 0 to 255, 255, 255). The graph below shows the increase (not an absolute value!) brightness between adjacent semitones: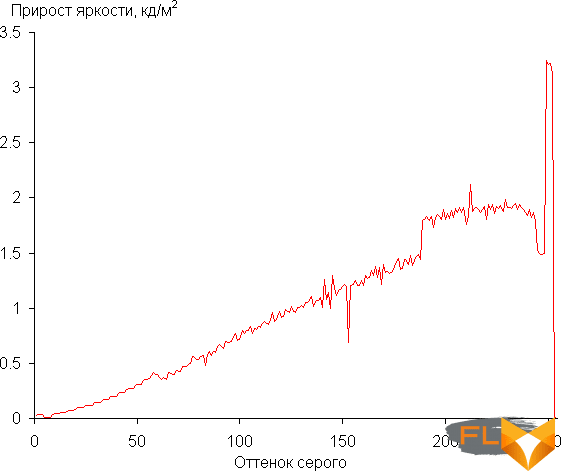 The increase in brightness gain is uniform over most of the gray scale, and each successive hue is brighter than the previous one. However, this is not the case in highlights, and the three lightest shades of gray do not differ in brightness from white. However, this does not spoil the overall picture. In the darkest area, all shades are hardware and visually different: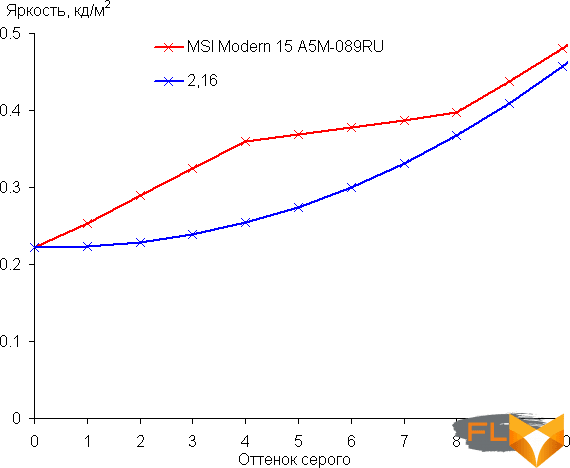 Approximation of the resulting gamma curve gave an indicator of 2.16, which is slightly lower than the standard value of 2.2, while the real gamma curve slightly deviates from the approximating power function: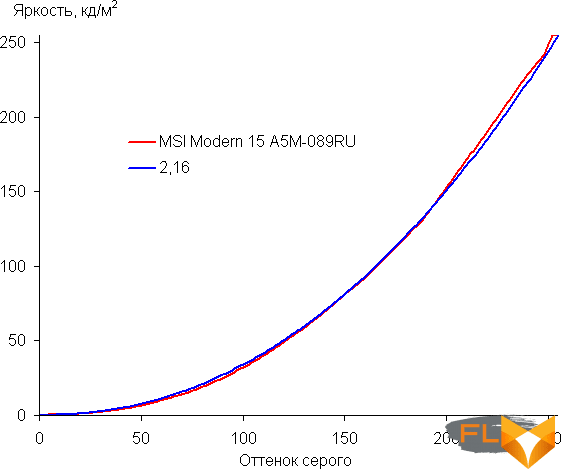 The color gamut is noticeably narrower than sRGB: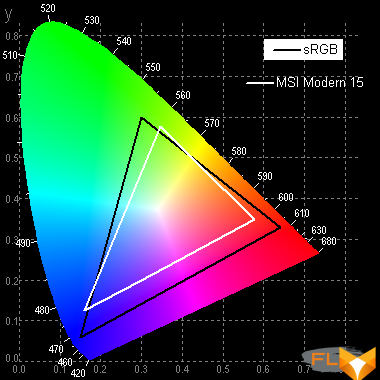 Therefore, visually the colors on this screen are pale. Below is the spectrum for a white field (white line) superimposed on the spectra of red, green and blue fields (lines of the corresponding colors):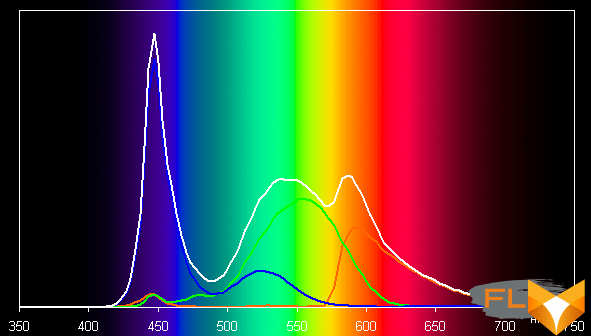 Such a spectrum with a relatively narrow peak of blue and with wide humps of green and red colors is typical for screens that use a white LED backlight with a blue emitter and a yellow phosphor. The spectra show that the matrix filters significantly mix the components to each other, which narrows the color gamut.
The balance of shades on the gray scale is good, as the color temperature is close to the standard 6500 K, and the deviation from the blackbody spectrum (ΔE) is below or slightly above 10, which is considered acceptable for a consumer device. At the same time, the color temperature and ΔE change little from shade to shade – this has a positive effect on the visual assessment of color balance. (The darkest areas of the gray scale can be ignored, since the color balance does not matter much there, and the measurement error of color characteristics at low brightness is large.)
Let's summarize. The screen of this laptop has a low maximum brightness (about 255 cd / m²), but still the device can be used outdoors on a bright day, blocked from direct sunlight. In complete darkness, the brightness can be reduced to a comfortable level (up to 12 cd / m²). The advantages of the screen include low output latency (12 ms), no flicker and good color balance. The disadvantages are the low stability of black to the deviation of the gaze from the perpendicular to the plane of the screen and pale colors. In general, the screen quality is not very high.
Sound
Traditionally, the laptop's audio system is based on the Realtek codec, the sound is output through two speakers located on the sides at the bottom of the case (that is, they play "table"). Subjectively, the sound of the speakers at high volume was not very pleasant. To adjust the sound regularly, there is only a Realtek audio console with modest capabilities. We ran our traditional pink noise peak volume estimate of 76.3 dBA, slightly above average for laptops tested as of this writing.
| | | | | | | | | | | | | | | | | | | | | | | | | | | | | | | | | | | | | | | | | | | | | | |
| --- | --- | --- | --- | --- | --- | --- | --- | --- | --- | --- | --- | --- | --- | --- | --- | --- | --- | --- | --- | --- | --- | --- | --- | --- | --- | --- | --- | --- | --- | --- | --- | --- | --- | --- | --- | --- | --- | --- | --- | --- | --- | --- | --- | --- | --- |
| Model | Loudness, dBA | MSI P65 Creator 9SF | 83.0 | Apple MacBook Pro 13″ (A2251) | 79.3 | Asus ROG Zephyrus S17 | 77.5 | HP Omen 15-ek0039ur | 77.3 | Dell Latitude 9510 | 77.0 | Apple MacBook Air (Early 2020) | 76.8 | MSI Modern 15 A5M | 76.3 | MSI Stealth 15M A11SDK | 76.0 | MSI GP66 Leopard 10UG | 75.5 | Apple MacBook Pro 13″ (Apple M1) | 75.4 | Asus TUF Gaming F15 (2022) | 75.2 | Gigabyte Aero 15 OLED XC | 74.6 | Realme Book RMNB 1002 | 74.4 | Infinix Inbook X2 XL21 | 74.3 | MSI Katana GF66 11UG | 73.9 | Honor MagicBook Pro | 72.9 | Machenike S17 | 72.4 | LG gram 17Z90P | 72.1 | Lenovo Yoga Slim 7 Pro 14ACH5 | 72.0 | Thunderobot 911 Air D | 71.2 | Asus ROG Flow Z13 (2022) GZ301Z | 68.8 | Asus ZenBook 14 (UX435E) | 64.8 |
The frequency response of pink noise shows that the reproducible frequency range is not wide, and the frequency response has a pronounced dip and two peaks: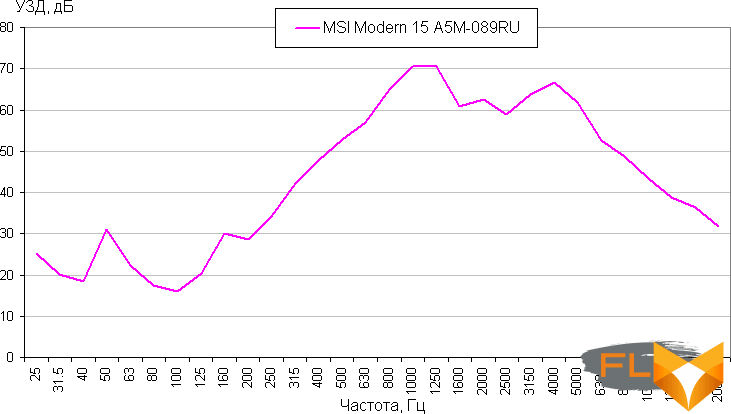 Battery operation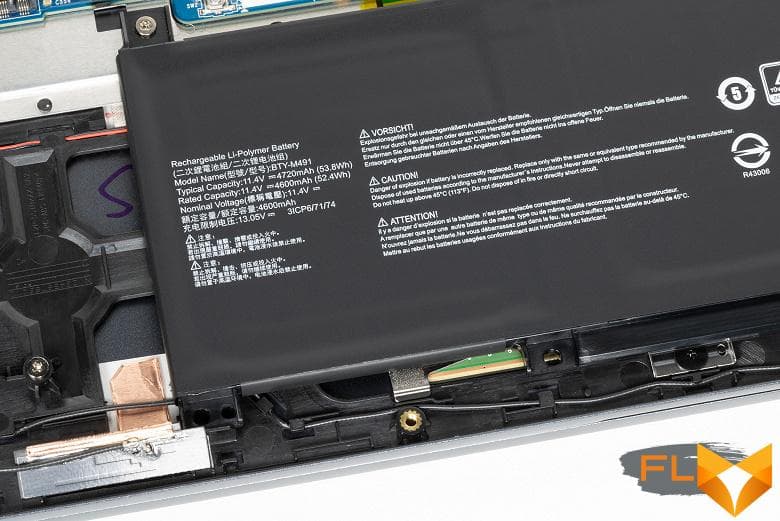 The battery capacity of the laptop is 52.5 Wh. To give you an idea of ​​how these numbers compare to actual battery life, we're testing our methodology. The screen brightness is set to 100 cd/m² (in this case, about 50% in this case), so laptops with relatively dim screens don't benefit.
| Load Scenario | Opening hours |
| --- | --- |
| Working with text (keyboard backlight at minimum) | 9 hours 38 minutes |
| View video | 7 hours 53 minutes |
In standalone mode, the laptop can last 9.5 hours when working with text and almost 8 hours when watching videos – and this is with a very modest battery. The result is just great! It is immediately clear that this is a strong point of this model.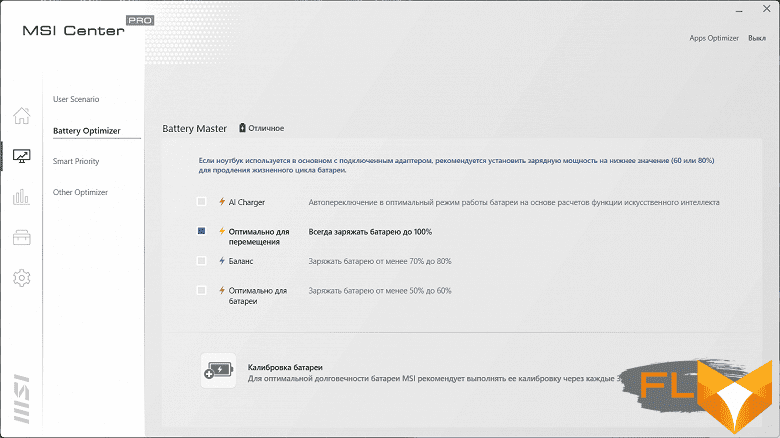 In the MSI Center Pro proprietary utility, you can enable the battery protection mode from frequent recharges by selecting the level to which it is desirable to charge the battery.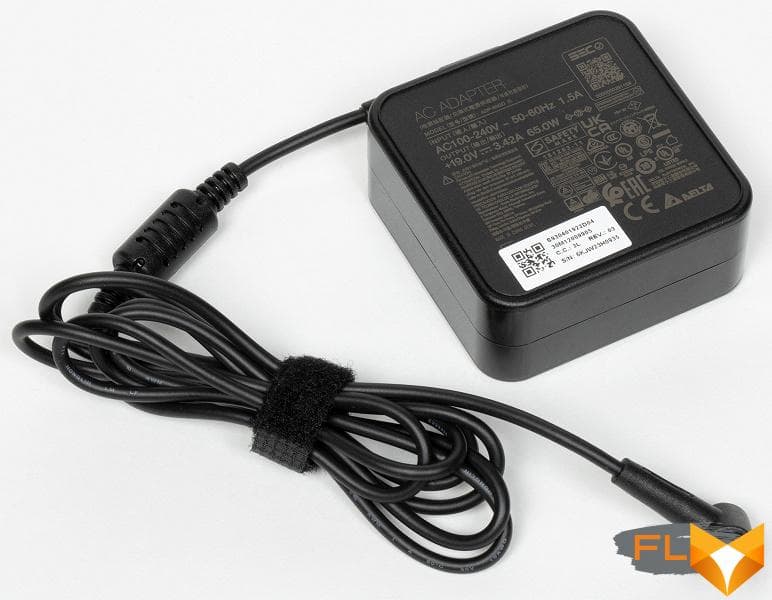 The laptop takes a long time to charge: almost 2.5 hours. With such a small battery, it's even strange. However, as usual, at first this process goes much faster: 50% is gained in about half an hour, and in 1 hour – about 75%. During charging, a small white dot of the LED shines on the left side of the laptop, it goes out only when the charge is 100%, when it is discharged below 10%, it glows orange. Unfortunately, the laptop does not support charging via the USB Type-C connector, so you won't be able to use a third-party adapter (although the available one is both light and compact, so it's easy to carry it with you).
Load operation and heating

The laptop has only one heated (and even then not very much) chip, but the cooling system is quite powerful and reinforced. It includes three heat pipes radiating from the processor to two heatsinks, each of which is blown by its own fan. Fans take air from the bottom of the case, and blow it back into the slot that opens when the lid is opened. We often see this option for removing heated air in ultrabooks, because they do not have to dissipate so much heat. Here is a similar case, and indeed, even under maximum load, it cannot be said that the outgoing air heats up the bottom of the screen a lot.

Nevertheless, there are still two coolers, they work almost synchronously when the CPU and/or GPU are under load (which is logical in this case), and they work quite quietly (read more about this in the next section). That is, the task set when designing this laptop is completely solved: under any load, the processor does not overheat, and the cooling system makes almost no noise. The obvious exception is the Cooler Boost maximum cooling mode, which can be enabled in the settings of one scenario in the proprietary utility.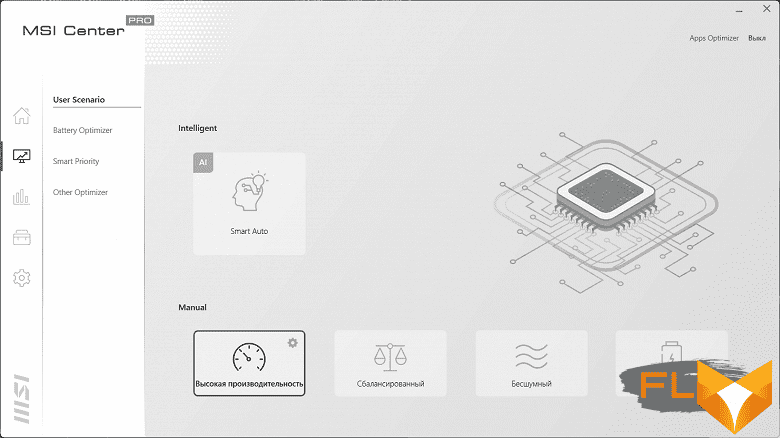 In general, the MSI Center Pro utility offers 4 scenarios (not counting the fashionable automatic using AI, the study of which we were not interested in), they are well known to us from working with all MSI laptops … However, this time something went wrong. The Balanced script, which traditionally ranks between the most productive and the quieter and more economical ones (which is also confirmed by its name), this time distinguished itself from the bad side. Not only did the processor consumption in it turn out to be the highest (37 W, noticeably higher than the 30 W for the High performance scenario), the coolers also made noticeably louder noise, both lowering and then increasing the speed. Again, read about how the sound level meter registered this in the next section, but we tend to consider this a software flaw and will not pay attention to this scenario in our testing.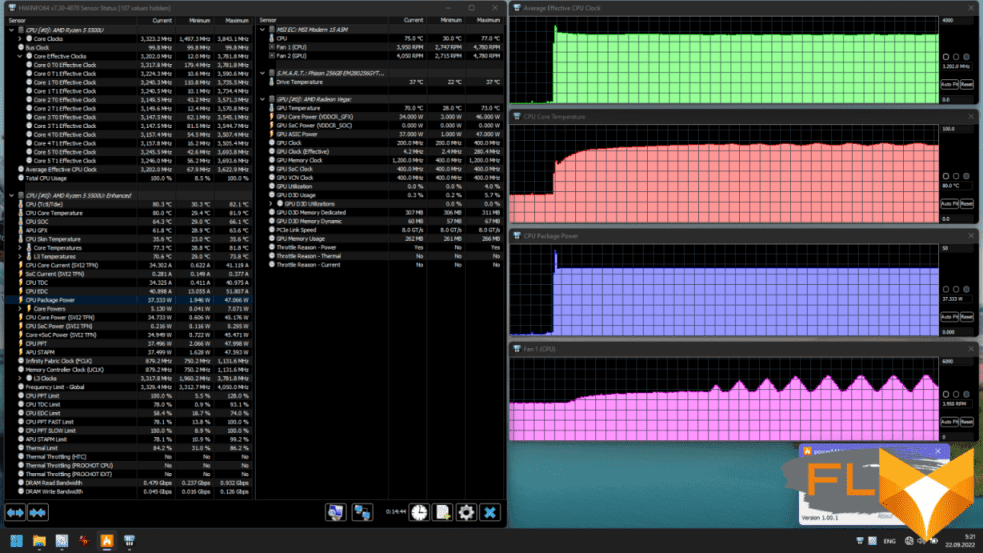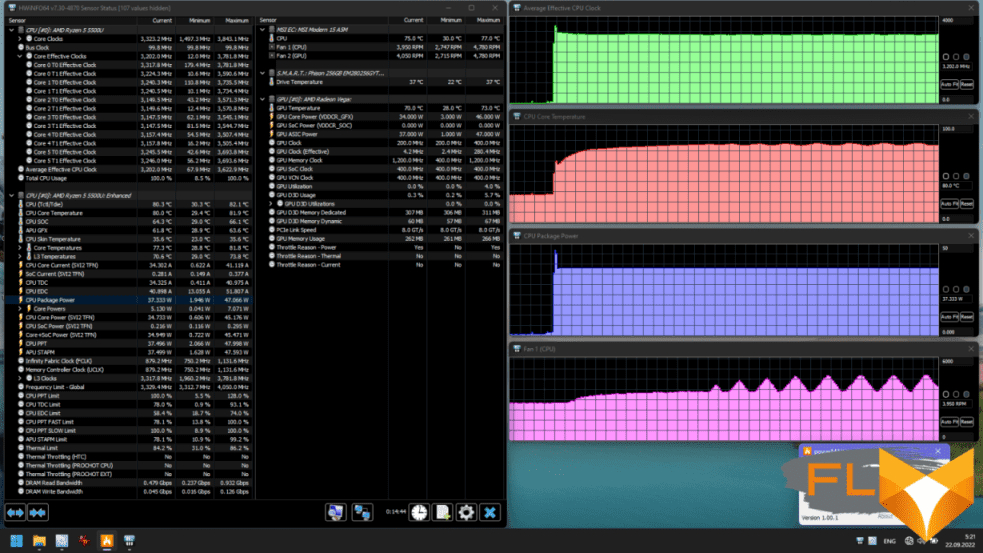 We summarized the operating parameters of the system components (temperatures, frequencies, etc.) under load in a table, the maximum/steady values ​​are given through a fraction (and for fans, the CPU / GPU cooler indicators are shown through a fraction):
Load Scenario
CPU Frequencies, GHz
CPU temperature, °C
CPU Watts
Fan speed (CPU/GPU), RPM
Inactive
29
1
2800/2700
High performance script
Maximum CPU load
3.00
76
30
3400/3300
Maximum CPU load at maximum cooling (Cooler Boost)
3.00
63
30
6700/6200
Maximum GPU load
48
14
3000/2800
Maximum CPU and GPU load
2,80
75
30
3300/3300
Script Silent
Max CPU load
2.35
52
15
2900/2700
Maximum CPU and GPU load
1.80
51
15
2900/2700
Super Battery Scenario
Max CPU load
1.90
51
10
0
3500/3600
Maximum CPU and GPU load
1,40
50
10
0
3500/3600
The main profile (scenario) for the mode when high performance is required is called so. In it, the processor under load consumes exactly 30 watts (not including a second burst at the time of loading), which exceeds the limits defined by AMD, but this is completely normal for laptops. The pair of coolers that we have mentioned can easily cool the processor in this mode, its temperature does not rise even to 80 degrees, and the noise remains low.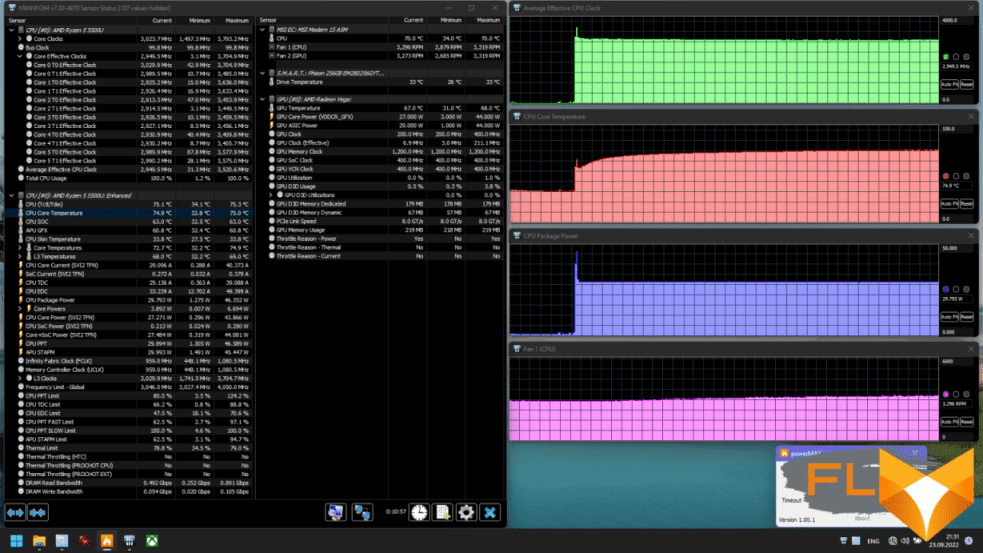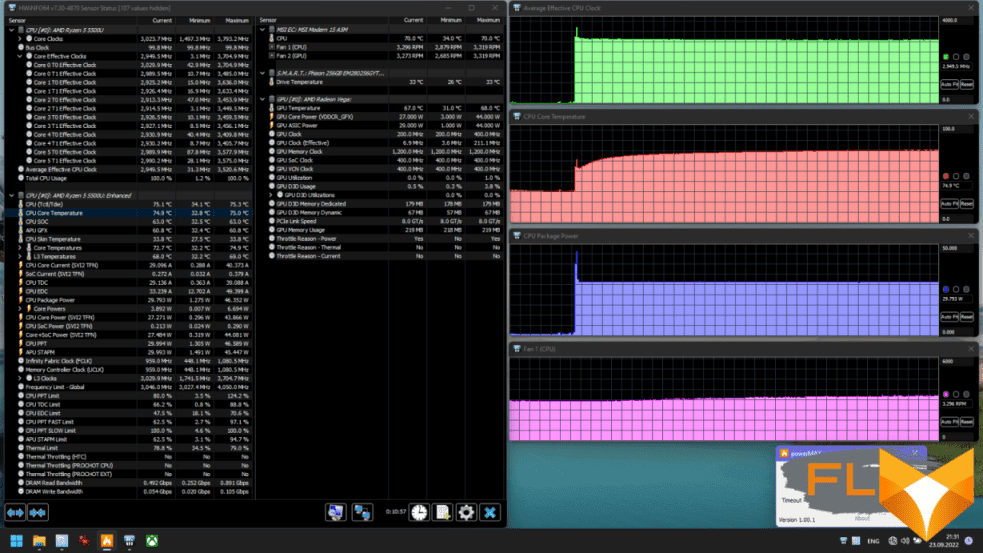 When the load is only on the video core, it is allocated no more than 15 watts, which practically does not lead to an increase in the noise level relative to idle mode.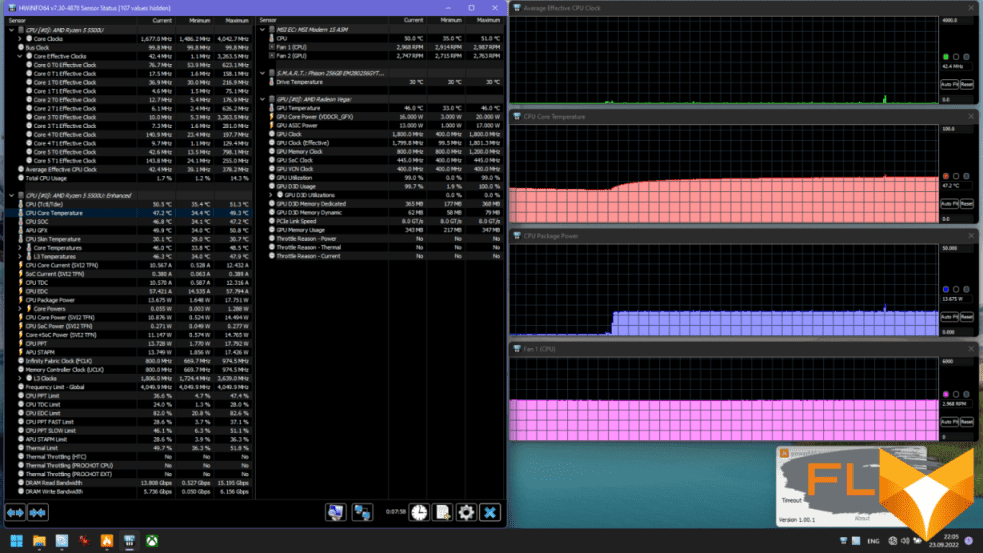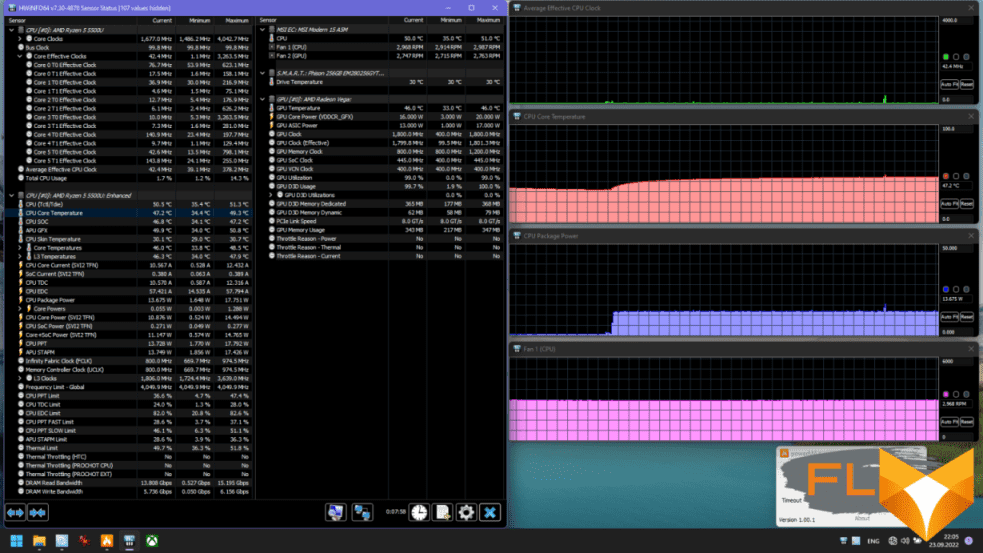 When both the CPU and GPU are loaded, the overall CPU consumption limit stays the same at 30W, but of course, part of the budget goes to integrated graphics, so the processor cores run at a slightly lower frequency.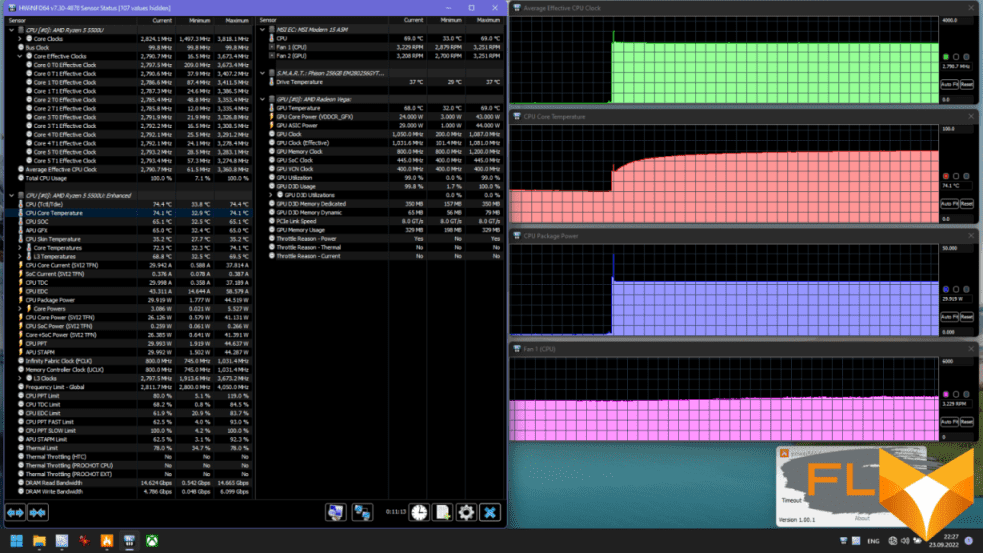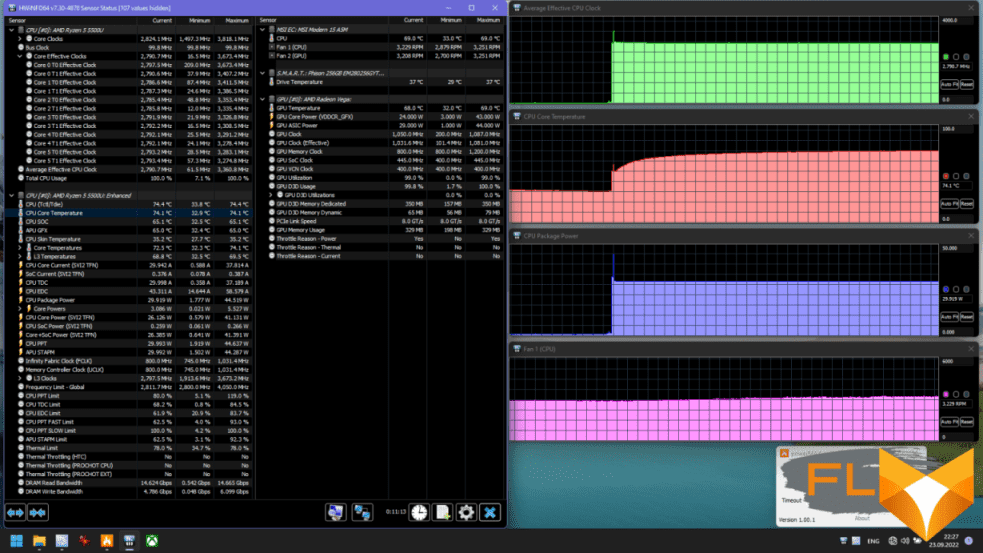 The Silent scenario differs only in that the total processor consumption is cut to 15 W, it has a lower frequency and significantly lower heating even with less actively spinning fans. This mode cannot be called completely silent, but it fully corresponds to its purpose.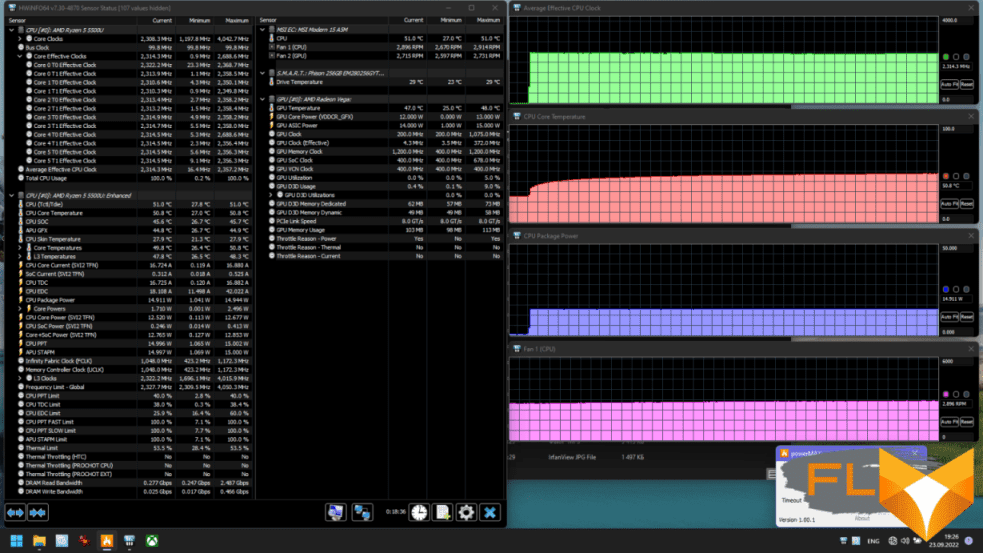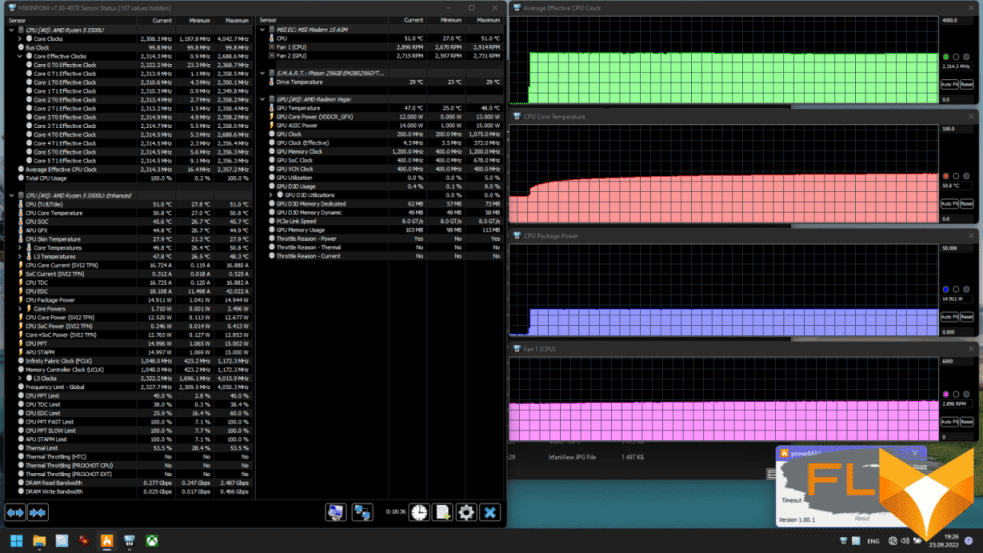 Finally, in the Super Battery scenario, the CPU consumption is cut even further, to 10W. However, this mode is better suited for situations where you are trying to open a browser or text document on the last gasp of your battery. It is apparently designed for a very low load, and at a low ambient temperature it can stop the fans at idle, and belatedly reacts to a serious load with a sharp spin-up of the fans and a noticeable increase in the noise level. In other situations, the fans continue to work even in idle time, and then under load they practically do not increase the noise level – there is enough cooling.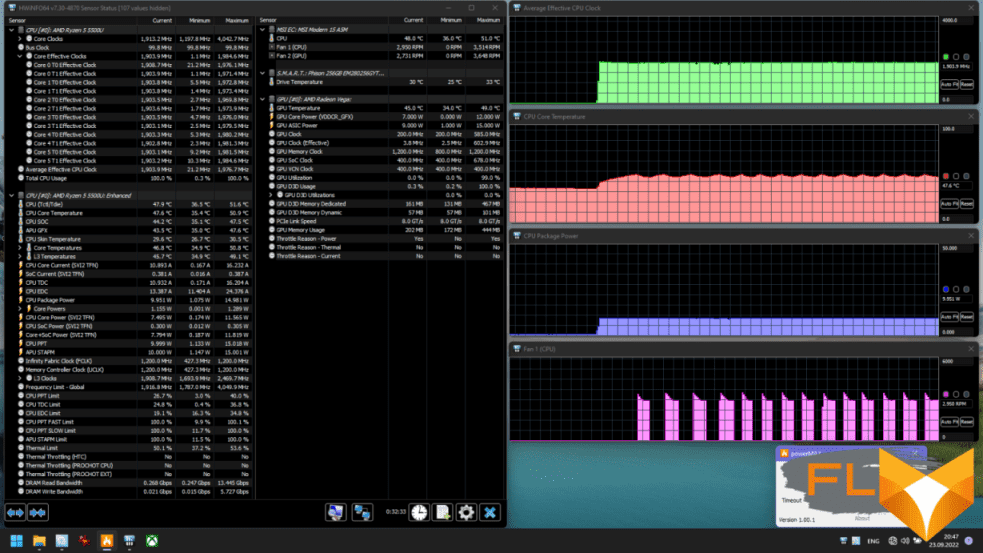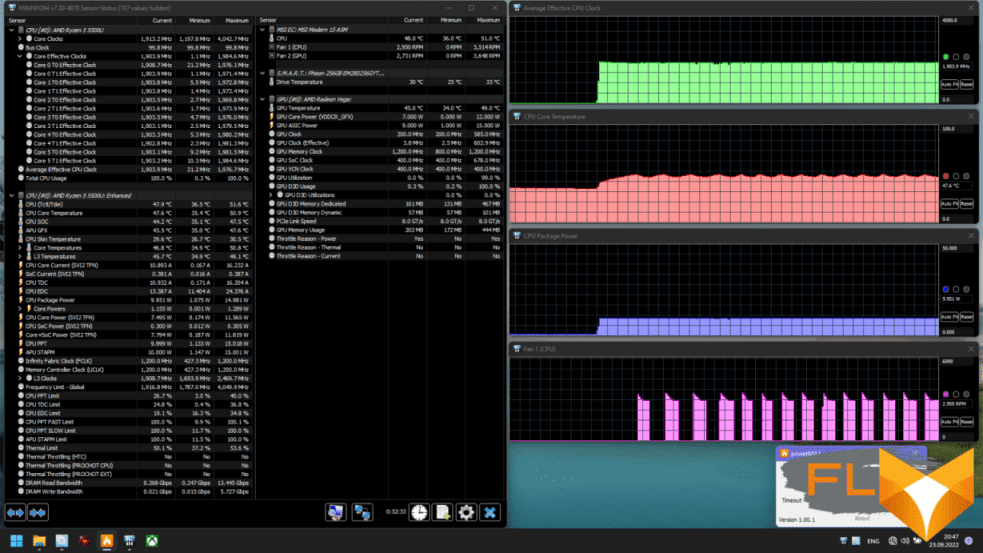 In none of the scenarios, the processor was close to overheating, so in this sense, the cooling system copes perfectly.
Below are thermal images obtained after long-term operation of the laptop under maximum load on the CPU and GPU (profile Balanced):
Even under maximum load, working with the keyboard is comfortable, since the places under the wrists are heated very weakly. Keeping a laptop on your lap can be frustrating, because the knees (especially the right one) feel the heat from the bottom. The power supply gets very hot, so when working for a long time with high performance, you must make sure that it is not covered with anything.
Noise level
We measure the noise level in a special soundproof and semi-dampened chamber. At the same time, the sound level meter microphone is located relative to the laptop in such a way as to imitate the typical position of the user's head: the screen is tilted back by 45 degrees, the microphone axis coincides with the normal emanating from the center of the screen, the front end of the microphone is at a distance of 50 cm from the screen plane, the microphone is directed to the screen . The load is created using the powerMax program, the screen brightness is set to maximum, the room temperature is maintained at 24 degrees, but the laptop is not specially blown, so in the immediate vicinity the air temperature may be higher. To estimate the real consumption, we also give (for some modes) the consumption from the network. The battery is pre-charged to 100%. The High performance, Balanced, Silent or Super battery profiles are selected in the proprietary utility settings:
| | | | | | | | | | | | | | | | | | | | | | | | | | | | | | | | | | | | |
| --- | --- | --- | --- | --- | --- | --- | --- | --- | --- | --- | --- | --- | --- | --- | --- | --- | --- | --- | --- | --- | --- | --- | --- | --- | --- | --- | --- | --- | --- | --- | --- | --- | --- | --- | --- |
| Load Scenario | Noise level, dBA | Subjective evaluation | Power consumption, W | Profile Silent | Maximum CPU and GPU load | 26,2 | quiet | 29 (maximum 29) | Profile Balanced | Max CPU load | 38.0 – 41.5 | noisy – very noisy | 57 (max 71) | Maximum GPU load | 26,2 | quiet | 27 (maximum 27) | Maximum CPU and GPU load | 34.0-41.4 | clearly audible – very noisy | 58 (max 73) | Super Battery Profile | Inactive | background(16,0) | conditionally silent | 7 | Maximum CPU and GPU load | 26,2 | quiet | 21 (maximum 22) | High Performance Profile | Maximum CPU and GPU load | 32,2 | clearly audible | 50 (max 74) |
If the laptop is not loaded at all, then its cooling system, at least in the Silent profile, can work in passive mode, that is, silently. Even under heavy load, the noise from the cooling system is moderate, if you do not take into account the Balanced profile. In some modes, the noise can rise and fall with a period of tens of seconds; this is perceived worse than just a constant noise level, albeit at the maximum level for the period. The nature of the noise is smooth and does not cause irritation. The spectrogram obtained for the maximum fan speed is quite even, and in the frequency range where sounds can cause particular irritation, there are no peaks with high intensity (an overtone at 300 Hz against the background of higher-frequency noise is indistinguishable by ear):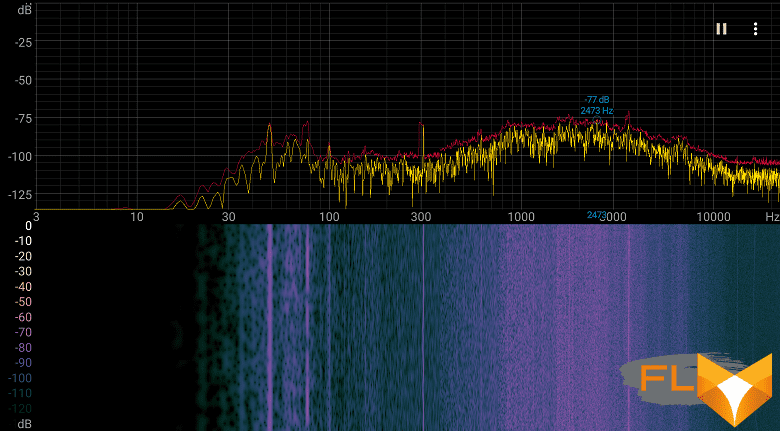 For a subjective assessment of the noise level, the following scale is applicable:
| | | | | | | | | | | | | | | | | | |
| --- | --- | --- | --- | --- | --- | --- | --- | --- | --- | --- | --- | --- | --- | --- | --- | --- | --- |
| Noise level, dBA | Subjective evaluation | Less than 20 | conditionally silent | 20-25 | very quiet | 25-30 | quiet | 30-35 | clearly audible | 35-40 | noisy | 40-45 | very noisy | 45—50 | loud | Above 50 | very loud |
Below 20 dBA, the computer is conditionally silent; from 20 to 25 dBA, a laptop can be called very quiet; 35 dBA noise is clearly audible, 35 to 40 dBA noise exceeds the comfortable level for long-term work, 40 to 45 dBA the laptop is very noisy and needs to be masked by background music, for example, 45 to 50 dBA noise level is very uncomfortable, and 50 dBA and above, the noise is so loud that headphones must be used. The scale, of course, is very conditional and does not take into account the individual characteristics of the user and the nature of the sound.
Performance
The laptop uses a 6-core (12-thread) AMD Ryzen 5 5500U ultra-mobile processor based on the Zen2 microarchitecture. The 6000s of AMD mobile processors on Zen3+ are already being produced, so the Ryzen 5 5500U is, in a good way, two generations behind. Nevertheless, Zen2 was a very successful solution for its time, they are absolutely relevant now, especially considering their energy efficiency, which is clearly emphasized in this laptop. The base frequency of the processor is 2.1 GHz, the maximum frequency with a single core load is 4.0 GHz. The nominal consumption of the processor is 15 W, but it can be configured in the range of 10-25 W, and in our laptop, as we saw in testing under load, it reaches even 30 W in the most productive mode.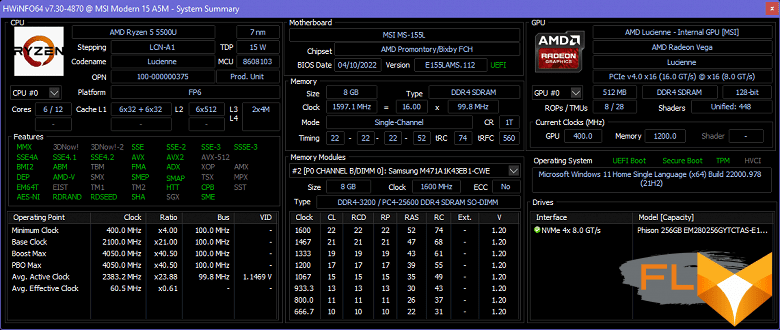 The integrated graphics core of the processor is the only graphics card available here. For some, the disadvantage will be that it does not have its own memory, 512 MB are allocated from the total amount of system memory, and it is not 64 GB anyway. However, in our opinion, the available 8 GB DDR4-3200, even operating in single-channel mode (the second SO-DIMM module is not installed), is more than enough for the intended purpose of this laptop.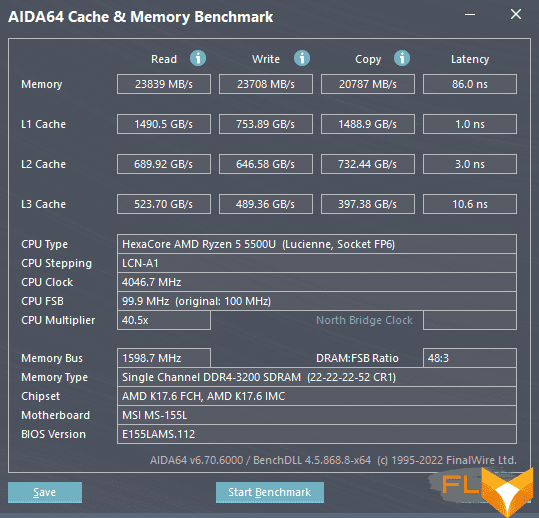 As a drive in our modification of the laptop, a 256 GB NVMe SSD is used. This is a PCIe 3.0 x4 OEM model from Phison (controller manufacturer) that occupies an M.2 slot. The laptop also has an empty M.2 slot, so the upgrade prospects are pretty bright here.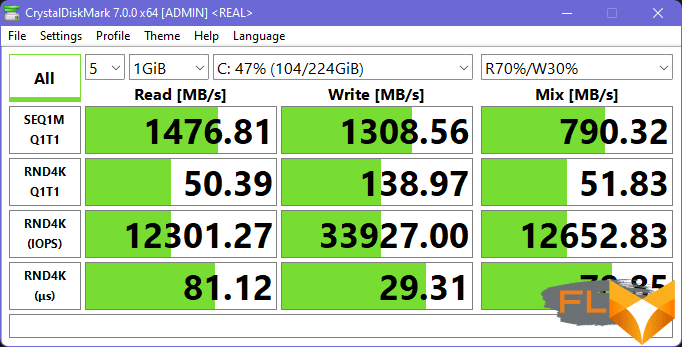 The speed performance of the used SSD is modest.
Let's move on to testing the laptop in real applications in accordance with the methodology and set of applications of our test package. We took two laptops with 11th generation Intel Core processors as competitors (we have not yet seen low-power Alder Lake models).
Test
Reference result
MSI Modern 15 A5M
(AMD Ryzen 5 5500U)
Lenovo ThinkBook 14s Yoga ITL
(Intel Core i7-1165G7)
Thunderobot 911 Air D
(Intel Core i5-11260H)
Video conversion points
100
101
72
113
MediaCoder x64 0.8.57, c
132.0
116,9
187.6
115,0
HandBrake 1.2.2, c
157.4
159.7
222.3
141.0
VidCoder 4.36, c
385.9
416,8
524.6
347,2
Rendering points
100
112
82
125
POV-Ray 3.7, c
98.9
93,2
155.8
94.7
Cinebench R20, c
122,2
107.6
143,4
93.8
Blender 2.79, c
152,4
136,1
187.0
125,1
Adobe Photoshop CC 2019 (3D rendering), c
150.3
130,2
145.7
101.8
Creation of video content, points
100
81
90
101
Adobe Premiere Pro CC 2019 v13.01.13, c
298.9
364,1
—
264.3
Magix Vegas Pro 16.0, c
363.5
612.7
474.0
456.7
Magix Movie Edit Pro 2019 Premium v.18.03.261, c
413,3
528.7
—
—
Adobe After Effects CC 2019 v 16.0.1, c
468,7
401.0
496.0
401,7
Photodex ProShow Producer 9.0.3782, c
191,1
250,0
187.4
189.4
Digital photo processing, points
100
61
119
105
Adobe Photoshop CC 2019, s
864.5
979.3
731.9
786.5
Adobe Photoshop Lightroom Classic CC 2019 v16.0.1, c
138.5
286.4
108.6
203,1
Phase One Capture One Pro 12.0, c
254.2
475,8
227.5
163.7
Text recognition score
100
125
80
139
Abbyy FineReader 14 Enterprise, c
492.0
394.9
616,1
354.0
Archiving, points
100
82
105
111
WinRAR 5.71 (64-bit), c
472,3
602,4
419,4
429.7
7-Zip 19, c
389.3
451.5
398.7
345.7
Scientific calculations, points
100
95
81
109
LAMMPS 64-bit, c
151.5
150,8
174.7
136.0
NAMD 2.11, c
167,4
161,5
234,0
150,4
Mathworks Matlab R2018b,c
71,1
69,1
93.8
65,7
Dassault SolidWorks Premium Edition 2018 SP05 with Flow Simulation 2018, c
130,0
173.7
144.0
123.0
Integral result without accumulator, points
100
92
89
114
WinRAR 5.71 (Store), c
78.0
53.3
20,0
32.8
Data copying speed, c
42,6
16,3
11,3
16,3
Integral result of the accumulator, points
100
196
385
249
Integral performance result, points
100
115
138
144
In our opinion, the choice of the Ryzen 5 5500U and memory configuration for this laptop was not made with the intent to impress with performance. Most likely, this is the cheapest and most economical processor that MSI had in its arsenal and which it was time to attach somewhere. That's why the memory is installed in one 8-gigabyte module: not even to make it easier for the user to upgrade – it's just a cheap and outdated option, everyone is switching to DDR5, and in this case, don't give a damn about speed.
When compared with laptops on Intel processors, it turns out that the 4-core Core i7-1165G7 with a consumption of 24 W on the Lenovo ThinkBook 14s Yoga ITL is slightly slower, and the 6-core Core i5-11260H with 45 W on the Thunderobot 911 Air D is noticeably faster. As expected, the MSI laptop especially sags in memory-sensitive applications (photo processing, archiving), but in purely computational tests (rendering, page recognition) it looks quite good.
Again, discounting the single-channel memory mode, we can say that our laptop roughly corresponds to the reference system – an average desktop from two years ago with a 6-core Intel Core i5-9600K.
Testing in games
The built-in graphics of an ultra-mobile processor, and even with a single-channel memory mode, cannot be seriously used for passing modern technological shooters. However, it will still allow you to play something, so here are some game tests.
We tested several games at medium quality (because low quality tends to have more visual degradation). The table below shows, in fractions, the average and minimum fps in the corresponding test modes, how (and if) they are measured by the built-in benchmark of the game.
Game
1920×1080,
average quality
1600×900,
average quality
1366×768,
average quality
World of Tanks
44/26
58/35
72/43
F1 2018
24/22
28/25
32/28
Gears 5
14/12
19/16
24/21
Total War Saga: Troy
20/16
25/22
31/26
Strategy Total War Saga: Troy is an example of a game that does not require 120 fps at all; reaction speed and aiming accuracy are not important here. In principle, it can be played at a resolution of 1600×900 – panoramic flights slow down a little, but tolerable, and the graphics are acceptable. At 1920×1080, stuttering is noticeable when moving the camera. At 1366×768, small units look frankly bad.
In the case of a technologically modern shooter Gears 5 performance is not enough, period.
In the racing simulator F1 2018 at 1366×768 and even at 1600×900 the picture is acceptable in quality, and the speed is sufficient for amateur driving. But for 1920×1080 smoothness is no longer enough.
"Tanks", in principle, are quite playable even at 1920×1080, but to participate in active hostilities, it is still desirable to lower the resolution.
In general, the integrated graphics of AMD ultra mobile processors are about a step better than those of similar Intel processors, that is, they will allow you to play at a resolution or quality one step higher (but this is, of course, a rough estimate).
Conclusion
MSI has turned out such a versatile "just a laptop", suitable for both office workers and typical home users. It can be safely recommended to buyers who do not have any specific requirements when choosing and just need a portable (or even retractable) computer for browsing the Internet, watching movies, very simple toys, rare work. It has a nice part-metal (just where it counts) case, not the lightest and most compact, but perfectly adequate for a 15-inch model (and fans of lighter and thinner ones can pay attention to 13- and 14-inch ultrabooks). The screen, by the way, is the usual IPS, except with a few pale colors – not gaming and not professional.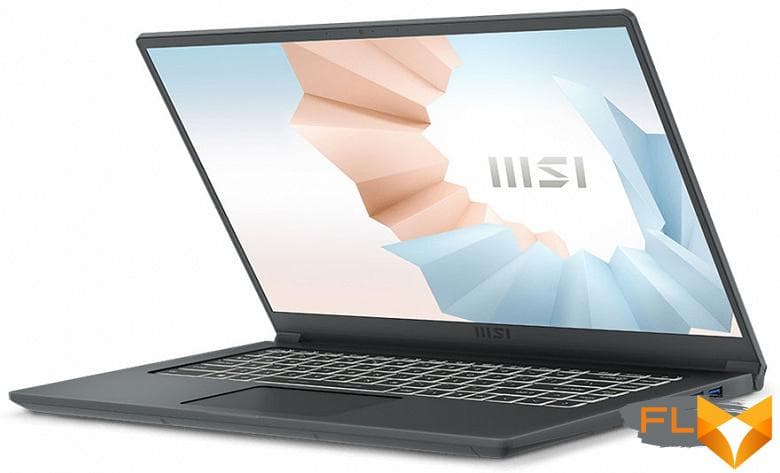 The performance is not high, in today's laptops it is much higher, but for everyday tasks it will be enough with a large margin. Autonomy is the strength of the MSI Modern 15 A5M: even with its small battery, it can work 8-9 hours away from the outlet, and the first percent of the charge from the network is gained quite quickly. We also really liked that the laptop is quiet even under heavy load, and we consider the slightly increased weight (due to a reinforced cooler) an adequate price for silence. The laptop offers good expandability, although this feature is unlikely to be in demand among the target audience. The range of ports is adequate if you are willing to do without a wired network. The disadvantages of this model for a typical application, in our opinion, are not fundamental. The cost of the laptop at the time of preparation of the review was $ 1,000.
FAQ MSI Modern 15 A5M laptop review
What are the full specs of the MSI Modern 15 laptop launching in 2023?
The MSI Modern 15 laptop for 2023 boasts a 15.6-inch full HD display with a resolution of 1920 x 1080. It is powered by the 12th generation Intel Core i7-1255U processor, coupled with 8GB RAM and Intel Iris XE graphics. For connectivity, it offers USB-C, USB 3.2 Gen 2, and WiFi 6. It also features a microSD card reader, runs on Windows 10 Home, and is designed as a thin and light laptop suitable for modern users.
How does the MSI Modern 15's Core i7 compare to the Ryzen 7 in performance?
While the Core i7-1255U in the MSI Modern 15 is a high-performing chip, especially when paired with Intel Iris XE graphics, the Ryzen 7 is AMD's counterpart, known for its strong multicore performance. The choice between the two often depends on user preferences and specific tasks, but both provide robust performance suitable for a variety of tasks.
Is the MSI Modern 15 a suitable choice for someone seeking a budget laptop with a 1080p resolution?
Absolutely! The MSI Modern 15 offers a full HD 1080p display, ensuring crisp visuals, and considering its specifications and features, it's positioned as an affordable laptop that doesn't compromise on performance.
How does the typing experience on the MSI Modern 15 compare to other laptops in the same price range?
User reviews often highlight the MSI Modern 15's comfortable keyboard, which provides a tactile typing experience. While the exact feel might vary based on individual preference, many find it agreeable, especially considering its price in India.
How would you compare the MSI Modern 15's build quality against other laptops available in 2023?
The MSI Modern 15 is renowned for its build quality, being both thin and light yet sturdy. Many customer reviews laud its robust construction, especially when compared to other laptops in a similar price bracket.
Given that the laptop is equipped with USB 3.2 Gen 2, does it also support older USB versions like 3.1 and 2.0?
Yes, the MSI Modern 15's USB 3.2 Gen 2 port is backward compatible, supporting both USB 3.1 and USB 2.0 devices. This ensures users can connect a variety of peripherals without any issues.
For someone frequently engaged in web browsing and multimedia tasks, is the Intel Iris XE graphics in the MSI Modern 15 adequate?
The Intel Iris XE graphics provide ample power for web browsing, multimedia consumption, and even some light gaming. The Iris XE is a significant step up from traditional integrated graphics and is well-suited for everyday tasks.
Where can potential buyers check MSI Modern 15 customer and user reviews before making a purchase decision?
Potential buyers can explore various online retailers, tech forums, and dedicated review sites to read customer and user reviews about the MSI Modern 15. This will offer them insights from real-world users and their experiences with the laptop.
How does the MSI Modern 15 stand in PCMark 10 benchmarks compared to its competitors?
While specific scores might vary based on configurations, the MSI Modern 15, with its Core i7-1255U and Intel Iris XE graphics, generally performs well in PCMark 10 benchmarks. Its scores are competitive, often surpassing or matching other laptops in its category.
If someone is looking to buy MSI Modern 15 in India, where can they check its current price and offers?
Potential buyers in India can check the MSI official website, leading e-commerce platforms, and authorized MSI retailers for the current price, offers, and promotions related to the MSI Modern 15 laptop.
How does the 15.6 -inch display of the MSI Modern 15 enhance the user experience?
The 15.6-inch display on the MSI Modern 15 provides users with ample screen real estate, making it ideal for multitasking, content creation, and media consumption. The larger display ensures crisp visuals and an immersive viewing experience.
Are there any notable differences when you compare MSI Modern 15's WiFi capabilities to older models?
Yes, the MSI Modern 15 comes equipped with WiFi 6, offering faster speeds, lower latency, and a more stable connection compared to previous WiFi standards. This ensures smoother online experiences, be it for work, streaming, or gaming.
Considering the advancements in processors, does the MSI Modern 15 feature the 12th generation Intel CPUs?
Yes, the MSI Modern 15 boasts the 12th generation Intel processors, ensuring top-tier performance, energy efficiency, and enhanced AI capabilities, making it a formidable choice for various computing tasks.
Is there a variant of the MSI Modern 15 that comes with a Core i5 processor?
Absolutely. The MSI Modern 15 offers various configurations, and one of them includes the 12th generation Intel Core i5 processor, catering to users who want a balance between performance and price.
Given the increasing demand for high-speed data transfer, does the MSI Modern 15 offer Thunderbolt or USB-C support?
The MSI Modern 15 features a USB-C port, ensuring fast data transfer and versatile connectivity options. While not all USB-C ports are Thunderbolt, MSI also offers specific models with Thunderbolt support for even faster speeds and additional features.
With the introduction of USB gen 3, how does the MSI Modern 15 incorporate this technology?
MSI Modern 15 incorporates USB gen 3 ports, ensuring faster data transfer rates compared to its predecessors. The inclusion of USB gen 3 ensures that users can connect the latest peripherals and enjoy rapid data transfer speeds.
Apart from hardware specifications, are there any software or utility enhancements that MSI also introduced with the Modern 15?
MSI also offers a suite of proprietary software and utilities optimized for their laptops, ensuring users get the best performance, battery life, and customization options out of their Modern 15. These utilities enhance the overall user experience and allow for personalization based on individual preferences.
How does the Wi-Fi 6 capability of the MSI Modern 15 enhance its wireless connectivity compared to previous models?
The inclusion of WiFi 6 in the MSI Modern 15 offers users a significant boost in wireless connectivity. With WiFi 6, users can expect faster download and upload speeds, reduced latency, and a more reliable connection, especially in crowded networks. This ensures smoother online experiences, from streaming to online gaming and web browsing.
When you compare MSI Modern 15 with its predecessors, how does the 12th generation Intel processor influence its performance?
The 12th gen Intel processor in the MSI Modern 15 marks a substantial leap in performance and efficiency. Users can expect faster multitasking, enhanced AI-driven tasks, improved graphics performance, and better power efficiency. When compared to earlier models, the 12th generation-powered MSI Modern 15 delivers a smoother and more responsive computing experience, making it ideal for both professional tasks and entertainment.
Most Popular Articles