LapTop-master
Review laptop Dell XPS 13 9300: almost perfect - FoxLaptop
Review laptop Dell XPS 13 9300: almost perfect - FoxLaptop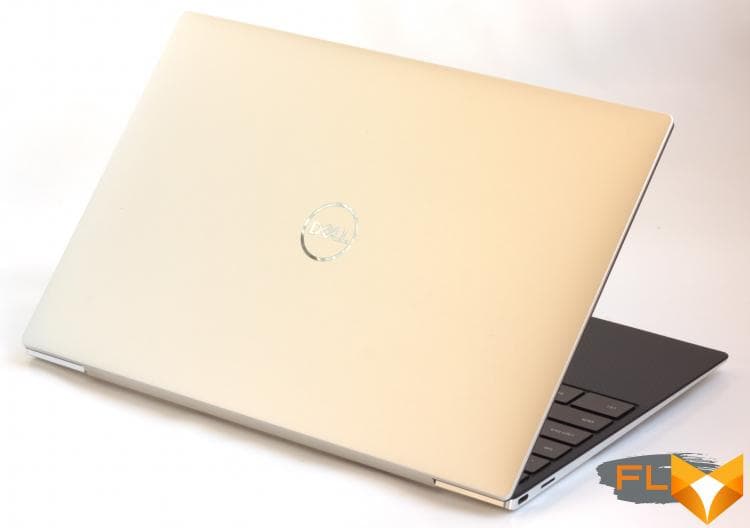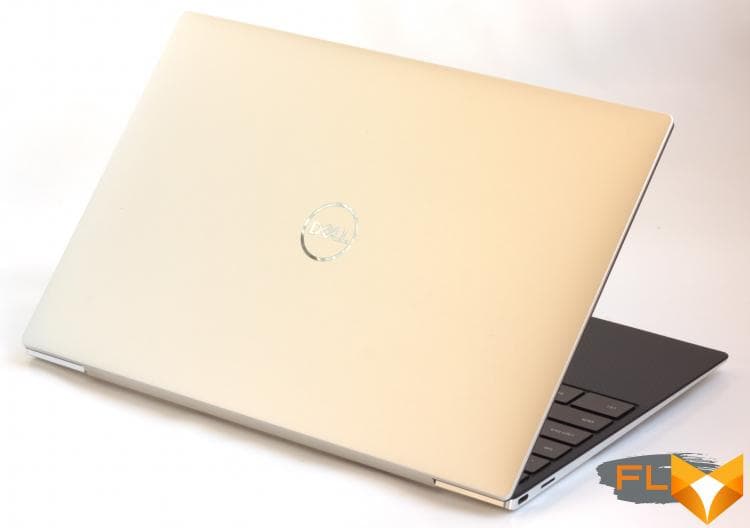 This year we have tested quite a few ultrabooks with a screen size of 13-14 inches. Now is the time to do so, as both leading chipmakers Intel and AMD have released next-generation mobile processors with more cores and faster performance, and as a result, laptops can become thinner, lighter and last longer offline. However, in reality, everything is not so simple. With "thinner and lighter" at the forefront, not all companies can strike a balance between speed, cooling and noise levels. And such qualities as reliable mechanics and a truly comfortable keyboard are not guaranteed either by the manufacturer's brand or by the money that a laptop costs.
Among the devices that have been with us, several candidates for the leadership position have already stood out. This is ASUS ExpertBook B9, updated HUAWEI MateBook 13 and Apple MacBook Air 2020. But each of them has its own – and significant – disadvantages, whether it's a fragile case, poor cooling, or clumsy configuration of external interfaces. The recipe for the perfect laptop is well known, but so far no one has been able to put it into practice. Or succeeded? Meet the machine that all new ultra-compacts now have to match, and trust me, Dell's competitors will have a tough time. The XPS 13 9300 took the lead at the start of the race thanks to its 16:10 aspect ratio screen, and then consolidated its success in speed and ergonomics. But most importantly, we did not find such discouraging flaws in it, when the manufacturer of an expensive device saves on critical components or sacrifices all others to records in one parameter.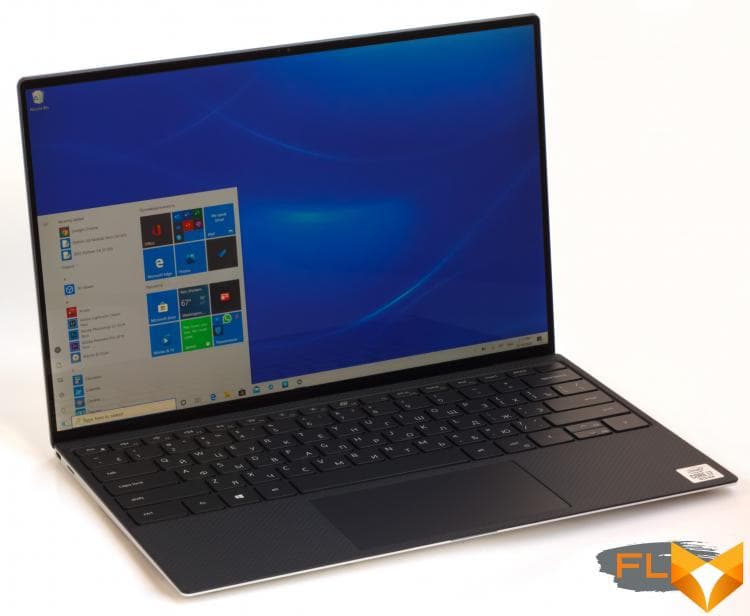 Specifications, scope of delivery, prices
Dell chose 10nm Intel Ice Lake chips as the system platform for the XPS 13 9300, which – due to their energy efficiency – are designed specifically for ultra-compact laptops, while devices are more powerfully addressed to Comet Lake CPUs, released according to the "time-tested" norm 14 nm. So far, we have encountered Ice Lake in practice only in two computers – the MacBook Air of the 2020 version and the ASUS ZenBook 14. But what is remarkable in the case of the XPS 13 9300 is the configuration variability that the processor range itself and the features of their architecture allow to provide.
The XPS 13 9300 is equipped with either a dual-core Core i3 chip or one of the quad-core versions up to the Core i7-1065G7, and this, by the way, is the fastest member of this family with a nominal power of 15 watts. Apple in exactly the same form factor managed 10-watt chips, but the XPS 13 9300 claims to be more than a simple "typewriter", and, looking ahead, let's say that it quite succeeded. In addition, both of the quad-core processors listed in the XPS 13 9300 specifications feature the powerful Iris Plus graphics core with 64 execution units, which is close to the performance of entry-level discrete GPUs.
The LPDDR4X-enabled Ice Lake memory controller allowed Dell to increase the amount of RAM up to 32 GB, although this had to sacrifice RAM bandwidth. Despite an impressive nominal performance of 3733 MT/s, LPDDR4X is actually slower than a typical LPDDR3-2133 array due to the fact that the modules are connected to the system agent with a half-width bus – 32 bits per channel. Fortunately, the XPS 13 9300 has both channels active regardless of the amount of RAM, which is by no means guaranteed when it comes to ultra-compact PCs.
Finally, Ice Lake silicon – and as a result, the XPS 13 9300 too – supports IEEE 802.11ax (Wi-Fi 6) Wi-Fi modules. For all wired communications, the laptop has two Thunderbolt 3 ports (on the same controller and, accordingly, with a common bandwidth reserve).
Manufacturer
Dell
Model
XPS 13 9300
Display
13.4″, 1920 × 1200 (60Hz), IPS;
13.4″, 1920 × 1200 (60 Hz), IPS, touch;
13.4″, 3840 × 2400 (60Hz), IPS, touch
CPU
Intel Core i3-1005G1 (2/4 cores/threads, 1.2-3.4 GHz);
Intel Core i5-1035G1 (4/8 cores/threads, 1.0-3.6 GHz);
Intel Core i7-1065G7 (4/8 cores/threads, 1.3-3.9 GHz)
RAM
LPDDR4X SDRAM, 3733 MT/s, 4-32 GB (dual channels)
GPU
Intel UHD Graphics (system RAM);
Intel Iris Plus Graphis G1 (system RAM);
Intel Iris Plus Graphis G7 (System RAM)
Drive
SSD (NVMe PCIe 3.0 x4) 256GB – 2048GB
External I/O connectors
2 × Thunderbolt 3;
1x microSD;
1 x TRS 3.5mm
Network
IEEE 802.11 b/g/n/ac/ax + Bluetooth 5
Battery capacity, Wh
52 Wh
Weight, kg
1.2–1.27 kg
Overall dimensions (L × H × D), mm
295.7 × 198.7 × 14.8
Retail price
From $1800 (1200p, Core i5-1035G7, 8GB, 512GB SSD)
from $2200 (2400p, Core i7-1065G7, 16GB, 1024GB SSD)

The creators of the XPS 13 9300 did not compromise on the storage configuration either. The minimum SSD is 256 GB, but there are models with a solid state drive of one or even two terabytes.
What Dell is most proud of, however, is the XPS 13 9300's display. There are three types of display panel available, all with high nominal brightness, 500 cd/m2, and over 1500:1 contrast ratios. It can be a matrix with a resolution of 1920 × 1200 with a matte finish, a similar glossy touch screen and, finally, a luxurious 4K display with a color gamut of 90% DCI-P3. The resolution of the latter is even higher than most UHD monitors: due to the 16:10 aspect ratio, it turned out to be 3840 × 2400. And on top of that, it also allows you to wield your fingers in the OS interface.
Actually, just from the list of characteristics alone, you can understand that this is one of the most advanced ultrabooks with a 13-14-inch screen that exists today. At the same time, it cannot be said that in its class it is outrageously expensive. We found a modification with a Core i5-1035G7, 8 GB of RAM, a half-terabyte SSD and a 1920 × 1200 matrix in online stores for about $ 1,200. Best of all, Dell charges a relatively small fee for spec upgrades. So, by paying $ 2,200, you can already get a top-end CPU, 16 GB of RAM and a 4K screen (it was in this configuration that we got the laptop for review). Dell recommends a laptop starting price of $1,200, and at that price point, the XPS 13 9300 has almost no competition outside of performance, such as build and materials, quality controls, and overall ease of use. We will talk about them now.
⇡#Look and Ergonomics
The Dell XPS 13 9300 immediately makes an impression of an expensive, reliable thing that is nice to look at and nice to hold in your hands. The laptop is assembled in a case made of noble materials. The screen cover and bottom panel are milled aluminum, and thick enough to bend the screen only with considerable effort, and the main unit with the keyboard does seem to be a monolithic piece. As a result, the XPS 13 9300 drops out of the competition for the title of the lightest laptop: depending on the configuration, its mass is 1.2-1.27 kg – but this is still quite a bit, and the strength of the case is more important than another hundred or two grams, which could cut the chassis designers at the expense of thinner walls.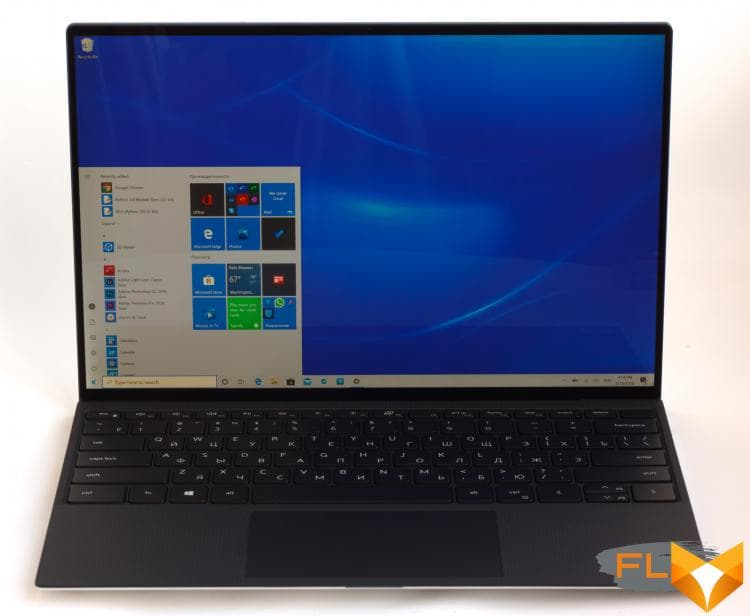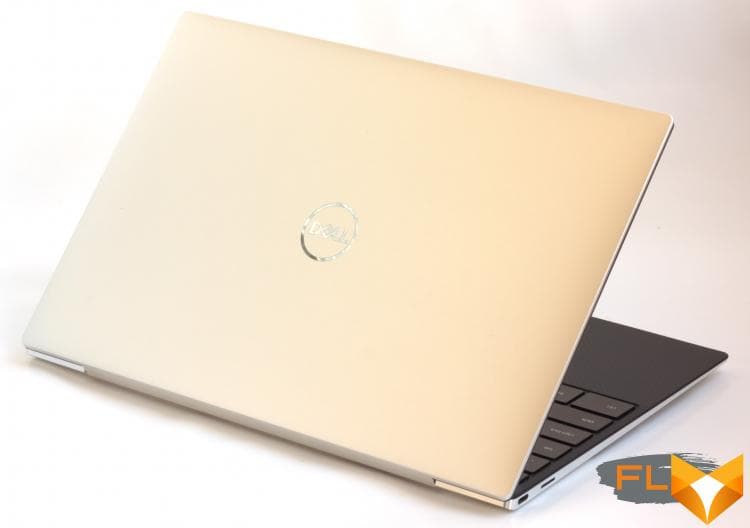 In addition, the Dell XPS 13 9300 is not entirely made of metal, like the MacBook Air or HUAWEI MateBook 13, for example. The panel around the keyboard and touchpad is covered with a soft-touch carbon fiber composite material, and this is certainly not only an aesthetic choice. Even under continuous load at maximum performance, the underhand area never gets hot, while the aluminum bottom helps dissipate heat. Incidentally, the XPS 13 9300 with the contrasting design you see in the photos has an all-white (and, by the way, slightly more expensive) twin, where woven glass fiber with UV protection is used instead of "carbon" to prevent the surface from yellowing over time.
The XPS 13 9300 is stuffed with far from weak hardware for its modest dimensions, which consumes about 15 watts of power over a long distance and up to 30 watts for a short time, so Dell engineers had to think about a properly efficient cooling system. It's most convenient when the laptop takes in and throws air out through the slit between the screen and keyboard, but the XPS 13 9300 didn't do without a ventilation grill on the bottom. Accordingly, it is better not to put the computer on a carpet or on a blanket, however, the manufacturer took into account this weakness and instead of individual legs laid wide rubber "rails" on the bottom that level and tenaciously hold the case on almost any surface.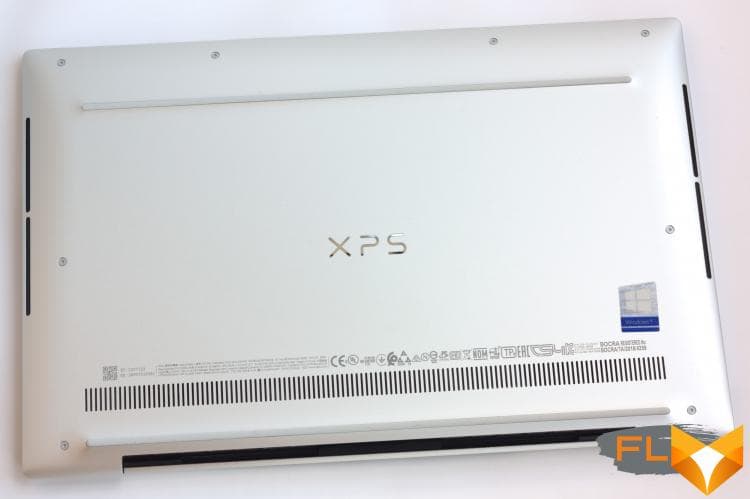 However, the first thing you notice when you lift the lid of the XPS 13 9300 ("Macbook test" passed, it can be done with one hand) is an almost "frameless" screen. Dell has given a padding at the top to embed the webcam lens, but in general the bezels are really so narrow that the dimensions of the laptop are dictated only by the screen area. I didn't even have to lift it above the keyboard to leave room for a full-fledged touchpad, because it uses a panel with an advantageous 16:10 aspect ratio, which means not only a larger area compared to 16:9 matrices with the same diagonal of 13.3-13 .4 inches, but, most importantly, more usable area for work applications.
Another point that catches the eye is how dark the screen looks when the laptop is not turned on. Touch-screen models of the XPS 13 9300 feature Gorilla Glass and an anti-reflective film with an extremely low reflectance of 0.65%. We last saw such anti-glare protection on the screen of the 16-inch MacBook Pro, and even now it's hard to tell from memory which laptop has it better.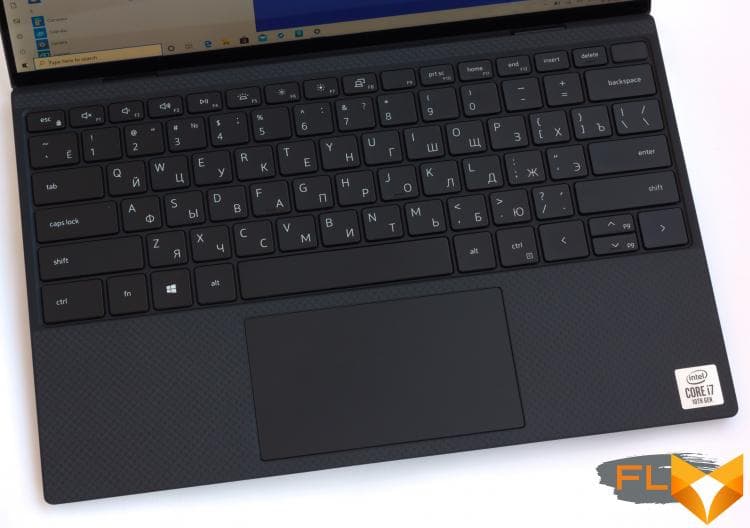 The review has reached a tipping point, after which we have to deduct points from many generally promising and sometimes quite expensive computers. We are talking about the mechanics of the keyboard and touchpad. But the novelty passed this test with honor. The XPS 13 9300's keyboard is free from the ridiculous layout quirks that sometimes plague compact machines, and features quality mechanics. The keys have as long a stroke (about 1 mm) as the thin body allows, and most importantly, the laptop stands as if chained to the table and does not allow the keyboard to shake under your hands during fast typing. The cones under the keys are "bouncy", with a clear actuation moment. The only thing you can complain about is that the keyboard still flexes a little if you press on the center keys. In addition, it has absolutely flat lids, which is not to everyone's liking, although, of course, many people like this shape.
The XPS 13 9300's touchpad didn't disappoint either. It glides effortlessly all but the very top, with a nice but quiet feel, and the smooth surface provides perfect cursor tracking and gesture recognition. Finally, Dell was one of the first Windows laptop manufacturers to integrate a fingerprint scanner into the laptop's power button. Needless to say, this feature of the XPS 13 9300 also works flawlessly, and a Windows Hello compatible infrared camera is available as an alternative authentication method.


With such dimensions as those of the XPS 13 9300, especially with beveled edges, one cannot expect an abundance of external wired interfaces from a laptop. For all your needs, there are two Thunderbolt 3 ports on either side of the keyboard. Any of them can be used to connect an external DisplayPort screen or USB devices: Dell included an adapter from Type-C to the more common Type-A in the laptop box. The XPS 13 9300 is also charged via Thunderbolt, using a compact 45W PSU. We almost forgot about another nice feature: Dell has found a place for a microSD card reader.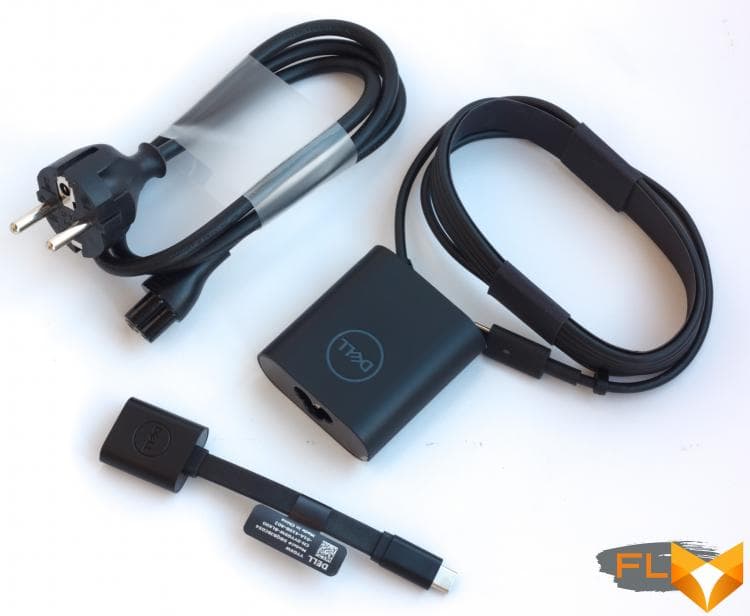 In the end, before opening, let's say a few words about the webcam and built-in laptop speaker system. The first does not deserve much attention – this is a regular peephole for video communication with a resolution of 720p. But the speakers were distinguished by an unexpectedly loud sound without obvious distortion, although the bass in it, of course, is absent as such.
⇡#Internal design and upgrade options
Taking the XPS 13 9300 apart for an upgrade, repair, or maintenance cleaning is no easy feat. We decided out of habit that a screwdriver with a Torx-tip was enough, but immediately remained at a loss. It seems that the case has not lost strength at all without screws, and due to the fact that the bottom panel is one piece with the side faces and tightly adjoins the carbon part surrounding the keyboard, it is difficult to understand how to separate them from each other (more one compliment to the build quality of the XPS 13 9300). Fortunately, we stopped tormenting the machine in time and turned to the disassembly instructions on the Dell website. By the way, special thanks should be said for such a document in our time, when many manufacturers look askance at the upgrade and repair of their products by user forces.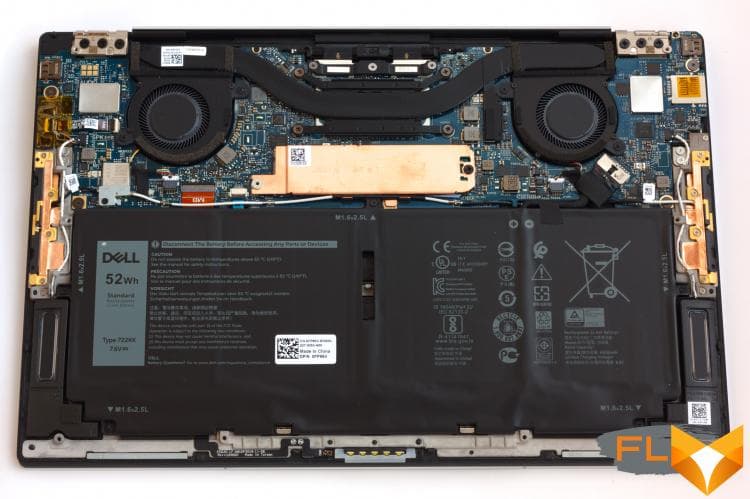 Contrary to our fears, the XPS 13 9300 case halves are not glued together. They can be separated with a sharp plastic spatula, moving in a strictly defined direction. But, as you might expect, the XPS 13 9300 doesn't have much room for upgrades. The RAM here is soldered to the motherboard, but we were pleased to find that Dell is using a completely ordinary M.2 SSD under its own heat-dissipating cover.
In addition, a battery with a capacity of 52 Wh opened up and, most importantly, an unexpectedly powerful cooling system for such a compact device, which consists of two tangential fans and two radiators connected by a wide heat pipe.
⇡#Test Methodology
Synthetic tests
Application
Settings
3DMark Time Spy
—
Geekbench 4
—
CINEBENCH R20
—
GFXBench 5 (Aztec Ruins – Normal Tier, High Tier)
Windows: Vulkan, macOS: Metal
fio 3.16
Sequential Read/Write, Random Read/Write (Unbuffered I/O)
Work Applications
Application
Benchmark
Settings
API
Intel Graphics
AMD Graphics
NVIDIA Graphics
Adobe Photoshop CC 2019
PugetBench for Photoshop CC 0.8 (test structure at link)
Basic Benchmark
OpenGL + OpenCL + Metal (macOS)
OpenGL + OpenCL + Metal (macOS)
OpenGL + OpenCL
Adobe Photoshop Lightroom Classic CC 2020
PugetBench for Lightroom Classic 0.8 (test structure at link)
—
DirectX 12 (Windows)
DirectX 12 (Windows)
DirectX 12
Adobe Premiere Pro CC 2019
PugetBench for Premiere Pro 0.8 (test structure at link)
Standard Benchmark
OpenCL (Windows)/Metal (macOS)
OpenCL (Windows)/Metal (macOS)
CUDA
Blender 2.81a
Class Room Demo from Blender Foundation
Cycles renderer. Feature Set: Supported. Tile size: 32 × 32 (CPU) or 256 × 256 (GPU)
N/A (CPU rendering)
OpenCL
CUDA/OptX
In gaming tests, the average and minimum frame rates are derived from the render time array of individual frames that the benchmark records. The average frame rate in the charts is the reciprocal of the average frame time. To estimate the minimum frame rate, the number of frames generated in each second of the test is calculated. From this array of numbers, the value corresponding to the 1st percentile of the distribution is selected.
Display testing is performed using a Datacolor Spyder4 Elite colorimeter in ArgyllCMS and DisplayCAL 3 applications.
Notebook battery life is measured at a display brightness of 200 cd/m2in the following usage scenarios:
web surfing: alternately opening and closing tabs of Computeruniverse.ru and Unsplash.com sites with an interval of 25 seconds in the Google Chrome browser (cache and cookies are disabled);
Continuous playback of 4K HEVC (H.265) video.
⇡#Test participants
The following devices took part in testing:
Screen
CPU
RAM
GPU
SSD
HDD
Battery
Dell XPS 13 9300
13.4″, 3840 × 2400, IPS
Intel Core i7-1035G7
4/8 cores/threads, 1.2-3.7 GHz
LPDDR4X SDRAM, 3733 MT/s, 16 GB
Intel Iris Plus Graphics G7
System RAM
KIOXIA XG6 (PCIe 3.0 x4) 512 GB
No
52 Wh
Apple MacBook Air, Early 2020 (A2179)
13.3", 2560 × 1600, IPS
Intel Core i5-1030NG7
4/8 cores/threads, 1.1-3.5 GHz
LPDDR4X SDRAM, 3733 MT/s, 8 GB
Intel Iris Plus Graphics G7
1.5 GB of system RAM
Apple AP0512N (PCIe 3.0 x4) 512GB
No
49.9 Wh
ASUS ExpertBook B9 (B9450FA)
14", 1920 × 1080, IPS
Intel Core i7-10510U
4/8 cores/threads, 1.8-4.9 GHz
LPDDR3 SDRAM, 2133 MT/s, 16 GB
Intel UHD Graphics 620
~1 GB of system RAM
2 × Samsung PM981 (PCIe 3.0 x4) 1024 GB
No
66 Wh
ASUS VivoBook S14 (S433FL)
14", 1920 × 1080, IPS
Intel Core i7-10510U
4/8 cores/threads, 1.8-4.9 GHz
DDR4 SDRAM, 2666 MT/s, 16 GB
NVIDIA GeForce MX250
2GB GDDR5
Samsung PM981 (PCIe 3.0 x4) 1024 GB
No
50 Wh
ASUS ZenBook 14 (UX425JA)
14", 1920 × 1080, IPS
Intel Core i7-1035G7
4/8 cores/threads, 1.2-3.7 GHz
LPDDR4X SDRAM, 3200 MT/s, 16 GB
Intel Iris Plus Graphics G7
System RAM
Micron 2200 (PCIe 3.0 x4) 1024 GB
No
67 Wh
HUAWEI MateBook 13 AMD (HN-W19R)
13″, 2160 × 1440, IPS
AMD Ryzen 5 3500U
4/8 cores/threads, 2.1-3.7 GHz
DDR4 SDRAM, 3733 MT/s, 16 GB
AMD Radeon Vega 8
1 GB of system RAM
WD PC SN730 (PCIe 3.0 x4) 512 GB
No
41.8 Wh
⇡#Screen Quality
Our Dell XPS 13 9300 sample has a glossy screen with a whopping 3840×2400 resolution and multi-touch support. However, its advantages are not limited to high definition. In all other respects, this is one of the best display tools that can now be found in ultra-compact laptops, and laptops in general. Let's start with the fact that the panel has a large margin of brightness of 326 cd/m2 and one of the best contrast ratios – 1353:1. I must say that in the description of the car there is an even higher brightness of 500 cd / m2, but the measurements differed from the official specifications. Maybe it's just a glitch in the control software. It is known that in the new version of the control panel for Intel integrated graphics there is a bug that prevents you from turning off dynamic brightness control without any problems, but we checked – in this case it had nothing to do with it. Fact is fact: we failed to achieve the declared brightness from the screen of the XPS 13 9300. Be that as it may, the novelty still has no problems with working in sunlight thanks to excellent (again, perhaps the best of those that we have seen) protection against glare.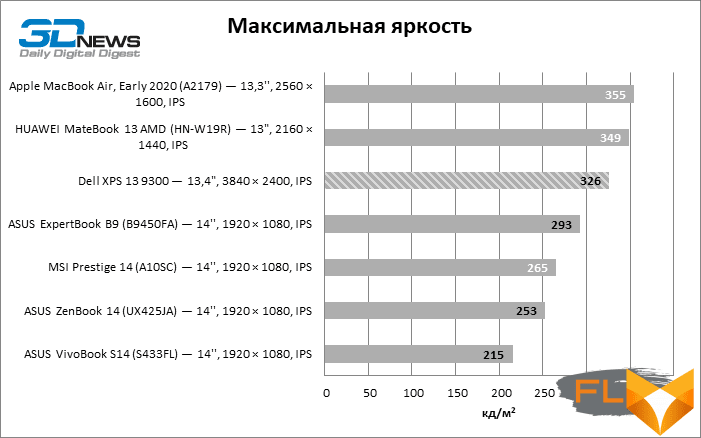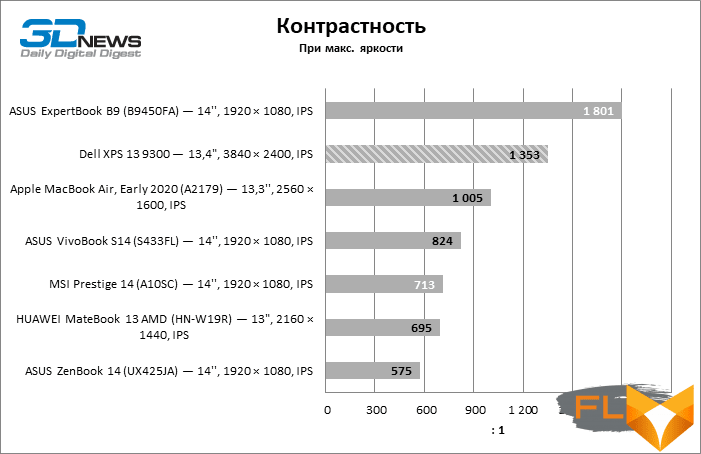 With such a strong start, the XPS 13 9300 could have gotten away with worse results in other screen specs, but Dell went a lot further. Firstly, we have an HDR matrix (let the HDR 400 standard be a high dynamic range "for the poor", but nevertheless), and secondly, its color span not only fully covers the sRGB space, but reaches 85% of the DCI standard -P3 (well, or Display P3, which is the same in terms of color gamut).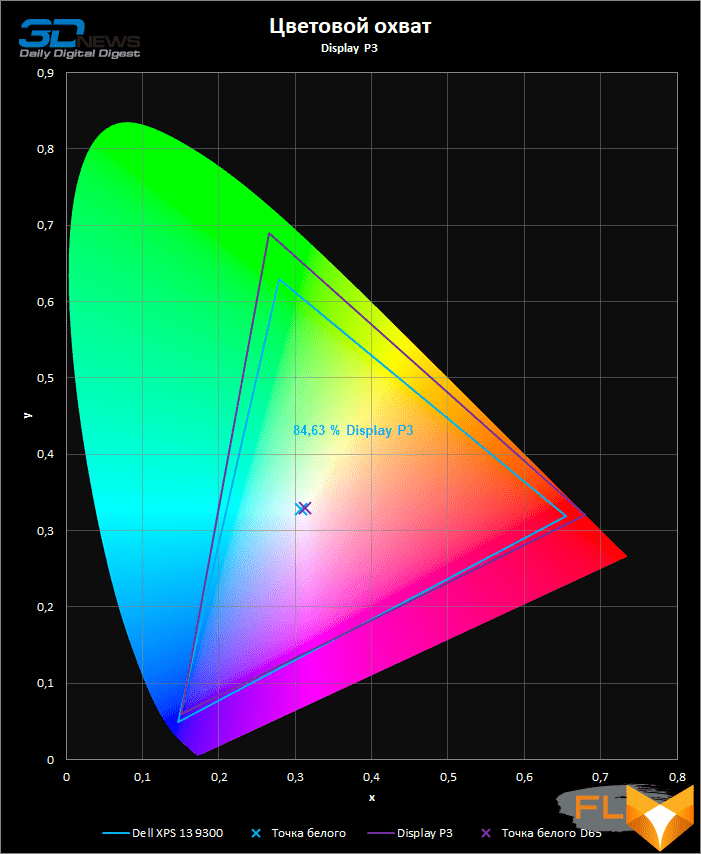 In addition, Dell explicitly calibrates the panels. But it seems that not on individual grounds, otherwise the color temperature would be aligned not only on the white point, but on the entire gray scale.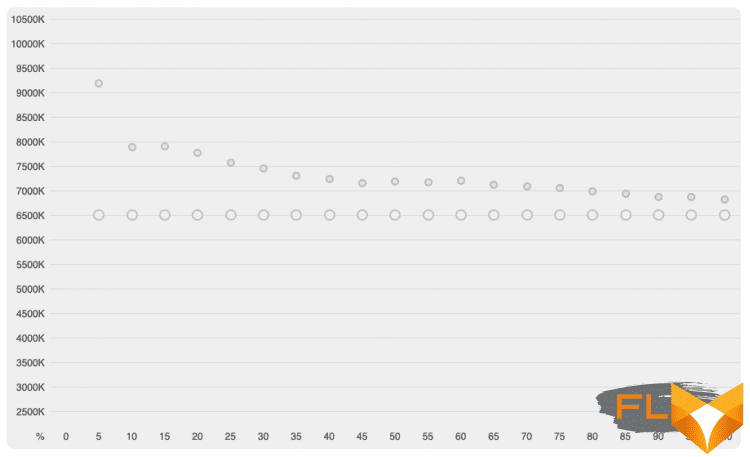 The gamma curve of the color here was twisted in the direction of increased contrast of medium and light tones – and rightly so, because given the high overall contrast, this is not only acceptable, but also desirable.
Finally, the OS comes pre-installed with an ICC profile that describes the display parameters, which applications with their own color correction system, such as photo and video editors, can use. Dell certainly uses the same profile for all XPS 13 9300 instances with the same matrix. However, an average deviation of 2.23 Delta E 2000 corrected for white point is already an excellent result for a laptop out of the box.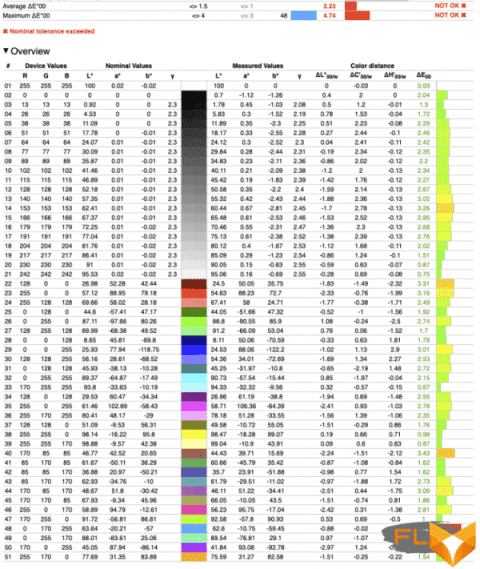 However, once again we recall that Windows 10 does not have a global CMS (Color Management System), but only coarse contrast settings for panels with HDR and extended color gamut. The ICC profile is useful for the owner of the XPS 13 9300 to work in Photoshop, but in programs without their own CMS, accurate color reproduction is out of the question. If you do not enable WCG and HDR compensation for SDR content in the Windows display settings, the picture looks oversaturated, and if you do, it will be even worse: the gamma correction curve is distorted, and the color range is compressed even within the sRGB space. Alas, Dell has nothing to do with it, Microsoft is to blame.
⇡#Clock speeds, temperature and noise levels
The XPS 13 9300 test unit has the most powerful CPU with 15W of headroom among chips based on the 10nm Ice Lake core – the Core i7-1065G7. And alas, everything that Dell has done in order to squeeze the maximum performance out of the processor will now have to be considered in the shadow of the "red" Ryzen 4000 series APUs. After AMD introduced six- and eight-core processors in the same 10-25W thermal package, Intel's quad-cores no longer impress anyone.
But let's not talk about sad things. XPS 13 9300 proprietary software allows you to select one of four operating modes for the cooling system and CPU power, among which two "top" profiles – Optimized, active by default, and Ultra Performance – provide the processor with stable clock frequencies in the region of 1.85-1.95 GHz under heavy multi-threaded load. This is the ceiling for most Intel ultra-compacts, in which the CPU is not overclocked and operates within the standard TDP of 15 watts. The Ultra Performance profile mainly affects peak frequencies and allows short-term power consumption spikes up to 29W.
Load Clock
Cinebench R20 (Max Thread #)
LuxMark 3.1
Cinebench R20 (Max Thread #) + LuxMark 3.1
CPU clock speed, MHz
GPU clock speed, MHz
CPU clock speed, MHz
GPU clock speed, MHz
Medium
Max
Medium
Max
Medium
Max
Medium
Max
Dell XPS 13 9300 – Intel Core i7-1065G7 / Intel Iris Plus Graphics G7 – Ultra Performance
1943
2794
842
898
1085
1397
616
798
Dell XPS 13 9300 — Intel Core i7-1065G7 / Intel Iris Plus Graphics G7 — Optimized
1887
1896
842
898
1052
1098
599
599
Dell XPS 13 9300 — Intel Core i7-1065G7 / Intel Iris Plus Graphics G7 — Quiet
1571
1696
777
798
898
898
504
549
Dell XPS 13 9300 — Intel Core i7-1065G7 / Intel Iris Plus Graphics G7 — Cool
1183
1297
574
599
615
699
302
399
CPU and GPU power
Cinebench R20 (Max Thread #)
LuxMark 3.1
Cinebench R20 (Max Thread #) + LuxMark 3.1
CPU power consumption, W
GPU power consumption, W
CPU power consumption, W
GPU power consumption, W
Medium
Max
Medium
Max
Medium
Max
Medium
Max
Dell XPS 13 9300 – Intel Core i7-1065G7 / Intel Iris Plus Graphics G7 – Ultra Performance
16
29
15
15
15
20
15
15
Dell XPS 13 9300 – Intel Core i7-1065G7 / Intel Iris Plus Graphics G7 – Optimized
15
15
15
15
15
15
15
15
Dell XPS 13 9300 – Intel Core i7-1065G7 / Intel Iris Plus Graphics G7 – Quiet
13
13
13
13
13
13
13
13
Dell XPS 13 9300 – Intel Core i7-1065G7 / Intel Iris Plus Graphics G7 – Cool
10
10
10
10
10
10
10
10
Note The measurement is performed after the device has warmed up and all parameters have stabilized.
The other two options, Cool and Quiet, drop the headroom to 10 or 13W and adjust the fan speed to make the laptop cooler or quieter, but we didn't find it necessary. Performance losses, especially in the "cold" mode, are quite significant, but the XPS 13 9300 already runs quietly even when the CPU is fully loaded, and in normal conditions it is almost silent. There is also no question of any overheating of the case around the keyboard, and even the CPU itself does not warm up above 81 ° C when working at a long distance. Dell engineers have created the perfect binding for Intel's chips, and one can only guess what they would achieve if the company opted for the AMD platform.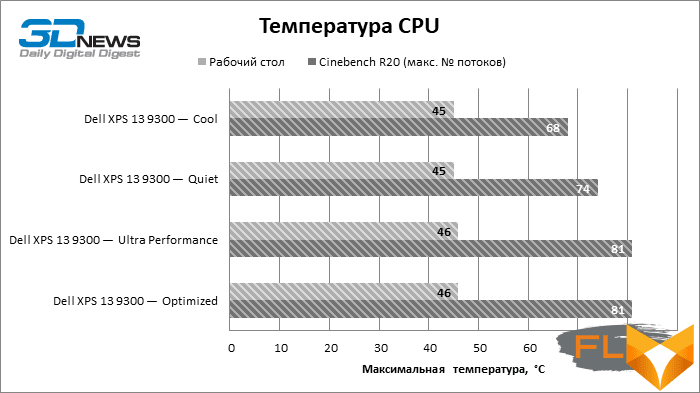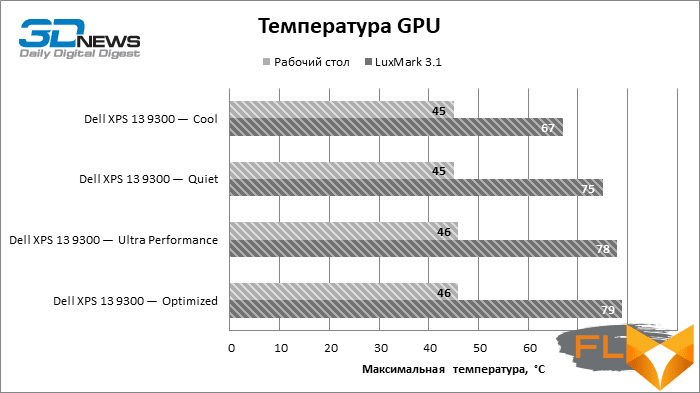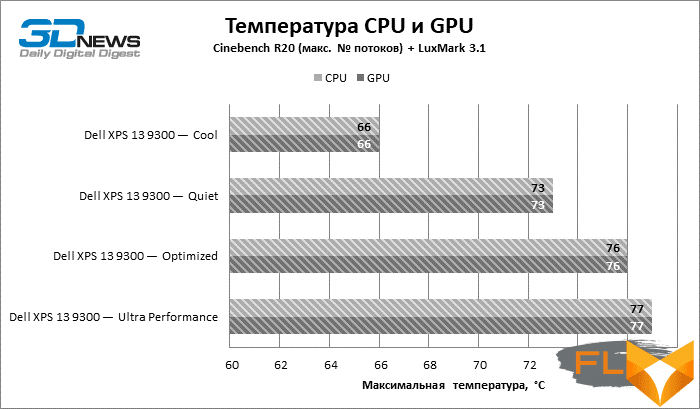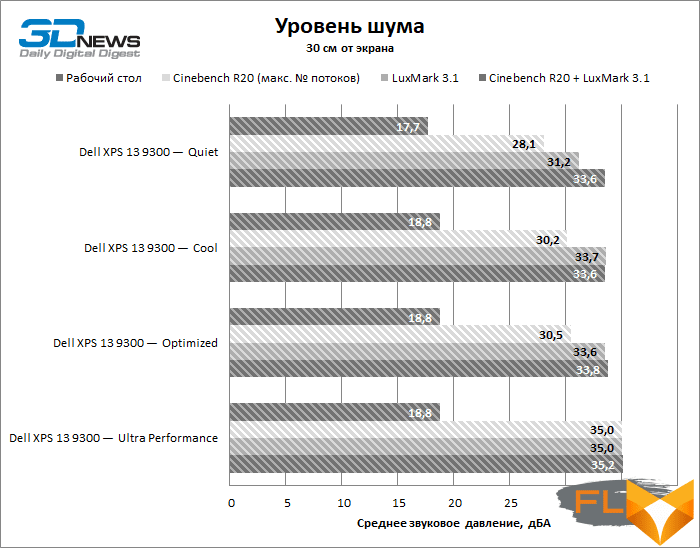 ⇡#Synthetic performance tests
Of all the ultrabooks based on 10nm Ice Lake chips (though still few) that have passed through us, the Dell XPS 13 9300 has the highest level of performance in synthetic benchmarks and sometimes even outperforms devices with four 14nm Comet Lake cores. A completely predictable result, because it has the most powerful Ice Lake processor with a TDP of 15 W and a good cooling system. Significantly improve performance in an ultra-compact form factor beyond what the Dell XPS 13 9300 has, this platform no longer allows.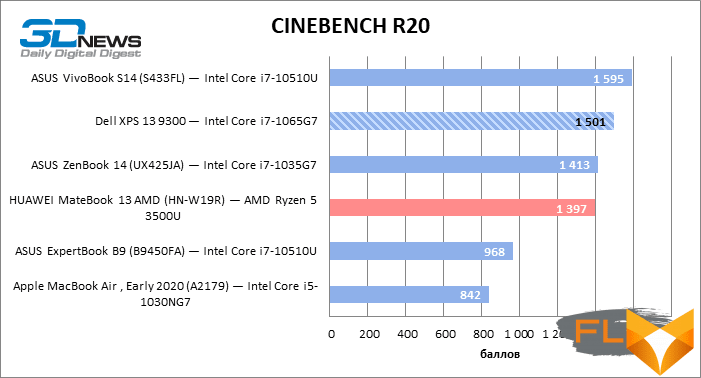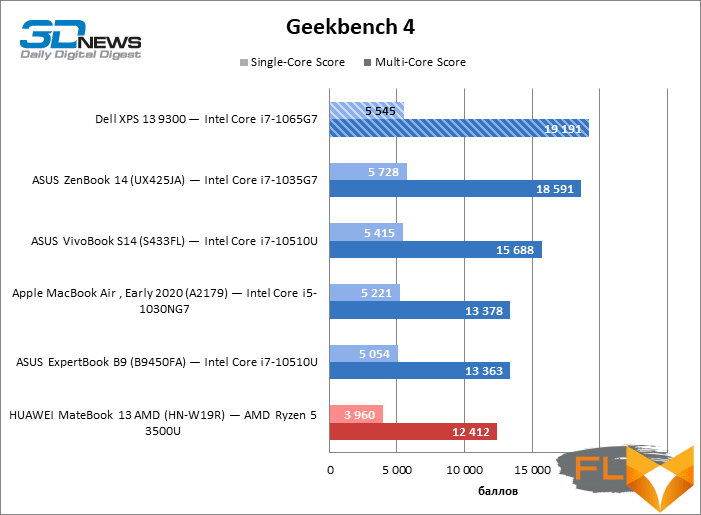 One thing that can't be taken away from Ice Lake, for all the problems Intel has to contend with right now, is how far Iris Plus integrated graphics have come. The new graphics core not only outperforms previous versions embedded in Comet Lake silicon, but essentially plays in the same league as entry-level discrete GPUs. Running modern AAA games on it, especially in full 4K resolution, of course, is not the best idea. But since the Dell XPS 13 9300 has a great screen suitable for creative activities, it's good that there are also good graphics to help the processor in Photoshop and Lightroom.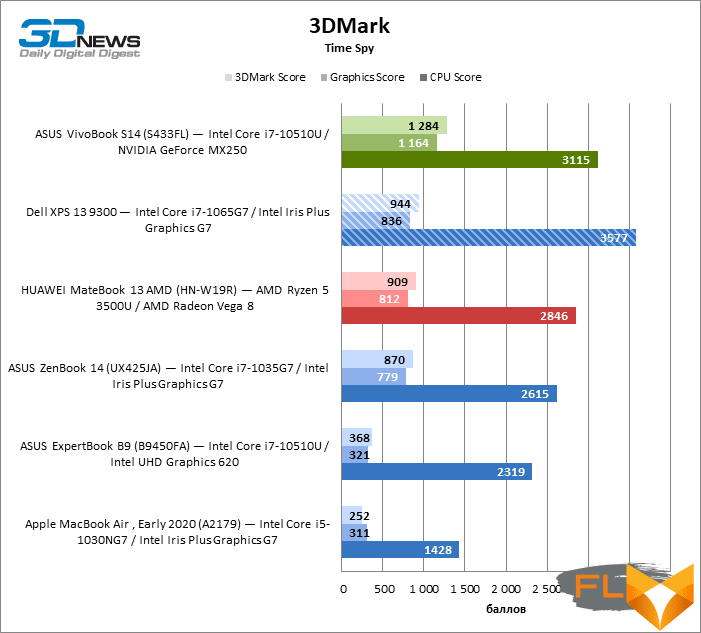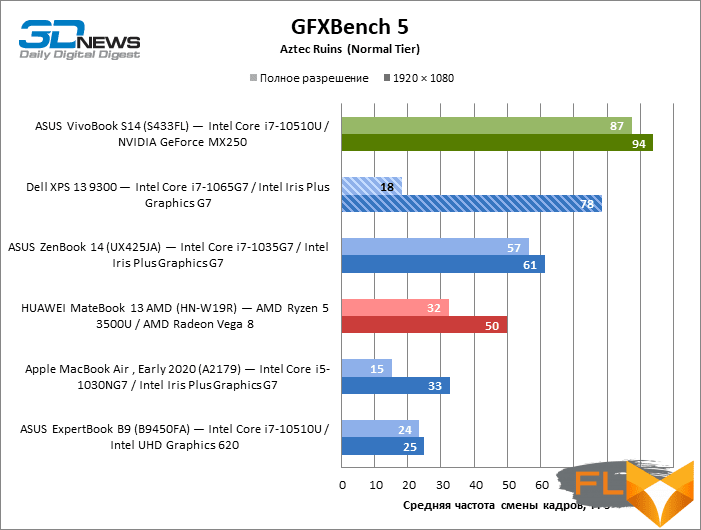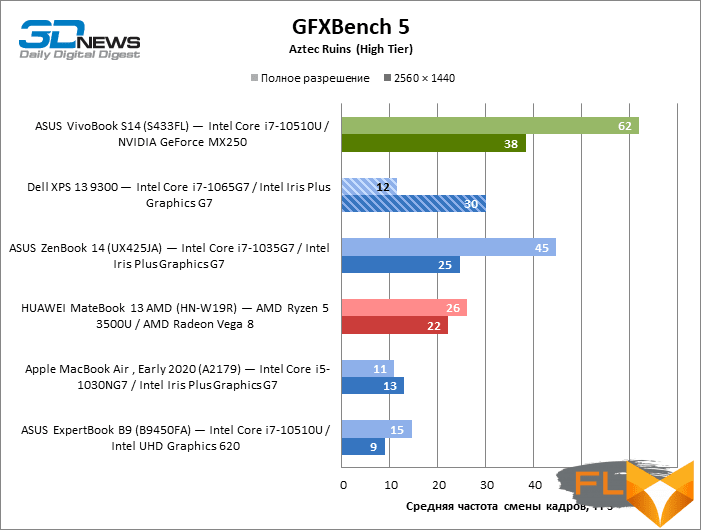 ⇡#Performance in production applications
Blender is an uncharacteristic load for thin and light laptops, but, firstly, it is a convenient ruler that allows you to line up completely different devices on the same scale, and secondly, even modern ultrabooks without discrete graphics have achieved certain successes in 3D modeling, which expressed in a relatively short rendering time. In addition, Dell has nothing to be ashamed of when the XPS 13 9300 is compared with other machines of the same form factor. This laptop is once again ahead of all similar models we have tested over the past year, with the exception of the HUAWEI MateBook 13 based on the previous generation quad-core Ryzen.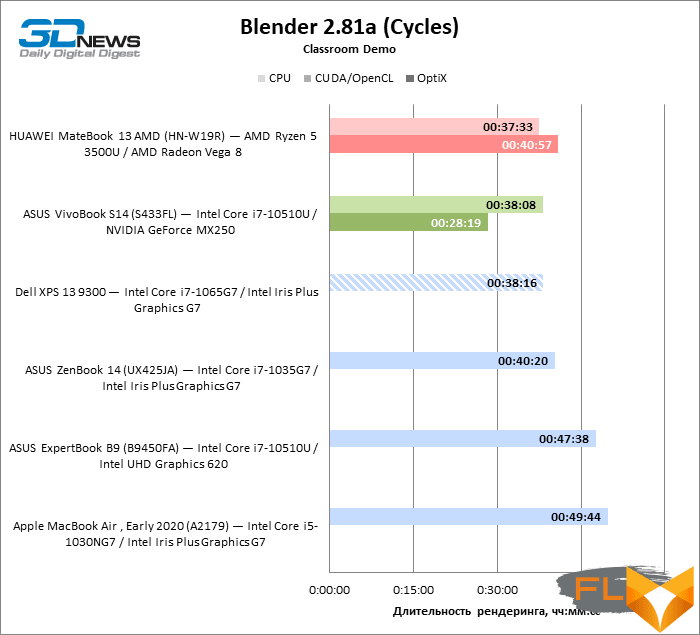 In tasks more suited to the speed of the XPS 13 9300, the Dell laptop didn't disappoint either. The potential of the novelty in Lightroom and Photoshop is higher than the models on the lower Ice Lake chips, the previous generation of "red" Ryzen APUs and the more voracious Comet Lake series quad-core CPUs, which manage to take the upper hand only due to discrete graphics.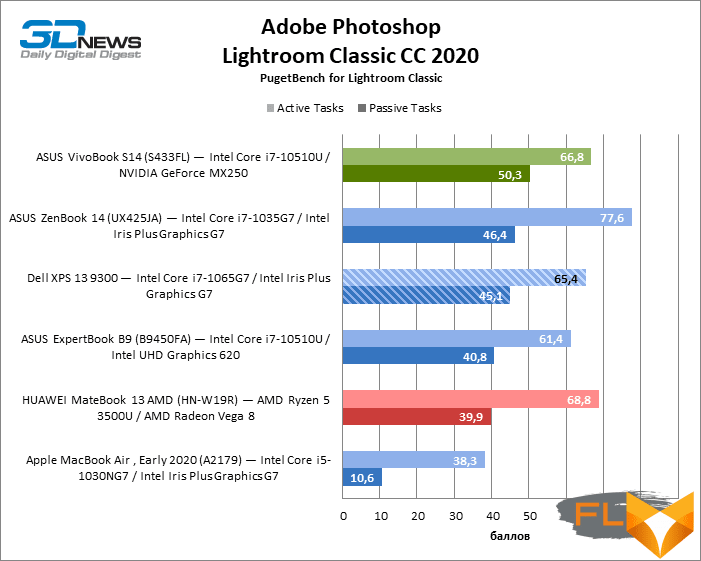 Note Scores are calculated as a percentage of the performance of a reference workstation with Intel Core i9-9900K, NVIDIA GeForce RTX 2080 and 64GB RAM.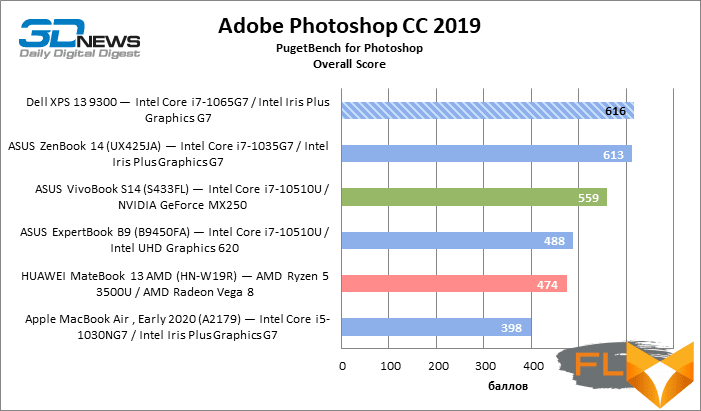 Note Scores are calculated as a percentage of Intel Reference Workstation performance Core i9-9900K, NVIDIA GeForce RTX 2080 and 64GB RAM x 10.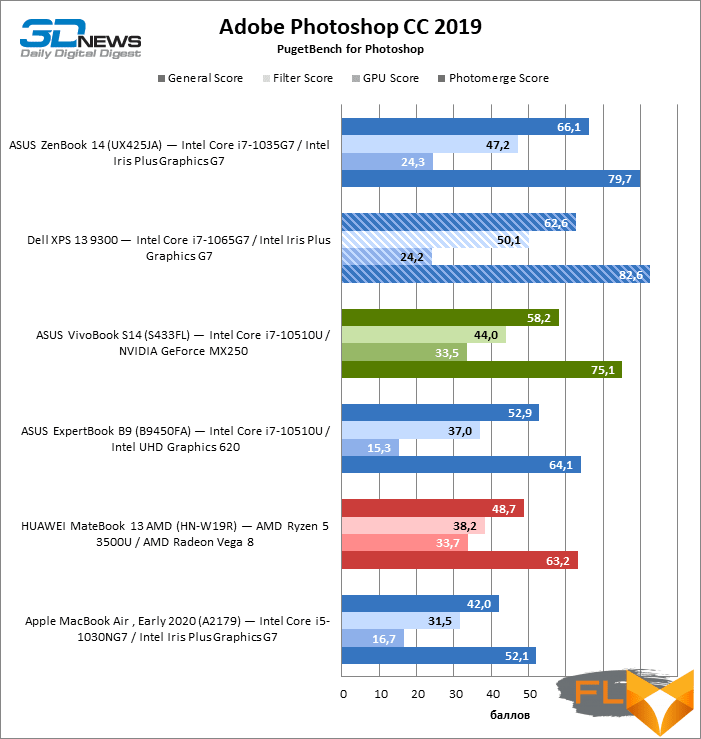 Note Scores are calculated as a percentage of Intel Reference Workstation performance Core i9-9900K, NVIDIA GeForce RTX 2080, 64GB RAM.
The strong configuration of the XPS 13 9300 that we received for testing is able to pass even more difficult tests, which many of the ultra-compact machines succumb to. Surprising as it may seem to say this about such a light and thin laptop, it is quite suitable for video editing. Of course, a 4K screen is better to use to view the results, and mount in ¼ of the original resolution. Moreover, the XPS 13 9300 is contraindicated for complex effects that rely on the GPU. And yet, this is the first laptop in this class, which we can, albeit with a stretch, give credit for editing and rendering video recordings.
⇡#SSD Performance
Different configurations of the XPS 13 9300 come with SSDs ranging from 256GB to 2TB. In addition, Dell, like other high-volume manufacturers, may use components from multiple vendors. With so much variability, we can't guarantee that all XPS 13 9300 purchases will find the same fast drive. However, our laptop sample was definitely lucky. Before us is a rather rare 512 GB KIOXIA XG6 drive among OEM products, but it belongs to the same performance category with more common options – Micron, Samsung, Western Digital. Perhaps the only weak point of KIOXIA XG6 is the low sequential read speed compared to other SSDs for the PCI Express 3.0 interface with a short command queue typical in a desktop environment.
⇡#Battery life
Dell has managed to pack a larger battery into the XPS 13 9300's thin chassis than some 14-inch models. The result was a good time on a single charge – at least 5 hours of video viewing or 5.5 hours of active web surfing. The XPS 13 9300 could do better, but a screen with this pixel density requires a strong backlight and therefore drains the battery quickly, even when the brightness is reduced to 200 cd/m2.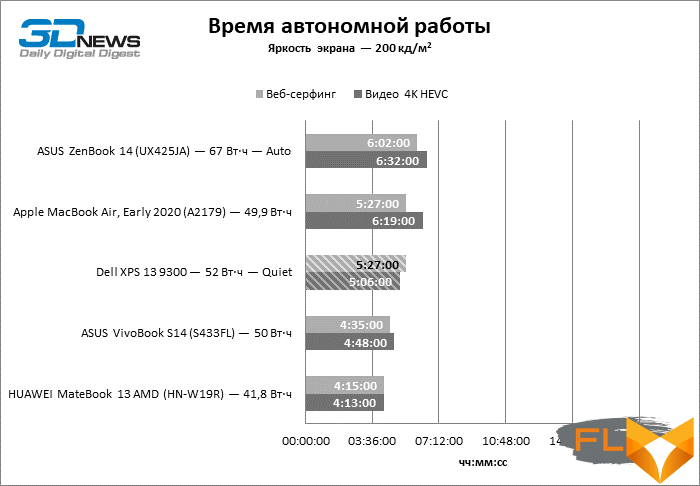 ⇡#Conclusions
Dell has come up with one of the best ultra-thin 13-14 inch laptops you can buy today. I would like to say that it is simply the best, but alas, we do not have time to test all new models in order to make such loud statements. In any case, in terms of the totality of qualities, he turned out to be head and shoulders above all the compact cars that have passed through us.
Let's start with the fact that Dell chose a 16:10 screen – this alone is enough to make the XPS 13 9300 stand out from the mass of other ultrabooks (especially with a diagonal of 13 inches, when both area and vertical space are needed like air). Moreover, what a screen – with a huge resolution of 3840 × 2400, high contrast and extended color gamut. However, for most users, these parameters are unlikely to be necessary, especially since Windows 10 does not cope well with WCG panels, and high pixel density quickly eats up battery reserve. In addition, the brightness of the 4K screen was not at all as indicated in the specifications. Other versions of the XPS 13 9300 with a 1920 × 1200 matrix will seem more practical to many. And what everyone will definitely appreciate is the excellent anti-glare coating, which, together with a large margin of brightness, allows you to work in almost any light.
One can complain that in this model Dell used Intel's Ice Lake chips instead of the more promising Ryzen 4000 series. However, despite the not very successful platform and compact form factor, the XPS 13 9300 has the highest performance among similar proposals, and at the same time does not have the slightest cooling problems, resulting in moderate heating of the components and low noise level.
Of course, it's worth making allowances for the fact that we tested a fancy build with a top-end CPU and a generous amount of RAM, which sells for a fittingly high amount of money. But regardless of the filling, the Dell laptop does not take away its aesthetics and excellent case and keyboard mechanics, not to mention such nice little things as a biometric sensor built into the power button and a microSD slot.