LapTop-master
HP Victus 16: new gaming laptop - FoxLaptop
HP Victus 16: new gaming laptop - FoxLaptop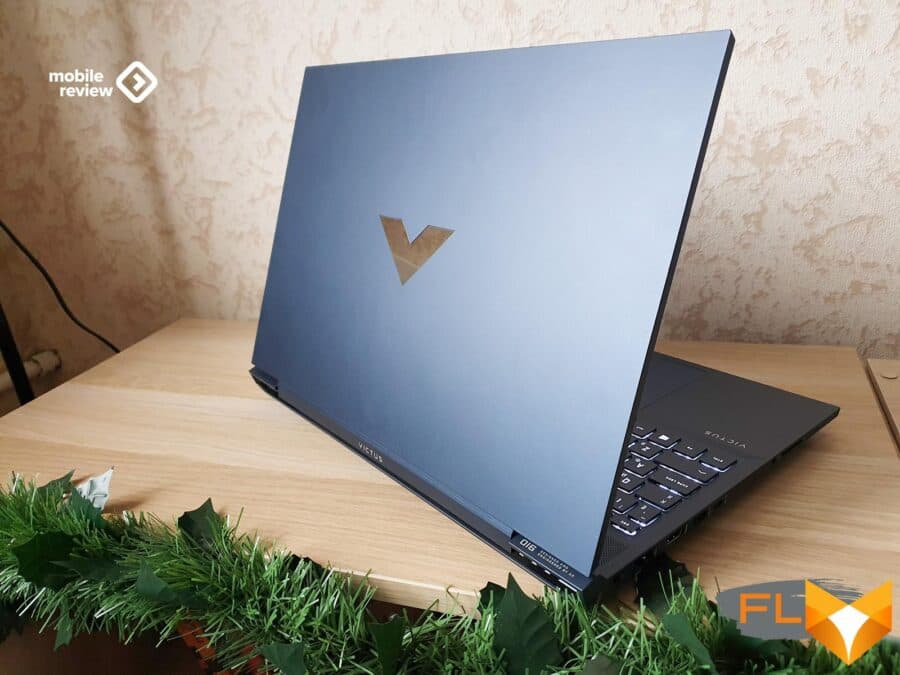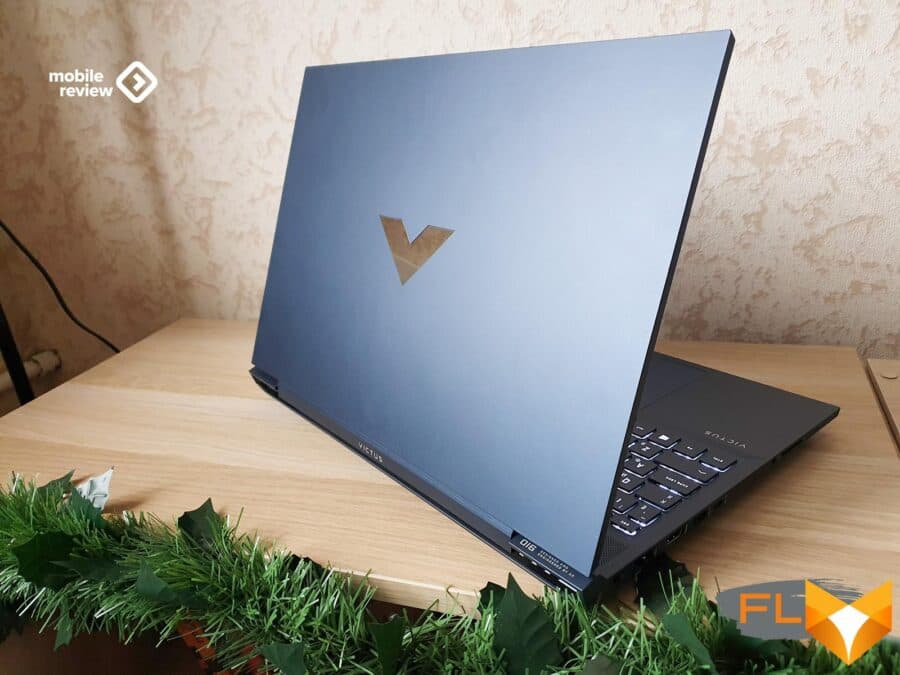 Positioning
With the positioning of gaming brands, HP has recently been in trouble. If you remember, the gaming OMEN was reformatted into a brand for gamers and creators, changing the logo from an evil shaman mask to a laconic rhombus. My opinion is that both gamers were scared away and creators were not attracted enough.
Along the way, they launched Victus, which, as it were, is also playful and creative, but less premium. Compared to Dell, OMEN is like Alienware and Victus is like the G-series. By the way, I love the G-series from Dell, I respect it and I think that this is a fairly profitable option in its segment. And HP still has the HP Gaming Pavilion line. As I understand it, she is responsible for the economy segment in the company's creative gaming portfolio. Thus, it turns out that OMEN is the best and top-end solutions, HP Victus is responsible for the middle price segment, and the "pavilion" is for the economy.
At first glance, Victus from HP is very good. The laptop has its own distinctive features. So, according to HP, the following can motivate you to buy:
16.1-inch screen with 144Hz refresh rate (QHD and 165Hz on top configurations)
Nvidia's 30-series RTX graphics and Intel's 11th-gen processors or AMD Ryzen 7 5800H variants
Full-size keyboard with number pad and separate arrow keys
Greater touchpad
Bang & Olufsen
Up to 8 hours battery life
Good range of ports including SD card slot and Type-C/DisplayPort
As you can see, it turned out not only a gaming, but also just a versatile powerful laptop.
Specifications
Screen: 16.1″ IPS LCD, Full HD resolution, 144Hz refresh rate, anti-glare, 300 nits advertised (334 nits in fact), 100% sRGB
OS: Windows 11 Home
Processor: AMD Ryzen 7 5800H 8 x 3.2 – 4.4 GHz, 8 cores, 16 threads
Graphics: GeForce RTX 3060 Laptop GPU (6GB), AMD Radeon Graphics (512MB)
Memory: 16 GB DDR4-3200 MHz RAM (2 x 8 GB)
Drive: 1 TB PCIe® NVMe™ TLC M.2 SSD
Battery: 71.5Wh, 200W adapter (weight 470g)
Communication: Realtek Wi-Fi 6, Bluetooth 5.0
Sound: 2 x 2W Sound by B&O
Keyboard: full size, numeric keypad, backlit
Webcam: HP Wide Vision 720p HD, 2 microphones
Touchpad: oversized, 12.5 by 8 cm
Ports:

1x 10/100/1000 GbE LAN
1x SuperSpeed ​​USB Type-C 5Gbps (DisplayPort 1.4, HP Sleep and Charge)
1x SuperSpeed ​​USB Type-A 5Gbps (HP Sleep and Charge)
2x SuperSpeed ​​USB Type-A 5Gbps
1x for headphones
1x SD card slot

Other: no fingerprint scanner, no Windows Hello
Material: Plastic
Colors: blue, white, black
Dimensions: 370 x 260 x 23.5 mm, 2.47 kg
Price: $2,000
Appearance
The laptop is completely made of matte plastic. A mirrored "V" acts as a decorative element. There are no comrades for the taste and color, but I did not appreciate the bulky mirror logo. It seems to have been made specifically to visually reduce the cost of the laptop, because the matte plastic of the deep blue case itself looks nice. By the way, there are several colors. I would suggest that the mirrored logo would look less ostentatious on the white-cased variant. If there is no white, then take blue. Saturated dark color does not look as trite as charcoal. But you are unlikely to find a white one, since even in the USA it is no longer sold.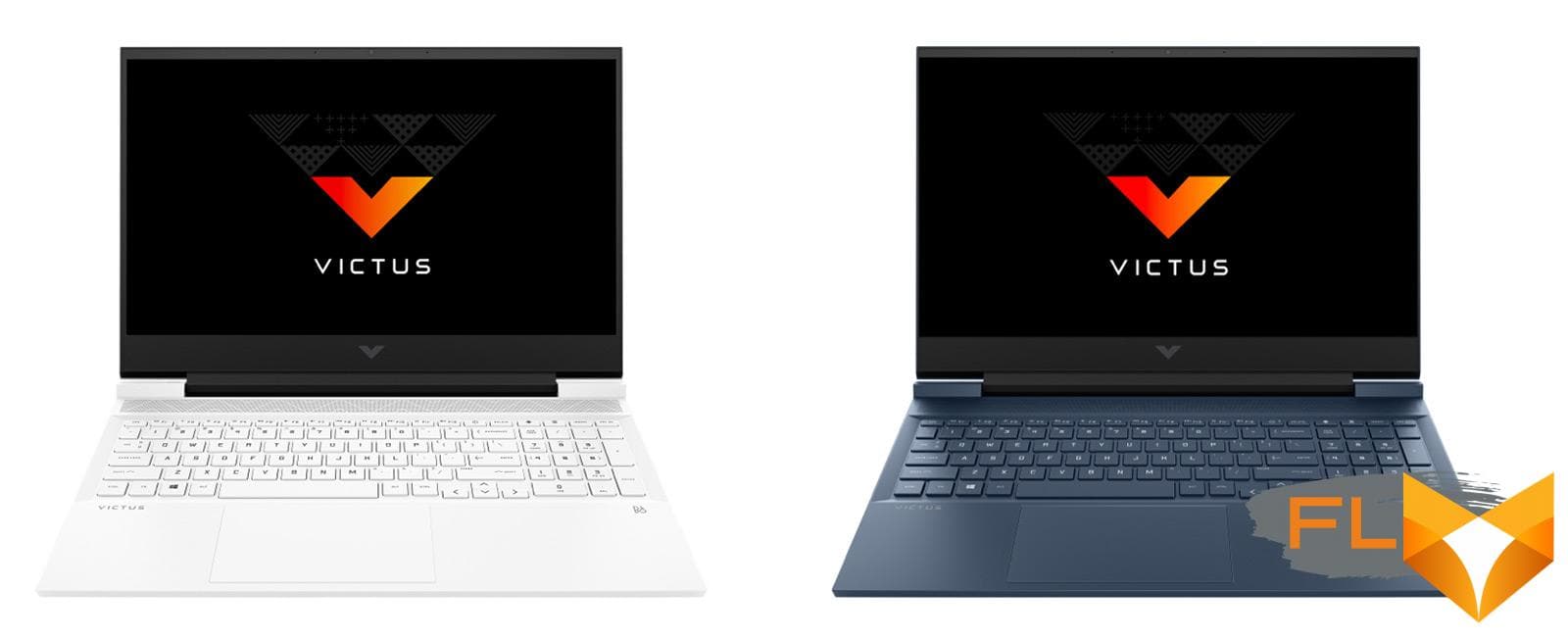 The laptop is thick and heavy. Thickness – 23.5 mm, and weight – 2.47 kg. But there are no problems with cooling. Basically, it fits quite easily in my backpack. Considering that up to 8 hours of work is declared, it is quite possible to carry a laptop with you to work in a cafe. However, the work in this case is meant to be easy, because otherwise you will have to take with you also a 200 W power supply, which weighs almost 500 grams.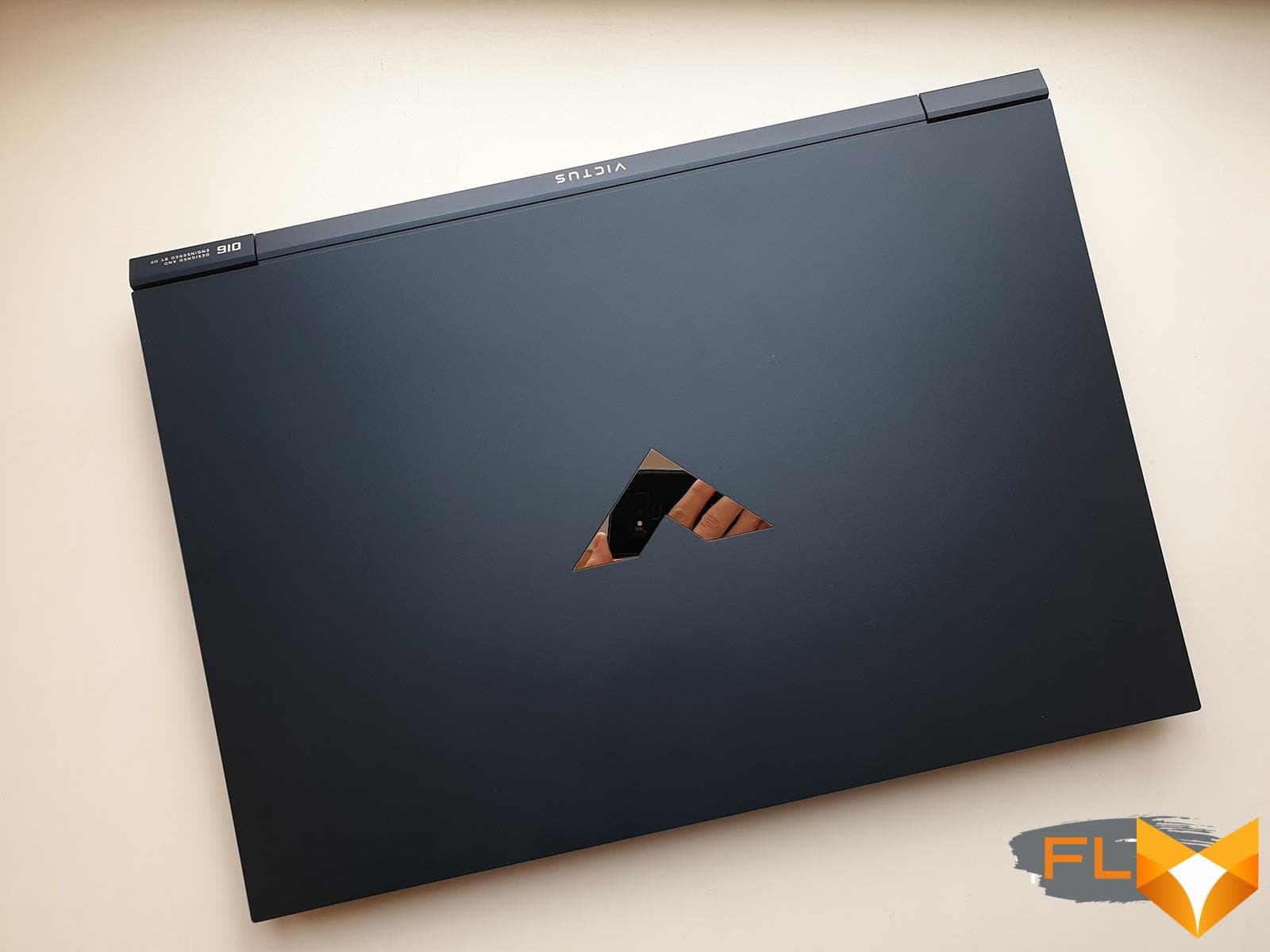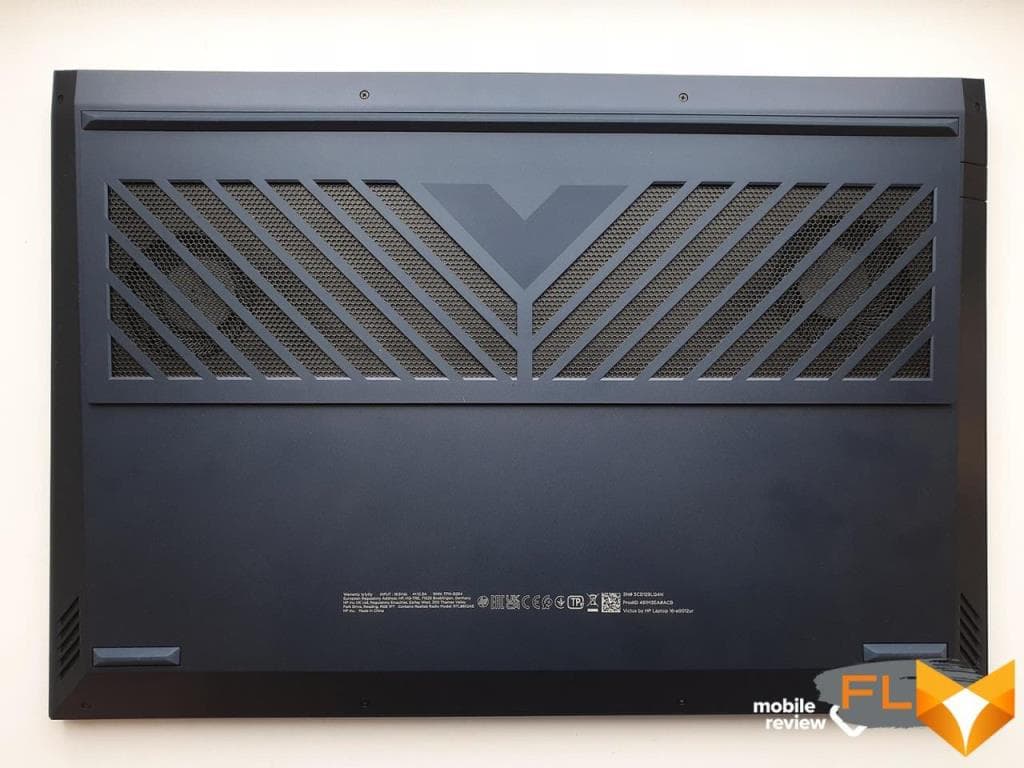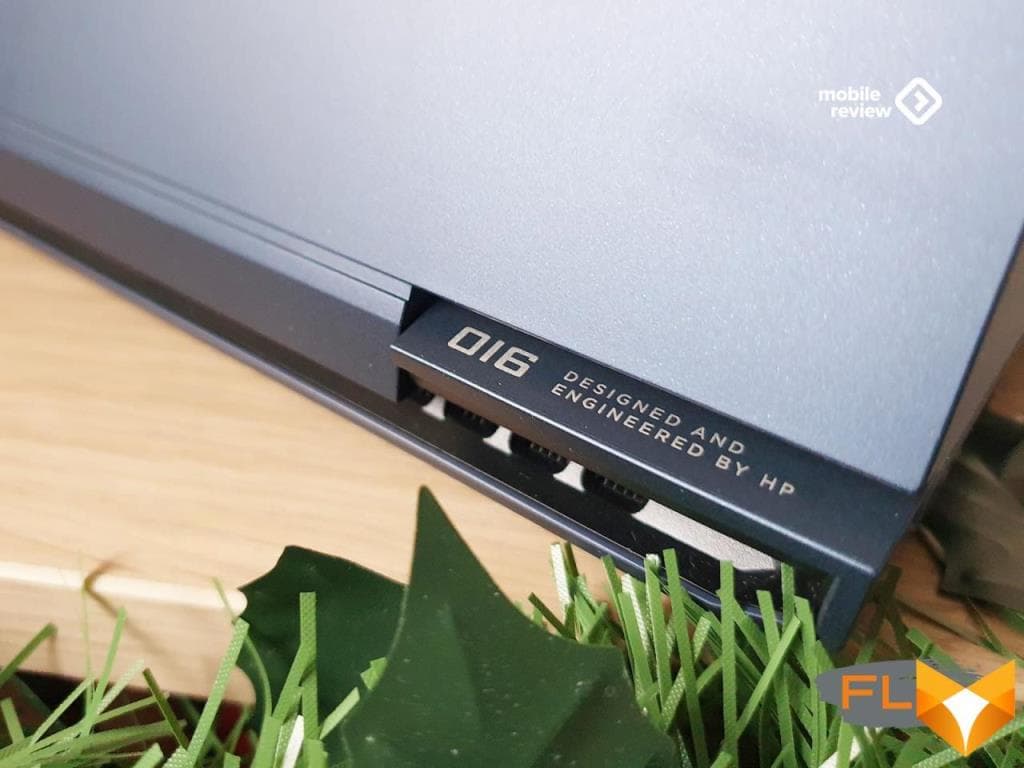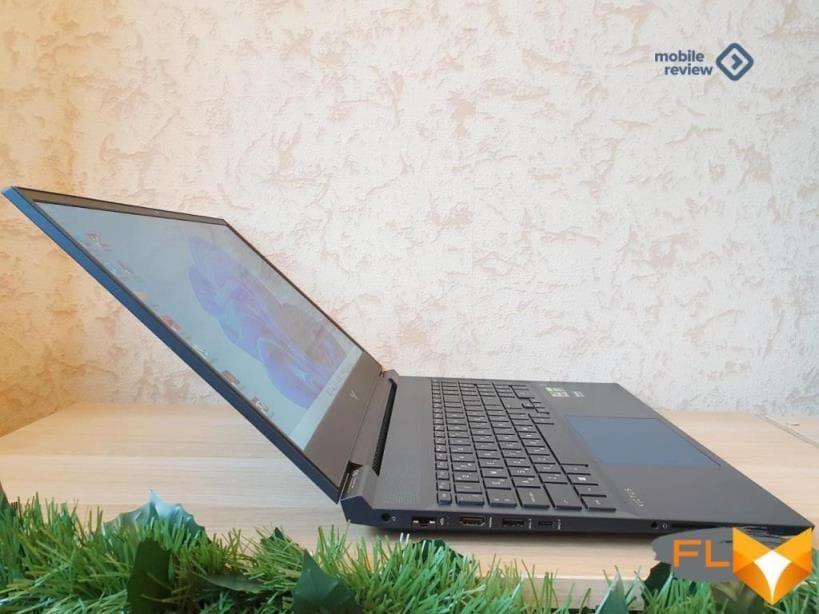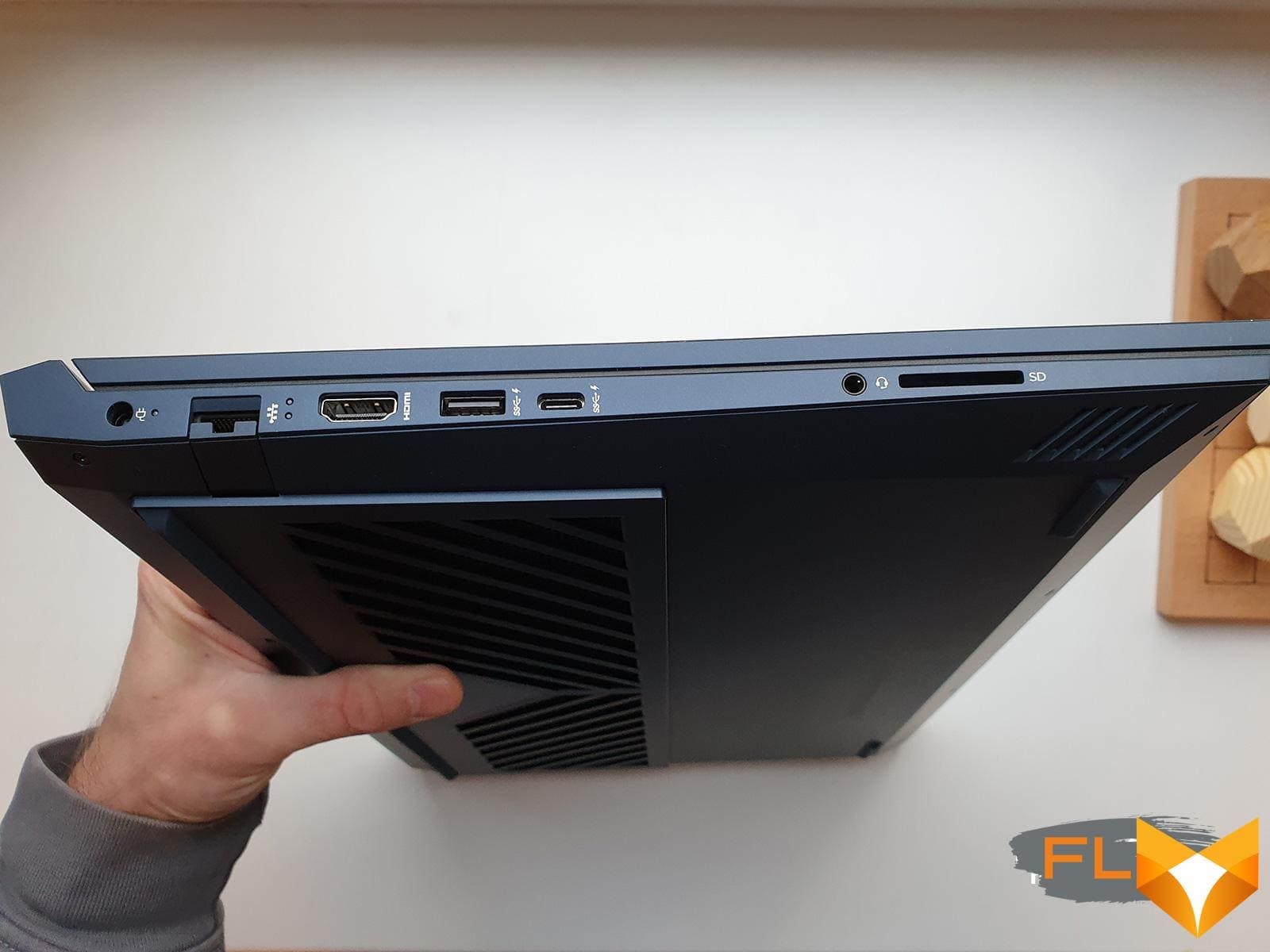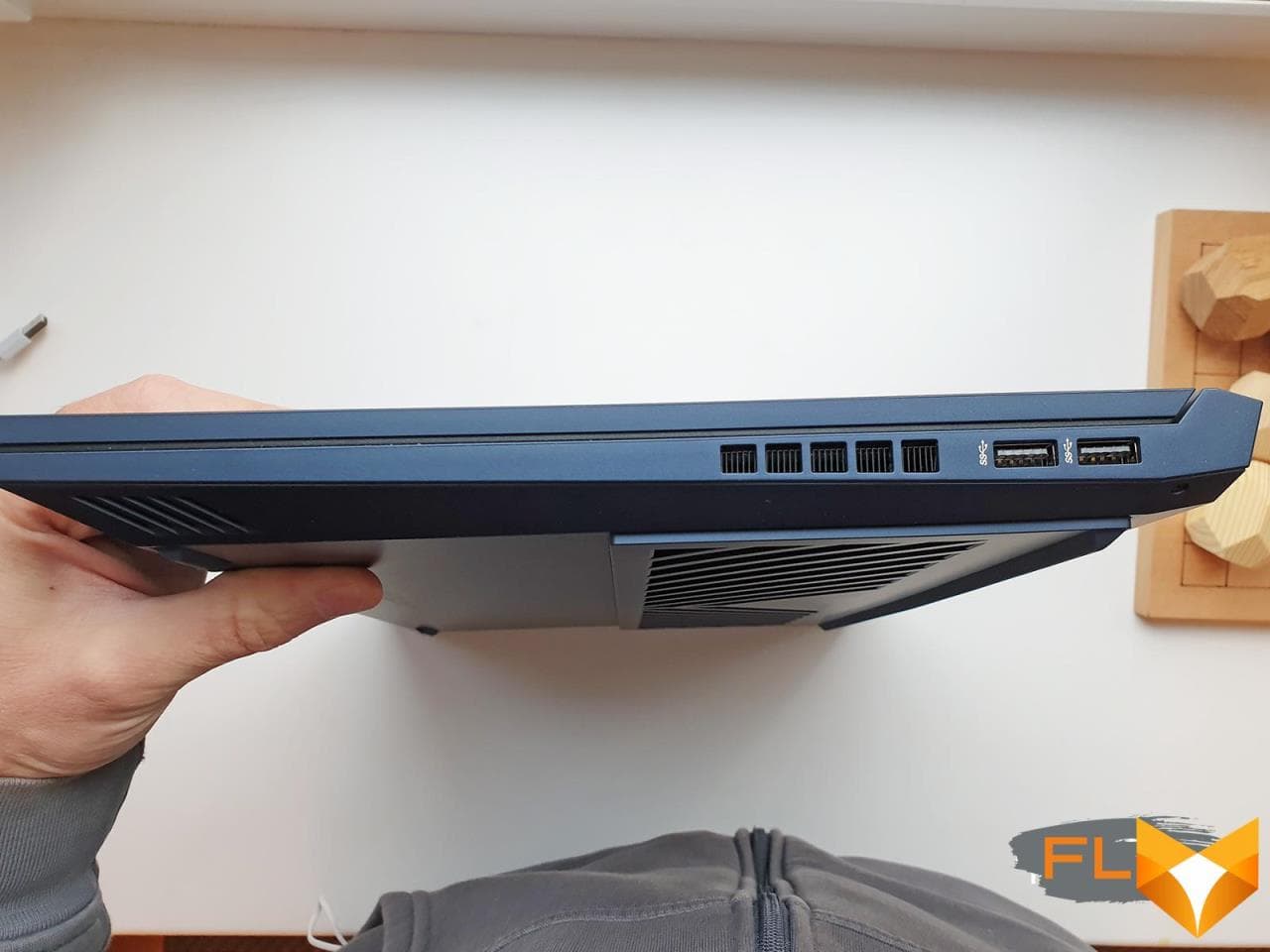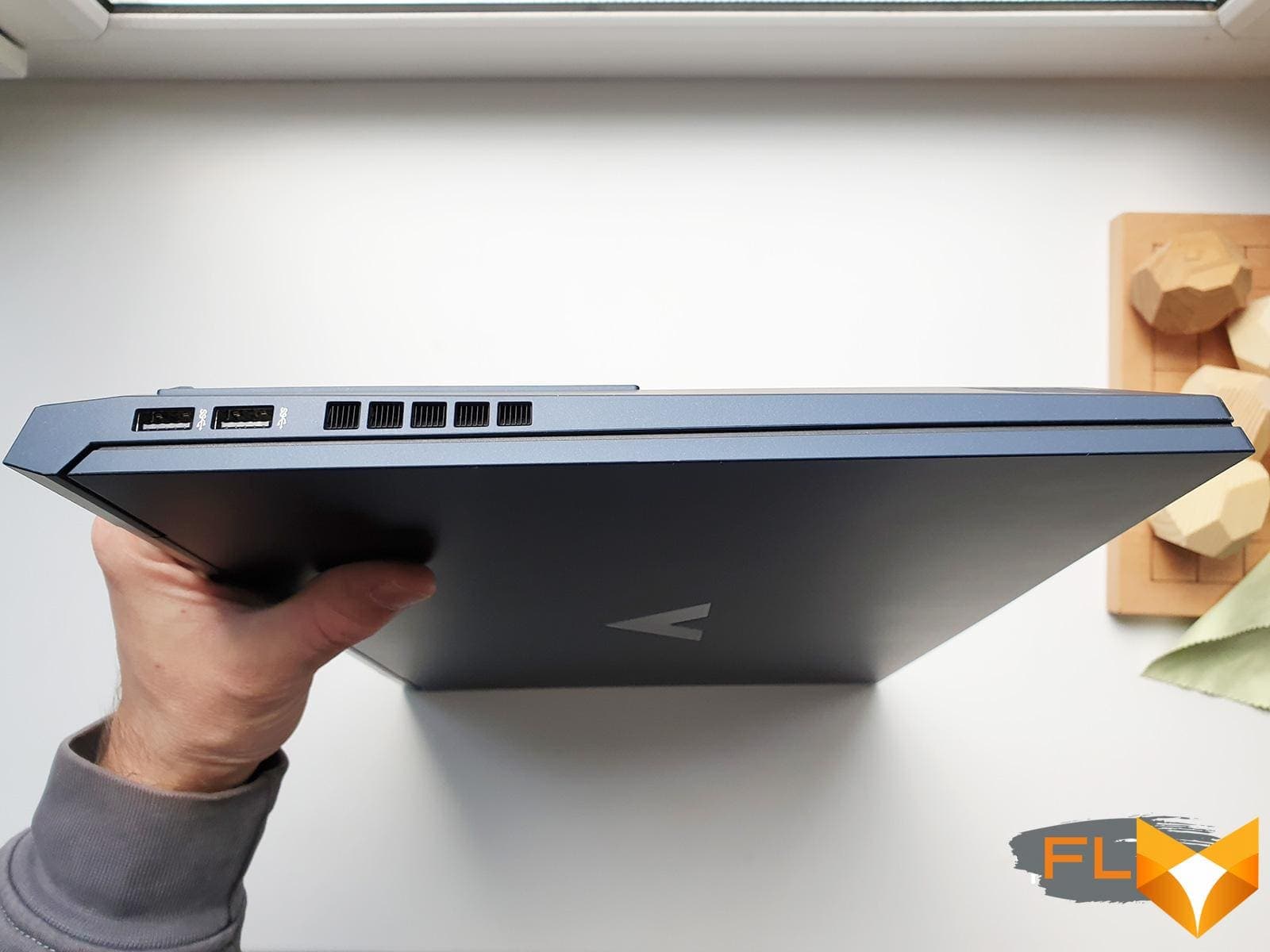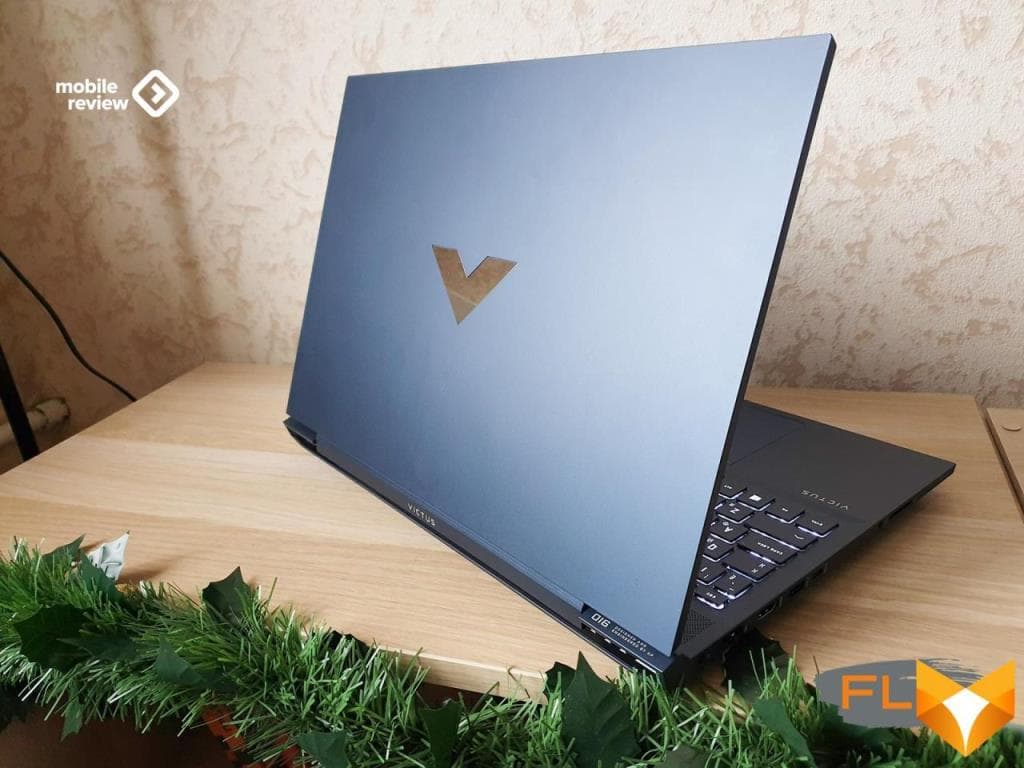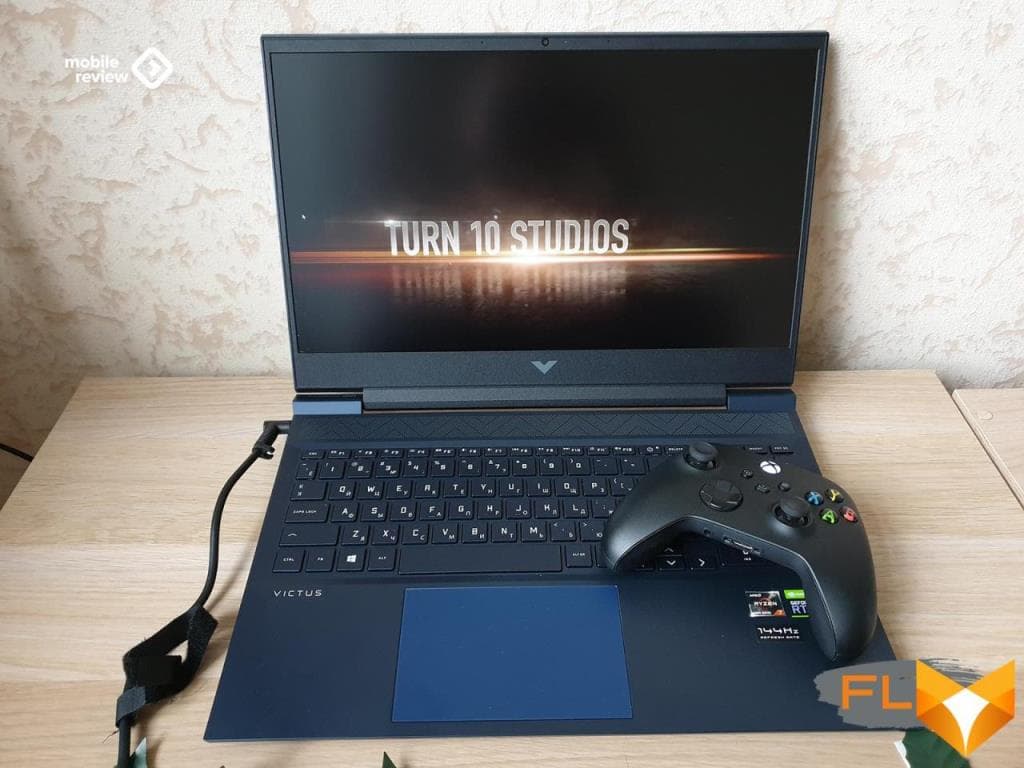 Screen and sound
The custom-sized 16.1-inch screen is one of the laptop's highlights. It would be really cool if the bezels were cut down, thus fitting the large screen into the body of a 15.6-inch laptop. However, such Wishlist runs counter to price positioning.
As I understand it, the user has two screen options to choose from:
Full HD + 144Hz (refresh rate)
QHD + 165Hz (refresh rate)
On the one hand, since the screen is large, you want more resolution. On the other hand, the most powerful graphics provided for this model are the RTX 3050 Ti (4 GB) and 3060 (6 GB). Both cards are laptop versions. So it's worth considering which version to choose. I had a Full HD version on the test. In my opinion, such a resolution looks very appropriate.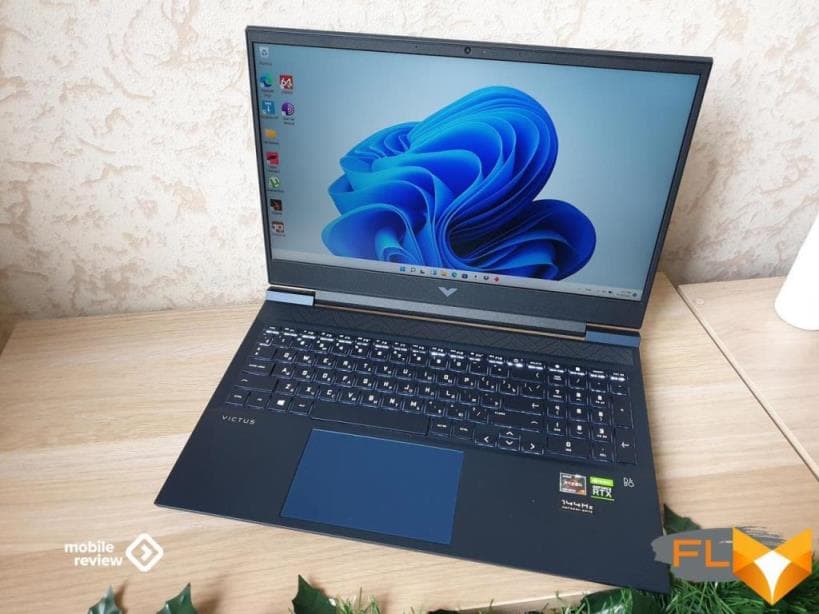 The screen has a good and fairly accurate color reproduction. The average delta E was approximately 2.05. In principle, a laptop can be used for graphic design tasks.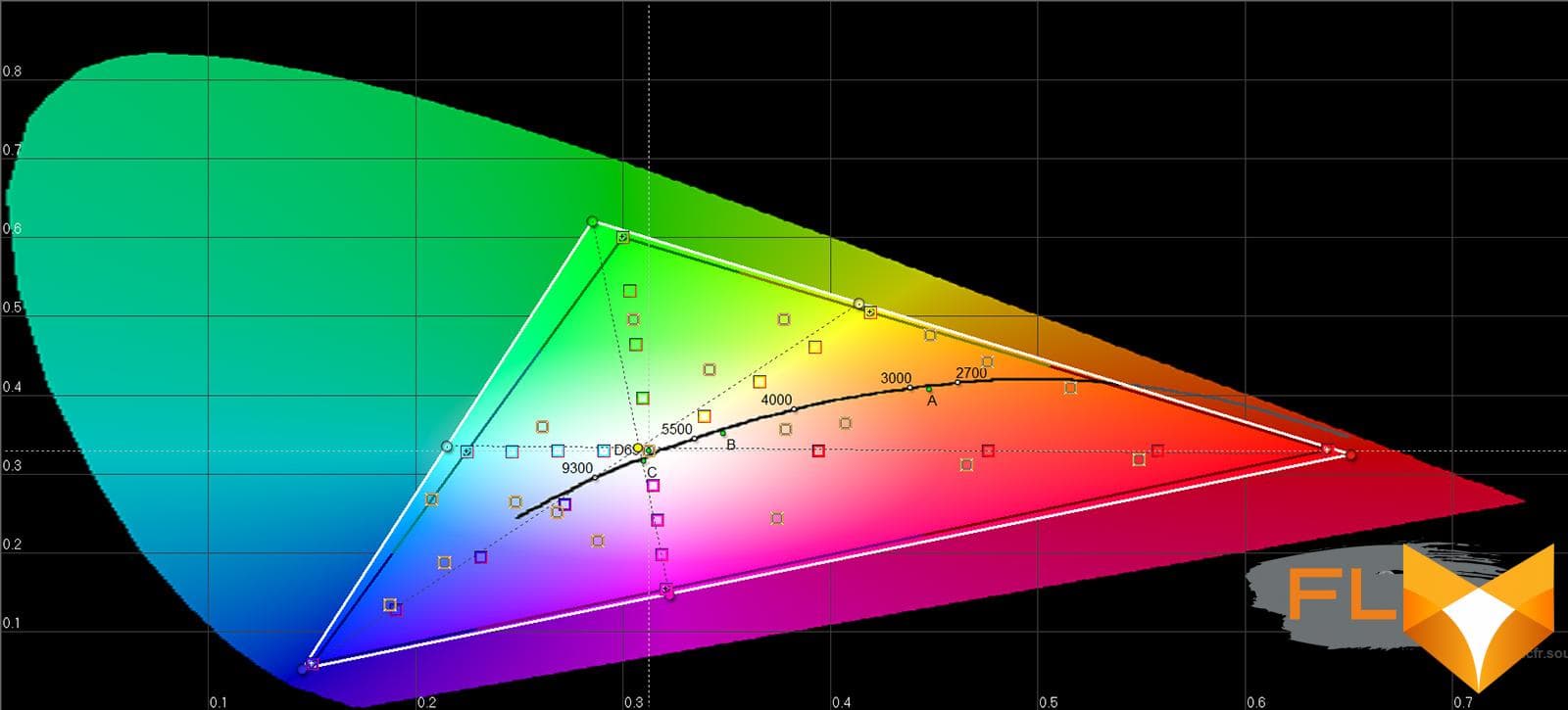 And also pleased with the brightness. By measurement – more than 330 nits. Given the anti-reflective surface, it is an excellent option for working next to a window. You can not be afraid that the screen will "blind". Along the way, you can be glad that the screen does not have PWM, that is, the screen does not flicker at reduced brightness. By the way, the minimum brightness, according to my measurements, is 20 nits. Quite bright, especially if you are going to read in the dark.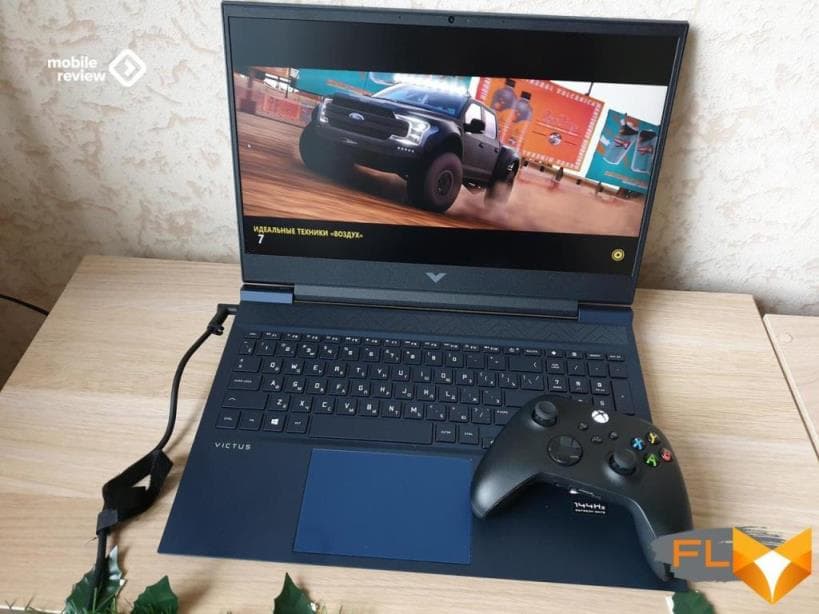 Frames at the screen of standard thickness. On the top bezel is a webcam of typically poor quality. On the sides are two microphones. That is OK. We didn't have long to wait. The pandemic and Apple finally bringing in higher quality webcams should spur the industry to move to higher quality webcams.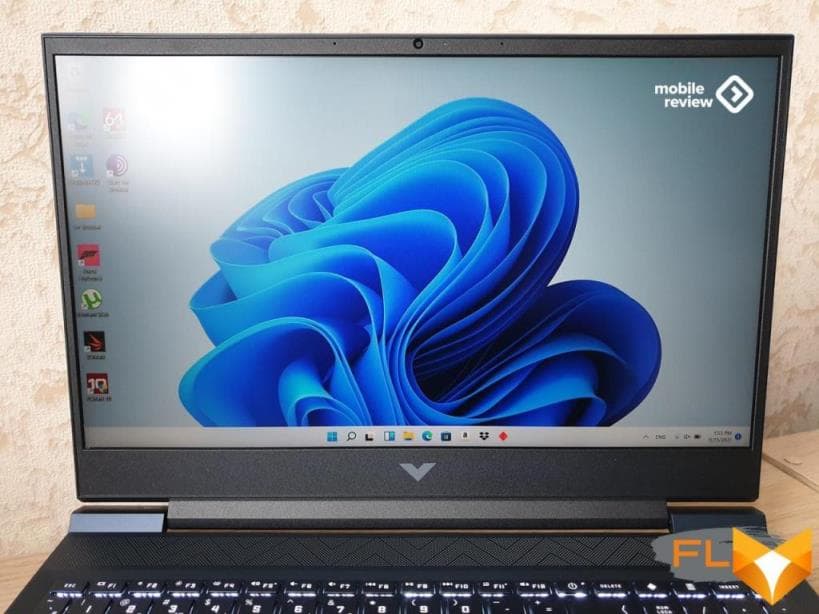 The webcam does not have a shutter, but there is a white LED.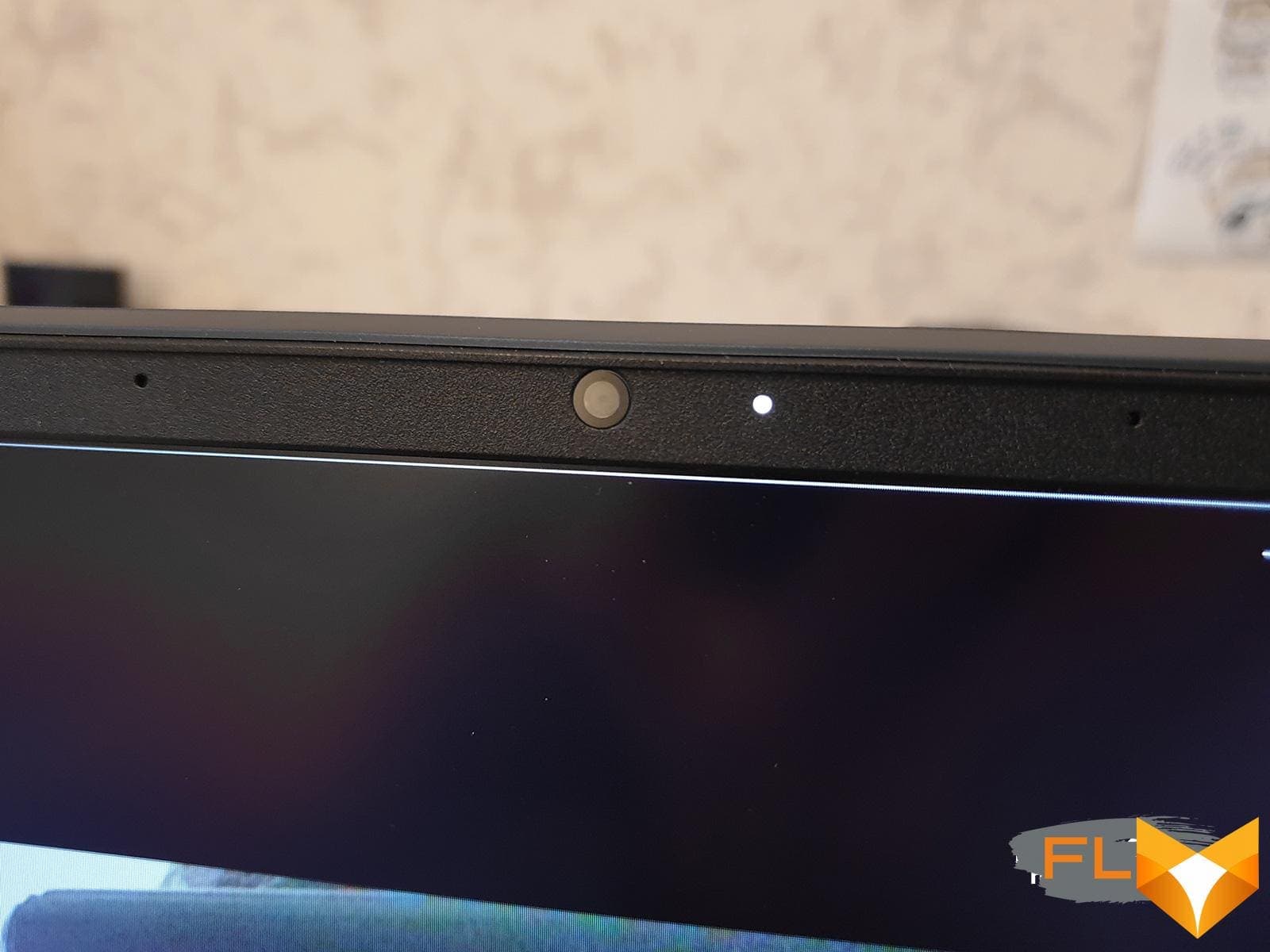 And here is an example of a snapshot on a webcam. Noisy, muddy, but they recognize you. Suitable for web conferencing.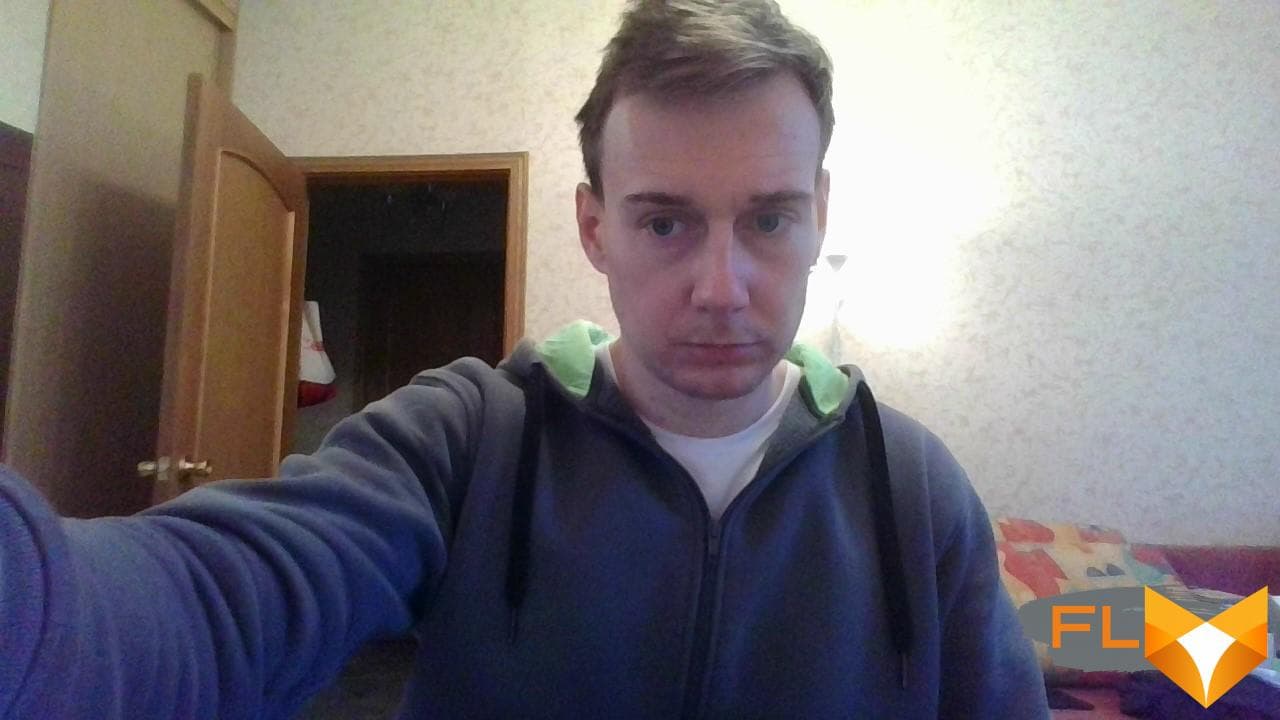 The laptop is equipped with a nameplate Bang & Olufsen. However, the laptop has a normal, standard sound for its price segment. The main plus is the location of the speakers above the keyboard, so that the sound hits the user's face, making it seem that the laptop is louder than it actually is.
Keyboard and touchpad
If you can find fault with the screen and webcam, then I really liked the touchpad and keyboard. Pleased with everything: from the location of the keys to the depth of the course.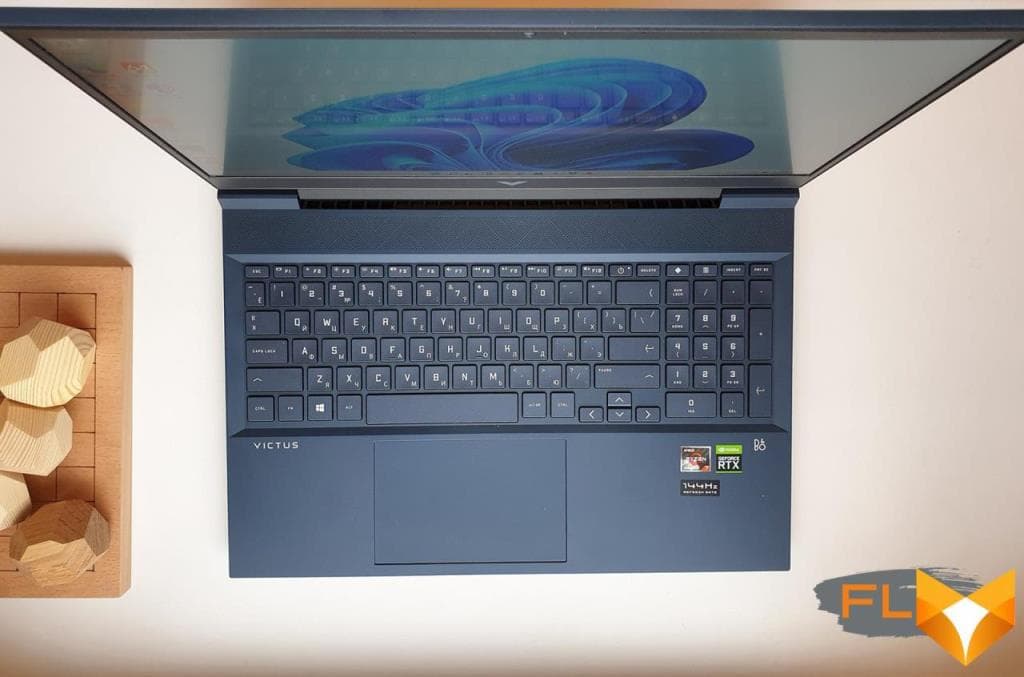 All pluses:
Good spacing between buttons
Soft stroke approx. 1.4 mm
Separate number block
Separate arrow keys
Two alt and CTRL
Separate PrintScreen, Delete, Insert buttons.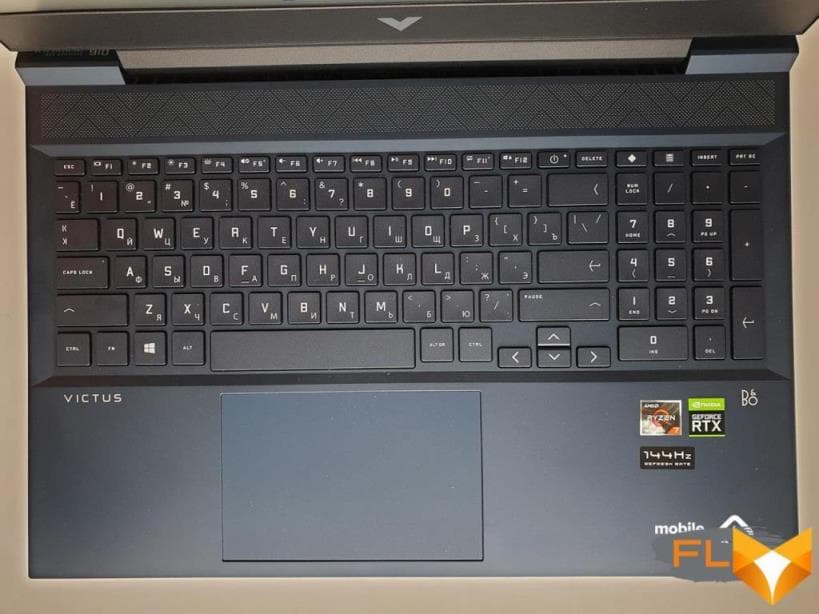 Perhaps, you can blame it for the fact that PgUp, PgDn, Home and End were placed on the digital block. As I understand it, this happened because for some reason HP really wanted to place the power button in the top row of the keyboard, and also give users a separate key to call the calculator and a programmable key. The last one is a good thing. It allows you to configure and bind custom commands to it in order to perform pre-recorded sets of actions.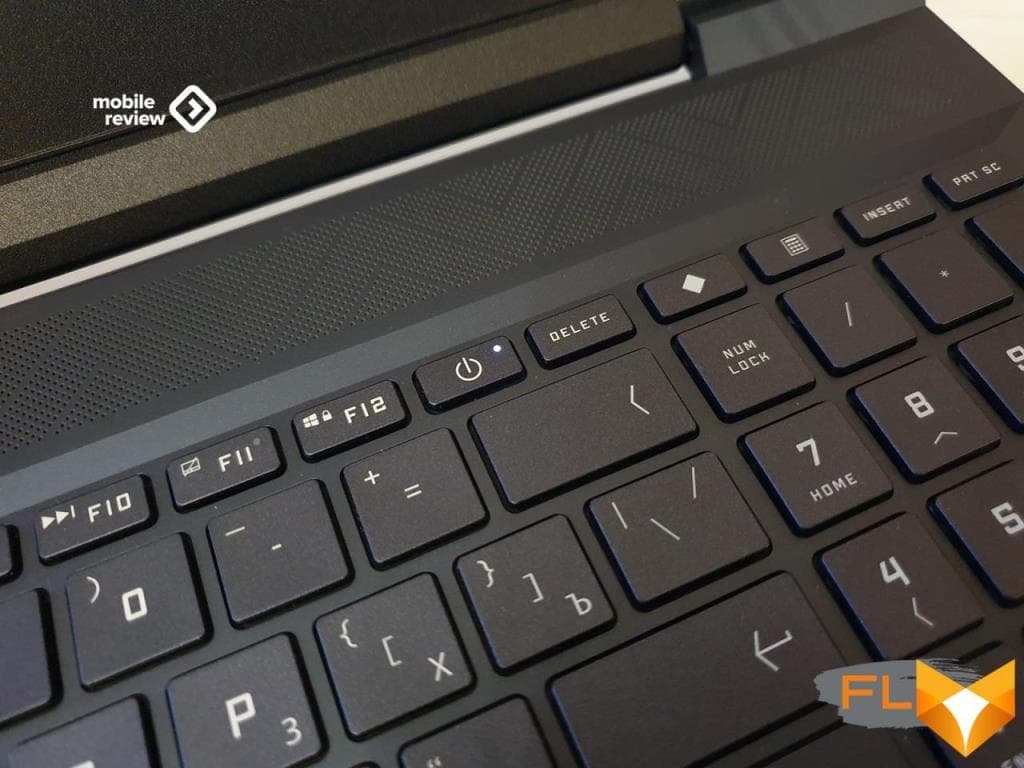 The laptop has a nice milky white backlight.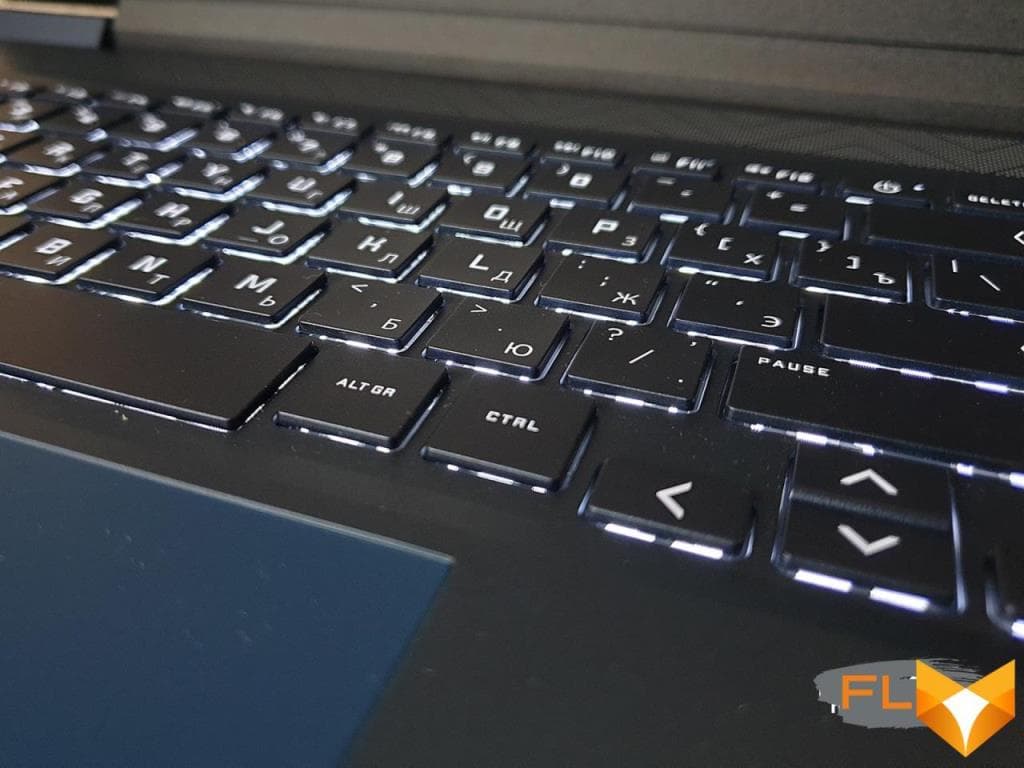 It's nice that they didn't skimp on the touchpad. Oversized panel (12.5 by 8 cm). The lower part of the touchpad is pressed through, simulating mouse buttons.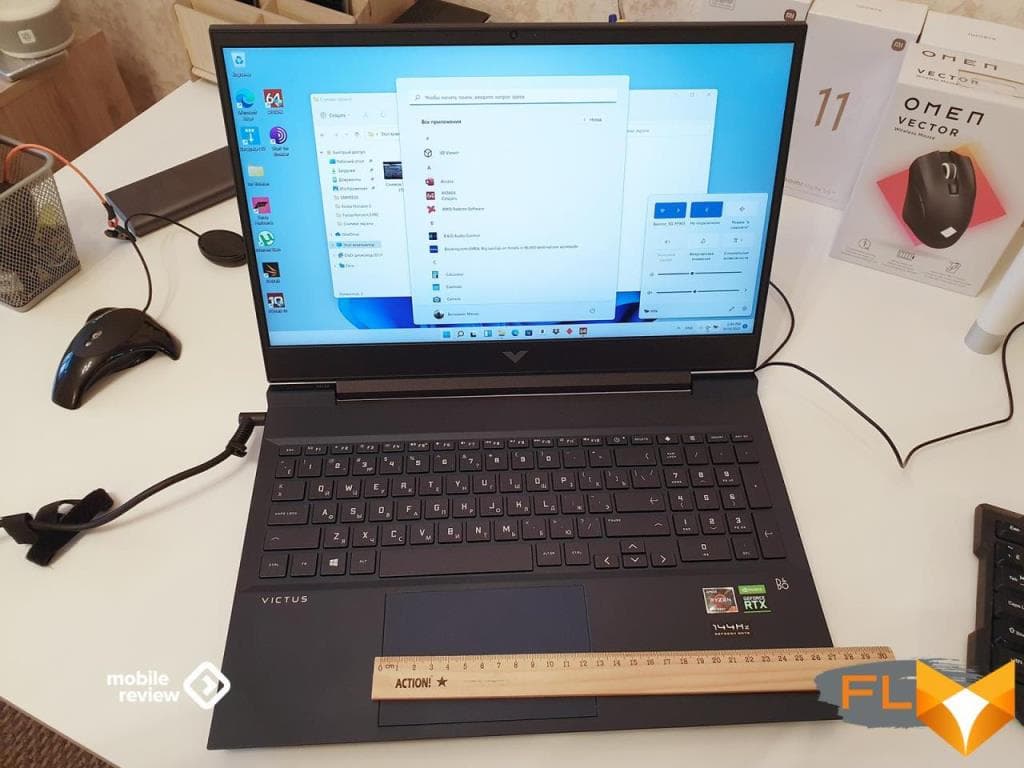 An OMEN mouse was also given to the laptop. A good mouse that works on any surface fits comfortably in the hand. But nothing special. What I liked the most was that the mouse comes with a long Type-A to Type-C braided cable.
Battery Life
The laptop has a 71.5 Wh battery. HP claims up to 8 hours of operation. Apparently, the mode of reading the text is implied. In office mode (screen brightness around 80%, Wi-Fi, Edge browser, economy mode), the laptop lasted 5.5 hours. About 6 hours can be obtained when watching Full HD videos on YouTube. Under maximum load (during a stress test, for example), the laptop will last an hour.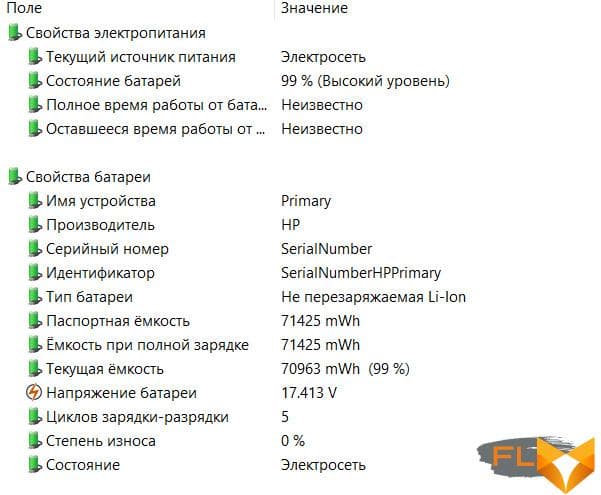 Unfortunately, the laptop comes with a bulky 200W power adapter that weighs 470 grams. The second regret is that I did not succeed in recharging the laptop via Type-C.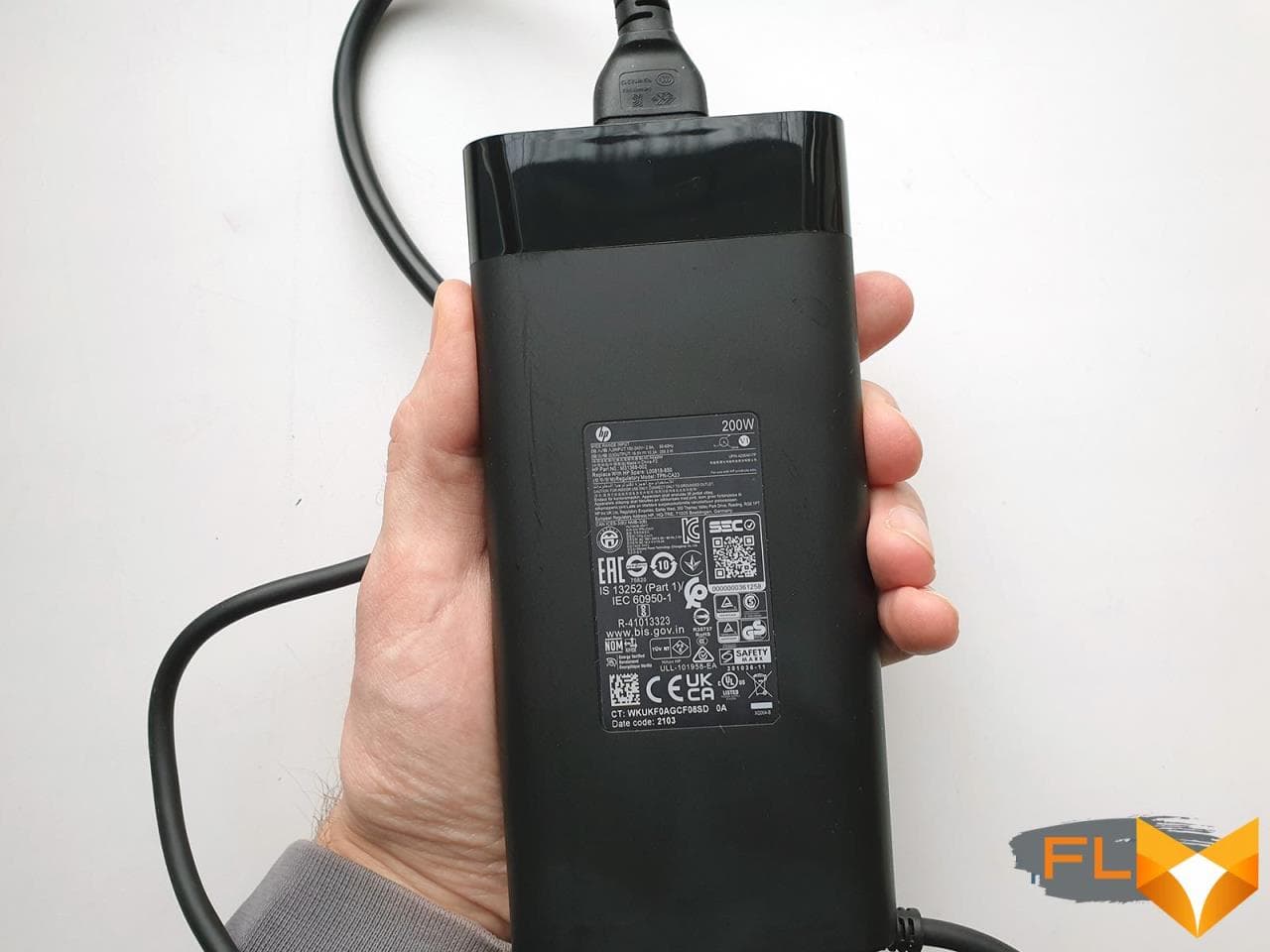 Performance
Responsible for performance is an AMD Ryzen 7 5800H, an RTX 3060 graphics card for laptops, two sticks of 8 GB of RAM and a drive up to 1 TB.
Great choice of processor. The AMD Ryzen 7 5800H is a 7nm processor that is powerful yet power efficient and, most importantly, cool. Perhaps this option can be called the best in 2021. A definite plus is the absence of a drop in performance even under maximum load. As you can see in the screenshot below, even during the Aida64 stress test, the temperature did not exceed 90 degrees.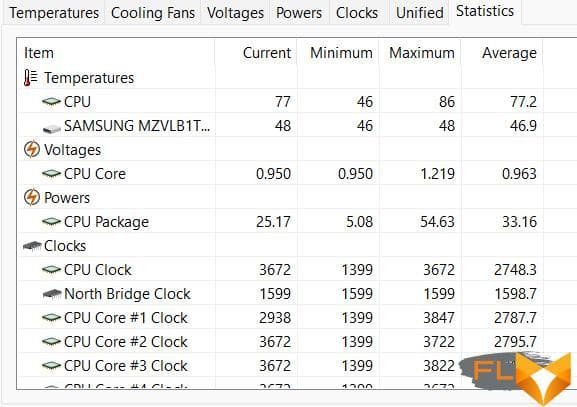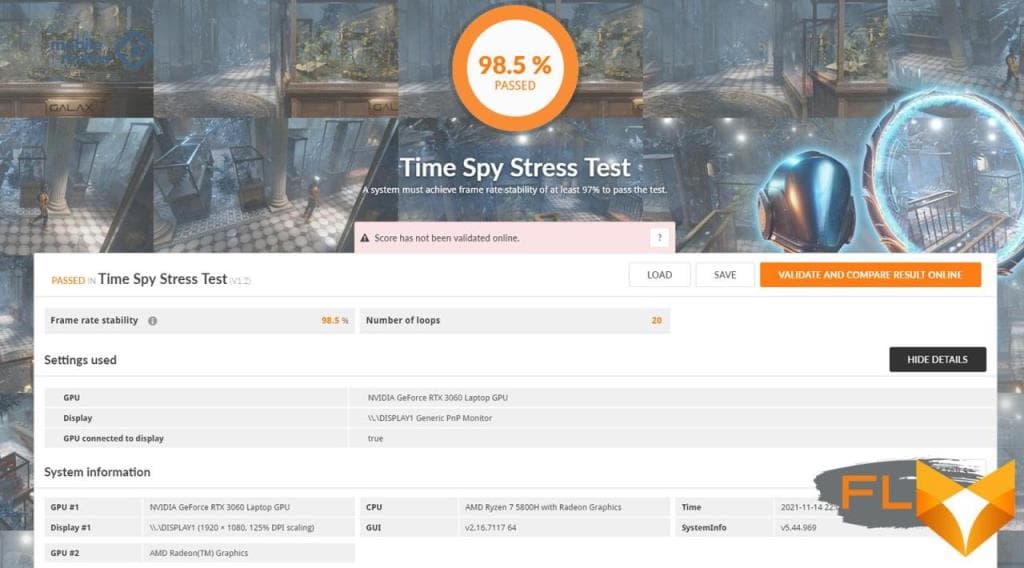 An RTX 3060 laptop graphics card with 6 GB of memory and a TDP of 95 W is a good option. Although 95 watts, of course, are surprising. For example, ASUS has a "dynamic boost" up to 100 and 130 W, but the latter, as I understand it, is the prerogative of more expensive models. But 6 GB back to back is enough for gaming. For example, when I launched the new Forza Horizon 5 on ultra settings, I received a notification about the lack of memory. The game ran at a steady 35 fps, but I got a notification from time to time.
In principle, the performance of HP Victus is enough for all modern games. I had a lot of fun playing the dull but relaxing game Forza Horizon 5. The sun plays on the wings and bumper, the dust flies from under the wheels. The beauty!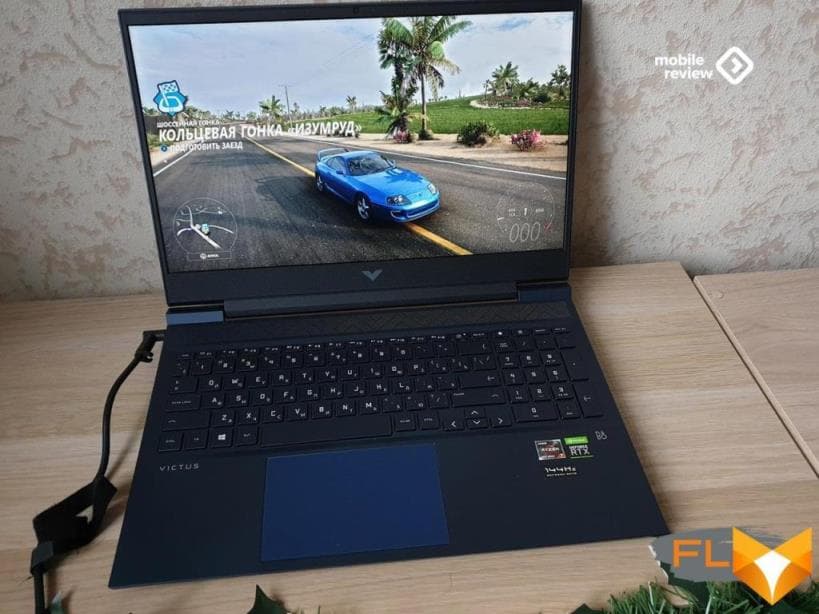 The undoubted plus of my configuration is the Full HD resolution. As you remember, the 30-series cards are designed for 1440p gaming, so in Full HD in The Witcher at ultra-high settings, the RTX 3060 delivers confident 67 fps. In Assassin's Creed Valhalla, the user will also get 54 fps on ultra settings.
Accordingly, once again, returning to the choice of screen, I would suggest taking the Full HD version. It will allow you to comfortably play on ultra settings.
The laptop comes with a good Samsung SSD. Once again, Samsung makes the best SSD drives on the market. They are more expensive than analogues from other manufacturers. So HP can be applauded that the manufacturer did not save.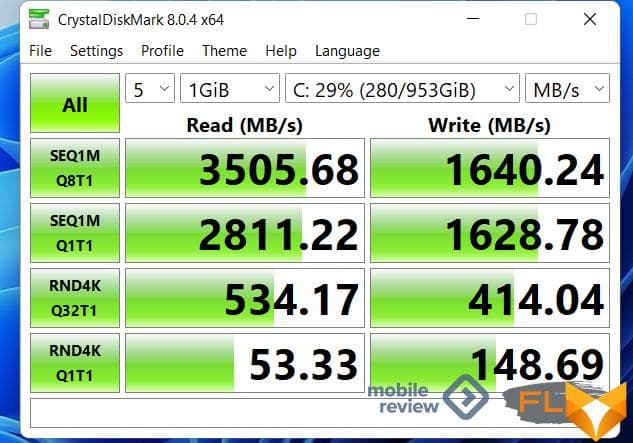 Some screenshots of other performance tests.
In the bottom line, we have a laptop of average gaming performance, which is currently enough to run and comfortably play any AAA games. I guess that will be the case for the next couple of years. We can say that, perhaps, there is not enough a couple of extra gigabytes of video memory, as well as a little more power would not hurt. For example, the closest price competitor, the Lenovo Legion 5 Gen 6, offers 130W.
On the other hand, it should be remembered that Nvidia is actively implementing DLSS technology, which has already been updated to version 2.2, and allows you to get a 30-50% increase in FPS. More and more games support this technology. For example, the new "Guardians of the Galaxy" supports. Accordingly, I got a good 60 fps in the game in the DLSS "Performance" mode. And with DLSS the picture is better than in the original!
And finally, I will leave a link to the material of HP itself, dedicated to disassembling the laptop. The HP Victus can be commended for being easy to take apart, upgrade and repair. The user will not have problems replacing the memory or battery.
Conclusion and competitors
HP has a good, high-quality product at a market price. This is evidenced by at least the fact that almost the entire batch of laptops has already been sold out.
Victus does not leave a strong impression behind as something unique. It's just a well-made and reliable laptop.
Of the minuses – the laptop does not have a fingerprint scanner and an IR camera, but, apparently, these are positioning costs, otherwise the price would have to be higher.
With the main competitor, everything is also simple. This is Lenovo Legion 5 Gen 6. Almost identical hardware, but the screen is claimed to be up to 500 nits, the video card can "dynamically boost" up to 130 W and there is Type-C charging. The price will be higher, since Lenovo offers a model with 3050 and 4 GB of video memory for the price of Victus (if you plan to play, then you do not need to buy this).